Great Britain makes promising start at World Rowing Cup III
World Rowing Cup III began in Lucerne today, with 14 Great Britain boats racing on the Lake of the Gods. Five GB Rowing Team crews have automatically qualified for A finals with another eight taking to the Rotsee again tomorrow in semi-finals or in a repechage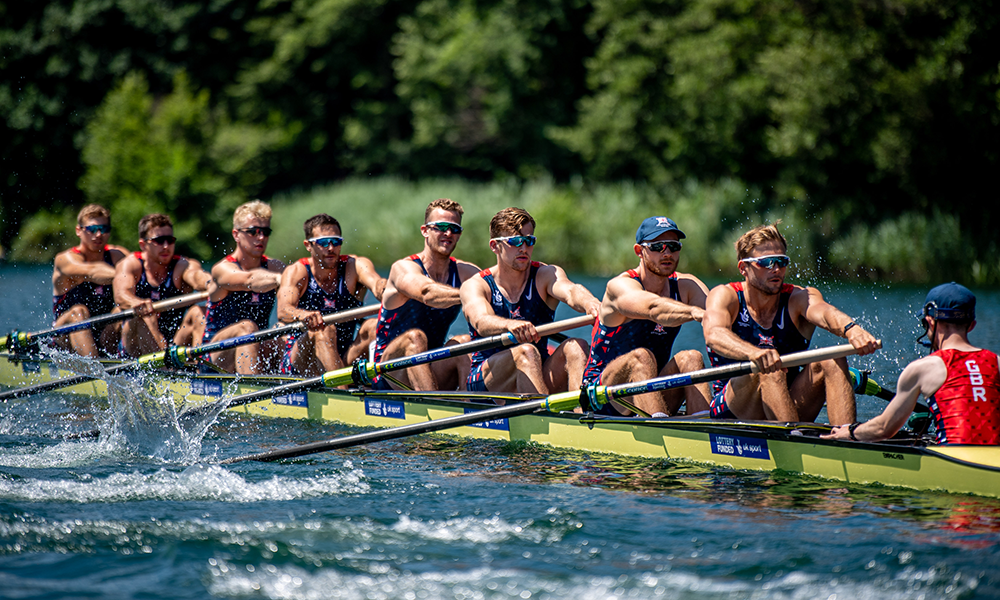 British Rowing Director of Performance Louise Kingsley said: "Overall it's been a promising day here on the Rotsee. We have had a positive start to the regatta with some good heat wins today. Tomorrow will see some pretty tight racing but hopefully we will see some more British crews making it into A finals. The athlete lane selection process has presented a new challenge for the coaches and crews to get their heads around, but I think it's a good place here to test that new system out. "
The Women's quad (W4x) of Kyra Edwards, Lucy Glover, Jess Leyden and Georgie Brayshaw won their heat and progressed directly to the final, as did the Women's pair (W2-) of Esme Booth and Emily Ford who finished 2nd in their heat. Emily said: "We're really pleased with that. I think we had a really good first half of the race, we'll work on the second half tomorrow (we've got a day off) to see what we can do in the final."
Both the Women's four (W4-) GBR1 of Rowan McKellar, Heidi Long, Sam Redgrave and Rebecca Shorten and the Men's four (M4-) of Will Stewart, Sam Nunn, Matt Aldridge and Freddie Davidson won their heats and progress straight to the final.
Matt Aldridge said: "We got out quite cleanly, but found ourselves a little down on the first 500m. We knew that we had a strong middle K (1,000m) rhythm so we trusted that, started inching through and got about a length ahead with 500m to go then just controlled the race towards the end. On to the final!
The Men's eight (M8+) of Rory Gibbs, Morgan Bolding, David Bewicke-Copley, Sholto Carnegie, Charlie Elwes, Tom Digby, James Rudkin, Tom Ford and Henry Fieldman (cox) were the final crew to go directly to the final. After the race, Henry said: "The guys did a great job of executing the training that we set out. It's not where we need it to be yet, and we're looking forward to pressing on in training tomorrow, and again in the final on Sunday."
The lightweight women of Imogen Grant in the Lightweight Women's single (LW1x) and Maddie Arlett and Emily Craig in the Lightweight women's double (LW2x) easily won their heats and will race again in the semi-finals on Saturday. Maddie commented: "It was solid to the K, even with a bit of wash but we just went away from them and consolidated it to the end, and it was a solid first race. The three of us (the lightweight crew) are doing really well and we're all very happy."
The Men's Pair (M2-) GBR1 of Ollie Wynne-Griffith and Tom George won their heat along with the Men's double (M2x) of Matt Haywood and George Bourne. Both crews will race in the semi-finals on Saturday.  After the race, George Bourne said: " It was a good race. We got out the start well, and were then in a good position to control it. That's our first win as a unit this year, so a good start to the regatta!"
Also booking a spot in Saturday's semi-finals were the Men's single sculls (M1x) GBR1 Graeme Thomas and GBR2 Callum Dixon. Graeme won both his heat and quarter final while Callum finished second in both his heat and quarter final. Callum said: "It's been a whirlwind few weeks with World Cup I and Holland Beker and I feel like I've been racing every weekend but it's so much fun and I'm really enjoying myself. The racing here is great, everyone is so fast but I'll keep trying and pushing hard for the next race!".
The Men's pair (M2-) GBR2 of Harry Glenister and Joshua Bugajski made the semi-finals after winning the repechage having finished second behind the New Zealand pair in the heat.
The Women's Four (W4-) GBR2 of Rebecca Edwards, Lauren Irwin, Annie Campbell-Orde and Sophia Heath finished fourth and will race again in Saturday's repechage.
Finally, the Men's quad (M4x) Sam Meijer Seb Devereux, John Collins and Harry Leask finished 4th in their repechage and 13th overall.
Day One World Rowing Cup I Results
| Boat | Crew | Race | Time | Progression |
| --- | --- | --- | --- | --- |
| LW1x | Imogen Grant (Cambridge University BC)  | Heat l | 07:33.46  | 1 ➡ A / B Semi Final |
| LW2x | Maddie Arlett (Edinburgh University BC), Emily Craig (University of London BC)  | Heat 2 | 07:33.46  | 1 ➡ A / B Semi Final |
| W2- | Esme Booth (Leander Club), Emily Ford (Leander Club) | Heat l | 07:03.07   |   2 ➡ A Final |
| W4- GBR1 | Rowan McKellar (Leander Club), Heidi Long (Leander Club), Samantha Redgrave (Leander Club), Rebecca Shorten (Imperial College BC) | Heat l | 06:22.92 |   1st ➡ A / B Semi Finals |
| W4- GBR2 | Rebecca Edwards (Leander Club), Lauren Irwin (Leander Club), Annie Campbell-Orde (Leander Club), Sophia Heath (Leander Club) | Heat l | 06:36.65   | 4th ➡ Repechage |
| W4x | Lucy Glover (Edinburgh University BC), Georgie Brayshaw (Leander Club), Jessica Leyden (Leander Club), Kyra Edwards (Nottingham RC) | Heat l | 06:17.98 |   1st ➡ A Final |
| M1x GBR1 | Graeme Thomas (Agecroft RC) | Heat 2  | 06:50.62 | 1st ➡ Quarter Final |
| M1x GBR1 | Graeme Thomas (Agecroft RC) | Quarter Final  | 06:55.20 | 1st ➡ A / B Semi Finals |
| M1x GBR2 | Callum Dixon (Twickenham RC) | Heat 1 | 07:02.88 | 4th ➡ Quarter Final |
| M1x GBR2 | Callum Dixon (Twickenham RC) | Quarter Final l | 06:56.18 | 2nd ➡ A / B Semi Finals |
| M2- GBR1 | Ollie Wynne-Griffith (Cambridge University BC), Tom George (Cambridge University BC) | Heat 4 | 06:21.35 | 1st ➡ A/B Semi Finals |
| M2- GBR2 | Harry Glenister (Leander Club), Joshua Bugajski (Oxford Brookes University BC) |   Heat 3 l | 06:26.99 |   2nd ➡ Repechage |
| M2- GBR2 | Harry Glenister (Leander Club), Joshua Bugajski (Oxford Brookes University BC) |   Repechage l | 06:24.19 |   1st ➡ A / B Semi Finals |
| M2x | Matt Haywood (Nottingham RC), George Bourne (Tideway Scullers School) | Heat 3 | 06:16.10 | 1st ➡ A/B Semi Finals |
| M4- | Will Stewart (Leander Club), Sam Nunn (Oxford Brookes University BC) Matt Aldridge (Oxford Brookes University BC), Freddie Davidson (Oxford Brookes University BC) | Heat 2 | 05:53.64 | 1st ➡ A Final |
| M4x | Sam Meijer (Elizabethan BC / Tideway Scullers School), Seb Devereux (Leander Club), John Collins (Leander Club), Harry Leask (Leander Club) | Repechage | 05:53.35 | 4th ➡ Repechage |
| M4x | Sam Meijer (Elizabethan BC / Tideway Scullers School), Seb Devereux (Leander Club), John Collins (Leander Club), Harry Leask (Leander Club) | Repechage | 05:24.33 | 4th ➡ 13th Overall |
| M8+  | Rory Gibbs (Oxford Brookes University BC), Morgan Bolding (Oxford Brookes University BC), David Bewicke-Copley (Oxford Brookes University BC), Sholto Carnegie (Leander Club), Charlie Elwes (Oxford University BC), Tom Digby (Oxford Brookes University BC), James Rudkin (Newcastle University BC), Tom Ford (Leander Club), Henry Fieldman (cox) (Leander Club)) | Heat 2 | 05:24.33 | 1st ➡ A Final |