Contact Us
Get in touch with the British Rowing team and find our full contact details here
General enquiries
Telephone: 020 8237 6700
Fax: 020 8237 6749
---
Membership & Rowing Community
Area Participation Managers (APMs)
The role of the APMs is to help increase participation in rowing and can be contacted for advice and support on participation programmes, funding and setting up new clubs.
North:

North West and Yorkshire:

Midlands:

East:
Kent, London and Sussex:

Berkshire, Hampshire, IOW, Oxfordshire and Surrey:

West:
Workshops or Courses
General questions on any workshops or courses:
educationandtraining@britishrowing.org.
Telephone: 01234 783 001
Clubs
General club enquiries or anything relating to club affiliation or club management: clubs@britishrowing.org.
Membership
Telephone: 0208 237 6700
Online entry
Anti-doping
Safeguarding
Safety
---
Partnerships and Communications
Brand
Telephone: 0208 237 6709
Communications
Telephone: 0208 237 6718
Partnerships
Rowing & Regatta
Telephone: 0208 237 6701
Website
Telephone: 0208 237 6716
---
GB Rowing Team
General Enquiries
Telephone: 0208 237 6767
Fax: 0208 563 2265
Start Programme Enquiries
Para-Rowing Programme Enquiries
Media Enquiries
---
Address: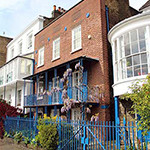 British Rowing, 6 Lower Mall, Hammersmith, London, W6 9DJ
Office Hours:
Monday to Friday: 09:00am-17:00pm