Adaptive Rowing
Adaptive Rowing is for people with disabilities who participate in the sport of rowing.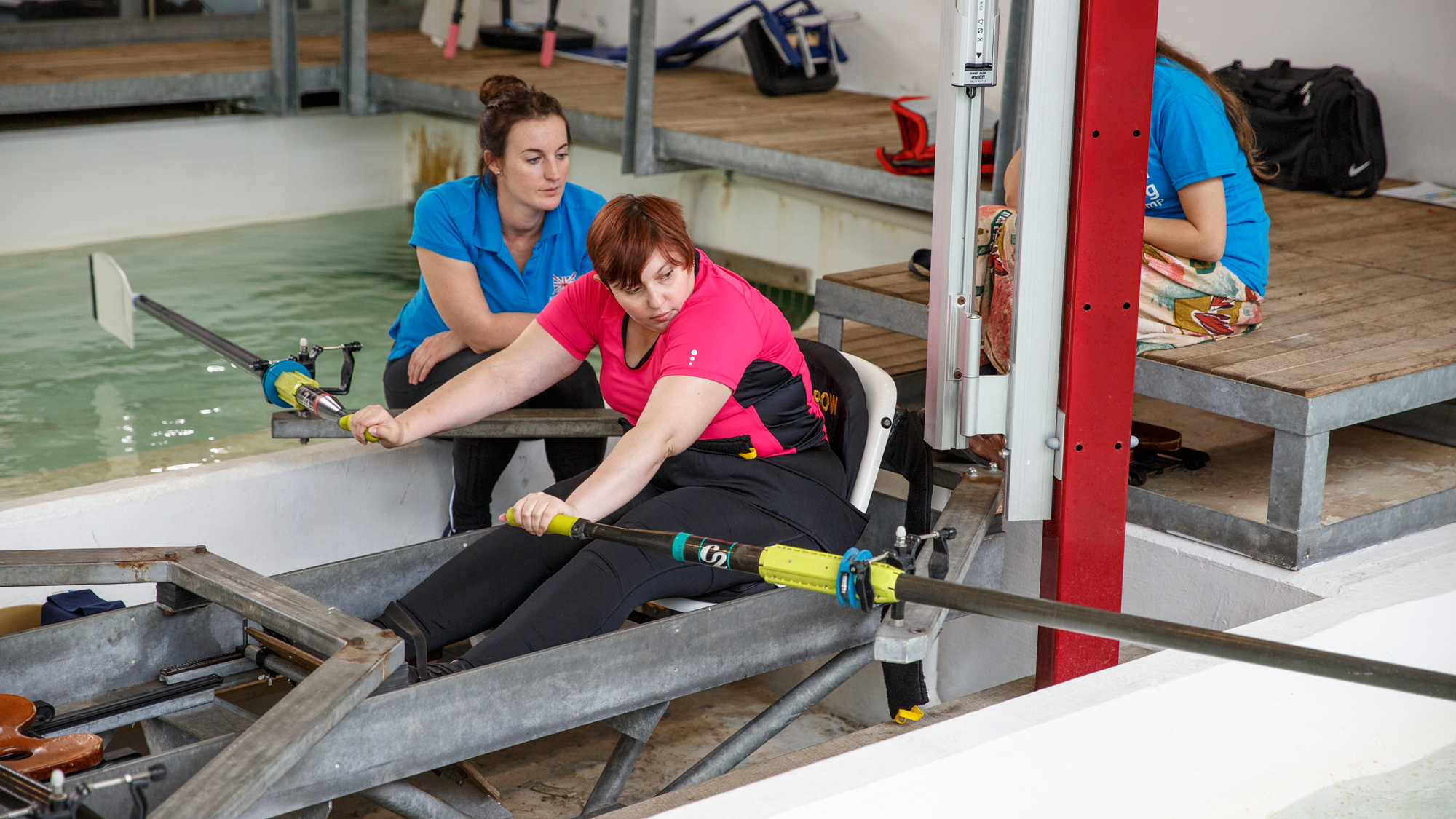 Anyone can get involved in rowing, regardless of physical disability, sensory or learning impairment.
There are many benefits to being involved in rowing; the sense of freedom, making life-long friends, and learning new skills whilst keeping fit and healthy. You can do all this on the water or indoors, just for fun or to compete in races.
Hilary Birkinshaw from Guildford Rowing Club who rows in their Adaptive squad said:
"I love that adaptive rowing is accessible to so many varied disabilities. There always seems to be a solution to each individual's issues, allowing them to get into a boat and on to the water whatever their disability."



Adaptive Rowing is about removing barriers to participation in the sport for anyone who has an impairment or disability.
Getting started
Why don't you give rowing a try?
Within Adaptive Rowing there are two main streams.
Para-Rowers –rowers who have successfully been through the classification process and have been assigned a Sport Class. These rowers are eligible to compete at all levels including the corresponding Rowability grouping and PR3, PR2, PR1 events up to and including the Paralympic Games.
Adaptive Rowers – rowers who have been through the classification process and have been confirmed as meeting a minimal disability, but are not eligible for para-rowing. These rowers will have been assigned a boat grouping and are eligible to compete in all British Rowing competitions up to but not including the British Rowing Championships.
For more information about Classifications head to our dedicated page.

"Adaptive rowing is a fantastic disability sport because almost anybody with any kind of disability is able to participate" Scott Ballard-Ridley, Evesham Rowing Club
The first rowing club for those with a disability was affiliated to British Rowing in 1998 and there are now a number of clubs across the country that offer adaptive rowing.  Advances in the equipment available for rowers with a disability and the increasing number of accessible rowing venues has meant that rowing is truly becoming a leader in inclusive sport.
Great Britain's success at international level is also proving an inspiration.  The GB Rowing Team has been winning gold medals in Para-Rowing classes at World Championships since 2003. At the Paralympic Games in Beijing 2008, the sport of rowing was included for the first time. GB single scullers, Helene Raynsford and Tom Aggar both brought home gold medals for the team. At London 2012, the GB's mixed coxed four claimed a stunning gold medal on home water. 2015 has seen the GB Para-Rowing squad set world records both on and off the water at the British Rowing Indoor Championships and international regattas and GB is the only nations to have qualified all four boats classes for the Paralympic Games in 2016 in Rio.
You can find out more about getting started by contacting us by email.
Think you could be a Paralympic rower?
The GB Rowing Team's Para-Rowing squad hold trials three times a year.  For more information on attending trials, or if you think you have potential to represent Great Britain in this sport, please send email us.
Capsize drill for adaptive rowers
We've created a helpful video that shows what adaptive rowers need to do if they capsize. Watch it here (the adaptive capsize drill starts at 09:35).