Classification
Rowers with a disability who want to race either indoor or on the water will need to go through British Rowing's classification system.  
We adopt the International Rowing Federation (FISA) Para-Rowing system of classification which places rowers into classes according to how much their impairment impacts rowing.
These internationally recognised classes are:
Legs Trunk Arms (Physical Disability) – LTA-PD
Legs Trunk Arms (Visual Impairment) – LTA-VI
Trunk Arms – TA
Arms Shoulder – AS
Rowers who have a disability but do not meet the British Rowing Classification criteria may be eligible for a Rowability Grouping. These classes are accepted at events that offer Rowability:
Rowability Sliding Seat (Physical Disability) – RSS-PD
Rowability Sliding Seat (Learning Disability) – RSS-LD
Rowability Fixed Seat – RFS
Rowability Upright Seat – RUS
A classified Para-Rower can race in the corresponding Rowability Grouping, but a Rowability rower cannot race as a British Rowing classified Para-Rower.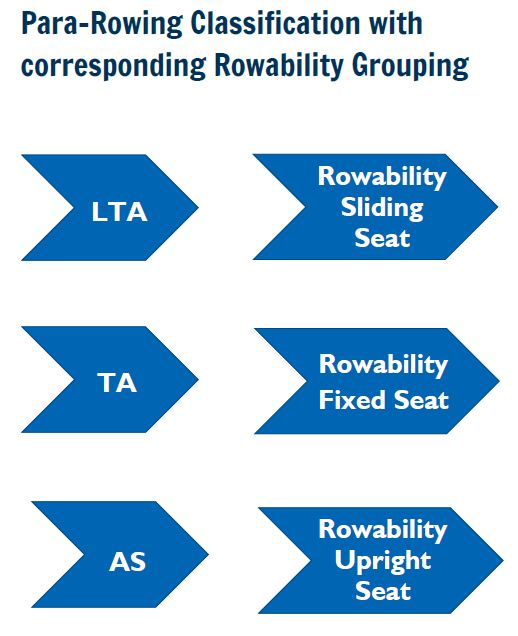 Applying for Adaptive Classification
If you would like more information around applying for adaptive classification, please see this document.
Classification Process
To register your interest and find out more information about classification send an email to: Jacqui.Johnston@britishrowing.org.
Classification opportunities
A series of classification opportunities will be held across the country.
For more information on dates and locations or if you are interested in becoming a classifier please contact classification@britishrowing.org.
We are aware of the changes made by World Rowing to rename the Para-rowing boat classes. Updates will be made in due course.