GB Rowing Team kick start the road to Paris on the first day of World Cup I 2022
13 crews finishing their heats or test races in first place during the first day of racing in Belgrade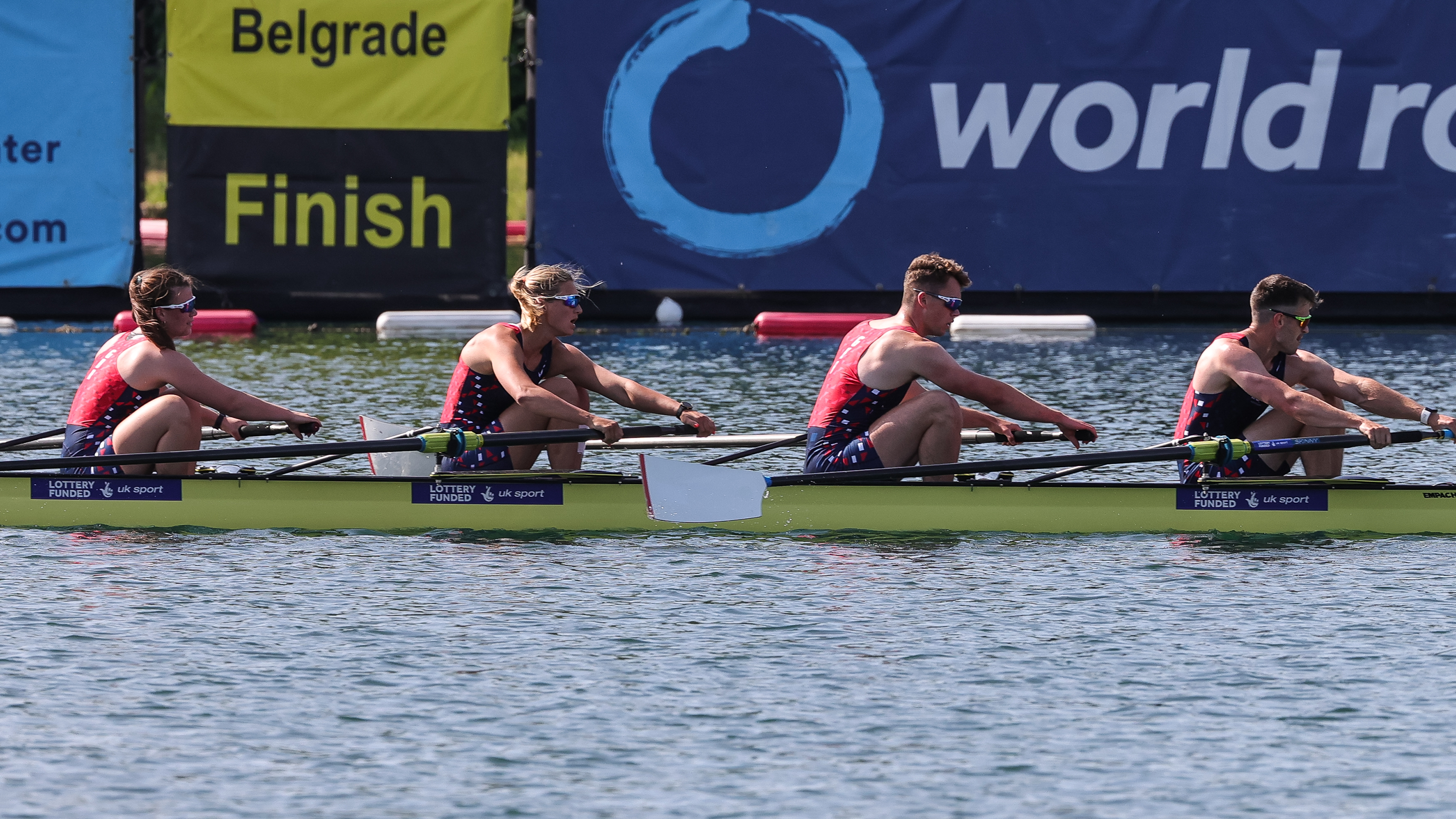 It was a solid first day of racing for Great Britain at the World Rowing Cup 1 in Belgrade, Serbia with 13 crews finishing their heats or test races in first place, cheered on by a group of GB supporting friends and family who were enjoying their first international regatta since the pandemic.
British Rowing Director of Performance Louise Kingsley reflected on the day's performances: "Today has been a good way to begin our Paris 2024 campaign and I'm so pleased to see our supporters have returned in force to cheer on the team!"
All of the women's squad experienced a first place finish with the Women's pair (W2-) of Esme Booth and Emily Ford; the Women's double sculls (W2x) of GBR1 Georgie Brayshaw and Lola Anderson and GBR2 Jessica Leyden and Lucy Glover; and the Lightweight women's double sculls (LW2x) of Maddie Arlett and Emily Craig all booking places directly into the A finals.
Hannah Scott in the Women's single sculls (W1x) will now race the semi-final after taking the only direct qualification spot in her heat.  Elsewhere in the Test Races, the Women's Four (W4-) of Rebecca Shorten, Samantha Redgrave, Heidi Long and Rowan McKellar put down a solid marker for Sunday's final and the 'doubled up' Women's quadruple sculls (W4x) of Georgie Brayshaw,  Jessica Leyden, Lola Anderson, Lucy Glover finished fifth ahead of that final, also on Sunday.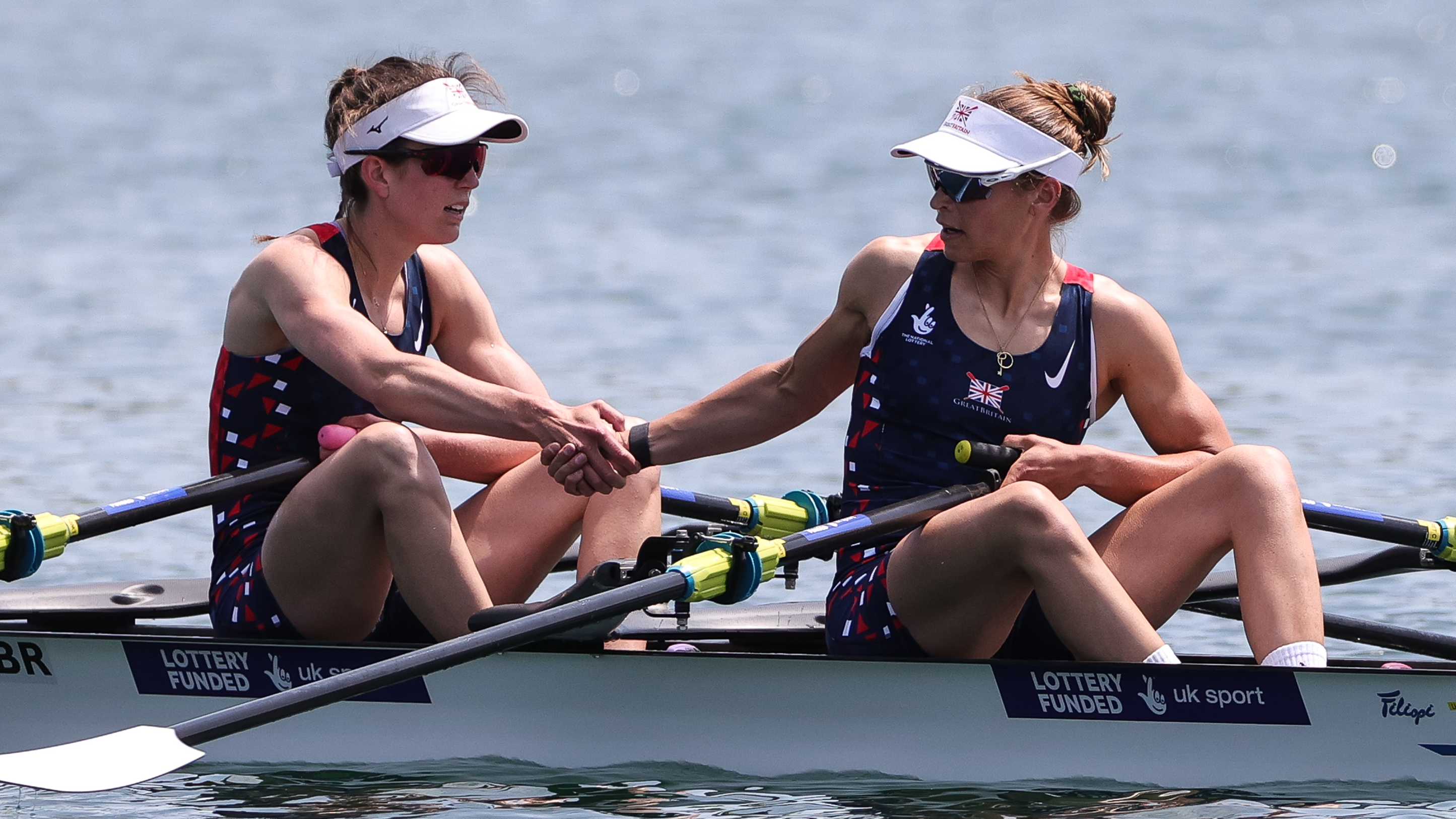 Andrew Randell, Women's Olympic Head Coach said: "You can't get too excited about heats day as it can be a quick trip from the penthouse to the basement if you're not careful – but it's certainly a good way to start. We had most of the scullers doubling up and that's a bit of a learning curve where they need to recover in a short space of time but the whole squad has put in so much work to get here and should feel proud of their training. They've put in the effort to get themselves in shape for the regatta today and we need to keep building on today's performances. We'll just keep our feet on the ground and work hard the next couple of days and we should get some rewards."
The Men's squad also put in some encouraging first performances. The three Men's Pair (M2-) crews made up of GBR1, Matt Aldridge and Joshua Bugajski, GBR2, Ollie Wynne-Griffith and Tom George and GBR3, Harry Glenister and Matt Rossiter all progressed to the semi-finals.
The Men's double sculls (M2x) of Matt Haywood and George Bourne and the Men's four (M4-) of Will Stewart, Lenny Jenkins, Freddie Davidson and Morgan Bolding also booked semi-final spots.
Having all progressed from their Heats this morning, in the Men's single sculls (M1x) quarter finals, GBR1 Graeme Thomas and GBR3 Callum Dixon have progressed to the semi-final having finished the quarter final races in first and second place respectively. GBR2 John Collins finished fourth in his quarter final and will race again in the C final.
The Men's eight (M8+) of Rory Gibbs, Morgan Bolding, David Bewicke-Copley, Sholto Carnegie, Charlie Elwes, Tom Digby, James Rudkin, Tom Ford and Harry Brightmore (cox) finished first in their test race ahead of China with the Netherlands choosing not to contest the race and the Men's quadruple sculls (M4x) of Harry Leask, Seb Devereux, Tom Barras and Sam Meijer finished in fourth and will race in the repechage on Saturday.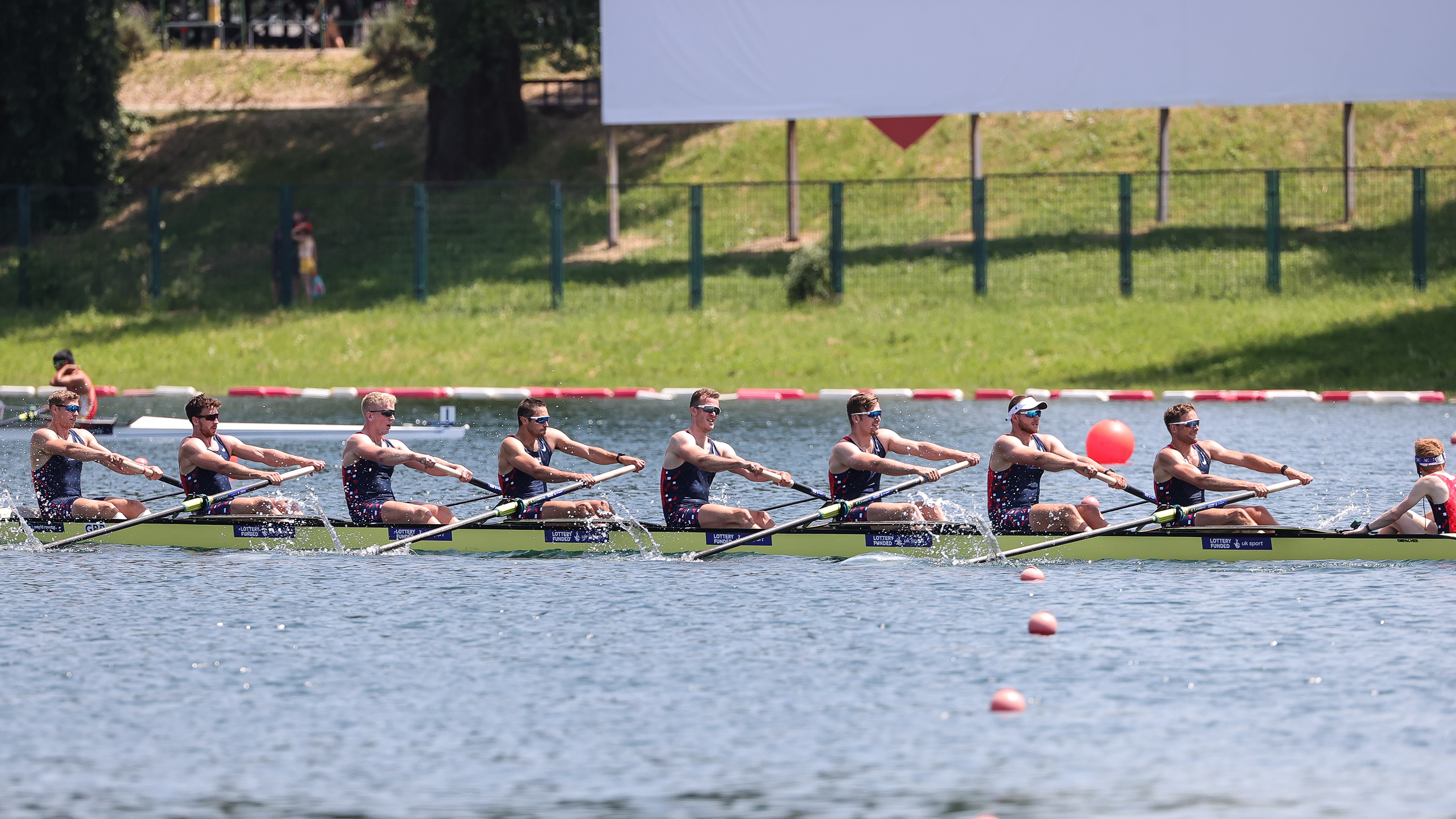 Paul Stannard, Men's Olympic Head Coach said: "Overall, there were some encouraging performances including a good number of first places in not only the heats this morning but also the quarter finals this afternoon, showing some good strength across the board. We now will look ahead to see how we can build on this for the rest of the regatta. Obviously a number of nations are not competing here, which we need to bear in mind looking forwards."
The Paralympic Squad had a run out in a series of optional test races ahead of finals on Saturday and Sunday.  In the PR1 men's single sculls (PR1 M1x) GBR1, Benjamin Pritchard and GBR2 Callum Russell finished second and third respectively.
The PR3 mixed coxed four (PR3 Mix4+) of Ollie Stanhope, Ed Fuller, Giedre Rakauskaite, Frankie Allen and Erin Kennedy (cox) maintained their unbeaten run, finishing ahead of the Australian crew.
Finally, the Australian in the PR2 women's single sculls (PR2 W1x) decided not to race the optional test race – the final will be contested on Saturday with Lauren Rowles representing the GBRT.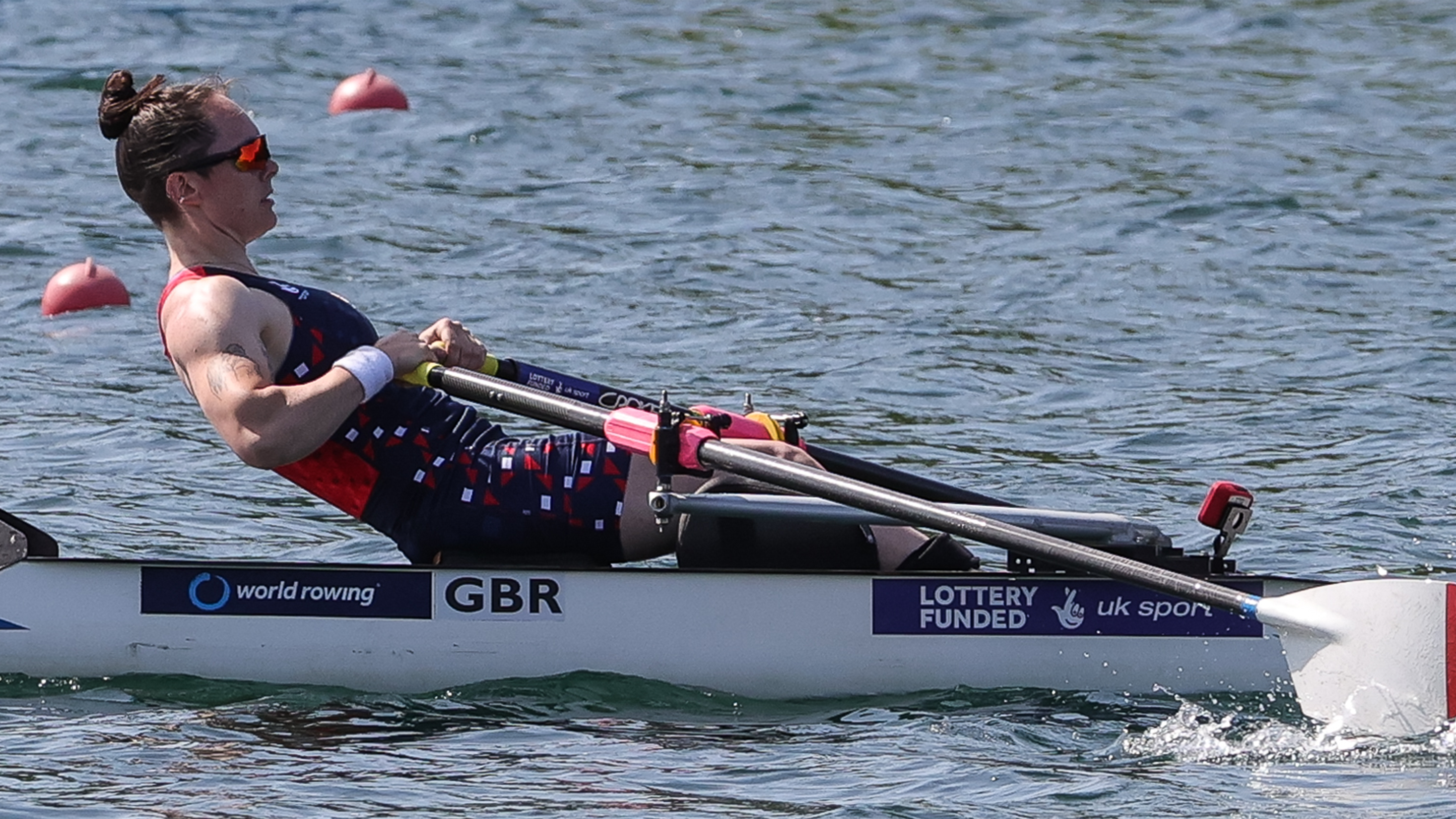 Paralympic Head Coach Nick Baker said: "This is a relatively quiet regatta for us, as we know from the entry list, but it was good to see the PR3 mixed coxed four continue to be unbeaten in their event. Obviously, for Lauren, this was a chance to learn and refine her race programme, ready to take on the Australian in her final tomorrow afternoon. And in the Men's singles, Benjamin and Erik are likely to have a bit of a battle on Sunday. Callum is also enjoying his first foray into some international racing and this is one of the higher pressure events as part of the full team, so I'm looking forward to seeing him step up again."
---
Results
| Boat | Crew | Race | Time | Progression |
| --- | --- | --- | --- | --- |
| PR3 Mix4+ | Ollie Stanhope (Molesey BC), Ed Fuller (Molesey BC), Giedre Rakauskaite (Worcester RC), Frankie Allen (Oxford Brookes University BC), Erin Kennedy (cox) (Leander Club) | Test Race | 07:16.56 | 1st ➡ A Final |
| PR1 MX1 GBR1 | Benjamin Pritchard (City of Swansea RC) | Test Race | 10:10.64 | 2nd ➡ A Final |
| PR1 MX1 GBR2 | Callum Russell (Agecroft Rowing Club) | Test Race | 10:28.60 | 3rd ➡ A Final |
| PR2 WX1 | Lauren Rowles (Worcester RC) | Test Race | 10:23.95 | 1st (row over) ➡ A Final |
| W4- | Rebecca Shorten (Imperial College BC), Samantha Redgrave (Leander Club), Heidi Long (Leander Club), Rowan McKellar (Leander Club) | Test Race | 06:50.51 | 1st ➡ A Final |
| W2- | Esme Booth (Leander Club), Emily Ford (Leander Club) | Heat 1 | 07:31.88 | 1st ➡ A Final |
| W4x | Georgie Brayshaw (Leander Club), Jessica Leyden (Leander Club), Lola Anderson (Leander Club), Lucy Glover (Edinburgh University BC) | Test Race | 06:32.74 | 5th ➡ A Final |
| W2x GBR1 | Georgie Brayshaw (Leander Club), Lola Anderson (Leander Club) | Heat 1 | 07:15.13 | 1st ➡ A Final |
| W2x GBR2 | Jessica Leyden (Leander Club), Lucy Glover (Edinburgh University BC) | Heat 2 | 07:21.79 | 1st ➡ A Final |
| LW2x | Maddie Arlett (Edinburgh University BC), Emily Craig (University of London BC) | Heat 2 | 07:13.80 | 1st ➡ A Final |
| W1x | Hannah Scott (Leander Club) | Heat 1 | 07:51.43 | 1st ➡ A/B Semi-Final |
| M8- | Rory Gibbs (Oxford Brookes University BC), Morgan Bolding (Oxford Brookes University BC), David Bewicke-Copley (Oxford Brookes University BC), Sholto Carnegie (Leander Club), Charlie Elwes (Oxford University BC), Tom Digby (Oxford Brookes University BC), James Rudkin (Newcastle University BC). Tom Ford (Leander Club), Harry Brightmore (cox) (Oxford Brookes University BC) | Test Race | 05:39.90 | 1st ➡ A Final |
| M4- | Will Stewart (Leander Club), Morgan Bolding (Oxford Brookes University BC), Lenny Jenkins (Leander Club), Freddie Davidson (Oxford Brookes University BC) | Heat 3 | 06:09.47 | 1st ➡ A/B Semi-Final |
| M2- GBR1 | Matt Aldridge (Oxford Brookes University BC), Joshua Bugajski (Oxford Brookes University BC) | Heat 1 | 06:46.44 | 1st ➡ A/B Semi-Final |
| M2- GBR2 | Ollie Wynne-Griffith (Cambridge University BC), Tom George (Cambridge University BC) | Heat 1 | 06:53.56 | 2nd ➡ A/B Semi-Final |
| M2- GBR3 | Harry Glenister (Leander Club), Matt Rossiter (Leander Club) |   Heat 4 | 07:06.33 | 2nd ➡ A/B Semi-Final |
| M4x | Harry Leask (Leander Club), Seb Devereux (Leander Club), Tom Barras (Leander Club), Sam Meijer (Elizabethan BC / Tideway Scullers School) | Heat 2 | 06:00.98 | 4th ➡ Repechage |
| M2x | Matt Haywood (Nottingham RC), George Bourne (Tideway Scullers School) | Heat 3 | 06:43.44 | 2nd ➡ A/B Semi-Final |
| M1x GBR1 | Graeme Thomas (Agecroft RC) | Heat 3 | 07:31.62 | 1st ➡ Quarter-Final |
| M1x GBR2 | John Collins (Leander Club) | Heat 5 | 07:17.46 | 1st ➡ Quarter-Final |
| M1x GBR3 | Callum Dixon (Twickenham RC) | Heat 6 | 07:26.02 | 3rd ➡ Quarter-Final |
| M1x GBR1 | Graeme Thomas (Agecroft RC) | Quarter Final 2 | 06:56.79 | 1st ➡ A/B Semi-Finals |
| M1x GBR2 | John Collins (Leander Club) | Quarter Final 4 | 06:58.97 | 4th ➡ C Final |
| M1x GBR3 | Callum Dixon (Twickenham RC) | Quarter Final 4 | 06:56.72 | 2nd ➡A/B Semi-Finals |
| | | | | |