Seventy athletes selected for the GB Rowing Team for third and final World Cup of the year
Rotterdam will provide the final international competition for the GB Rowing Team before August's World Rowing Championships in Linz, Austria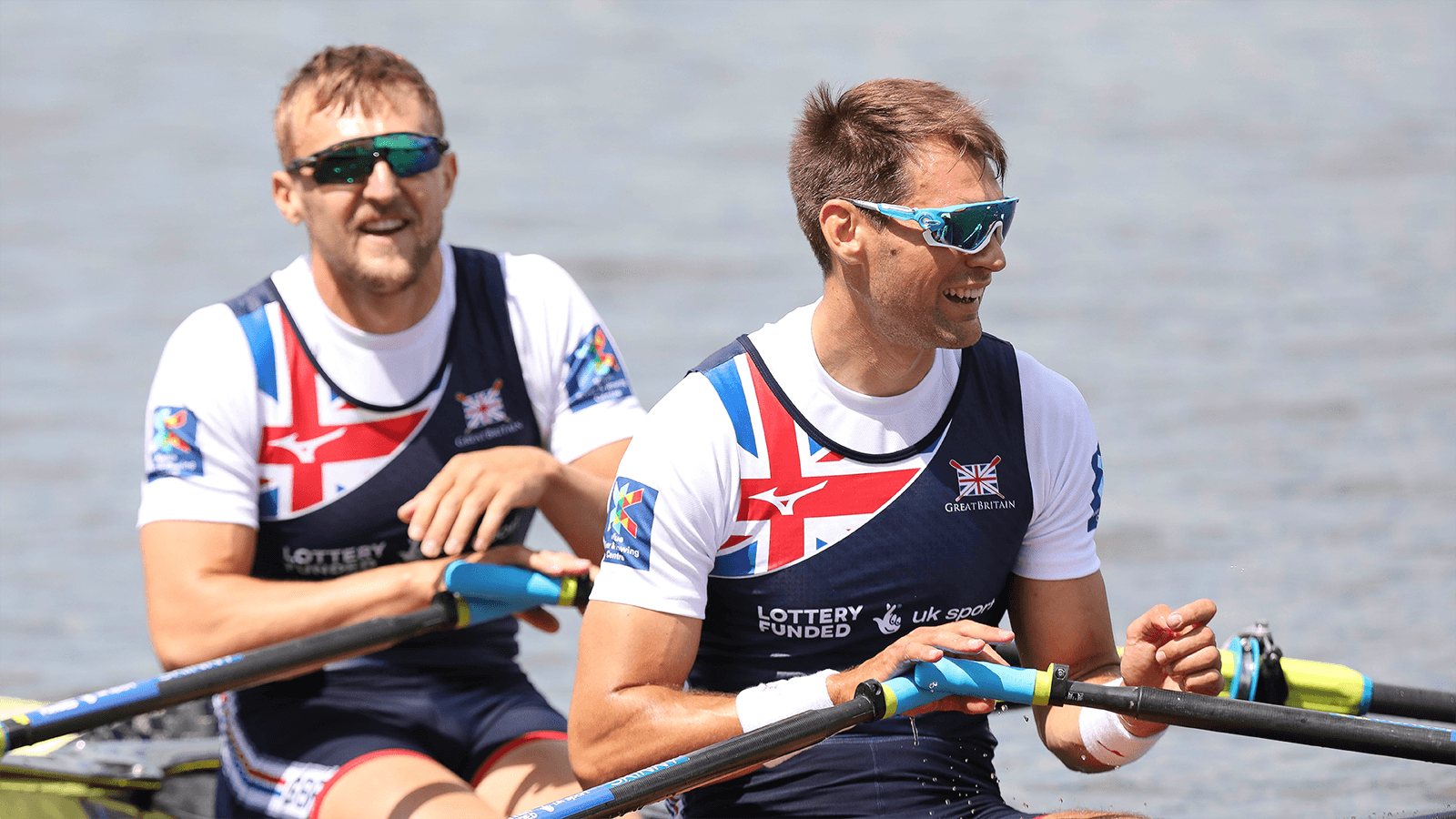 British Rowing Director of Performance Brendan Purcell, who is responsible for the Olympic, Paralympic and under-23 programmes, said: "Our priority for the 2019 season is to qualify as many boats as possible for the Tokyo Olympic and Paralympic Games, so this third World Cup is our last opportunity to test ourselves against the rest of the world before the qualification regatta at the World Championships.
"The squad heading out to Rotterdam is a fantastic mix of youth and experience. Our medal winning boats from the European Championships and second World Cup will be aiming to achieve podium performances once again, while providing another opportunity for all the boats to close the gap between them and the podium."
Responsibility for the selection of GB boats lies with Jürgen Grobler OBE, who became Chief Coach for the women's squad as well as the men's last year. Commenting on the squad selected for Rotterdam, Grobler said: "This is a qualifying year and the Olympics is a big attraction for everyone in the world so the competition is tough.
"The fact that the men's four won gold at the European Championships and came fourth at World Cup II shows how unpredictable the sport is.
"The athletes across both our men's and women's squads have huge potential and we now need to get our mental and physical preparation to peak at the right time for the World Championships."
John Collins and Graeme Thomas will contest the men's double sculls again after winning silver at World Cup II last month, while this season's two-time silver medal-winning men's eight is unchanged, with Tom Ford, James Rudkin, Tom George, Mohamed Sbihi, Jacob Dawson, Ollie Wynne-Griffith, Mat Tarrant, Josh Bugajski and cox Henry Fieldman lining up once more.
Sbihi said: "Rotterdam is our last race ahead of the World Championships in Linz so this is a very important competition. The third World Cup is always one of the toughest because the rest of the world will be at peak fitness but we're looking forward to the challenge."
The GBR1 women's eight, who won silver at the European Championships and bronze at World Cup II will again feature Karen Bennett, Hattie Taylor, Fiona Gammond, Zoë Lee, Jo Wratten, Rebecca Shorten, Rowan McKellar and Holly Norton with Matilda Horn returning as cox. They will be joined by a GBR2 women's eight made up of promising athletes Natasha Harris-White, Susie Dear, Samantha Redgrave, Oonagh Cousins, Fiona Bell, Alice Davies, Rebecca Edwards, Nicole Lamb and cox Morgan Baynham-Williams.
The European bronze medal-winning men's quad of Jonny Walton, Angus Groom, Jack Beaumont and Pete Lambert will be heading to Rotterdam with a point to prove after missing out on podium spots at World Cup II, as will the European gold medal-winning GBR1 men's four of Ollie Cook, Matt Rossiter, Rory Gibbs and Sholto Carnegie.
"We haven't raced at Rotterdam before but I watched the 2016 World Champs there and it is a great venue," said Groom.  "We've really turned a corner after World Cup II and are looking forward to refining our plans at Henley Royal Regatta this week before heading out to World Cup III."
Rio silver medallist Vicky Thornley will be aiming to continue her journey back to the podium after finishing seventh at the European Championships and fifth at World Cup II.
Thornley said: "World Cup II was a step in the right direction for me; I'm still not happy with finishing fifth but mentally it was important for me to be among the competition in the A final. Physically, I am feeling much stronger but I still need to find some more race fitness for the next one."
In the women's pair, Annie Withers and Sam Courty will now be competing as GBR1, with their WCII teammates from the four Polly Swann and Holly Hill lining up as GBR2.  The newly formed women's double of Kyra Edwards and Ruth Siddorn will also be looking to make their mark on the competition in Rotterdam.
You can follow the GB Rowing Team in Rotterdam on British Rowing social media channels and on BBC online and on the red button on Sunday, 14 July from 10:00 to 13:50.
GB Rowing Team crews for World Cup III
Men's pair (M2-)
GBR 1
Harry Glenister (Club: Leander Club / Hometown: Princes Risborough)
George Rossiter (Leander Club / Newbury)
GBR 2
Morgan Bolding (Oxford Brookes University /Withiel)
Tom Jeffery (Leander Club / Plymouth)
Men's four (M4-)
GBR 1
Ollie Cook (Univ. of London BC / Windsor)
Matt Rossiter (Leander Club/ Newbury)
Rory Gibbs (Oxford Brookes University / Marlow)
Sholto Carnegie (Leander Club / Oxford)
GBR 2
James Johnston (Leander Club / Henley-on-Thames)
Adam Neill (Leander Club / Peterborough)
Will Satch (Leander Club / Henley-on-Thames)
Alan Sinclair (Leander Club / Inverness)
Men's eight (M8+)
Tom Ford (Leander Club / Holmes Chapel)
James Rudkin (Newcastle Univ. BC / Litchborough)
Tom George (Leander Club / Cheltenham)
Mohamed Sbihi (Molesey BC / Surbiton)
Jacob Dawson (Leander Club / Plymouth)
Ollie Wynne-Griffith (Leander Club / Guildford)
Mat Tarrant (Oxford Brookes Univ BC / Shepperton)
Josh Bugajski (Oxford Brookes Univ. BC / Stockport)
Henry Fieldman (cox) (Leander Club / London)
Coach: Jürgen Grobler
Men's single scull (M1x)
GBR 1
Tom Barras (Leander Club / Staines)
GBR 2
Harry Leask (Leander Club / Edinburgh)
Coach: Dan Moore
Men's double sculls (M2x)
John Collins (Leander Club / Twickenham)
Graeme Thomas (Agecroft RC / Preston)
Coach: Dan Moore
Lightweight men's single scull (LM1x)
Zak Lee-Green (Agecroft RC / Cardiff)
Coach: Hamish Burrell
Lightweight men's double sculls (LM2x)
Jamie Copus (Oxford Brookes Univ BC / Oxford)
Sam Mottram (Leander Club / Stoke Mandeville)
Coach: Hamish Burrell
Men's quadruple sculls (M4x)
Jonny Walton (Leander Club / Leicester)
Angus Groom (Leander Club / Glasgow)
Jack Beaumont (Leander Club / Maidenhead)
Pete Lambert (Leander Club / Maidenhead)
Women's pair (W2-)
GBR 1
Sam Courty (Univ. of Bath BC / Alnwick)
Annie Withers (Leander Club / Kingston)
GBR 2
Polly Swann (Univ. of Edinburgh / Edinburgh)
Holly Hill (Cambridge Univ. Women's BC / Isle of Ely RC / Gossington)
Women's four (W4-)
Sara Parfett (University of London BC / Rochester)
Caragh McMurtry (Southampton Coalporters ARC / Southampton)
Emily Ford (Leander Club / Holmes Chapel)
Rebecca Girling (Molesey BC / Fareham)
Women's eight (W8-)
GBR 1
Karen Bennett (Leander Club / Edinburgh)
Hattie Taylor (Leander Club / Sunningdale)
Fiona Gammond (Leander Club / Bicester)
Zoë Lee (Imperial College BC / Richmond, N. Yorks)
Jo Wratten (Leander Club / Middlesbrough)
Rebecca Shorten (Imperial College BC / Belfast)
Rowan McKellar (Leander Club / Glasgow)
Holly Norton (Leander Club / Johannesburg, RSA)
Matilda Horn (cox) (Univ. of London BC/Windsor)
Coach: James Harris
GBR 2
Natasha Harris-White (Leander Club / Henley on Thames)
Susie Dear (Leander Club / Chertsey)
Samantha Redgrave (Norwich RC / Newcastle)
Oonagh Cousins (University of London BC / Farnham)
Fiona Bell (Queen's Univ. Ladies BC / Glasgow)
Alice Davies (Univ. of London BC / Colchester)
Rebecca Edwards (Molesey BC / Aughnacloy)
Nicole Lamb (Sheffield Univ. BC / Hexham)
Morgan Baynham-Williams (cox) (Leander Club / Ross-on-Wye)
Coach: Lauren Fisher
Women's single scull (W1x)
Vicky Thornley (Leander Club / Wrexham)
Coach: Paul Reedy
Women's double sculls (W2x)
Kyra Edwards (Nottingham RC / Nottingham)
Ruth Siddorn (Leander Club / Chester)
Coach: Paul Reedy
Women's quadruple sculls (W4x)
Jess Leyden (Leander Club / Todmorden)
Melissa Wilson (Cambridge Univ. Women's BC / Edinburgh)
Mathilda Hodgkins-Byrne (Reading Univ. BC / Hereford)
Charlotte Hodgkins-Byrne (University of London BC / Hereford)
Coach: Jane Hall
Lightweight women's single sculls (LW1x)
Imogen Grant (Cambridge Univ. Women's BC / Cambridge)
Coach: Darren Whiter
Lightweight women's double sculls (LW2x)
Emily Craig (University of London BC / Mark Cross)
Eleanor Piggott (Wallingford RC / Bedford)
Coach: Darren Whiter
Women's spares
Saskia Budgett (Tideway Scullers' School / Acton)
Maddie Arlett (Edinburgh Univ. BC / Selkirk)