World Cup 2: GB crews thrive under time trial conditions in Linz
As FISA tested time trials at World Cup 2 in Linz, GB crews won nine heats on day one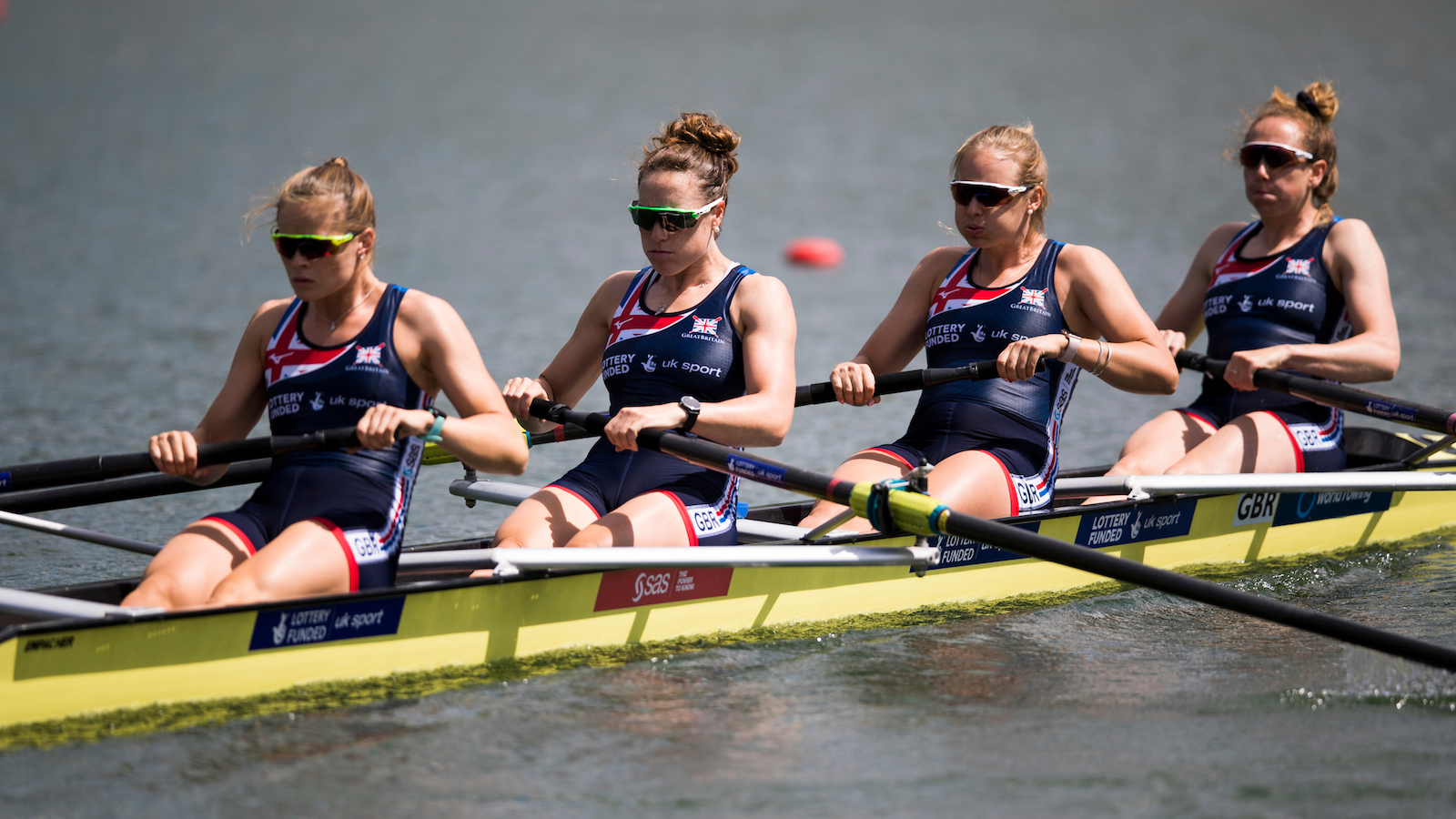 Great Britain's women's four booked their place in Sunday's A final as time trials replaced traditional side-by-side racing in the heats at World Cup 2 in Linz.
To ensure that competitors and officials are well prepared in the event of time trials being deemed necessary to ensure fair competition at major events, competitors raced against the clock, one after another, up the 2,000m course.
The nature of time trials means you don't know where you stand in the rankings until everyone in the heat finishes, but nine GB crews finished first in their heats.
Fiona Gammond, Holly Norton, Karen Bennett and Rebecca Shorten set the third fastest time overall (6:33.17) to win their heat of the women's four, six seconds ahead of Germany. They join heat two winners Australia as the automatic qualifiers for Sunday's final, with the repechage deciding the other finalists on Saturday.
Both women's pairs took victory in their respective heats. Anastasia Chitty and Rebecca Girling set the second fastest time overall behind New Zealand's World Best Time holders Grace Prendergast and Kerri Gowler. Rowan McKellar and Hattie Taylor set the third fastest time overall to win heat three.
The men's double and quadruple sculls also cruised to victory with their boat class's fastest times. Jack Beaumont and Angus Groom, silver medallists in Belgrade, beat Italy by three seconds in their heat, while the quad of John Collins, Jonny Walton, Graeme Thomas and Tom Barras looked impressive as they beat New Zealand.
Despite a change late in the week due to an injury to Emily Craig, the lightweight women's double of Ellie Piggott and Fran Rawlins edged Australia to win heat one.
In the same heat, Maddie Arlett and Gemma Hall finished fourth to go into the afternoon's repechage. There they took third place to continue to the semi-final on Saturday.
Vicky Thornley took the win in heat three of the women's single, with Alice Baatz finishing fourth in the same race. Baatz then took an excellent win in the repechage to join Thornley in Saturday's semi-final.
Matt Rossiter and Ollie Cook made an excellent start to their 2018 seasons, setting the fastest time by over 12 seconds in their heat of the men's pair.
Andy Houghton, silver medallist in Belgrade, moved into the semi-finals of the PR1 men's single scull, winning by 20 seconds. His main rival, Roman Polianskyi from Ukraine set a new World Best Time in his heat, stopping the clock at 9:33.12.
Harry Leask beat double Olympic champion Mahe Drysdale to progress to the semi-final of the men's single. The Leander rower finished second in his heat and then the same again in the quarter-final, one ahead of the returning Drysdale, to move through to the next round.
Laurence Whiteley finished second in his PR2 single scull test race, as did Dan Brown and Ollie Stanhope in the PR3 men's pair. Both crews will race for medals on Saturday.
GB will battle Germany in the repechage of the men's eight on Saturday after both nations finished second in their heats. GB were six tenths of a second behind the Netherlands in heat one, while Australia surged to victory in heat two.
Mathilda Hodgkins Byrne, Zoe Lee, Jess Leyden and Melissa Wilson finished third in their time trial and will return for the repechage in the women's quad on Saturday for a place in Sunday's final.
The two men's four crews also finished third in their respective heats, moving through to the semi-finals.
In the women's eight exhibition race, GB finished fifth and will return on Sunday to battle for the medals. The boat won silver in Belgrade and features eight new rowers for this World Cup. Sam Courty was a late call-up on Friday, replacing Emily Ashford who dropped out through injury.
Jamie Copus and Gavin Horsburgh won their lightweight men's double sculls repechage to move through to the semi-final, but Sam Mottram and Zak Lee-Green will have to settle for a place in the C final after finishing third in their repechage.
James Temple, of Edinburgh University, will race the C final of the lightweight men's single after finishing fifth in the repechage on Friday afternoon.
British Rowing's Director of Performance, Brendan Purcell, said: "It was a solid first day of racing, with some standout performances from a number of GB crews. It was good experience for our crews to race under time trial conditions and it was fantastic to see so many crews progress to the next rounds of competition."
Unfortunately, GB's other men's pair of James Rudkin and Josh Bugajski was relegated to the D final after winning the afternoon's repechage after their boat weighed in too light.
Purcell added: "Josh and James put in two impressive performances in the heat and repechage, so it's unfortunate to see them relegated due to an underweight boat. As is our normal process, we weighed the boat on Thursday to ensure it was on weight. The staff team is working to determine the cause of the issue."
Results
Women's
Women's Pair heat
1. Rowan McKellar & Hattie Taylor (GBR2) 7:07.57
2. Oksana Golub & Anna Kontseva (UKR) 7:12.93
3. Veronica Calabrese & Ilaria Broggini (ITA2) 7:18.35
1. Anastasia Chitty & Rebecca Girling (GBR1) 7:03.92
2. Jovanna Arsic & Natasa Zaric (SRB) 7:17.47
3. Xinyu Lin & Yingying Li (CHN1) 7:19.33
Women's Four heat
1. Great Britain (Fiona Gammond, Holly Norton, Karen Bennett, Rebecca Shorten) 6:33.17
2. Germany 6:39.33
3. New Zealand 6:39.87
Women's Eight exhibition race
1. New Zealand 6:08.98
2. Romania 6:15.39
3. Australia 6:16.03
–
5. Great Britain (Sara Parfett, Emily Ford, Rebecca Chin, Jo Wratten, Katherine Douglas, Caragh McMurtry, Holly Hill, Sam Courty, Matilda Horn (c0x)) 6:21.20
Women's Single Scull heat
1. Vicky Thornley (GBR1) 7:32.19
2. Kiri Tontodonati (ITA) 7:34.90
3. Annekatrin Thiele (GER) 7:35.43
–
4. Alice Baatz (GBR2) 7:45.31
Repechage
1. Alice Baatz (GBR2) 7:50.58
2. Milena Viana (BRA) 7:53.12
3. Lovisa Claesson (SWE) 7:58.28
Women's Quadruple Scull heat
1. Ukraine 6:26.77
2. Poland 6:32.50
3. Great Britain (Mathilda Hodgkins Byrne, Melissa Wilson, Jess Leyden, Zoe Lee) 6:35.51
Lightweight Women's Double Scull heat
1. Ellie Piggott & Fran Rawlins (GBR1) 7:00.39
2. Alice Arch & Amy James (AUS2) 7:00.84
3. Marieke Keijser & Ilse Paulis (NED) 7:01.61
–
4. Gemma Hall & Maddie Arlett (GBR2) 7:02.95
Repechage
1. Valentina Rodini & Federica Cesarini (ITA) 7:02.95
2. Ladina Meier & Leonie Pless (GER) 7:05.28
3. Gemma Hall & Maddie Arlett (GBR2) 7:05.77
Men's
Men's Pair heat
GBR1
1. Martin Sinkovic & Valent Sinkovic (CRO1) 6:17.58
2. James Rudkin & Josh Bugajski (GBR1) 6:25.30
3. Roman Piven & Mykola Kalashnyk (UKR2) 6:30.42
GBR2
1. Matt Rossiter & Oliver Cook (GBR2) 6:30.13
2. Anton Kholyanznykov & Artem Moroz (UKR1) 6:42.80
3. Xiaoxiong Li & Jingbin Zhao (CHN) 6:43.75
Repechage
GBR1
1. James Rudkin & Josh Bugajski (GBR1) 6:41.27
2. Christoph Seifriedberger (AUT1) 6:42.62
3. Xavier Vela Maggi & Willian Giaretton (BRA) 6:45.72
Men's Four heat
GBR1
1. Netherlands 6:00.71
2. Belarus 6:00.71
3. Great Britain 1 (Harry Glenister, Callum McBrierty, Morgan Hellen, George Rossiter) 6:02.04
GBR2
1. Australia 5:54.81
2. Poland 5:58.53
3. Great Britain 2 (James Johnston, Adam Neill, Jacob Dawson, Tom Ford) 5:59.53
Men's Eight heat
1. Netherlands 1 5:31.42
2. Great Britain (Tom Ransley, Tom George, Tom Jeffery, Oliver Wynne-Griffith, Moe Sbihi, Alan Sinclair, Matt Tarrant, Will Satch, Henry Fieldman (cox)) 5:32.08
3. Italy 5:34.58
Men's Single Scull heat
1. Kjetil Borch (NOR) 6:52.99
2. Harry Leask (GBR) 6:57.97
3. Damir Martin (CRO1) 6:59.92
Quarter-Final
1. Tim Ole Naske (GER2) 6:56.61
2. Harry Leask (GBR) 6:59.78
3. Mahe Drysdale (NZL2) 7:01.65
Men's Double Scull heat
1. Angus Groom & Jack Beaumont (GBR) 6:13.85
2. Emanuele Fiume & Andrea Cattaneo (ITA2) 6:16.38
3. Matthieu Androdias & Hugo Boucheron (FRA) 6:16.40
Men's Quadruple Scull heat 
1. Great Britain (John Collins, Jonny Walton, Graeme Thomas, Tom Barras) 5:42.87
2. New Zealand 5:47.43
3. USA 5:50.43
Lightweight Men's Single Scull heat
1. Jason Osborne (GER) 6:57.83
2. Paul Sieber (AUT1) 7:04.63
3. Martino Goretti (ITA) 7:05.65
–
4. James Temple (GBR) 7:14.41
Repechage
1. Hamish Parry (AUS) 7:17.11
2. Thibault Colard (FRA) 7:18.64
3. Zhiyuan Zhang (CHN) 7:18.99
–
5. James Temple (GBR) 7:27.79
Lightweight Men's Double Scull heat
GBR1
1. Kristoffer Brun & Are Strandli (NOR) 6:24.58
2. Alfonso Scalzone & Gabriel Soares (ITA2) 6:29.45
3. Igor Khmara & Stanislav Kovalov (UKR) 6:31.94
–
5. Sam Mottram & Zak Lee-Green (GBR1) 6:56.11
GBR2
1. Steffano Oppo & Pietro Ruta (ITA1) 6:17.63
2. Tim Brys & Niels Van Zandweghe (BEL) 6:20.10
3. Andri Struzina & Julian Mueller (SUI) 6:23.61
–
5. Jamie Copus & Gavin Horsburgh (GBR2) 6:59.18
Repechage
GBR1
1. Benjamin Van Dalen & Matthew Dunham (NZL) 6:22.12
2. Tim Brys & Niels Van Zandweghe (BEL) 6:22.14
3. Sam Mottram & Zak Lee-Green (GBR1) 6:24.78
GBR2
1. Jamie Copus & Gavin Horsburgh (GBR2) 6:31.96
2. Alexander Modest & Emil Espensen (DEN) 6:34.72
3. Alejandro Colomino & Carlo Lauro (ARG) 6:42.53
Para
PR1 Men's Single Scull heat
1. Andy Houghton (GBR) 9:53.37
2. Rene Pereira (BRA) 10:13.42
3. Julien Hardi (FRA) 10:18.32
PR2 Men's Single Scull exhibition race
1. Corne de Koning (NED) 8:39.87
2. Laurence Whiteley (GBR) 8:51.53
3. Gianfilippo Mirabile (ITA) 10:26.62
PR3 Men's Pair exhibition race
1. France 1 7:10.64
2. Great Britain (Dan Brown & Ollie Stanhope) 7:18.57
3. France 2 7:29.11