European gold success for men's eight and lightweight women's doubles
Great Britain won two golds, a silver and two bronze medals on the first day of finals racing on Lake Bled at the European Rowing Championships
Commenting after a jam-packed day of racing, Louise Kingsley, Director of Performance said: "It has been a solid start to our 2023 racing season. The highlights were the men's eight final for its on the edge of your seat moment and the lightweight women's double for being such a class act."
The Men's eight (M8+) of Rory Gibbs, Morgan Bolding, Jacob Dawson, Tom Digby, Charlie Elwes, Sholto Carnegie, James Rudkin, Tom Ford and cox, Henry Fieldman led a thrilling race and edged out the Romanian boat in the final seconds to retain their European title.
Returning to the boat for his first race since winning bronze at the Tokyo 2020 Olympics was an emotional Jacob Dawson. Jacob has been away from the team recovering from a pulmonary embolism and blood clot caused by Covid complications last season. He said: "There were definitely a few tears at the end there, certainly not out of sadness. With everything that happened last year – the blood clot, pulmonary embolism and the uncertainty on whether I was going to be able to return to racing at all, let alone racing on the world stage, there is such elation. I'm feeling a whole range of emotions and right now I hope I can be forgiven for just enjoying this moment for what it is. I can't really put it into words."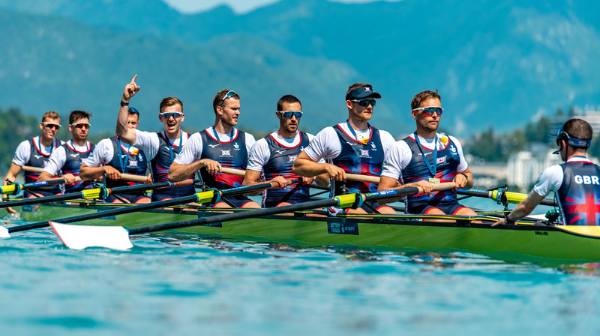 "Obviously, everybody on this team is very special to me – they become your closest friends – but having shared an Olympic final with James (Rudkin), Tom (Ford), Henry (Fieldman) and Charlie (Elwes), it was the cherry on top to be able to get the win with them, despite it being a lot closer than we wanted it to be! I think it goes to show that all the training we're doing is paying off. We will come away from this, get back to it straight away, work on what we need to work on, and hopefully bring even more speed to the next races to come."
Cox Henry Fieldman who stepped in as a substitute for Harry Brightmore added: "We're very relieved. It was a nail-biting finish and perhaps that makes it all the sweeter and will serve as a motivator for this crew moving forward."
In contrast, Emily Craig and Imogen Grant continued to dominate in the Lightweight Women's Double Sculls (LW2x) and retained their European title in tough conditions. Imogen said: "Oh my goodness, double European Champions! It was quite bouncy out there on the lake and we knew that was going to be a factor coming in. We talked a lot about staying loose, staying together, making the most of the good bits and making sure we didn't lose stuff on the bad bits. I think we really did that today. It felt a bit like the Tideway, which we're both really familiar with!"
Emily added: "Coming into this regatta unbeaten is a place we haven't been before, so it's been a learning curve and we've had open and honest conversations with each other and ourselves, and I think it really paid off today."
Picking up a silver medal in their first race in a new combination were the Women's Four (W4-) of Rebecca Shorten, Helen Glover, Rowan McKellar and Heidi Long.
Double Olympic Champion Helen Glover was cheered on and joined on the podium by her three young children. She said: "This is our first race in the four. It's a quick learning curve as it's a faster race and the thinking time you have in the pair is just gone in the four, which I kind of love. There's definitely more to come. For me it's another silver in Bled – but every time I get silver in Bled I come back with a gold, so let's hope that happens again. It's the first time my family have watched me row (flat water) so it's exciting for them too. I'm glad that they have come out to support me, it means so much!"
Heidi added: "What a race! We tried to just trust our process the whole way and then that was a real fight for the line. It's gutting to come out the other side of it, but it was a fantastic race from Romania and we gave it our all. We're going to keep building throughout the year… There's a lot more to come from this point onwards."
Annie Caddick and Sam Murray were thrilled to win a bronze medal in the PR3 mixed double sculls (PR3 Mix 2x), as they made their competitive debut as a double. "we didn't really know how it was going to go," said Annie, adding: We're quite a new double so to come away with a medal was good. Now we know what to do to crack on and get a little faster."
Sam said: "We've been training hard. We're only six months in the making and we had a close heat yesterday, so our target was to push hard in the last 500. We knew we wanted to maximise this opportunity and not leave anything in the tank today. So we're proud of our performance. Our main goal is the World Championships, this is a stepping stone and we're heading in the right direction."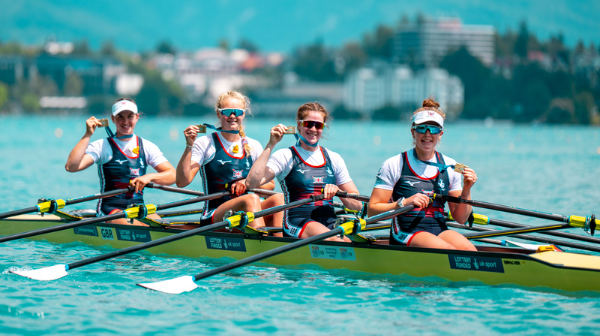 The Women's quadruple sculls (W4x) of Lucy Glover, Georgie Brayshaw, Hannah Scott and Lauren Henry made the podium, taking away a bronze. Lauren Henry said: "It was my first senior international race so obviously it was nice to get a medal even if it's not the colour medal we wanted. I haven't really got a medal at U23s before so that was nice, but there are lots of things we can improve on. It was washy for us, but fair enough it was washy for everyone. We didn't deal with it as well as some of the other crews, but there are positives to take in the project moving forward. The hope is to step up the podium."
Other results saw a fourth place finish for the Men's quadruple sculls (M4x) of Callum Dixon, George Bourne, Matt Haywood and Tom Barras and a fifth place finish for Callum Russell in the PR1 men's single sculls (PR1 M1x)
Earlier in the day Ollie Wynne-Griffith and Tom George won their Men's pair (M2-) semi final and will race the final on Sunday.
You can follow the action live across British Rowing social media channels and on BBC iPlayer and website.
Finals / Semi Finals results (Day Three) at the 2023 European Rowing Championships
| Boat | Time | Position | Race | Next Race |
| --- | --- | --- | --- | --- |
| M2- | 06:30.07 | 1st | A/B Semi-Final | → A Final |
Boat :

M2-

Time :

06:30.07

Position :

1st

Race :

A/B Semi-Final

Next Race:

→ A Final
| Boat | Time | Position | Race |
| --- | --- | --- | --- |
| PR1 M1x | 10:07.13 | 5th | A Final |
| PR3 Mix2x | 07:43. 68 | | A Final |
| W4- | 06:23.72 | | A Final |
| W4x | 06:22.13 | | A Final |
| LW2x | 06:52.32 | | A Final |
| M4x | 05:44.10 | 4th | A Final |
| M8+ | 05:28.09 | | A Final |
Boat :

PR1 M1x

Time :

10:07.13

Position :

5th

Race:

A Final
Boat :

PR3 Mix2x

Time :

07:43. 68

Position :

Race:

A Final
Boat :

W4-

Time :

06:23.72

Position :

Race:

A Final
Boat :

W4x

Time :

06:22.13

Position :

Race:

A Final
Boat :

LW2x

Time :

06:52.32

Position :

Race:

A Final
Boat :

M4x

Time :

05:44.10

Position :

4th

Race:

A Final
Boat :

M8+

Time :

05:28.09

Position :

Race:

A Final