GB Rowing Team off to a flying start at the 2019 European Rowing Championships
The GB Rowing Team got their 2019 European Championships campaign off to a flying start after 12 boats qualified for the weekend's semi finals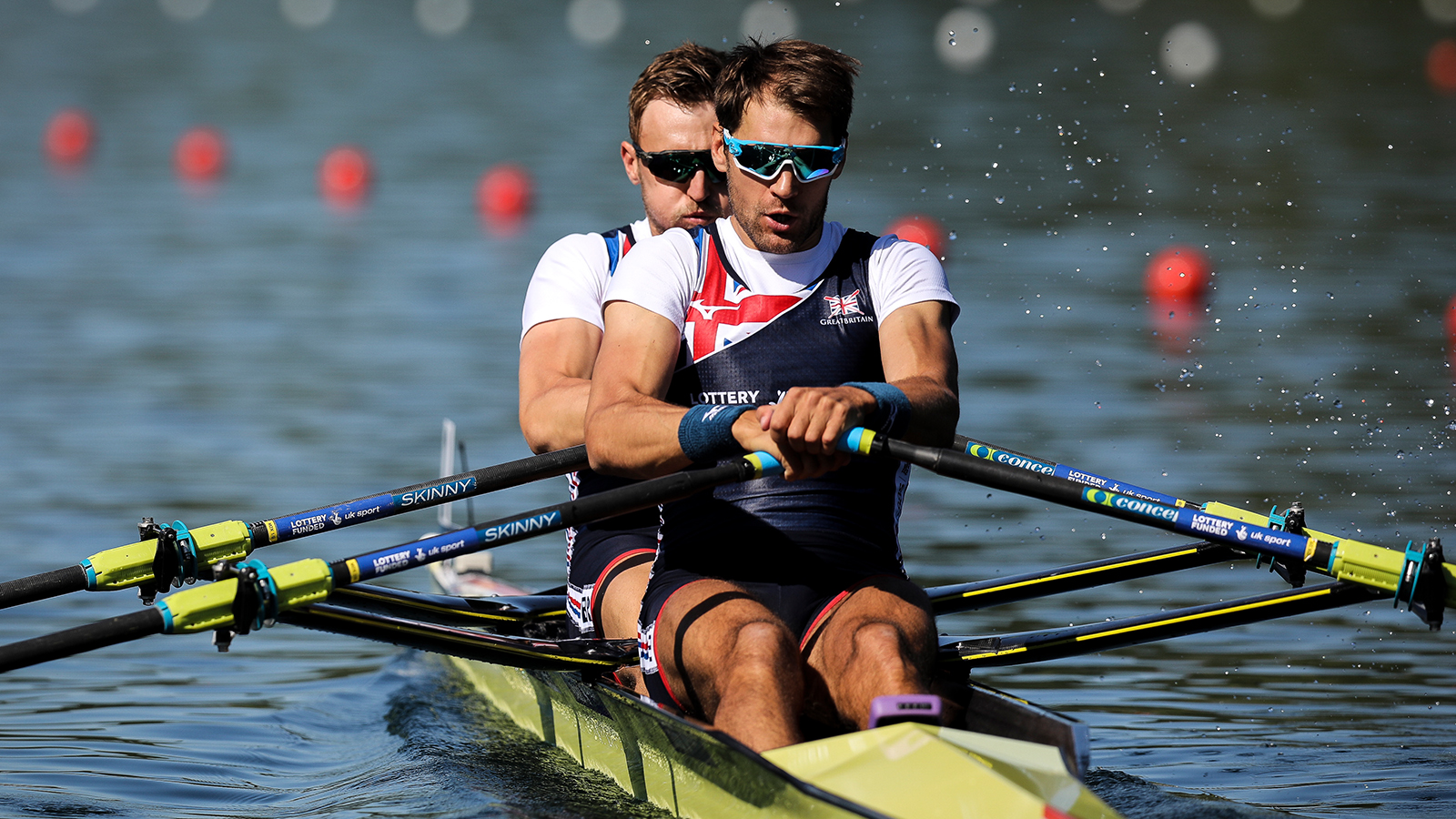 Graeme Thomas and John Collins made an early statement in the men's double sculls as they qualified for the A/B semi-finals winning their heat with a fantastic time of 6:20.16, beating 2018 world silver medallists Barnabe Delarze and Roman Roeoesli of Switzerland to the top spot.
Speaking after the race, Collins said "We're really pleased with the result. It's our first race together as a crew and although we were a bit too relaxed in the first half, having an engine like Graeme in the boat meant we could make the ground up. Now we need to learn from today and see what we need to tweak ahead of the semis tomorrow".
The new-look men's four, featuring senior team debutant Rory Gibbs alongside Oliver Cook, Matt Rossiter and Sholto Carnegie, led from the 1,000m mark with their winning time of 5:53.73 seeing them through to the A/B semi-finals.
Speaking afterwards, Gibbs said "I'm absolutely over the moon. We wanted to have a confident start and did exactly what we'd planned to do. I'm honoured to be here racing and now I want to keep doing everything I can to keep on improving over the weekend."
Vicky Thornley made a fantastic return to racing, qualifying for the A/B semi-finals for the women's single sculls in second place. The Olympic silver medallist was up against Irish reigning world single sculls champion Sanita Puspure in a heat which saw the two boats put clear water between them and third placed Ekaterina Kurochkina of Russia.
Speaking afterwards, Thornley said "It felt really good to get out there and race again after being off last season. I would have loved to come away with the win from today but it's a good start to the season and there's lots more to work on."
The men's quad of Jack Beaumont, Jonny Walton, Angus Groom and Pete Lambert finished three-quarters of a length ahead of second-placed Norway to progress safely to the A/B semi-final.
Reflecting on his first international race since August 2017, Lambert said: "It's been a long time since my last race so I'm really happy to be back racing at Lucerne and the Rotsee. We executed our plan really well and now we need to step up tomorrow for the semi-final."
In their first race, the women's quad of Jess Leyden, Melissa Wilson, Mathilda Hodgkins-Byrne, Charlotte Hodgkins-Byrne were competing against last year's world and European champions Poland for the one qualification spot. They gave a fantastic account of themselves and finished in second place, ready to compete again in the repechages.
Speaking afterwards Charlotte Hodgkins-Byrne said "The race was a great experience and I had a lot of fun. We worked as a really strong unit and it was great to set down a marker at the start of the season."
The men's pair of Harry Glenister and George Rossiter were in 5th place at the first 500m but mounted a huge sprint to finish in second place between Romania and France, both medallists from last year's European Championships. In the women's pair, Sam Courty and Annie Withers battled through a close heat to see them also progress through to tomorrow's A/B semi-finals in second place.
The lightweight double of Maddie Arlett and Emily Craig, competing in the openweight category, narrowly missed out on automatic qualification after a huge battle for the top three spots. In the afternoon repechage they pushed hard qualify for their A/B semi-final in second place.
Jamie Copus just missed out on the top two qualifying spots from a tough lightweight men's singles heat but won his repechage by two lengths, putting himself back in contention in tomorrow's A/B semi-finals.
The women's four, featuring Sara Parfett, Caragh McMurtry, Beccy Girling and Emily Ford, gave a strong performance in an extremely close heat which featured a new European Championships best time from the Romanian crew. They finished a quarter of a length outside the two automatic qualifying spots and will row again in tomorrow's repechage.
In the men's single sculls, Tom Barras showed his class by putting on a huge sprint in the final 500m to finish a hair's width behind second-placed Israel and secure himself a spot in tomorrow's A/B semi-finals.
Imogen Grant and Ellie Piggott, racing together in the lightweight women's double for the first time, put themselves safely through to the A/B semi-finals in second place with clear water between them and third placed Ireland.
Lightweight double Zak Lee-Green and Will Fletcher came 5th in their heat and had to compete again in the afternoon's repechage. They pressed hard in the last 500m to take the third qualifying spot for their A/B semi-finals.
In the test race for the women's eight, GB's Fiona Gammond, Zoe Lee, Josephine Wratten, Hattie Taylor, Rowan McKellar, Rebecca Shorten, Karen Bennett, Holly Norton and Matilda Horn led from start to finish and comfortably took the win with 6:03.61. They now progress through to Sunday's final.
Speaking afterwards, Olympic silver medallist Karen Bennett said "We're really pleased with that race. We put our plan together, got in front in the first 500m and just attacked it. Although it was just a test event, it was great to get out there for our first race of the season and see how fast we're going".
The men's eight came second in their heat with the Netherlands boat taking the one automatic qualifying spot. GB's Tom Ford, James Rudkin, Tom George, Mohamed Sbihi, Jacob Dawson, Ollie Wynne-Griffith, Mat Tarrant, Josh Bugajski, Henry Fieldman will now race again tomorrow in the repechages.
Jurgen Grobler OBE, Chief Coach for the GB Team, said: "This has been a very positive first day which sets a good benchmark for the team at the start of the season. There were a lot of strong performances which gives us confidence for the rest of the weekend."
Results
Women's pair (Heat)
1. Adriana Ailincai & Maria Tivodariu (ROU) 7:20.96
2. Sam Courty & Annie Withers (GBR) 7:23.72
3. Oksana Golub & Olena Buryak (UKR) 7:25.71
Men's pair (Heat)
1. Marius-Vasile Cozmiuc & Ciprian Tudosa (ROU) 6:37.61
2. Harry Glenister & George Rossiter (GBR) 6:41.71
3. Valentin Onfroy & Theophile Onfroy (FRA) 6:42.84
Women's double sculls (Heat)
1. Nicoleta-Ancuta Bodnar & Simona Geanina Radis (ROU) 7:04.46
2. Aikaterini Nikolaidou & Anneta Kyridou (GRE) 7:07.21
3. Stefania Buttignon & Stefania Gobbi (ITA) 7:07.47
4. Maddie Arlett & Emily Craig (GBR) 7:08.21
Women's double sculls (Repechage)
1. Helene Lefebvre & Elodie Ravera-Scaramozzino (FRA) 7:04.08
2. Maddie Arlett & Emily Craig (GBR) 7:05.31
3. Krystyna Lemanczyk-Dobrzelak & Martyna Radosz (POL) 7:06.83
Men's double sculls (Heat)
1. John Collins & Graeme Thomas (GBR) 6:20.16
2. Barnabe Delarze & Roman Roeoesli (SUI) 6:20.52
3. Jan Cincibuch & Jan Hajek (CZE) 6:44.74
Lightweight men's single (Heat)
1. Artur Mikolajczewski (POL) 7:02.15
2. Peter Galambos (HUN) 7:06.26
Lightweight men's single (Repechage)
2. Luka Radonic (CRO) 7:08.65
3. Dinis Costa (POR) 7:11.76
Women's four (Heat)
1. Romania 6:31.86
2. Poland 6:35.98
3. Great Britain (Sara Parfett, Caragh McMurtry, Beccy Girling, Emily Ford) 6:37.03
Men's four (Heat)
1. Great Britain (Oliver Cook, Matt Rossiter, Rory Gibbs, Sholto Carnegie) 5:53.73
2. Belarus 5:55.88
3. Switzerland 5:56.59
Women's single sculls (Heat)
1. Sanita Puspure (IRL) 7:30.65
2. Vicky Thornley (GBR) 7:35.35
3. Ekaterina Kurochkina (RUS) 7:46.29
Men's single sculls (Heat)
1. Ondrej Synek (CZE) 6:55.49
2. Dani Fridman (ISR) 6:57.29
3. Tom Barras (GBR) 6:57.55
Lightweight women's double sculls (Heat)
1. Patricia Merz & Frederique Rol (SUI) 6:57.58
2. Ellie Piggott & Imogen Grant (GBR) 6:58.61
3. Denise Walsh & Lydia Heaphy (IRL) 7:14.55
Lightweight men's double sculls (Heat)
1. Stefano Oppo & Pietro Ruta (ITA) 6:14.73
2. Jacob McCarthy & Fintan McCarthy (IRL) 6:16.07
3. Igor Khmara & Stanislav Kovalov (UKR) 6:16.32
…
5. Zak Lee-Green & Will Fletcher (GBR) 6:50.94
Lightweight men's double sculls (Repechage)
1. Jiri Simanek & Miroslav Vrastil Jr (CZE) 6:19.98
2. Jerzy Kowalski & Milosz Jankowski (POL) 6:20.22
3. Zak Lee-Green & Will Fletcher (GBR) 6:23.09
Women's quadruple sculls (Heat)
1. Poland 6:16.23
2. Great Britain (Jess Leyden, Melissa Wilson, Mathilda Hodgkins-Byrne, Charlotte Hodgkins-Byrne) 6:20.06
3. Romania 6:21.72
Men's quadruple sculls (Heat)
1. Great Britain (Jack Beaumont, Jonny Walton, Angus Groom, Pete Lambert) 5:43.74
2. Norway 5:45.60
3. Ukraine 6:00.78
Women's eight (Exhibition race)
1. Great Britain (Fiona Gammond, Zoe Lee, Josephine Wratten, Hattie Taylor, Rowan McKellar, Rebecca Shorten, Karen Bennett, Holly Norton and Matilda Horn) 6:03.61
2. Russia 6:05.24
3. Romania 6:06.92
Men's eight (Heats)
1. Netherlands 5:22.95
2. Great Britain (Tom Ford, James Rudkin, Tom George, Mohamed Sbihi, Jacob Dawson, Ollie Wynne-Griffith, Mat Tarrant, Josh Bugajski, Henry Fieldman) 5:25.14
3. Italy 5:43.09