Some "big calls" to come at Trials
"There are some very big calls to come in the next few weeks and I try not to think about it," said Paul Bennett, World Champion in the men's eights of this week's GB Rowing Team Olympic-season trials.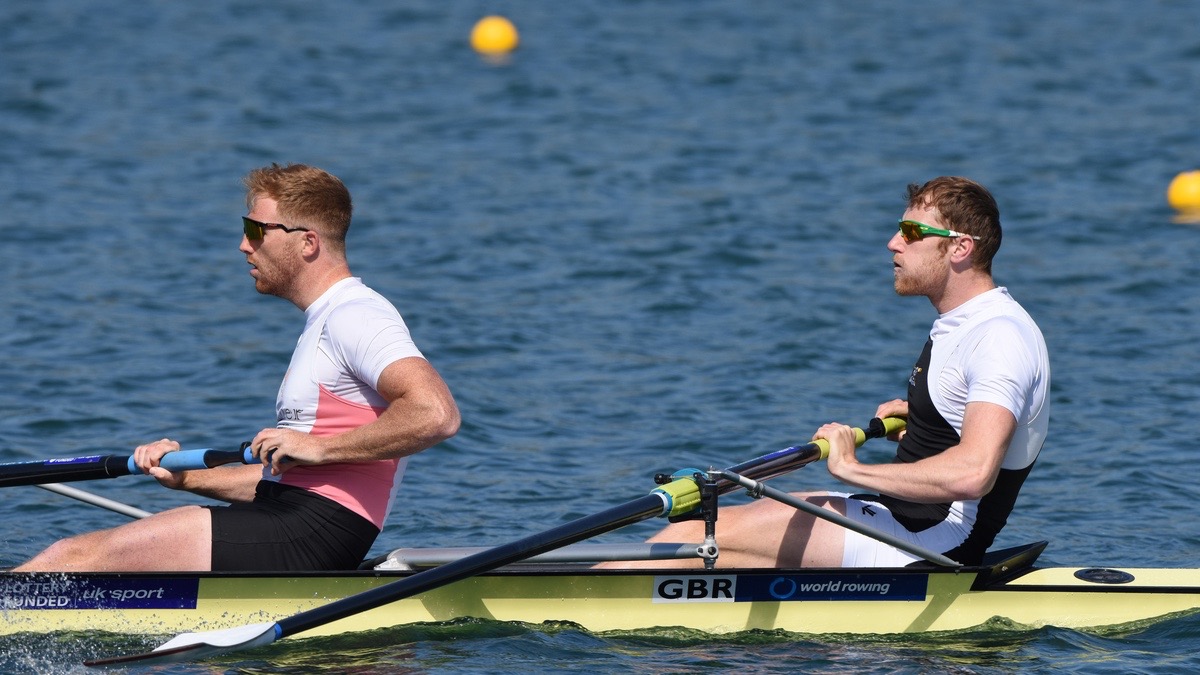 "There are some very big calls to come in the next few weeks and I try not to think about it," said Paul Bennett, World Champion in the men's eight, of this week's GB Rowing Team Olympic-season trials.
"Everyone here does the same training, we have all worked hard to support each other but some people will not make it.  That's horrible to think about so I try not to think about it."
With 115 rowers in action and only 48 Rio seats available later this year and European Championships places at stake in early May, these Trials will be demanding.
17 Olympic medallists and 10 World Champions will be amongst those racing tomorrow and Wednesday.
Sir David Tanner, British Rowing's Performance Director, said: "This is the event when we test the rowers under pressure in pairs and singles to see who has got what it takes to win.  The tension is never greater than in Olympic year."
Bennett will be racing with Matt Gotrel in a "stacked" men's pair field.  GB has won the men's eight at the World Championships three times since 2013 and 12 of the rowers involved in those wins will be on Tuesday's start line in the men's pair.
Olympic Champion Alex Gregory and Mohamed Sbihi are tipped to take a hat-trick of titles since 2014 and victory for Sbihi would be his fourth consecutive win at this event.
Gregory said:  "I would definitely like to keep hold of the title but the racing has got closer and closer over the years and the standard has increased. It's going to be tough to protect that record.
"We know there or thereabouts where we are in the squad but, from our point of view as athletes, this week can be make or break and the pressure is on."
Other top pairings include double Olympic Champion Pete Reed and 2012 bronze medallist Constantine Louloudis as well as George Nash and Will Satch who were bronze medallists in the pair at the 2012 Games.
Louloudis said:  "I feel pretty good. We've just been on a good training camp and I think the whole team is well prepared but Pete and I have been going pretty well in our pair and I think we'll do well at the Trials.
"We are conscious, coming into the Trials, that it is more individual now. We are all assessing our own chances looking ahead to selection."
Double Olympic Champion Andrew T Hodge and Matt Langridge could also be a pair to watch. World silver medallist Langridge is more used to racing with James Foad, who is out recovering from back surgery, whilst Hodge is on the way back after illness.
Helen Glover and Heather Stanning are stand-out favourites to win the women's pair event. The duo hold the Olympic, World and European titles although Jess Eddie and Polly Swann – the latter a World Champion with Glover in 2013 – could run them close as they did in 2014.
Singular "single" and women's sweep battles in store
Perhaps more intriguing could be the battle for top honours in the open men's single scull.
Angus Groom won the December assessment. The young Scot is making his mark after joining the senior squad from the ranks of the U23 World medallists. John Collins, from the 2015 double scull, has also been in good form in recent training.
With Charles Cousins absent through injury, 2012 Olympic bronze medallist Alan Campbell should feel he has a chance to extend his remarkable trials record to nine overall wins.  He won eight titles consecutively from 2005-2012 before Cousins took over the mantle.
Campbell said:  "For myself, this would be my fourth Olympics and I would say every one has been tougher than before. This is definitely the toughest group I have been in and I'm having to race and push myself very hard to come up to the standard required to get into this Olympic team."
2013 and 2014 World quadruple scull medallists Pete Lambert, Sam Townsend, Graeme Thomas as well as Groom's erstwhile World U23 medal team-mate Jack Beaumont, who is back on track after last summer's serious injury, and 2015 double-sculler Jonny Walton are also in the mix and the whole group has everything to play for.
Collins said:  "The trials feel very early. In a way, it's another box to be ticked but it is the biggest box of all. It's so important. When the time comes to perform, you have to do the business. You have to step up when it really matters, that's something you can't assess on a day-to-day basis."
At these trials only 2012 Olympic gold medallist Andrew T Hodge can equal the 10 titles won to date by Katherine Grainger, who sits out this week as she is recovering from a minor niggle, leaving Vicky Thornley the favourite to win the open women's single.
Thornley said:  "It will be good to get racing again. Trials are always a bit nerve-wracking but I am looking forward to getting out there."
Frances Houghton, a 2008 Olympic silver medallist and multiple winner of these trials in the single, has swapped into a competitive "sweep" group seeking seats in the Rio-qualified women's eight.
She will race with Olivia Carnegie Brown, who came into the national squad through GB Rowing Team Start – a talent identification and fast-track development programme which identified up to 33% of all London 2012 medallists and provided 49% of the team at those Games.
Houghton said:  "I'm just trying to get through the Trials, if I'm at the Europeans and Olympics afterwards that would be great. I'm not thinking about anything else at the moment. Getting selected is the most important thing and I'll think about Rio if and when it comes.
"I've changed from sculling to sweep, so it's a really big challenge but it's exciting. It's going to be very close at the Trials."
The women's sweep field includes, amongst other contenders, Olympian Eddie and former World Champion Polly Swann, Louisa Reeve and Ro Bradbury, Melanie Wilson and Karen Bennett as well as Donna Etiebet and Vicki Meyer-Laker. Zoe Lee has today been withdrawn on medical grounds, which means that her pairs partner Katie Greves now transfers to the single.
Etiebet said: "It's exciting. There are lots of pairs, much more than last year, which makes the competition that much fiercer but ultimately that is really good for the sweep crew, it's getting more out of everybody."
Eddie also summed up the mood in the squad when she said recently:  "The focus right now is purely on selection, that is the big thing weighing on people's minds.  It's pretty intense but it's in our own hands.  If we're good enough we'll be in the boat, if we're not we'll, miss out."
Seriously heavy competition for the lightweight titles
Last season's finals session was marked by a sizzling finale to the lightweight women's single scull when Olympic Champion Kat Copeland was eased out in a three-boat photo-finish by Imogen Walsh and, then rookie, Charlotte Taylor.
Taylor and Copeland went on to race in the lightweight double for GB in the ensuing season and won World silver in Aiguebelette, France, and Walsh won World silver in the single.
Outside of this triumvirate a new wave of talented lightweights continues to emerge including previous World U23 medallists Brianna Stubbs and Ellie Piggott.
Stubbs talked of the strength in depth of the lightweight women's squad when she said:  "Everyone knows roughly how well everyone else is doing in training but you just have to leave that behind you when you sit on the start line.
"I have so much respect for everyone I train with, I see how hard they have all been working and the standard of the group is probably the best and deepest of any lightweight women's squad in the world. Seven of us won silver medals at the last World Championships and it is a privilege to be part of that. All I can do is my best on the day and see where that puts me".
This week's trials will feature both a single and a pairs event for the lightweight men as selection is honed down to the two Olympic boats – the light four and double.
Richard Chambers and Will Fletcher won World silver in the double last September. Fletcher remains a strong contender for this week's light single title alongside twice previous winner Jamie Kirkwood and Zak Lee-Green but Chambers has a hand injury which will keep him on the sidelines.
Fletcher said:  "This is it, the final test to show our winter's work and to prove ourselves. There are only a handful of seats in the Olympic boats and you want to make sure you are in one.
"It is pretty stressful. We are all mates and we are about to race against each other for a place at the Olympics."
Kirkwood said:  "I'm looking forward to it, there should be some good, fierce racing. I'm hoping to defend my title in the single. No doubt it will be very tough but I will give it my best shot."
In the pairs event Joel Cassells – from the same town, Coleraine, as 2012 Olympic medallists Alan Campbell, Peter and Richard Chambers – will seek to impress in his continuing rise from recent student rowing days.
He races with Peter Chambers in what looks likely to be a small but tight event with World lightweight men's pair Champions Sam Scrimgeour and Jonno Clegg as well as previous World medallists Mark Aldred and Chris Bartley racing against relative newcomers like Jamie Copus, Sam Mottram and Charles Waite Roberts.
Four coxes are also amongst those attending the invitation-only event. They are Phelan Hill, Henry Fieldman, Zoe de Toledo and Matilda Horn.
· The GB Rowing Team is supported by the Lottery through UK Sport and has Science in Sport as a supplier.  SAS Analytics is the Official Analytics Partner of British Rowing and the GB Rowing Team. Follow Britain's rowers on the Road to Rio via Twitter – @GBRowingTeam – and at www.facebook.com/GBRowingTeam.
===========================================
RACING TIMETABLE
Racing will take place as follows:
Time-trials (heats) – 09.45 – 11.00 on Tuesday 22 March
Semi-finals – 15.00 – 16.25 on Tuesday 22 March (first A/B semi at 15.22)
Finals – 10.00 – 12.00 Wednesday 23 March
All times of racing are subject to the weather and members of the media should check with the press officer on 07831 755351 before travelling to the event, particularly if there are high winds.
Any updates to schedules will be posted on twitter:  @GBRowingTeam and on Facebook:  www.facebook.com/gbrowingteam
===========================================
ENTRY LIST
(As at Monday 21 March) Pairs listed from bow to stroke,
* denotes U23
OPEN
MEN
Single
Tom Barras (Leander Club/Staines/07.01.94)* MED – withdrawn
Jack Beaumont (Leander Club/Maidenhead/21.11.93)
Alan Campbell (Tideway Scullers School/Coleraine/09.05.83)
Frazier Christie (Leander Club/Bath/11.01.93)
John Collins (Leander Club/Whitton/24.01.89)
Angus Groom (Leander Club/Glasgow/16.06.92)
Peter Lambert (Leander Club/Maidenhead/03.12.86)
Rowan Law (Leander Club/Nottingham/01.12.96)*
Harry Leask (Leander Club/Edinburgh/16.10.95)*
Nick Middleton (Leander Club/Henley-on-Thames/12.08.88)
George Stewart (Molesey BC/Esher/14.04.95)*
Jon Stimpson (Nottingham RC/Gex, France/18.07.90)
Graeme Thomas (Agecroft RC/Preston/08.11.88)
Sam Townsend (Reading Univ BC/Reading/26.11.85)
Sam Twine (Reading Univ BC/Tavistock/06.01.94)*
Jonny Walton (Leander Club/Leicester/06.10.90)
Pair
Chris Boddy (Leander Club/Thornaby-on-Tees/16.11.87)/Thomas Ford (Leander Club/Holmes Chapel/03.10.92)
Timothy Clarke (Leander Club/Henley-on-Thames/07.04.91)/Phil Congdon (Leander Club/Bury St Edmunds/06.06.89)
Oliver Cook (Univ of London BC/Windsor/05.06.90)/Callum McBrierty (Leander Club/Edinburgh/13.08.92)
Rory Gibbs (Oxford Brookes Univ BC/Lane End/03.04.94)*/Matthew Aldridge (Oxford Brookes Univ BC/Christchurch/11.03.96)*
Alex Gregory (Leander Club/Wormington/11.03.84)/Mohamed Sbihi (Molesey BC/Surbiton/27.03.88)
Michael Glover (Oxford Brookes Univ BC/Burnham/03.06.95)* /Morgan Bolding (Oxford Brookes Univ BC/Withiel/13.05.95)*
Matt Gotrel (Leander Club/Chipping Campden/01.03.89)/Paul Bennett (Univ of London BC/Leeds/16.12.88)
Matt Langridge (Leander Club/Northwich/20.05.83)/Andrew T Hodge (Molesey BC/Hebden/03.03.79)
Luke Moon (Molesey BC/Deal/25.03.93)/Chris Heywood (Molesey BC/Ascot/29.05.94)*
George Nash (Molesey BC/Guildford/02.10.89)/Will Satch (Leander Club/Henley-on-Thames/09.06.89)
Adam Neill (Leander Club/Peterborough/29.05.90)/Cameron Buchan (Leander Club/Dunipace/03.12.92)
Tom Ransley (Leander Club/Ashford/06.09.85)/Scott Durant (Oxford Brookes Univ BC/Lancaster/12.02.88)
Pete Reed (Leander Club/Nailsworth/27.07.81)/Constantine Louloudis (Oxford Univ BC/London/15.09.91)
Nathaniel Reilly-O'Donnell (Univ of London BC/Durham/13.04.88)/Matthew Tarrant (Oxford Brookes Univ BC/Shepperton/11.07.90)
George Rossiter (Leander Club/Newbury/09.03.92)/Barnaby Stentiford (Leander Club/Ippleden/06.02.91)
James Rudkin (Newcastle Univ BC/Northampton/07.07.94)*/Lewis McCue (Robert Gordon Uni/Aberdeen/26.12.94)*
Alan Sinclair (Leander Club/Inverness/16.10.85)/Stewart Innes (Leander Club/Henley-on-Thames/20.05.91)
William Warr (Leander Club/Tunbridge Wells/12.03.92)/Matt Rossiter (Leander Club/Newbury/25.09.89)
WOMEN
Single
Emily Carmichael (Leander Club/Cheltenham/29.05.92)
Sam Courty (Reading RC/Alnwick/07.01.93)
Debbie Flood (Leander Club/Guiseley/27.02.80) MED – withdrawn
Georgia Francis (Imperial College BC/Newbury/18.08.94)*
Katherine Grainger (St Andrew BC/Glasgow/12.11.75) (injured) MED  – withdrawn
Lucinda Gooderham (Leander Club/Garboldisham/09.06.84)
Katie Greves (Leander Club/Oxford/02.09.82)
Mathilda Hodgkins-Byrne (Reading Univ BC/Hereford/01.10.94)*
Jessica Leyden (Leander Club/Todmorden/22.02.95)
Holly Nixon (Leander Club/Enniskillen/07.12.93
Tina Stiller (Tees RC/Yarm/23.06.87)
Victoria Thornley (Leander Club/Wrexham/30.11.87)
Melissa Wilson (Cambridge Univ BC/Edinburgh/10.06.93) MED – withdrawn.
Pair
Karen Bennett (Leander Club/Edinburgh/05.02.89)/ Melanie Wilson (Imperial College BC/London/25.06.84)
Rosamund Bradbury (Leander Club/Banstead/17.12.88)/Louisa Reeve (Leander Club/London/16.05.84)
Beth Bryan (Tees RC/Stockton-on-Tees/23.04.93)/Jo Wratten (Tees RC/Middlesbrough/23.03.92)
Rebecca Chin (Agecroft RC/Deganwy/11.12.91)/Caragh McMurtry (Southampton Coalporters/Southampton/22.08.91)
Jess Eddie (London RC/Durham/07.10.84)/Polly Swann (Leander Club/Edinburgh/05.06.88)
Fiona Gammond (Leander Club/Bicester/19.10.92)/Holly Norton (Leander Club/Johannesburg, SA/01.01.93)
Helen Glover (Minerva Bath RC/Penzance/17.06.86)/ Heather Stanning (Army RC/Lossiemouth/26.01.85)
Zoe Lee (Imperial College BC/Richmond/15.12.85) MED – Withdrawn
Frances Houghton (Univ of London Tyrian Club/Oxford/19.09.80)/Olivia Carnegie-Brown (Oxford Brookes Univ BC/Henley-on-Thames/28.03.91)
Vicki Meyer-Laker (Leander Club/Premnay/18.03.88)/Donna Etiebet (Imperial College BC/London/29.04.86)
LIGHTWEIGHT
MEN
Single
Richard Chambers (Leander Club/Coleraine/10.06.85) (injured) MED – Withdrawn
Will Fletcher (Leander Club/Chester-le-Street/24.12.89)
John Hale (Imperial College BC/Cambridge/28.02.88)
Jonathan Jackson (Leander Club/Henley-on-Thames/02.06.95)*
Jamie Kirkwood (Leander Club/Newcastle/30.08.89)
Zak Lee-Green (Agecroft RC/Cardiff/06.02.91)
Samuel Mottram (Leander Club/Stoke Mandeville/14.11.94)*
Sam Tuck (Molesey BC/Peterborough/26.07.93)
Pair
Chris Bartley (Leander Club/Wrexham/02.02.84)/Mark Aldred (London RC/Birmingham/18/04.87)
Joel Cassells (Oxford Brookes Univ BC/Coleraine/15.06.94)*/Peter Chambers (Oxford Brookes Univ/Coleraine/14.03.90)
Sam Scrimgeour (Imperial College BC/Kirriemuir/28.01.88)/Jonathan Clegg (Leander Club/Maidenhead/14.07.89)
Charles Waite-Roberts (Leander Club/Basingstoke/06.11.92)/Jamie Copus (Oxford Brookes Univ BC/Oxford/30.01.93)
WOMEN
Single
Maddie Arlett (Edinburgh Univ BC/Selkirk/07.06.94)*
Kat Copeland (Tees RC/Stockton-on-Tees/01.12.90)
Emily Craig (Univ of London BC/Mark Cross/30.11.92)
Gemma Hall (Wallingford RC/Wargrave/10.04.92) MED – withdrawn
Robyn Hart-Winks (Edinburgh Univ BC/Kirriemuir/07.10.93)
Ellie Lewis (Agecroft RC/Marlow/14.04.94)
Eleanor Piggott (Wallingford RC/Bedford/16.05.91)
Fran Rawlins (Leander Club/Uckfield/08.07.86)
Brianna Stubbs (Wallingford RC/Poole/13.07.91)
Charlotte Taylor (Putney Town RC/Bedford/14.08.85)
Imogen Walsh (London RC/Inverness/17.01.84)
COXES
MEN
Henry Fieldman (Molesey BC/Barnes/25.11.88)
Phelan Hill (Leander Club/Bedford/21.07.79)
WOMEN
Zoe De Toledo (Leander Club/London/17.07.87)
Matilda Horn (Univ of London BC/Windsor/16.
·      The GB Rowing Team is supported by the Lottery through UK Sport and has Science in Sport as a supplier.  SAS Analytics is the Official Analytics Partner of British Rowing and the GB Rowing Team. Follow Britain's rowers on the Road to Rio via Twitter – @GBRowingTeam – and at www.facebook.com/GBRowingTeam.