GB Rowing Team top medal table after first day of finals at Munich 2022
Great Britain won four gold, two silver and a bronze medal on the first day of finals at the European Championships in Munich, and currently sit top of the medal table, with four more A finals to race tomorrow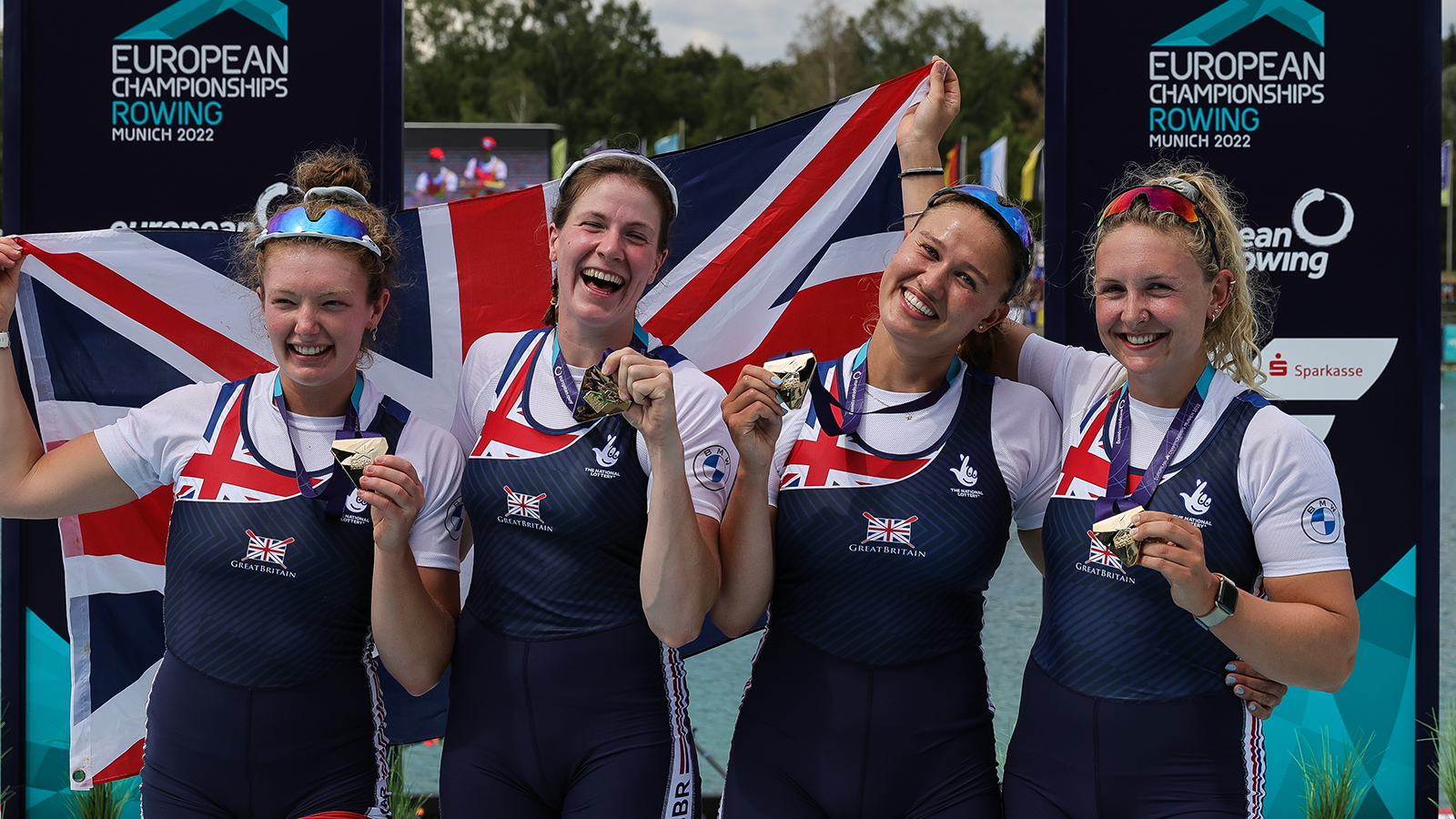 The Women's Quadruple Sculls (W4x) of Lucy Glover, Jess Leyden, Lola Anderson, and Georgie Brayshaw put in an outstanding row to come home as European champions, making them the first GB crew to win a women's quad gold medal in more than ten years.
Speaking after the race, Georgie said: "This is amazing. It's my first gold at a senior event, so I'm absolutely buzzing and I want to cry. It just makes me so hungry for the World Championships in September. I can't wait."  Jess added: "We've worked so hard for this, we've changed what we needed to change and we've all committed to our training and racing and It's really paying off." Lola concluded: "We are four very happy girls!"
Another gold was won by the Men's Eight (M8+) of Rory Gibbs, Morgan Bolding, David Bewicke-Copley, Sholto Carnegie, Charlie Elwes, Tom Digby, James Rudkin, Tom Ford and cox Harry Brightmore, who led the race from the start and looked comfortable throughout.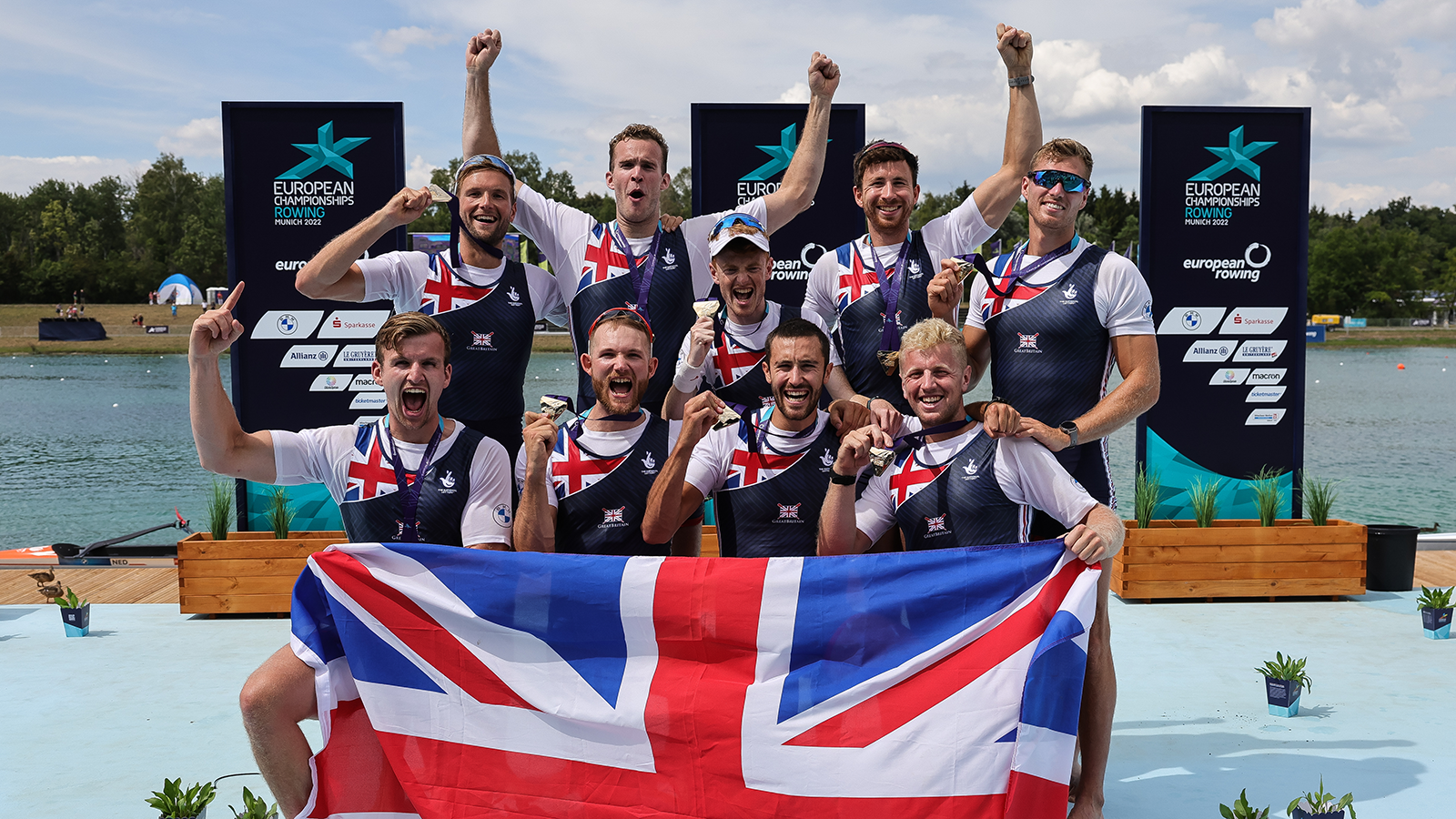 "I just feel so proud of the whole team and what we did today," James reflected on the team's medal tally after the first day of racing. Speaking about the Eight's race Sholto said: "We kept it focused today. We all feel that this is a really exciting project and we keep building it and want to take in these moments, enjoy it. It's very special to be with your best mates and winning." Tom Digby added: "I think today has been absolutely great for the team, all that energy and getting these results is really special for everyone; us the athletes, staff, the coaches, parents, family and the team itself."
The GB Men's and Women's Four's also became European Champions.
Matt Aldridge who raced with Sam Nunn, Will Stewart and Freddie Davidson in the Men's Four (M4-) said: "It's very exciting to be European Champions. We knew we were in a good place when we were getting ready for today. We just kept our cool. raced our own race and didn't get flustered by the boats around us. We just kept it internal, and we came out good in the end. Sam added: "These races are massively important for us. We managed to pull together as a crew and collectively buy into trying to achieve something here today. It's a stepping stone for what's to come. It's great to be European Champions!"
Heidi Long of the Women's Four (W4-) with Rowan McKellar, Samantha Redgrave and Rebecca Shorten said: "we had a clear plan of what we wanted to achieve today and to enjoy the race". As they waited to collect their gold medals, Rebecca added: "I think we've got something really good here. We held our cool and were solid enough that nobody was going to be able to come back on us. It was a really good race".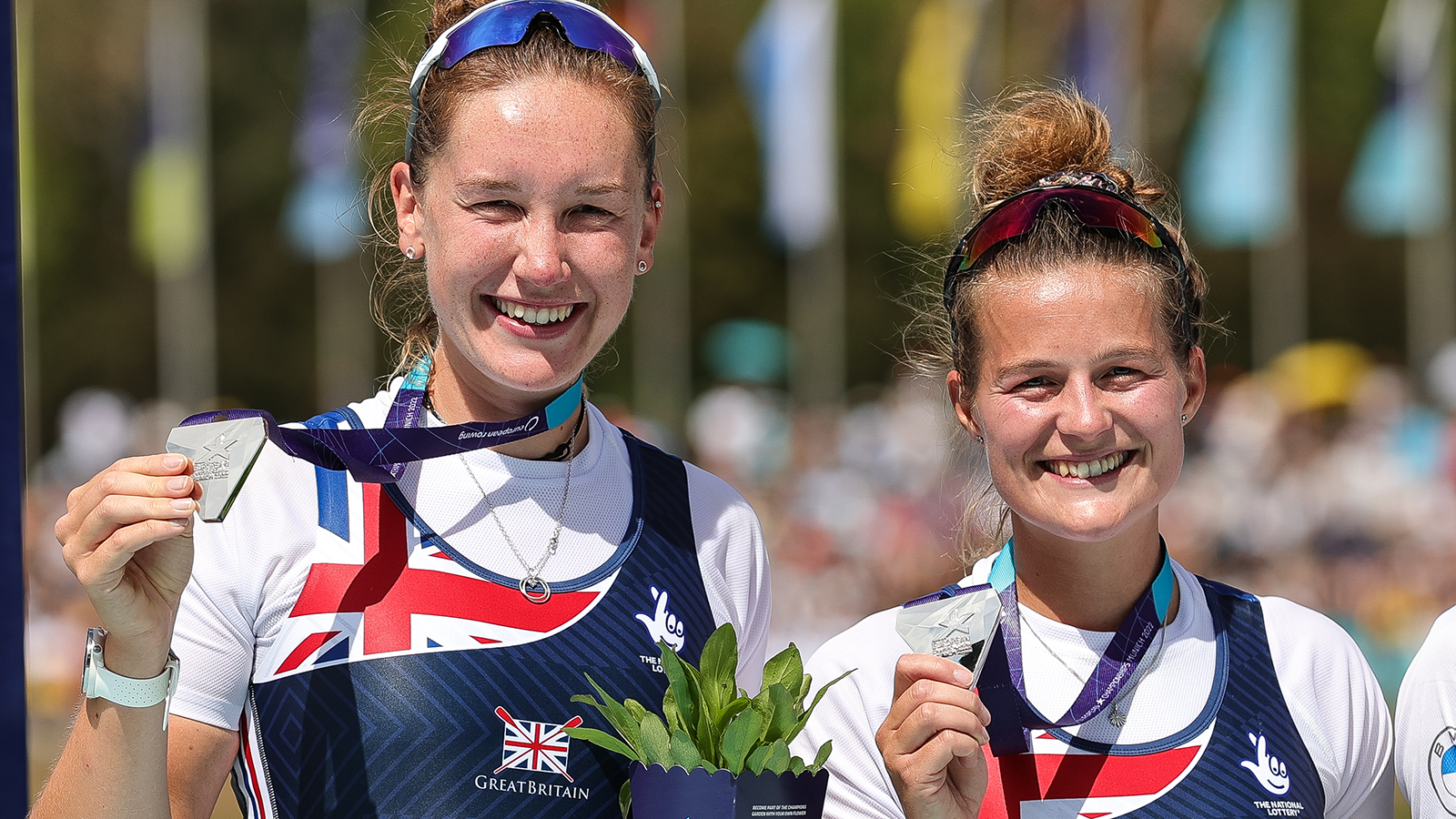 Both the Women's Pair (W2-) of Emily Ford and Esme Booth and Men's Pair (M2-) of Ollie Wynne-Griffith & Tom George won silver medals, finishing in second place behind Romanian crews.
Emily said: "We've got a new head coach (Andrew Randell, Women's Olympic Head Coach) and he's come in and really changed the programme around. Initially when we were given it, it was a big shock and you really have to grit your teeth, and get into it. But it seems to be working. I'm excited to see what the coming months and years can bring". Esme added: "It's been an amazing ride. It's incredible racing in this pair with Emily, it's really good fun and we are both enjoying it.
Tom & Ollie were disappointed with their second place finish. Tom said: "It wasn't really good enough from us, that's not the standard we set for ourselves. A silver medal is still great in our second European Championships together. Obviously we were hoping for a bit more. We've got a couple of weeks now to go away and work hard before the World Championships."
Ollie added: "For me it's disappointing, but at the same time that's a lesson that we have to learn and just go better in six weeks time. We have to take something from the lessons that you learn, from the races you win and the races you lose. The losses are always going to be the more difficult ones to take something away from, but they are valuable ones to learn from. If we learn something from today's race then it will be an amazing next six weeks. The goal now and our focus now is on the World Championships in six weeks time."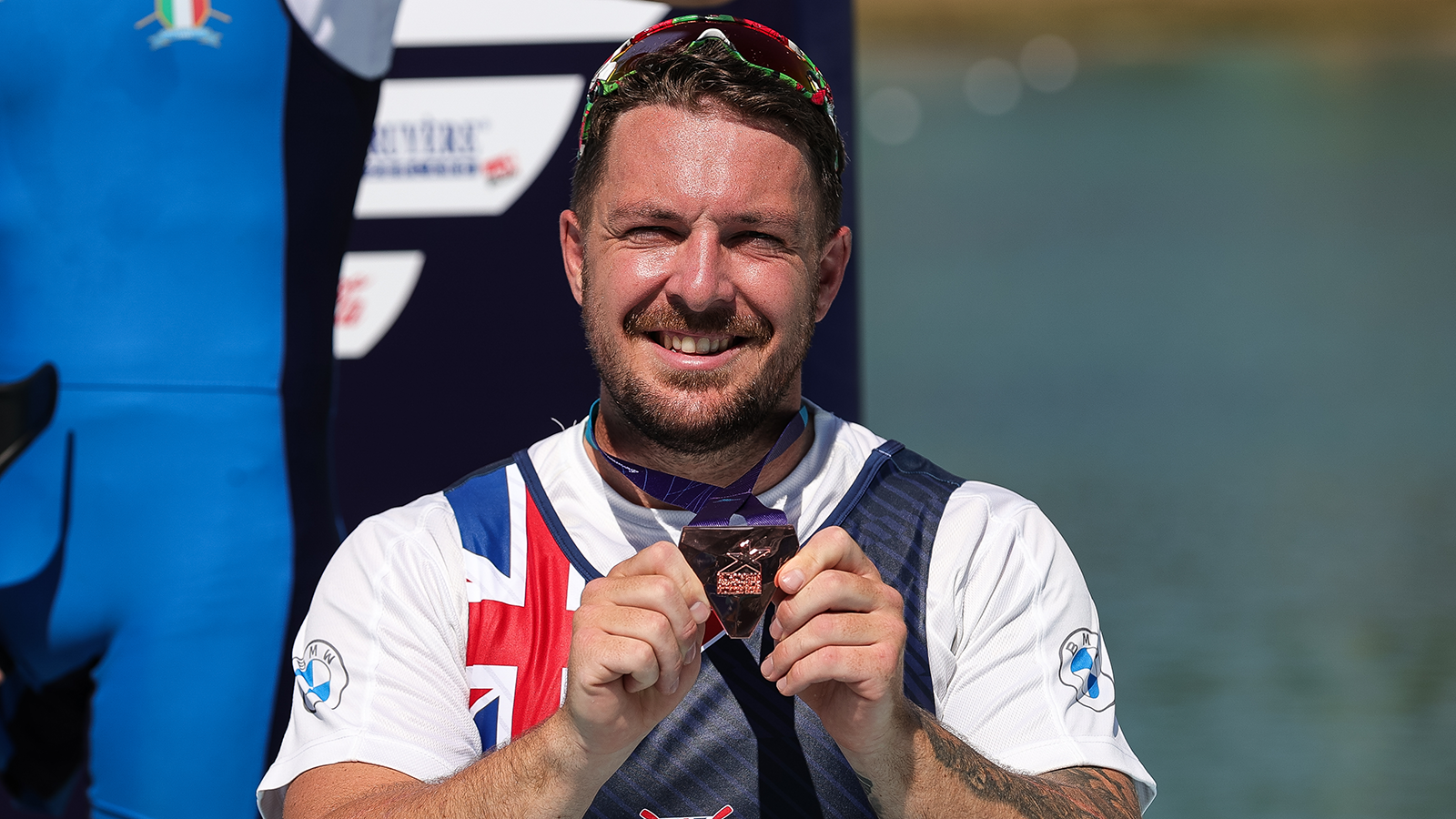 Benjamin Pritchard won bronze in the PR1 Men's Single Sculls (PR1 M1x). He said: "I tried to go for it but I completely blew it. I gave it my all, but there was nothing left in the tank. We had a good race today, I'm happy with the medal, it's just not the colour I wanted!"
Earlier in the day Graeme Thomas won his Men's Single Sculls (M1x) semi final, saying "I'm really happy. It was a good, tough race with a stacked field. Now we move on to the final tomorrow."
In the other two finals of the day, the Women's Double Sculls (W2x) of Saskia Budgett and Kyra Edwards finished fifth and the Men's Quadruple Sculls (M4x) of Harry Leask, George Bourne, Matt Haywood and Tom Barras finished fourth.
Day 3 European Rowing Championships Results
| Boat | Crew | Race | Time | Result |
| --- | --- | --- | --- | --- |
| M1x | Graeme Thomas | A/B Semi Final | 07:12.80 | 1st ➡ Final A |
| PR1 M1x | Benjamin Pritchard | A Final | 09:53.75 | |
| W2- | Esme Booth, Emily Ford | A Final | 07:36.20 | |
| W4- | Rowan McKellar, Heidi Long, Samantha Redgrave, Rebecca Shorten | A Final | 06:50.92 | |
| W2x | Kyra Edwards, Saskia Budgett | A Final | 07:33.40  | 5th place overall |
| W4x | Jess Leyden, Lola Anderson, Georgie Brayshaw, Lucy Glover | A Final | 06:49.21 | |
| M2- | Ollie Wynne-Griffith, Tom George | A Final | 06:46.52 | |
| M4- | Will Stewart, Sam Nunn, Matt Aldridge, Freddie Davidson | A Final | 06:15.43 | |
| M8+ | Rory Gibbs, Morgan Bolding, David Bewicke-Copley, Sholto Carnegie, Charlie Elwes, Tom Digby, James Rudkin, Tom Ford, Harry Brightmore (cox) | A Final | 05:49.67 | |
| M4x | Harry Leask, George Bourne, Matt Haywood, Tom Barras | A Final | 06:15.43 | 4th place overall |
Catch up with all of the GB Rowing Team's results here.