World Championships: Day Eight
The 2017 World Rowing Championships concluded with silver and bronze single sculling medals for Vicky Thornley and Tom Barras as GB ended the Championships with seven medals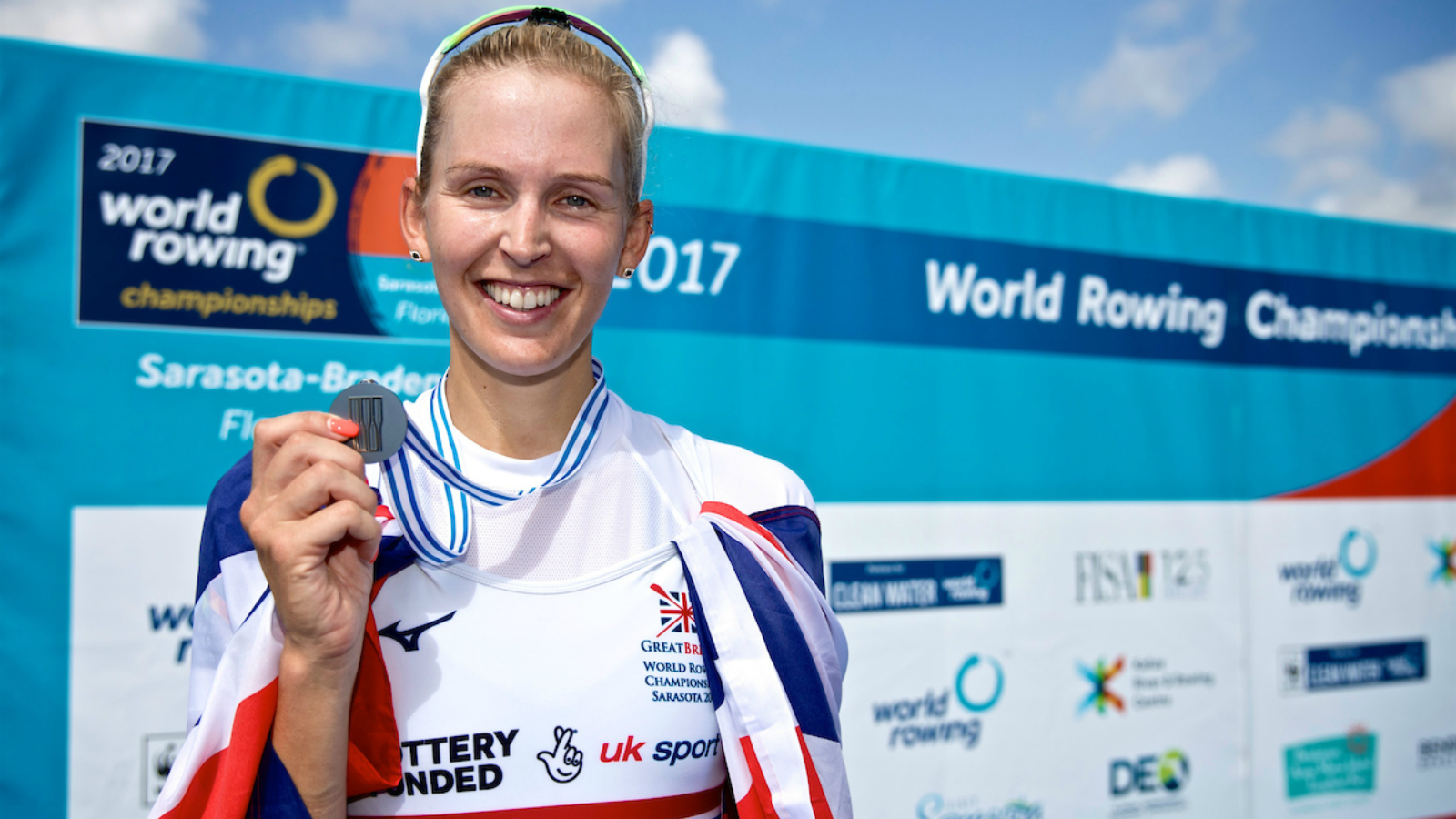 Great Britain ended the 2017 World Rowing Championships on a high with Vicky Thornley and Tom Barras winning single scull medals on the final day of action in Sarasota-Bradenton.
Thornley's silver and then Barras's bronze takes GB's medal tally to seven for the Championships after winning one gold, three silver and three bronze in Florida.
The Para-rowing mixed coxed four (PR3 Mix4+) claimed the Team's gold on Friday before the lightweight men's quad (LM4x) won silver.
There were bronze medals yesterday for the women's quad (W4x) and the men's four (M4-) and a dramatic silver for the men's quad (M4x) following a late change in the stroke seat with Graeme Thomas replacing the injured Pete Lambert.
In total, 15 British boats qualified for A finals in Florida with three further crews – the women's four (W4-), the men's eight (M8+) and the men's double (M2x) – winning their respective B finals, placing them seventh overall.
Following Olympic silver in the double, Thornley has enjoyed a very successful season in the single (W1x), winning European gold and two World Cup medals before today's World silver.
The 29-year-old World Class Start Programme graduate, finished only behind Jeannie Gmelin of Switzerland, who won the gold, with Magdalena Lobnig of Austria in bronze.
Thornley said: "I'm really happy with that. If you'd have said at the start of the season that I would come away from the Worlds with a silver medal I would have taken it.
"It wasn't enough today to get one over on the Swiss girl. I closed the gap quite a bit but it just wasn't enough in the end.
"This is right up there for me and after the Olympics this is my best result. I'm definitely happy after that one."
Following Thornley up the course was 23-year-old Barras who won bronze in a high-class men's single scull (M1x) field.
Barras, who is in his first year as a senior, beat the 2017 World Cup winner Robbie Manson and the Rio Olympic silver medallist Damir Martin to claim bronze behind Ondrej Synek of the Czech Republic and Cuba's Angel Fournier Rodriguez.
Barras said: "It's just absolutely incredible. I never believed any of this was possible before the regatta started.
"Training had been going really well and my performances in the heat and quarters gave me a lot of confidence.
"The guys out there are incredible, they're like gladiators, so to be mixing it with them in my first season here is an amazing achievement. Hopefully with Jurgen's [Grobler – men's head coach] programme I can carry on improving and be right in the mix in 2020."
Elsewhere in the A finals on day eight, Andy Houghton marked his return to Para-rowing after a four-year absence with a fourth place finish in the PR1 single sculls final (PR1 M1x) and the women's eight (W8+) ended their World Championships with fifth in their final.
The crew of Anastasia Chitty, Rebecca Chin, Fiona Gammond, Katherine Douglas, Josephine Wratten, Holly Norton, Karen Bennett, Rebecca Shorten and cox Matilda Horn sat in third at the halfway mark before finishing just under a length behind Romania, Canada and New Zealand who claimed the medals.
In the day's B finals, there were wins for the men's eight after Cameron Buchan came in as a late replacement for the unwell Ollie Cook and for the men's double, with Thomas partnering Angus Groom after yesterday's heroics to help the boat to seventh overall.
British Rowing Performance Director Sir David Tanner said: "We've enjoyed an excellent World Championships here in Florida and I congratulate the Team for their efforts after what has been a long week and a hard season.
"Vicky's and Tom's medals today demonstrate what many crews have shown out here which is that we have the talent in this young group of rowers but also the spirit to deliver performances and medals when it matters – and that has been excellent to see develop.
"We are still three years away from Tokyo 2020 and to leave the World Championships with seven medals across the Team, and with only one nation winning more, is a good indication of where this team can be in Japan."
Day one report
Day two report
Day three report
Day four report
Day five report
Day six report
Day seven report
GB Medals at the 2017 World Rowing Championships
Gold
Para-Rowing Mixed Coxed Four (PR3 Mix4-): Oliver Stanhope, Grace Clough, Giedre Rakauskaite, James Fox, Anna Corderoy (cox). Coach: Nick Baker
Silver
Men's Lightweight Quad Sculls (LW4x): Gavin Horsburgh, Peter Chambers, Ed Fisher, Zak Lee-Green. Coach: Dan Moore
Men's Quadruple Sculls (M4x): Jack Beaumont, Jonny Walton, John Collins, Graeme Thomas. Coach: Paul Stannard
Women's Single Scull (W1x): Vicky Thornley. Coach: Paul Reedy
Bronze
Men's Four (M4-): Matt Rossiter, Moe Sbihi, Mat Tarrant, Will Satch. Coach: Jurgen Grobler
Women's Quadruple Sculls (W4x): Beth Bryan, Mathilda Hodgkins-Byrne, Holly Nixon, Jess Leyden. Coaches: Paul Thompson/James Harris
Men's Single Sculls (M1x): Tom Barras. Coach: Paul Stannard
Results
Men's Double Scull, B final
1. Great Britain (Angus Groom, Graeme Thomas), 06:21.04
2. Switzerland, 06:21.34
3. USA, 06:26.37
Men's Eight, B final
1. Great Britain (Jacob Dawson, Callum McBrierty, Adam Neill, Tom Ransley, Alan Sinclair, Cameron Buchan, James Rudkin, Lance Tredell, Henry Fieldman (cox)), 05:39.77
2. Australia, 05:41.23
3. Ukraine, 05:41.60
Para-Rowing Men's Single Scull, A final
1. Australia, 09:39.48
2. Ukraine, 09:47.89
3. Russia, 09:52.25
–
4. Great Britain (Andy Houghton), 10:02.21
Women's Single Scull, A final
1. Switzerland, 07:22.58
2. Great Britain (Vicky Thornley), 07:24.50
3. Austria, 07:26.56
Men's Single Scull, A final
1. Czech Republic, 06:40.64
2. Cuba, 06:43.49
3. Great Britain (Tom Barras), 06:45.14
Women's Eight, A final
1. Romania, 6:06.40
2. Canada, 6:07.09
3. New Zealand, 6:07.27
–
5. Great Britain (Anastasia Chitty, Rebecca Chin, Fiona Gammond, Katherine Douglas, Josephine Wratten, Holly Norton, Karen Bennett, Rebecca Shorten, Matilda Horn (cox)), 6:09.96