Sparkling performances in the sunshine during time trials
Familiar faces and aspiring Olympic debutants were among the pacesetters as the GB Rowing Team Olympic-season trials began on a glorious Spring morning in Caversham.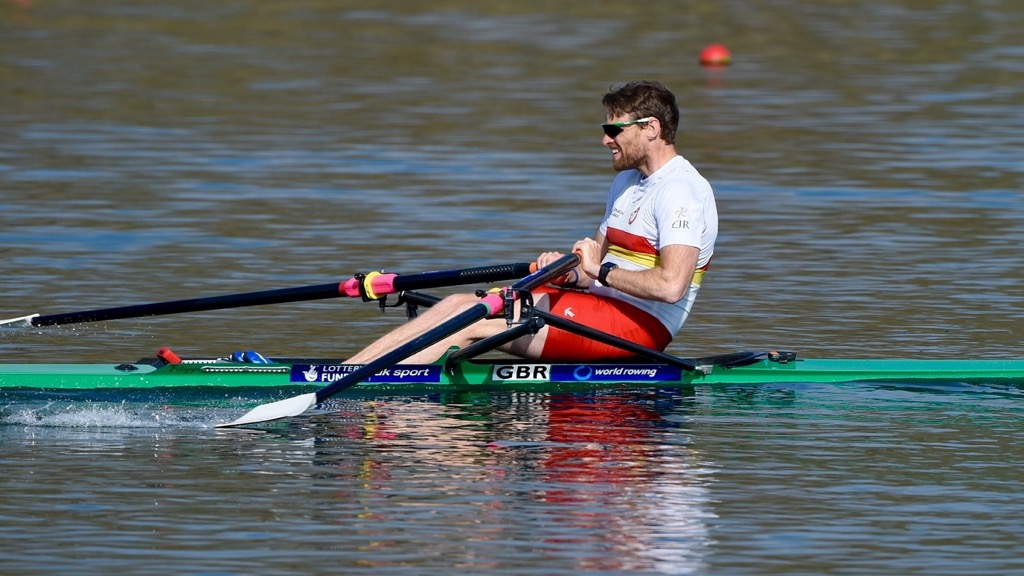 Vicky Thornley, winner of the Trials in the past two seasons, got the time trials under way and promptly set the standard in the women's single scull with a time of 7:14.79.
Impressing behind her were three young rowers – Holly Nixon, Jess Leyden and Mathilda Hodgkins-Byrne – while Katie Greves, whose pairs partner Zoe Lee had to pull out through injury, was fifth-fastest on the 1,900m course.
London 2012 bronze-medalist Alan Campbell, an eight-times winner of the Trials, laid down the marker in what promises to be a hotly-contested men's single competition with the quickest time of 6:37.96.
Angus Groom, winner of the December assessment, Jonny Walton and Sam Townsend all posted times within two seconds of Campbell, with John Collins, Graeme Thomas, Peter Lambert and Jack Beaumont also in the mix.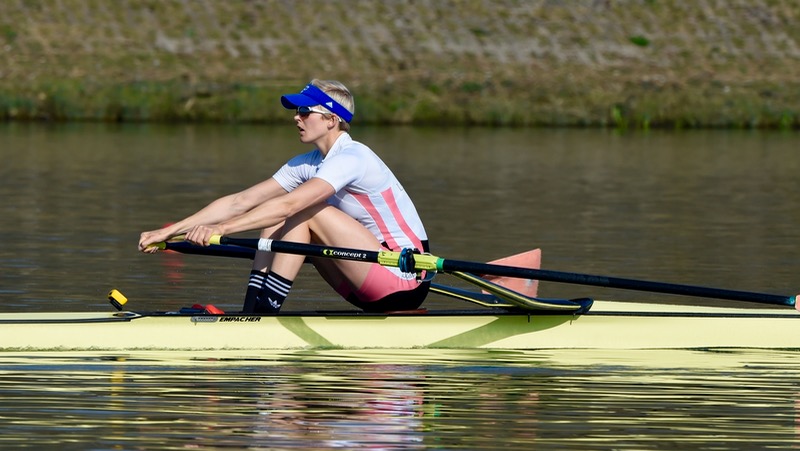 Vicky Thornley © Peter Spurrier / Intersport Images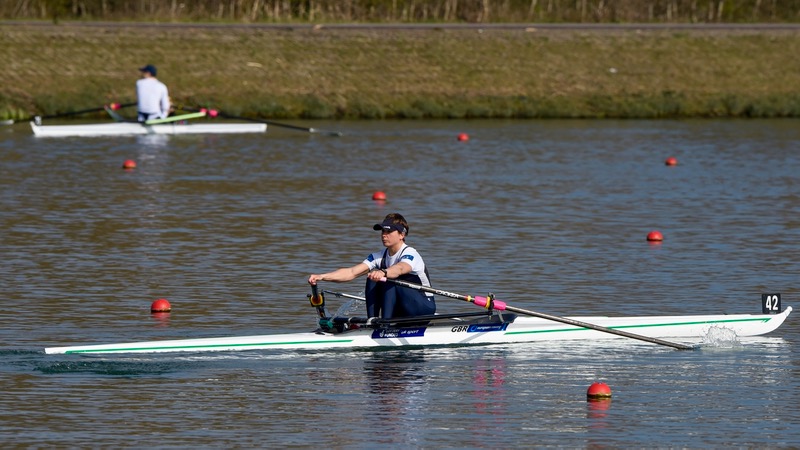 Charlotte Taylor © Peter Spurrier / Intersport Images
Last year's lightweight women's single contest was fiercely fought between Charlotte Taylor, Imogen Walsh and Olympic champion Kat Copeland.
And those three look set to challenge for top spot again this year, with Taylor just getting the better of Walsh and Copeland in the time trials. Ellie Piggott, Brianna Stubbs and Emily Craig – all silver-medalists in the lightweight quad at last year's World Championships – made up the top six.
Will Fletcher, winner of the December Assessment, again set the pace in the lightweight men's single to come home in 6:55.50.
Sam Mottram, who made his senior debut at the 2015 World Championships, was second fastest, just ahead of Zak Lee-Green and two-times Trials winner Jamie Kirkwood.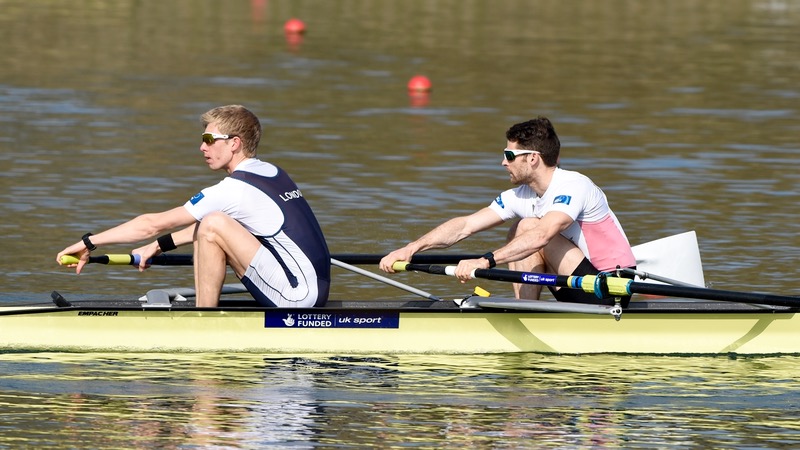 Mark Aldred and Chris Bartley © Peter Spurrier / Intersport Images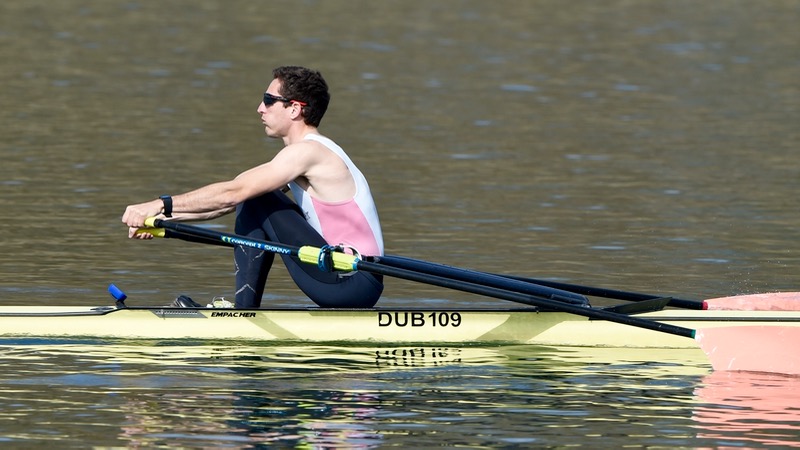 Will Fletcher © Peter Spurrier / Intersport Images
The lightweight men's pair competition is a four-way tussle, with today's time trial determining the lanes for tomorrow's final.
Olympic silver-medalist Chris Bartley and Mark Aldred went fastest in 6:25.41, with Sam Scrimgeour and Jono Clegg in second.
Leading the way in the women's pair were Olympic, World and European Champions Helen Glover and Heather Stanning, who set a quick time of 6:53.23.
The chasing pack was led by four-time Olympian Frances Houghton, who has switched from sculling to sweep for these trials, and Olivia Carnegie-Brown.
GB Rowing Team Start graduate Karen Bennett and Melanie Wilson were third, just ahead of Jess Eddie and Polly Swann.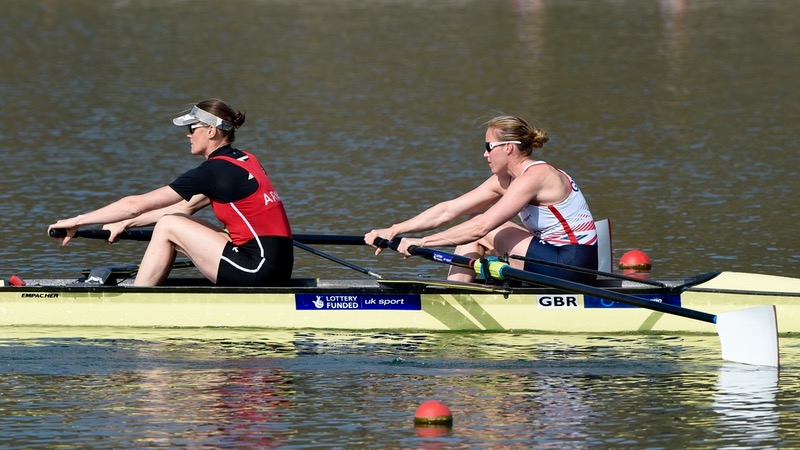 Heather Stanning and Helen Glover © Peter Spurrier / Intersport Images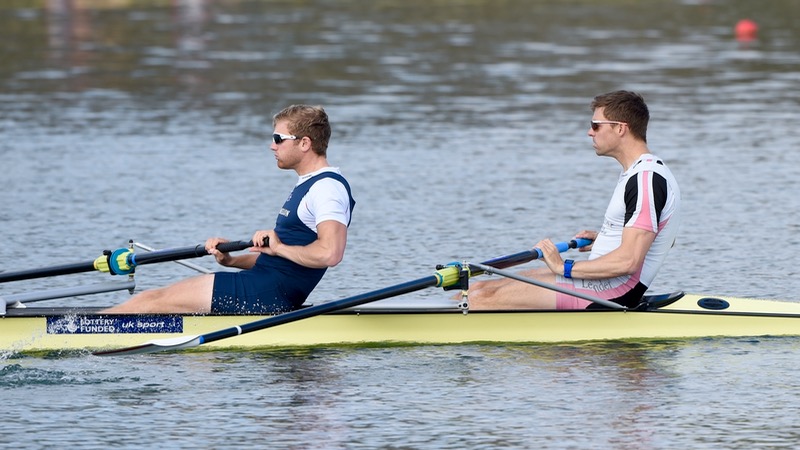 Constantine Louloudis and Pete Reed © Peter Spurrier / Intersport Images
Eight reigning World Champions are contesting a stacked men's pair competition and they provided four of the top five placings in the final time trial of the morning.
Double Olympic champion Pete Reed and Constantine Louloudis were quickest in 6:11.90, with Alex Gregory and Moe Sbihi – winners of the last two GB Trials – just beating men's four World bronze-medalists Alan Sinclair and Stewart Innes to second spot.
London 2012 bronze-medalists George Nash and Will Satch were fourth, with Matt Gotrel and Paul Bennett fifth.
The action heats up this afternoon with lane racing in the semi-finals – they start at 3.07pm BST.
The GB Rowing Team is supported by the Lottery through UK Sport and has Science in Sport as a supplier.  SAS Analytics is the Official Analytics Partner of British Rowing and the GB Rowing Team. Follow Britain's rowers on the Road to Rio via Twitter – @GBRowingTeam – and at www.facebook.com/GBRowingTeam.
Open All
Crew List
ENTRY LIST
(As at Monday 21 March) Pairs listed from bow to stroke.
* denotes U23
OPEN
MEN
Single
Tom Barras (Leander Club/Staines/07.01.94)* MED – withdrawn
Jack Beaumont (Leander Club/Maidenhead/21.11.93)
Alan Campbell (Tideway Scullers School/Coleraine/09.05.83)
Frazier Christie (Leander Club/Bath/11.01.93)
John Collins (Leander Club/Whitton/24.01.89)
Angus Groom (Leander Club/Glasgow/16.06.92)
Peter Lambert (Leander Club/Maidenhead/03.12.86)
Rowan Law (Leander Club/Nottingham/01.12.96)*
Harry Leask (Leander Club/Edinburgh/16.10.95)*
Nick Middleton (Leander Club/Henley-on-Thames/12.08.88)
George Stewart (Molesey BC/Esher/14.04.95)*
Jon Stimpson (Nottingham RC/Gex, France/18.07.90)
Graeme Thomas (Agecroft RC/Preston/08.11.88)
Sam Townsend (Reading Univ BC/Reading/26.11.85)
Sam Twine (Reading Univ BC/Tavistock/06.01.94)*
Jonny Walton (Leander Club/Leicester/06.10.90)
Pair
Chris Boddy (Leander Club/Thornaby-on-Tees/16.11.87)/Thomas Ford (Leander Club/Holmes Chapel/03.10.92)
Timothy Clarke (Leander Club/Henley-on-Thames/07.04.91)/Phil Congdon (Leander Club/Bury St Edmunds/06.06.89)
Oliver Cook (Univ of London BC/Windsor/05.06.90)/Callum McBrierty (Leander Club/Edinburgh/13.08.92)
Rory Gibbs (Oxford Brookes Univ BC/Lane End/03.04.94)*/Matthew Aldridge (Oxford Brookes Univ BC/Christchurch/11.03.96)*
Alex Gregory (Leander Club/Wormington/11.03.84)/Mohamed Sbihi (Molesey BC/Surbiton/27.03.88)
Michael Glover (Oxford Brookes Univ BC/Burnham/03.06.95)* /Morgan Bolding (Oxford Brookes Univ BC/Withiel/13.05.95)*
Matt Gotrel (Leander Club/Chipping Campden/01.03.89)/Paul Bennett (Univ of London BC/Leeds/16.12.88)
Matt Langridge (Leander Club/Northwich/20.05.83)/Andrew T Hodge (Molesey BC/Hebden/03.03.79)
Luke Moon (Molesey BC/Deal/25.03.93)/Chris Heywood (Molesey BC/Ascot/29.05.94)*
George Nash (Molesey BC/Guildford/02.10.89)/Will Satch (Leander Club/Henley-on-Thames/09.06.89)
Adam Neill (Leander Club/Peterborough/29.05.90)/Cameron Buchan (Leander Club/Dunipace/03.12.92)
Tom Ransley (Leander Club/Ashford/06.09.85)/Scott Durant (Oxford Brookes Univ BC/Lancaster/12.02.88)
Pete Reed (Leander Club/Nailsworth/27.07.81)/Constantine Louloudis (Oxford Univ BC/London/15.09.91)
Nathaniel Reilly-O'Donnell (Univ of London BC/Durham/13.04.88)/Matthew Tarrant (Oxford Brookes Univ BC/Shepperton/11.07.90)
George Rossiter (Leander Club/Newbury/09.03.92)/Barnaby Stentiford (Leander Club/Ippleden/06.02.91)
James Rudkin (Newcastle Univ BC/Northampton/07.07.94)*/Lewis McCue (Robert Gordon Uni/Aberdeen/26.12.94)*
Alan Sinclair (Leander Club/Inverness/16.10.85)/Stewart Innes (Leander Club/Henley-on-Thames/20.05.91)
William Warr (Leander Club/Tunbridge Wells/12.03.92)/Matt Rossiter (Leander Club/Newbury/25.09.89)
WOMEN
Single
Emily Carmichael (Leander Club/Cheltenham/29.05.92)
Sam Courty (Reading RC/Alnwick/07.01.93)
Debbie Flood (Leander Club/Guiseley/27.02.80) MED – withdrawn
Georgia Francis (Imperial College BC/Newbury/18.08.94)*
Katherine Grainger (St Andrew BC/Glasgow/12.11.75) (injured) MED  – withdrawn
Lucinda Gooderham (Leander Club/Garboldisham/09.06.84)
Katie Greves (Leander Club/Oxford/02.09.82)
Mathilda Hodgkins-Byrne (Reading Univ BC/Hereford/01.10.94)*
Jessica Leyden (Leander Club/Todmorden/22.02.95)
Holly Nixon (Leander Club/Enniskillen/07.12.93
Tina Stiller (Tees RC/Yarm/23.06.87)
Victoria Thornley (Leander Club/Wrexham/30.11.87)
Melissa Wilson (Cambridge Univ BC/Edinburgh/10.06.93) MED – withdrawn.
Pair
Karen Bennett (Leander Club/Edinburgh/05.02.89)/ Melanie Wilson (Imperial College BC/London/25.06.84)
Rosamund Bradbury (Leander Club/Banstead/17.12.88)/Louisa Reeve (Leander Club/London/16.05.84)
Beth Bryan (Tees RC/Stockton-on-Tees/23.04.93)/Jo Wratten (Tees RC/Middlesbrough/23.03.92)
Rebecca Chin (Agecroft RC/Deganwy/11.12.91)/Caragh McMurtry (Southampton Coalporters/Southampton/22.08.91)
Jess Eddie (London RC/Durham/07.10.84)/Polly Swann (Leander Club/Edinburgh/05.06.88)
Fiona Gammond (Leander Club/Bicester/19.10.92)/Holly Norton (Leander Club/Johannesburg, SA/01.01.93)
Helen Glover (Minerva Bath RC/Penzance/17.06.86)/ Heather Stanning (Army RC/Lossiemouth/26.01.85)
Zoe Lee (Imperial College BC/Richmond/15.12.85) MED – Withdrawn
Frances Houghton (Univ of London Tyrian Club/Oxford/19.09.80)/Olivia Carnegie-Brown (Oxford Brookes Univ BC/Henley-on-Thames/28.03.91)
Vicki Meyer-Laker (Leander Club/Premnay/18.03.88)/Donna Etiebet (Imperial College BC/London/29.04.86)
LIGHTWEIGHT
MEN
Single
Richard Chambers (Leander Club/Coleraine/10.06.85) (injured) MED – Withdrawn
Will Fletcher (Leander Club/Chester-le-Street/24.12.89)
John Hale (Imperial College BC/Cambridge/28.02.88)
Jonathan Jackson (Leander Club/Henley-on-Thames/02.06.95)*
Jamie Kirkwood (Leander Club/Newcastle/30.08.89)
Zak Lee-Green (Agecroft RC/Cardiff/06.02.91)
Samuel Mottram (Leander Club/Stoke Mandeville/14.11.94)*
Sam Tuck (Molesey BC/Peterborough/26.07.93)
Pair
Chris Bartley (Leander Club/Wrexham/02.02.84)/Mark Aldred (London RC/Birmingham/18/04.87)
Joel Cassells (Oxford Brookes Univ BC/Coleraine/15.06.94)*/Peter Chambers (Oxford Brookes Univ/Coleraine/14.03.90)
Sam Scrimgeour (Imperial College BC/Kirriemuir/28.01.88)/Jonathan Clegg (Leander Club/Maidenhead/14.07.89)
Charles Waite-Roberts (Leander Club/Basingstoke/06.11.92)/Jamie Copus (Oxford Brookes Univ BC/Oxford/30.01.93)
WOMEN
Single
Maddie Arlett (Edinburgh Univ BC/Selkirk/07.06.94)*
Kat Copeland (Tees RC/Stockton-on-Tees/01.12.90)
Emily Craig (Univ of London BC/Mark Cross/30.11.92)
Gemma Hall (Wallingford RC/Wargrave/10.04.92) MED – withdrawn
Robyn Hart-Winks (Edinburgh Univ BC/Kirriemuir/07.10.93)
Ellie Lewis (Agecroft RC/Marlow/14.04.94)
Eleanor Piggott (Wallingford RC/Bedford/16.05.91)
Fran Rawlins (Leander Club/Uckfield/08.07.86)
Brianna Stubbs (Wallingford RC/Poole/13.07.91)
Charlotte Taylor (Putney Town RC/Bedford/14.08.85)
Imogen Walsh (London RC/Inverness/17.01.84)
COXES
MEN
Henry Fieldman (Molesey BC/Barnes/25.11.88)
Phelan Hill (Leander Club/Bedford/21.07.79)
WOMEN
Zoe De Toledo (Leander Club/London/17.07.87)
Matilda Horn (Univ of London BC/Windsor/16.08.92)