Great Britain qualify for 11 A Finals at World Rowing Championships 2022
Another seven GB crews are through to the A Finals at the World Rowing Championships after a strong day of racing in Racice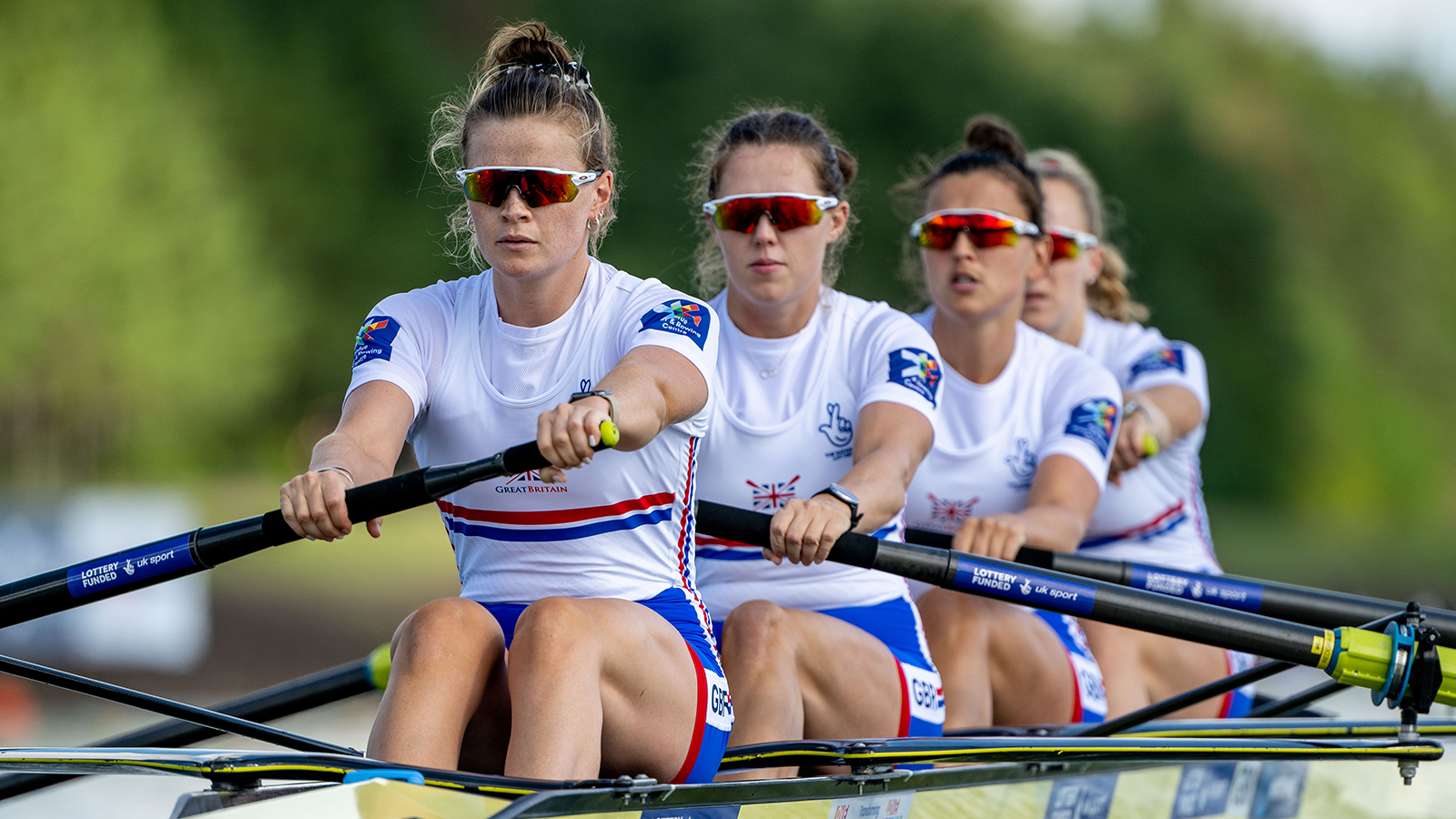 Seven GB crews qualified for A finals today, adding to the Men's Eight (M8+), PR3 Mixed Coxed Four (PR3 Mix4+) and the PR3 Men's & Women's Pairs (PR3 M2- & PR3 W2-) who secured their A final places earlier in the week. Another four crews race in their semi-finals tomorrow.
Today, the racing came thick and fast with the Women's Four (W4-), Men's Four (M4-), Women's Quadruple Sculls (W4x), Lightweight Women's Double Sculls (LW2x) and Men's Pair (M2-) all winning their semi finals.
Heidi Long, Rowan McKellar, Samantha Redgrave and Rebecca Shorten had a confident race and finished in the best time across the Women's Four (W4-) semi finals. "It was a big step on from the heat," Rowan said, adding, "We've been looking to add incremental improvements each race. We definitely managed that, so we're happy with that today." Sam said: "We'll take a lot of confidence from that race. It's nothing that we haven't done before, and no-one's unbeatable, so that's going to drive us."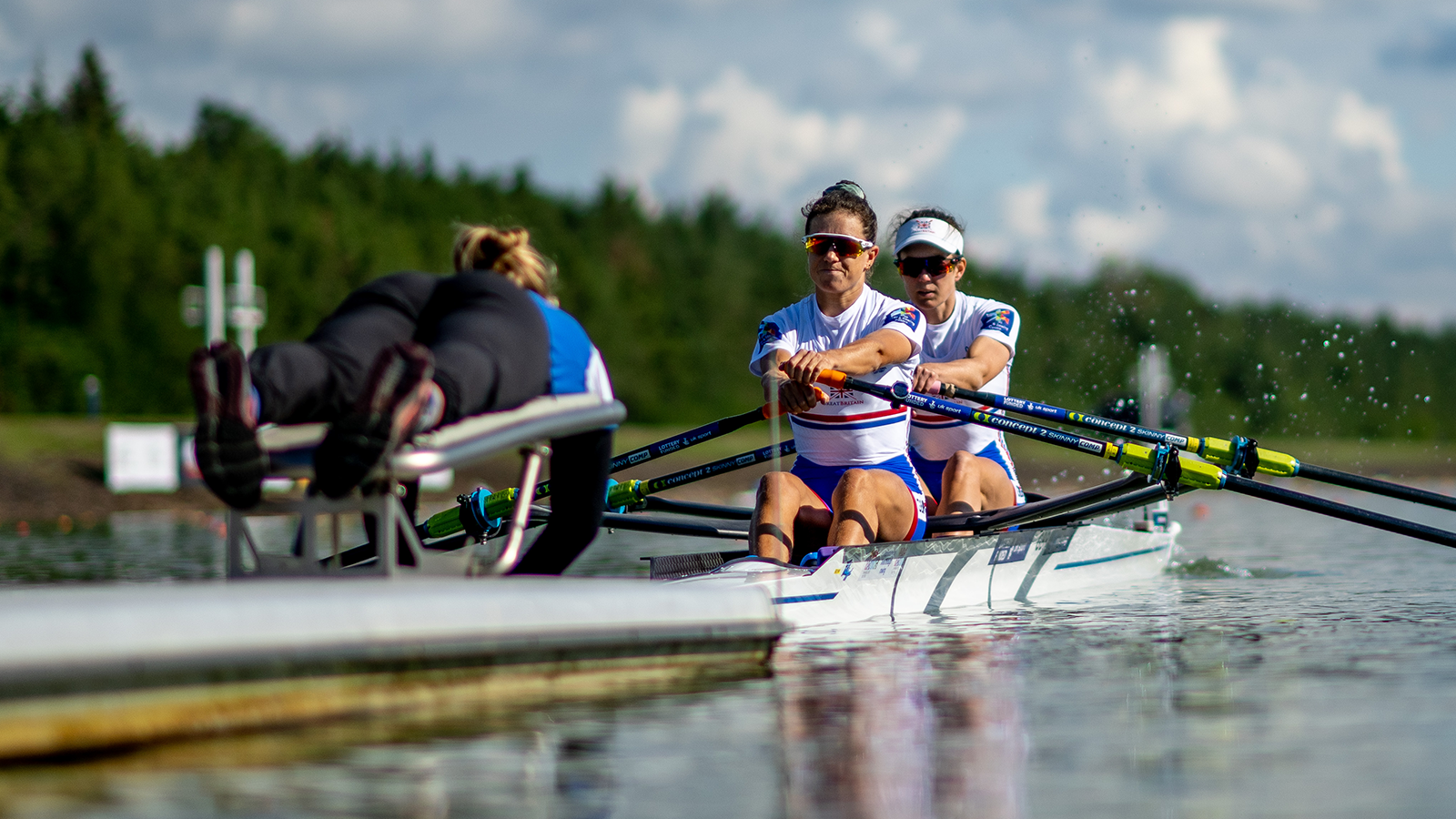 The Men's Four (M4-) won their semi final ahead of Australia and Ukraine. David Ambler continued as a medical substitute for Matt Aldridge, alongside Will Stewart, Sam Nunn and Freddie Davidson. Sam said: "Obviously, Matt is out at the moment but David's doing a phenomenal job, and all credit to him. He's slotted in very well. It does take a few days to come together and each race that we have, we're stepping on really nicely. I think we're taking on the challenge of just trying to find a little bit more speed, that one or two percent extra each race. Today was a really good step in the right direction, so we're feeling confident, feeling good."
Emily Craig and Imogen Grant put in a dominant row to win the Lightweight Women's Double Sculls (LW2x) semi final. Imogen said: "That felt good. Emily and I have been here in Racice chomping at the bit, ready to race. I think this semi-final feels like we've arrived and it puts us in a good position for the final on Saturday."
Emily added: "We're just taking each regatta as it comes. It feels like a very long time since the Europeans and we're not relying too heavily on what was a really great result. Also, we have a lot of confidence in the fact that before the Europeans we had four weeks in the boat together, and now we've had six to eight weeks, a lot more miles."
The Women's Quadruple Sculls of Jess Leyden, Lola Anderson, Georgie Brayshaw and Lucy Glover put in a solid time only slightly behind the Chinese who raced in the first semi finals. Georgie said: "We have done well this season, so that should give us confidence that we go out there, sit on the start line; we've done it before, we just need to do it again. We don't need to do anything different, we've already got gold in the Europeans, we just need to keep pushing to go one percent better. And it's working."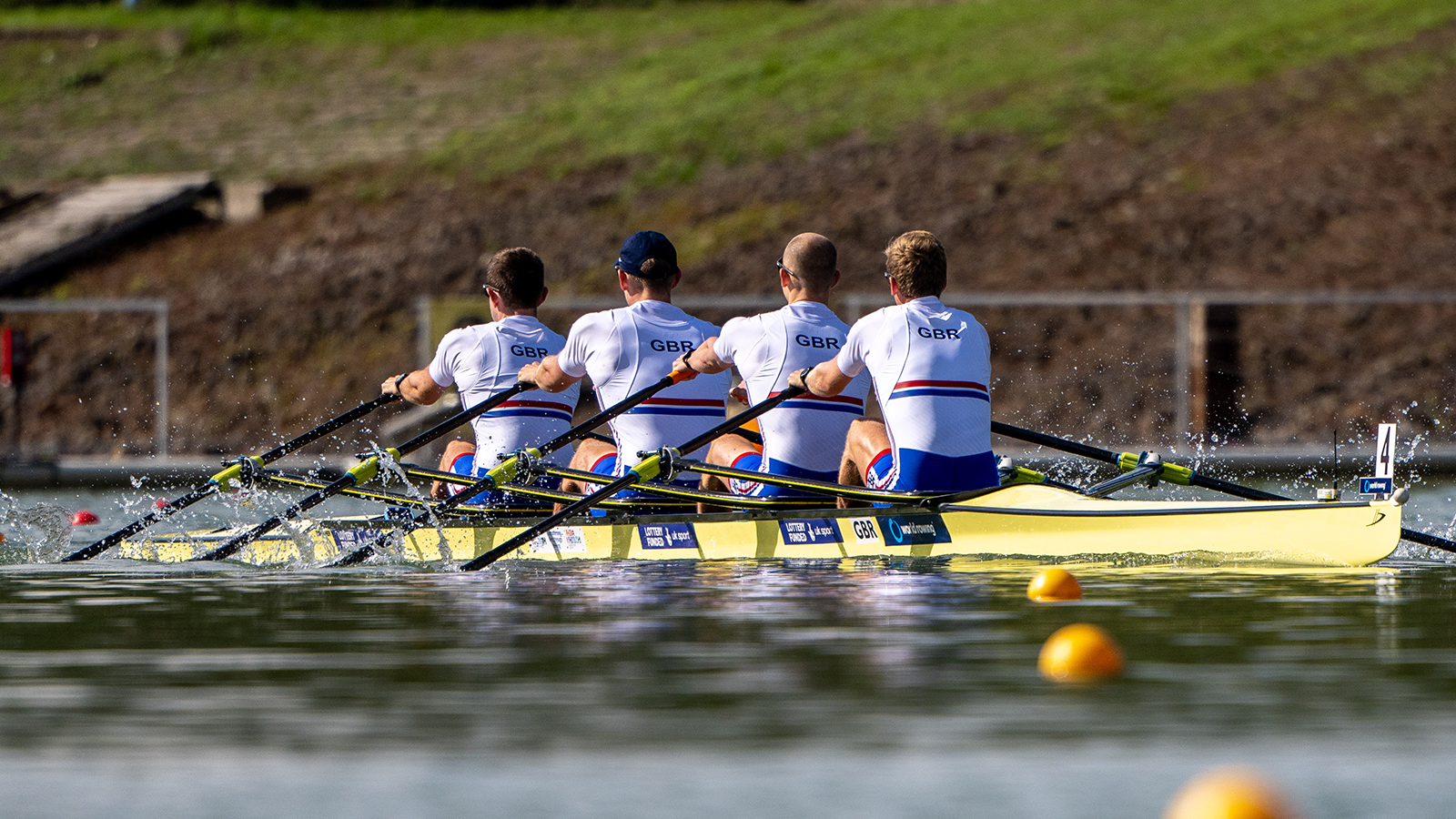 Lucy commented that the Team performing well helps push everyone on, saying: "We were watching the fours race before we boated; we've been training with them every single day and seeing them do well gives us a little bit of a boost. You want to do well for the team, and do well for each other."
The Men's Pair (M2-) of Ollie Wynne-Griffith and Tom George won their semi final ahead of the Romanian European champions. Speaking about the race, Ollie said: "We're happy with the win. We just went out there trying to level up from what we did in the heat and row the best race that we could on the day. I think we got large parts of it right, but there's a bit more to work on."
Looking ahead to the final, Tom added: "It's going to be tight. We know Romania are good and Spain have come out really strong since the Europeans. We've raced them a lot this year and they seem to have stepped on, and Australia have an Olympic champion in the stroke seat, so it's going to be hard, but it's going to be good. We're looking forward to it."
Both the Men's Quadruple Sculls (M4x) of Harry Leask, George Bourne, Matt Haywood and Tom Barras and Women's Pair (W2-) of Emily Ford and Esme Booth also qualified for the A finals, finishing second and third respectively.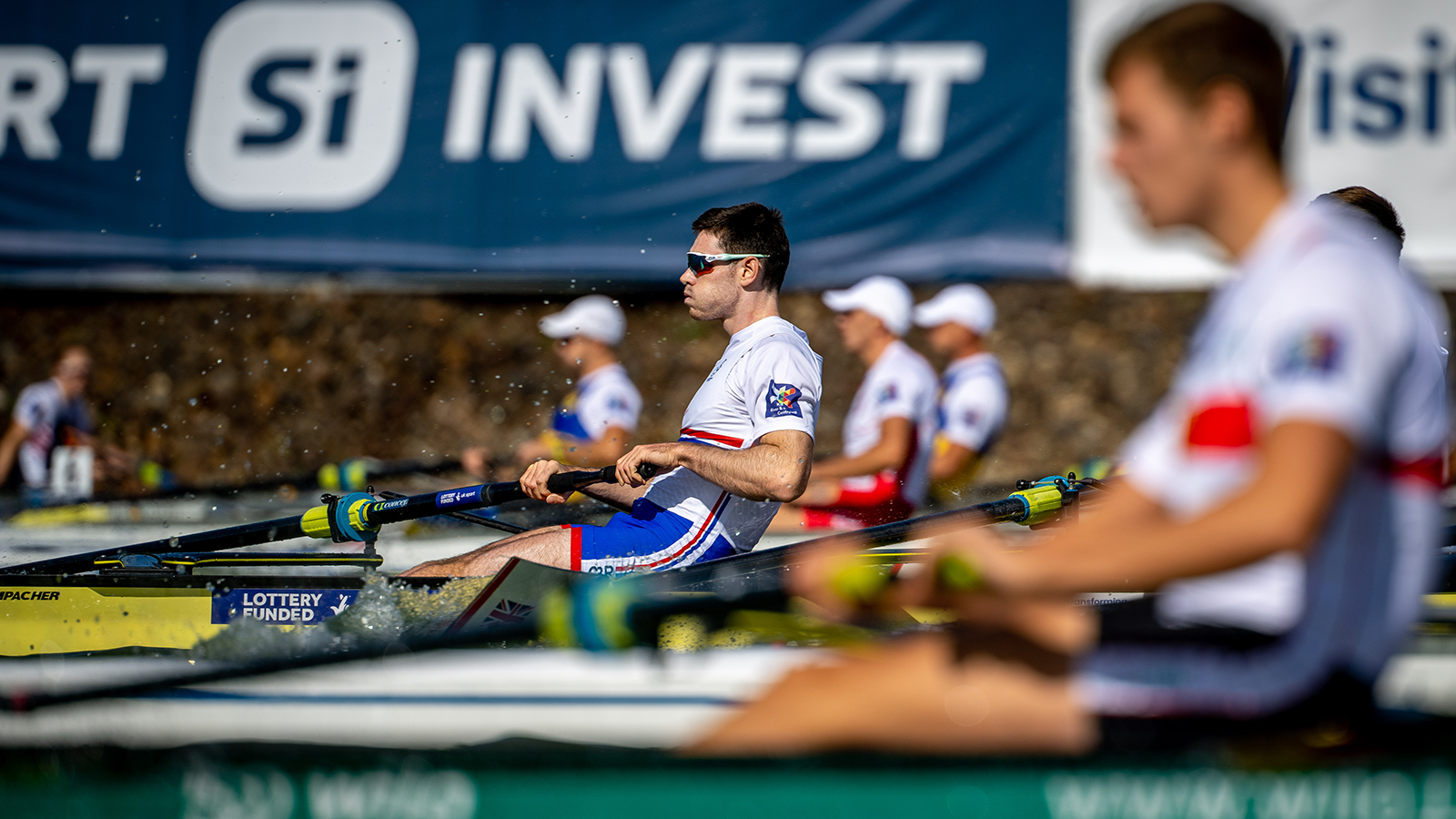 Speaking about the quad after the race, Harry said: "It's been quite a difficult season and we've not always had the results we would hope for, but this crew is really positive. We've got to take a lot from coming second in that semi final, really close behind the Italians. I'm just excited to see what we can do in the final."
George added: "You come into today and there's a lot to win and lose. Now we've got through that one we can take the pressure off our shoulders a little bit, we're in the game and there's nothing to lose. We've started to build our identity a little bit as a crew on our camps, so we can go into tomorrow with a bit of confidence, chests out and see what we can put down."
Emily said the Women's Pair "had some stuff to work on from the heat, through the middle, and we had a step on through there. There's a couple of things we can tweak for the final. So we'll have a day off, work on those and see what we can do." Esme agreed: "It was a step on from the heat. I think we just need to keep staying relaxed, keep moving on and execute the best race we can."
Edinburgh's Dale Flockhart will race the B Final after he finished fifth in the Lightweight Men's Single Sculls (LM1x) semi final and Maddie Arlett will race in the D Final after finishing fourth in the Lightweight Women's Single Sculls (LW1x) C/D semi final.
Day Five Results
| Boat | Crew | Race | Time | Position | Next race |
| --- | --- | --- | --- | --- | --- |
| W4- | Rowan McKellar, Heidi Long, Samantha Redgrave, Rebecca Shorten | Semifinal A/B | 06:38.89 | 1/6 | Final A |
| W4x | Jess Leyden, Lola Anderson, Georgie Brayshaw, Lucy Glover | Semifinal A/B | 06:29.60 | 1/6 | Final A |
| W2- | Esme Booth, Emily Ford | Semifinal A/B | 07:19.99 | 3/6 | Final A |
| LW2x | Emily Craig, Imogen Grant | Semifinal A/B | 06:58.67 | 1/6 | Final A |
| LW1x | Maddie Arlett | Semifinal C/D | 08:18.62 | 4/5 | Final D |
| M4- | Will Stewart, Sam Nunn, David Ambler, Freddie Davidson | Semifinal A/B | 06:02.21 | 1/6 | Final A |
| M4x | Harry Leask, George Bourne, Matt Haywood, Tom Barras | Semifinal A/B | 05:53.93 | 2/6 | Final A |
| M2- | Ollie Wynne-Griffith, Tom George | Semifinal A/B | 06:28.57 | 1/6 | Final A |
| LM1x | Dale Flockhart | Semifinal A/B | 07:08.80 | 5/6 | Final B |