Great Britain handle the heat on the first day of the World Rowing Championships
The GB Rowing Team got off to a fantastic start at the 2019 World Rowing Championships in Linz-Ottensheim, facing off against 30-degree heat to see 13 crews progress through to the semi and quarter finals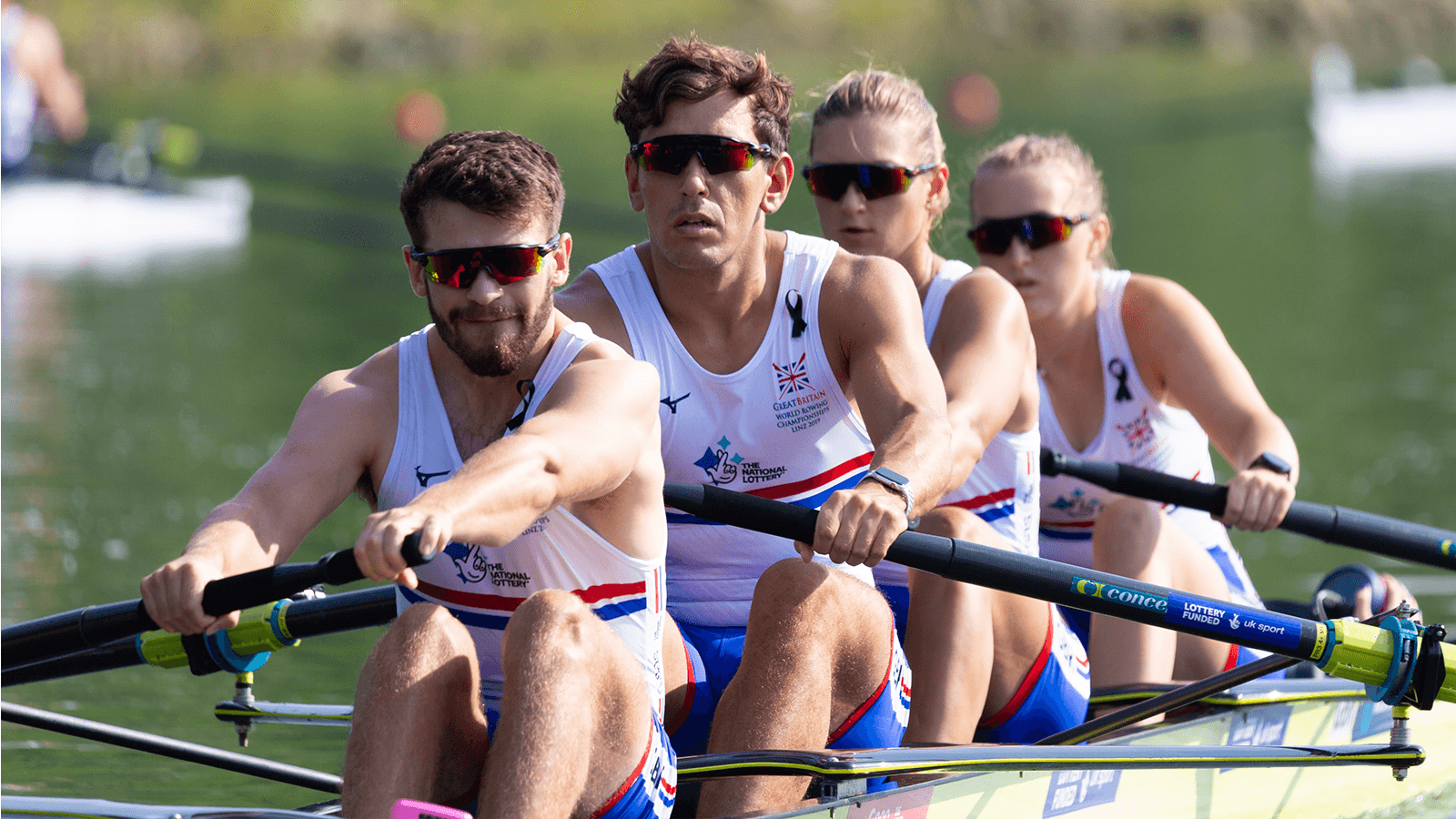 With today marking one year to go to the Tokyo 2020 Paralympic Games, GB's Para-rowing squad had a clean sweep of first place finishes with all three crews progressing through to the A/B semi-finals.
The PR3 mixed coxed four put in an outstanding performance in their heat, crossing the finish line just two seconds behind the world best time. The crew, of Ellen Buttrick, Giedre Rakauskaite, James Fox, Oliver Stanhope and cox Erin Wysocki-Jones finished 13 seconds ahead of the next fastest qualifiers.
Paralympic gold medallist Fox said: "We did exactly what we set out to do, went out really hard and went really fast. We can take a lot of confidence from that; especially that we almost broke the world record in the heat and we didn't even go to the line. We're excited for Thursday and Saturday as well."
Racing together in their first World Championships since 2015, Paralympic champions Lauren Rowles and Laurence Whiteley were the fastest qualifiers for the semi finals of the PR2 mixed double sculls by over 14 seconds.
Rowles, who won silver in the PR2 women's single sculls at World Cup II in Poznan earlier this season, said: "It's so great to be back out there at the World Championships. We wanted to go out there and put everything we've been doing in training into the race and show our dominance.
"We're excited for the semi-final now; it's great to have an extra race to try different things out and build our experience."
In his debut World Championships, Benjamin Pritchard beat last year's world bronze medallist Alexey Chuvashev to the one automatic qualification spot for the A/B semi final of the PR1 men's single sculls. The event was an emotional one; the entire GB team have been wearing black ribbons in memory of Dzmitry Ryshkevich, the Belarusian para-rower who tragically died earlier this week in training.
Remarking on the heat, Pritchard said: "There are two big races for me in this World Championships and today was one of them. It was such a hard fought battle and I'm really glad I came out on top. It was a fitting tribute to the memory of Dzmitry."
Director of Performance Brendan Purcell said: "As a team we've had a very strong start to the World Championships; the initial performances from the majority of our crews showed that the work on the training camps has paid off.
"The three Para-rowing crews have been outstanding and have certainly set a high standard for the rest of the field."
Tom Dyson, Chief Coach for the Para squad, said: "I'm really pleased for the team today; the four in particular were outstanding and really stamped their authority on the race.
"The results show that we are where we thought we were throughout the training camps; we've put ourselves in a good place to contend for qualification and are looking forward to the weekend."
Maddie Arlett saw herself safely through to Thursday's A/B semi-finals in the lightweight single scull, as did the men's four who put in a dominant performance to secure the one qualification spot from their heat for Thursday's A/B semi-final. The crew, of Sholto Carnegie, Rory Gibbs, Ollie Cook and Matt Rossiter have claimed European gold and World Cup III silver already this season.
Cook said: "That was a solid heat. We're really pleased to come out and get the job done in the first race and are looking forward to more to come."
Eight GB crews made it through to Wednesday's quarter finals, including Rio 2016 Olympic silver medallist Vicky Thornley, who came out on top in a well paced heat.
Reflecting on the race, Thornley said: "That was a good start to the regatta; there are a lot of heats so I'll meet more scullers later on. I'm pleased the race went to plan and it puts me in a strong position for the next round."
Thornley's coach Paul Reedy added: "We've made progress throughout the past six weeks during our training camps and this has been the first time we've been able to put it into practice. With that in mind, today has been a really positive start; it's important to start strong and be in control of your destiny for the rest of the regatta."
Graeme Thomas and John Collins also saw themselves through to the quarter-finals with a strong opening performance in their heat for the men's double sculls, winning by almost a length.
Thomas said: "We're really happy with that race. Now we're looking forward now to a couple of days of consolidating it with some training before an exciting quarter-final on Tuesday."
Their coach Dan Moore added: "Technically, that was a very strong performance. I'm happy with the step forward we've taken since World Cup III and think there's still a lot more to come."
You can watch all tomorrow's racing live on www.worldrowing.com.
Results
PR2 mixed double scull (Heat 3)
1. Lauren Rowles and Laurence Whiteley (GBR) 8:13.86
2. Michal Gadowski and Jolanta Majka (POL) 8:31.55
3. Laura Goodkind and Russell Gernaat (USA) 8:50.32
Next GB race: AB semi final (Thursday)
PR3 mixed coxed four (Heat 1)
1. Great Britain (Ellen Buttrick, Giedre Rakauskaite, James Fox, Oliver Stanhope and Erin Wysocki-Jones) 6:57.00
2. Ukraine 7:26.30
3. Germany 7:28.34
Next GB race: AB semi final (Thursday)
Women's pair (Heat 3)
1. Aina Cid and Virginia Diaz Rivas (ESP) 7:13.12
2. Cristina-Georgiana Popescu and Amalia Beres (ROU) 7:14.49
3. Sam Courty and Annie Withers (GBR) 7:25.06
Next GB race: Quarter final (Wednesday)
Men's pair (Heat 2)
1. Selahattin Gursoy and Besim Sahinoglu (TUR) 6:37.40
2. Morgan Bolding and Tom Jeffery (GBR) 6:37.97
3. Lukas Helesic and Jakub Podrazil (CZE) 6:39.07
Next GB race: Quarter final (Wednesday)
Lightweight men's double sculls (Heat 6)
1. Matthew Dunham and Harrison Somerville (NZL)
2. Hamish Parry and Leon Chambers (AUS)
3. Jamie Copus and Zak Lee-Green (GBR)
Next GB race: Quarter final (Wednesday)
Lightweight women's double sculls (Heat 2)
1. Zoe McBride and Jackie Kidde (NZL) 7:03.07
2. Emily Craig and Imogen Grant (GBR) 7:08.27
3. Ayami Oishi and Kanako Ueda (JPN) 7:13.14
Next GB race: Quarter final (Wednesday)
Men's four (Heat 1)
1. Great Britain (Matt Rossiter, Ollie Cook, Rory Gibbs and Sholto Carnegie) 6:02.62
2. Germany 6:05.06
3. France 6:06.49
Next GB race: AB semi final (Thursday)
Women's four (Heat 2)
1. Netherlands 6:39.35
2. Denmark 6:42.82
3. Great Britain (Sara Parfett, Emily Ford, Polly Swann and Holly Hill) 6:45.44
Next GB race: Repechage (Tuesday)
Men's quadruple sculls (Heat 1)
1. Australia 5:51.32
2. Germany 5:53.45
3. Norway 5:57.18
4. Great Britain (Jonny Walton, Angus Groom, Jack Beaumont and Pete Lambert) 5:59.28
Next GB race: Repechage (Tuesday)
Lightweight men's single sculls (Heat 2)
2. Rajko Hrvat (SLO) 7:15.29
3. Luka Radonic (CRO) 7:27.10
Next GB race: Quarter final (Wednesday)
Lightweight women's single sculls (Heat 3)
1. Chiaki Tomita (JPN) 7:54.04
2. Maddie Arlett (GBR) 7:55.27
3. Ellen Gleadow (CAN) 7:55.69
Next GB race: AB semi final (Thursday)
PR1 men's single sculls (Heat 4)
1. Benjamin Pritchard (GBR) 10:17.57
2. Alexey Chuvashev (RUS) 10:33.99
3. Johannes Schmidt (GER) 11:16.07
Next GB race: AB semi final (Friday)
Men's double sculls (Heat 5)
1. John Collins and Graeme Thomas (GBR) 6:28.53
2. Hugo Boucheron and Matthieu Androdias (FRA) 6:30.54
3. Fabio Infimo and Simone Venier (ITA) 6:33.08
Next GB race: Quarter final (Wednesday)
Women's single sculls (Heat 3)
1. Vicky Thornley (GBR) 7:48.90
2. Fie Udby Erichsen (DEN) 7:54.27
3. Eeva Karppinen (FIN) 8:11.80
Next GB race: Quarter final (Wednesday)
Men's single sculls (Heat 1)
1. Stefanos Ntouskos (GRE) 7:05.55
2. Tom Barras (GBR) 7:08.69
3. Thibaut Verhoeven (FRA) 7:12.85
Next GB race: Quarter final (Wednesday)