Imogen Grant wins bronze for GB on the first day of finals at 2018 World Rowing Championships
Imogen Grant adds senior World Championships bronze to her World U23 gold in the lightweight women's single sculls in Plovdiv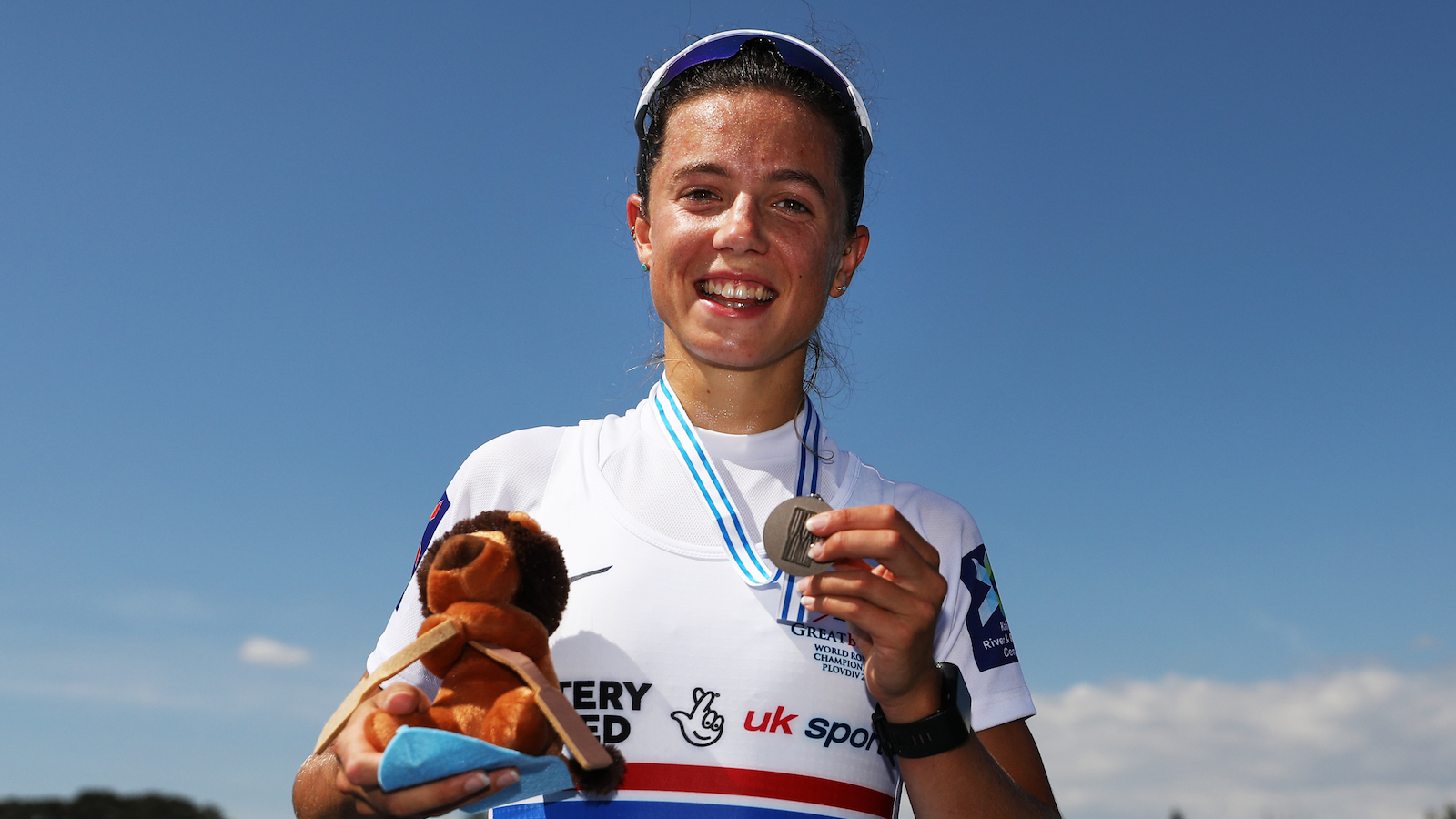 Imogen Grant won bronze for Great Britain in the lightweight women's single sculls as the medal finals of the 2018 World Rowing Championships got underway in Plovdiv.
Grant capped a memorable year, which has seen her win the Women's Boat Race and World U23 gold alongside training to be a doctor, with a memorable campaign in Bulgaria.
Grant was engaged in a great battle with France's Laura Tarantola at the front of the field before Italy's Clara Guerra put in a flying final 500m to snatch the silver medal.
She said afterwards: "It was all a bit of a blur. I usually get some distance on the start and I knew that I had a little bit, but then I also knew the calibre of the field.
"It was really hard out there – everyone was battling for it over the first 1,000m and the lead was changing hands so much. I gave it my best and I'm really happy to come away with a medal.
Grant's final was one of three for GB on Friday, with Laurence Whiteley finishing fourth in the first ever PR2 men's single sculls World Championships final. The Teessider battled hard down the 2,000m track to haul in Italian Daniele Stefanoni in bronze medal position but ultimately ran out of water.
The lightweight women's quadruple sculls matched their performance from 2017 by finishing fifth in their final. The GB crew pushed on in the second half of the race in pursuit of the USA and a fading Germany but couldn't close the gap on the medal positions.
Sam Mottram finished his regatta in trademark style – sprinting to the line in the lightweight men's single sculls B final to finish eighth overall. Mottram made up three-quarters of a length on eventual winner Martino Goretti in the final 100m but the line came too soon for him to snatch the win.
Angus Groom and Jack Beaumont stormed into the men's double sculls final with another dominant performance. The Leander Club duo won their semi-final ahead of reigning champions New Zealand and European silver medallists Romania. They'll also face strong French, Swiss and German crews in the final.
Harry Leask finished second in his men's single sculls semi-final to book himself a final place on Sunday. The young Scot beat World Best Time holder Robbie Manson (NZL) to the line as Norway's Kjetil Borch took the win to also progress.
Charlotte Hodgkins Byrne and Anna Thornton also continued their impressive run in the women's double sculls, taking a hard-fought third place in one of the closest races of the day to seal a medal final position. The world U23 champions in this boat class will face all three medallists from the 2017 World Championships in their final.
Andy Houghton progressed to his second straight PR1 men's single sculls final, finishing third in his semi-final behind Paralympic champion Roman Polianskyi and American Blake Haxton.
Ollie Cook and Matt Rossiter found themselves in a stacked men's pair final and were edged out of the three qualification spots by Croatia, France and Canada. They'll return on Saturday morning for their B final.
Both the men's and women's eights produced fantastic performances to progress to their respective medal finals.
The men's crew put in a memorable row in a tough race, with only two crews progressing from their repechage. GB led from start to finish to cross the line nearly half-a-length up on European champions Romania to set up a mouthwatering final on Sunday against Germany, USA, Australia, Italy and Romania.
The women's eight edged New Zealand for the fourth and final qualification spot in their repechage. A rapid start saw the Brits sitting second to Canada at the first 500m but with just 250m to go the top five boats were separated by less than a length. GB held on to fourth place by just over a tenth of a second to move through to Sunday's final.
British Rowing Director of Performance Brendan Purcell said: "I'm delighted for Imogen, seeing the progress she has made this season at senior and U23 level. Huge credit must go to her coach at Cambridge Rob Baker and in the last few weeks to Paul Reedy. Both coaches helped her to achieve the performance level she showed today.
"We've set ourselves up with ten more medal finals over the weekend with some fantastic semi-final performances today. I look forward to seeing our athletes stepping up to the challenge over the final two days of competition."
Results
Finals
PR2 men's single sculls final
1. Netherlands, 8:35.89
2. Canada, 8:42.46
3. Italy, 8:52.08
4. Great Britain (Laurence Whiteley), 8:59.00
Lightweight women's quadruple sculls final
1. China, 6:28.31
2. Denmark, 6:33.33
3. Germany, 6:34.25
–
5. Great Britain (Gemma Hall, Fran Rawlins, Ellie Lewis & Maddie Arlett), 6:37.51
Lightweight women's single sculls final
1. France, 7:51.79
2. Italy, 7:51.96
3. Great Britain (Imogen Grant), 7:52.61
Lightweight men's single sculls B final
1. Italy, 7:06.00
2. Great Britain (Sam Mottram), 7:06.94
3. Australia, 7:07.84
Semi-finals
Men's pair semi-final (top three to A final)
1. Croatia, 6:20.49
2. France, 6:21.59
3. Canada, 6:22.20
4. Great Britain (Ollie Cook & Matt Rossiter), 6:24.40
Men's double sculls semi-final (top three to A final)
1. Great Britain (Angus Groom & Jack Beaumont), 6:06.59
2. New Zealand, 6:08.00
3. Romania, 6:08.17
Women's double sculls semi-final (top three to A final)
1. Canada, 6:50.80
2. Lithuania, 6:51.01
3. Great Britain (Charlotte Hodgkins Byrne & Anna Thornton), 6:53.05
Men's single sculls semi-final (top three to A final)
1. Norway, 6:43.35
2. Great Britain (Harry Leask), 6:45.05
3. New Zealand, 6:45.22
PR1 men's single sculls semi-final (top three to A final)
1. Ukraine, 9:36.45
2. USA, 9:51.46
3. Great Britain (Andy Houghton), 9:55.62
Repechages
Women's eight repechage (top four to A final)
1. Netherlands, 6:02.38
2. Romania, 6:03.93
3. Canada, 6:04.30
4. Great Britain (Anastasia Chitty, Rebecca Girling, Fiona Gammond, Katherine Douglas, Holly Hill,  Holly Norton, Karen Bennett, Rebecca Shorten & Matilda Horn), 6:04.63
Men's eight repechage (top two to A final)
1. Great Britain (James Rudkin, Alan Sinclair, Tom Ransley, Tom George, Moe Sbihi, Oliver Wynne-Griffith, Matthew Tarrant, Will Satch & Henry Fieldman), 5:25.03
2. Romania, 5:26.01
3. Netherlands, 5:28.75