GB win two silver medals on penultimate day of European Championships
GB's men's four and women's eight win silver medals on day three in Glasgow at the European Championships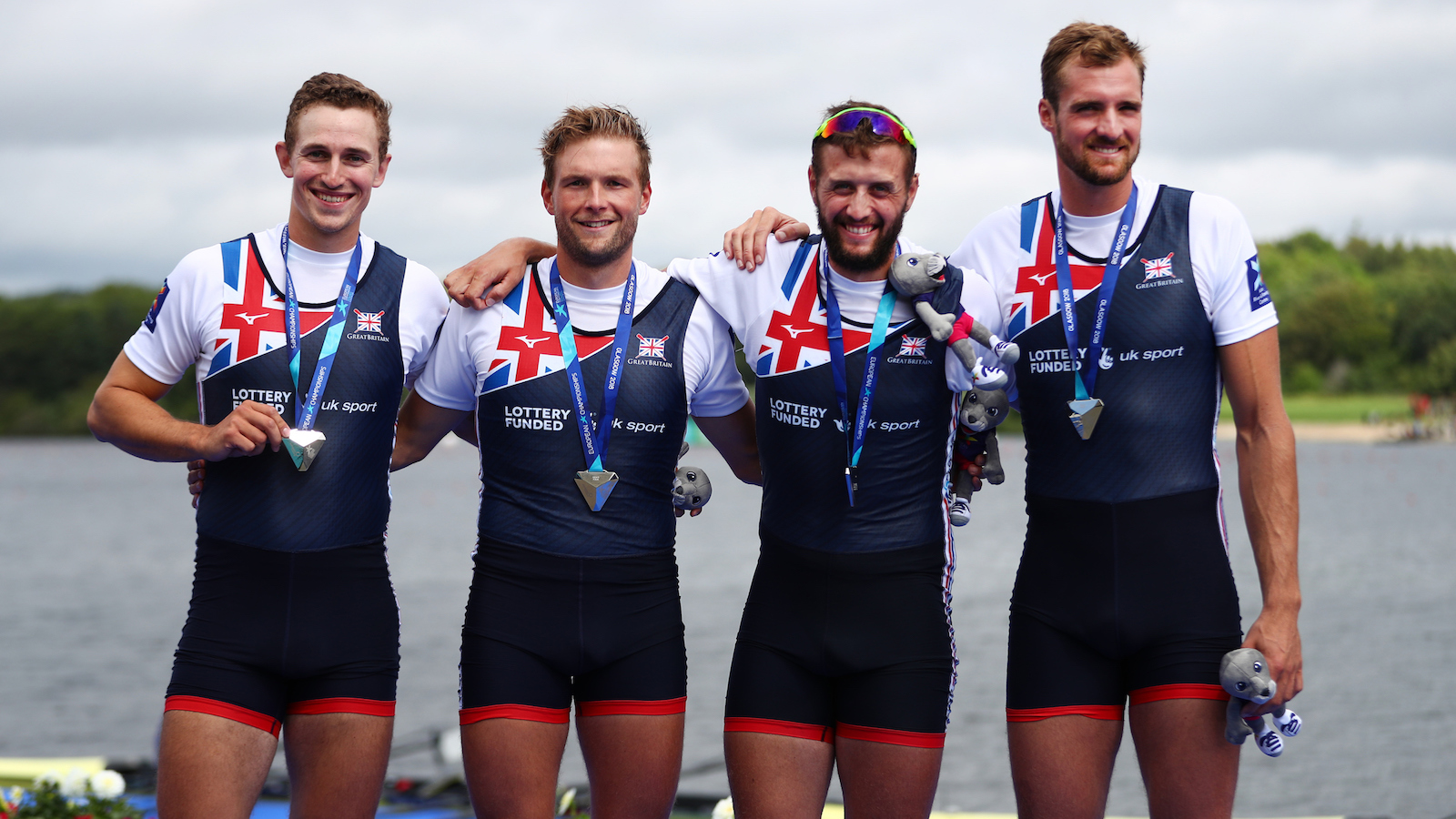 Great Britain won two silver medals on day three of the Glasgow 2018 European Championships at Strathclyde Country Park, with four more medal finals to come on Sunday.
The men's four overcame very strong competition to back up their impressive row in the heats. Sandwiched between eventual champions Romania and fellow heats winners Netherlands, GB sat within half a length of the leaders over the whole course. Another half a length separated GB, featuring Tom Ford, Jacob Dawson, Adam Neill and James Johnston, and bronze medallists France.
GB's women's eight also take home silver medals, having edged the Dutch by a canvas behind gold medallists Romania. Despite only three entries, the racing was fierce and all three nations were separated by just half a length for the duration of the race.
Two British crews finished fourth in their A finals. The women's four finished well to move past the Dutch in the final 500m but finished a length down on a medal place.
The women's quadruple sculls experienced a very similar race, passing Romania in the last quarter to take fourth, half a length down on the Netherlands in the bronze medal position.
Rowan McKellar and Harriet Taylor crossed the line fifth in the women's pair final in their first major Championships, while the men's quadruple sculls of Tom Barras, Graeme Thomas, Jonny Walton and John Collins finished sixth in their race.
Matt Rossiter and Ollie Cook showed their mettle to cruise to victory in the men's pair B final in GB's first race of the day. The pair found themselves in the stronger half of the draw in Friday's semi-final, with the three crews that beat them finishing in the top four of the A final.
Sam Mottram stormed into the lightweight men's single sculls final with a commanding win in Saturday's semi-final. Jack Beaumont and Harry Leask finished strongly to also progress with a win in the men's double sculls.
And the lightweight men's double sculls pairing of Zak Lee-Green and Jamie Copus will race in the B final on Sunday, having been edged out of a qualification spot in their semi-final by just two tenths of a second.
British Rowing Director of Performance Brendan Purcell said: "Two medals is a good way to start our finals weekend and the fact they came with two strong performances is equally encouraging.
"The men's four beat some incredibly stiff competition in their race, while it was great to see the women's eight getting so close to the reigning world champions and beating the standout crew of the World Cup season.
"The crews who finished just off the podium have also given themselves real clarity, by the competitive nature of their performances, of how the training focus of the next six weeks can enhance their World Championships prospects.
"We have four more medal finals on Sunday and I know all the crews involved will be looking to finish this block of racing on a high ahead of some tough training camps."
Results
Women's
Women's pair A final
1. Madalina Beres & Denisa Tilvescu (ROU) 7:15.53
2. Elsbeth Beeres & Laila Youssifou (NED) 7:17.34
3. Alessandra Patelli & Sara Bertolasi (ITA) 7:17.86
–
5. Rowan McKellar & Harriet Taylor (GBR) 7:22.78
Women's four A final
1. Russia 6:39.97
2. Romania 6:41.87
3. Poland 6:42.58
–
4. Great Britain (Sara Parfett, Caragh McMurtry, Emily Ashford, Jo Wratten) 6:45.48
Women's eight A final
1. Romania 6:08.98
2. Great Britain (Anastasia Chitty, Katherine Douglas, Holly Hill, Rebecca Girling, Fiona Gammond, Holly Norton, Karen Bennett, Rebecca Shorten, Matilda Horn) 6:10.09
3. Netherlands 6:10.78
Women's quadruple scull A final
1. Poland 6:20.92
2. Ukraine 6:23.86
3. Netherlands 6:24.95
–
4. Great Britain (Mathilda Hodgkins Byrne, Zoe Lee, Alice Baatz, Melissa Wilson) 6:26.03
Men's
Men's pair B final
1. Matt Rossiter & Oliver Cook (GBR) 6:36.77
2. Paul Schroeter & Laurits Follert (GER) 6:40.13
3. Alexandr Stradaev & Grigorii Shchulepov (RUS) 6:43.61
Men's four A final
1. Romania 5:54.34
2. Great Britain (Tom Ford, Jacob Dawson, Adam Neill, James Johnston) 5:55.71
3. France 5:56.49
Men's double scull semi final
1. Harry Leask & Jack Beaumont (GBR) 6:19.66
2. Miroslaw Zietarski & Mateusz Biskup (POL) 6:19.73
3. Nico Stahlberg & Barnabe Delarze (SUI) 6:25.71
Men's quadruple scull A final
1. Italy 5:41.92
2. Lithuania 5:43.40
3. Poland 5:43.88
–
6. Great Britain (John Collins, Jonny Walton, Graeme Thomas, Tom Barras) 5:50.27
Lightweight men's single scull semi final
1. Sam Mottram (GBR) 7:08.45
2. Peter Galambos (HUN) 7:09.88
3. Luka Radonic (CRO) 7:11.44
Lightweight men's double scull semi final
1. Gary O'Donovan & Paul O'Donovan (IRL) 6:28.14
2. Tim Brys & Niels Van Zandweghe (BEL) 6:28.68
3. Jerzy Kowalski & Milosz Jankowski (POL) 6:29.27
–
4. Jamie Copus & Zak Lee-Green (GBR) 6:29.49