Great Britain team for Glasgow 2018 European Rowing Championships announced
Fifty athletes will compete for Great Britain at the Glasgow 2018 European Championships between 2-5 August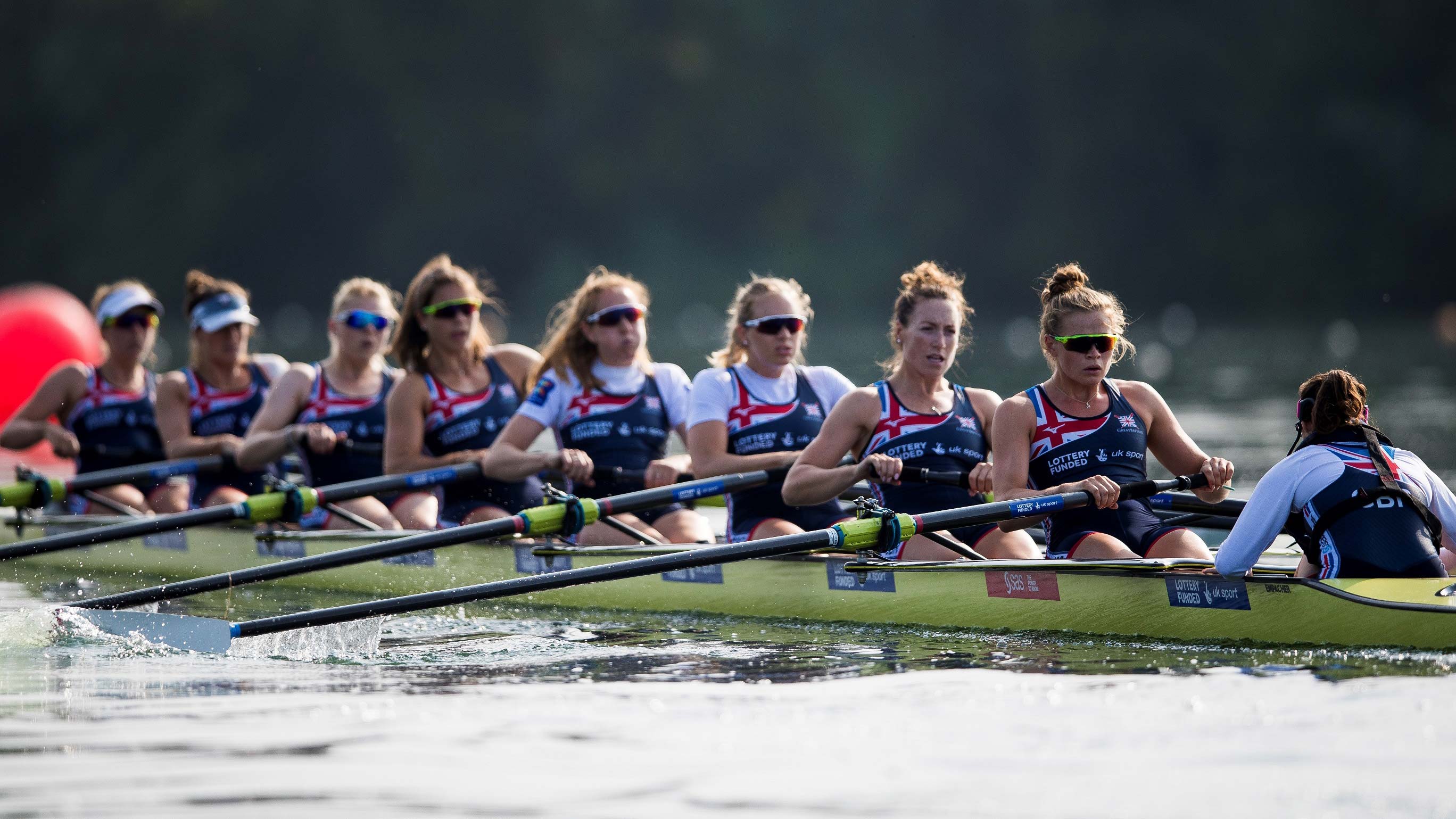 Great Britain will send 50 athletes to the European Rowing Championships in Glasgow.
Rowing is one of six sports that form the Glasgow 2018 European Championships, with Great Britain sending a full-strength squad to race at Strathclyde Country Park. The regatta marks the first time the GB Rowing Team has competed on home water since 2013.
Reigning champion in the single sculls, Vicky Thornley has had to withdraw ahead of the event, but the GB Rowing Team contains an unchanged men's quadruple sculls, fresh from their gold medal at World Cup 3 in Lucerne. John Collins, Jonny Walton, Graeme Thomas and Tom Barras will be looking to win their third medal of the season, having also topped the podium at World Cup 1 in Belgrade at the start of the year.
The men's and women's eights remain unchanged from their outings at Henley Royal Regatta. The men's eight, featuring Olympic champions Will Satch, Moe Sbihi and Tom Ransley, will go to battle once more with Germany, with GB winning two silver medals so far this season.
The women's eight also took silver at World Cup 1 in Belgrade and features Glasgow 2018 ambassador Karen Bennett and Holly Norton, who won bronze at the European Rowing Championships last year in the pair alongside Bennett.
Angus Groom unfortunately drops out with illness, meaning Harry Leask will partner Jack Beaumont in the double sculls.
Mathilda Hodgkins Byrne won bronze in the women's quadruple sculls last year and are joined again by Olympic silver medallist Zoe Lee, Melissa Wilson and Alice Baatz.
British Rowing Director of Performance Brendan Purcell said: "Glasgow 2018 is an important event for us. It is a great opportunity to perform in front of a home crowd and for many of our athletes it will be their first taste of a multi-sport event.
"We've seen some encouraging performances so far this year as we build to the business end of the season. Credit goes to Jürgen Grobler, Paul Thompson and the wider support staff for ensuring the athletes are able to perform at the highest level.
"We anticipate hard racing, which I'm sure will give the athletes the confidence and motivation to head into another tough training block ahead of September's World Championships. Each competition is another opportunity to evaluate how far we have progressed and importantly direct the energies and attention of athletes, coaches and support team to continue improving."
See below for the full list of athletes who will compete for Great Britain in Glasgow between 2-5 August. You can follow all of the action across British Rowing's social media channels as well as watching live coverage on the BBC.
Great Britain squad for European Championships, Glasgow
Men's squad
Men's Pair
Oliver Cook (Univ. of London BC/ Oxford)
Matt Rossiter (Leander Club/ Newbury)
Coach: Steve Trapmore
Men's Four
Tom Ford (Leander Club/ Holmes Chapel)
Jacob Dawson (Leander Club/ Plymouth)
Adam Neill (Leander Club/ Peterborough)
James Johnston (Leander Club/ Henley-on-Thames)
Coaches: Christian Felkel
Men's Eight
Tom George (Leander Club/ Oxford)
Tom Jeffery (Leander Club/ Plymouth)
Oliver Wynne-Griffith (Leander Club/ Guildford)
Tom Ransley (Leander Club/ Ashford, Kent)
Moe Sbihi (Molesey BC/ Surbiton)
Alan Sinclair (Leander Club/ Inverness)
Matthew Tarrant (Oxford Brookes Univ BC/ Shepperton)
Will Satch (Leander Club/ Henley-on-Thames)
(cox) Henry Fieldman (Leander Club/ London)
Coach: Jürgen Grobler
Lightweight Men's Single Scull
Sam Mottram (Leander Club/ Stoke Mandeville)
Coach: Hamish Burrell
Men's Double Scull
Harry Leask (Leander Club/ Edinburgh)
Jack Beaumont (Leander Club/ Maidenhead)
Coach: Dan Moore
Lightweight Men's Double Scull
Jamie Copus (Oxford Brookes Univ BC/ Watlington)
Zak Lee-Green (Agecroft RC/ Cardiff)
Coach: Hamish Burrell
Men's Quadruple Scull
John Collins (Leander Club/ Twickenham)
Jonny Walton (Leander Club/ Leicester)
Graeme Thomas (Agecroft RC/ Preston)
Tom Barras (Leander Club/ Staines)
Coach: Paul Stannard
Men's spares
Josh Bugajski (Oxford Brookes Univ. BC/ Stockport)
James Rudkin (Newcastle Univ. BC/ Litchborough)
Women's squad
Women's Pair
Rowan McKellar (Leander Club/ Glasgow)
Harriet Taylor (Leander Club/ Sunningdale)
Coach: Jane Hall
Women's Four
Sara Parfett (University of London BC/ Rochester)
Caragh McMurtry (Coalporters ARC/ Southampton)
Emily Ashford (Leander Club/ Buckfastleigh)
Jo Wratten (Leander Club/ Middlesbrough)
Coach: Tom Pattichis
Women's Eight
Anastasia Chitty (Leander Club/ Oxford)
Katherine Douglas (Leander Club/ Edinburgh)
Holly Hill (Cambridge Univ. Women's BC/ Gossington)
Rebecca Girling (Molesey BC/ Fareham)
Fiona Gammond (Leander Club/ Bicester)
Holly Norton (Leander Club/ Johannesburg)
Karen Bennett (Leander Club/ Edinburgh)
Rebecca Shorten (Imperial College BC/ Belfast)
(cox) Matilda Horn (University of London BC/ Windsor)
Coach: James Harris/Paul Thompson
Lightweight Women's Double Scull
Ellie Piggott (Wallingford RC/ Bedford)
Francesca Rawlins (Tideway Scullers School/ Uckfield)
Coach: Darren Whiter
Women's Quadruple Scull
Mathilda Hodgkins Byrne (Reading Univ. BC/Hereford)
Melissa Wilson (Cambridge Univ. Women's BC/ Edinburgh)
Alice Baatz (Agecroft RC/ Winchester)
Zoe Lee (Imperial College BC/ Richmond, N. Yorks)
Coach: Paul Thompson/ James Harris
Women's spares
Sam Courty (Bath Univ. BC/ Alnwick)
Emily Ford (Leander Club/ Holmes Chapel)
Georgia Francis (Imperial College BC/ Newbury)