Great Britain team for World Rowing U23 Championships announced
Great Britain will take 56 athletes to the World Rowing U23 Championships in Plovdiv, Bulgaria, between 19-23 July, including a number of reigning champions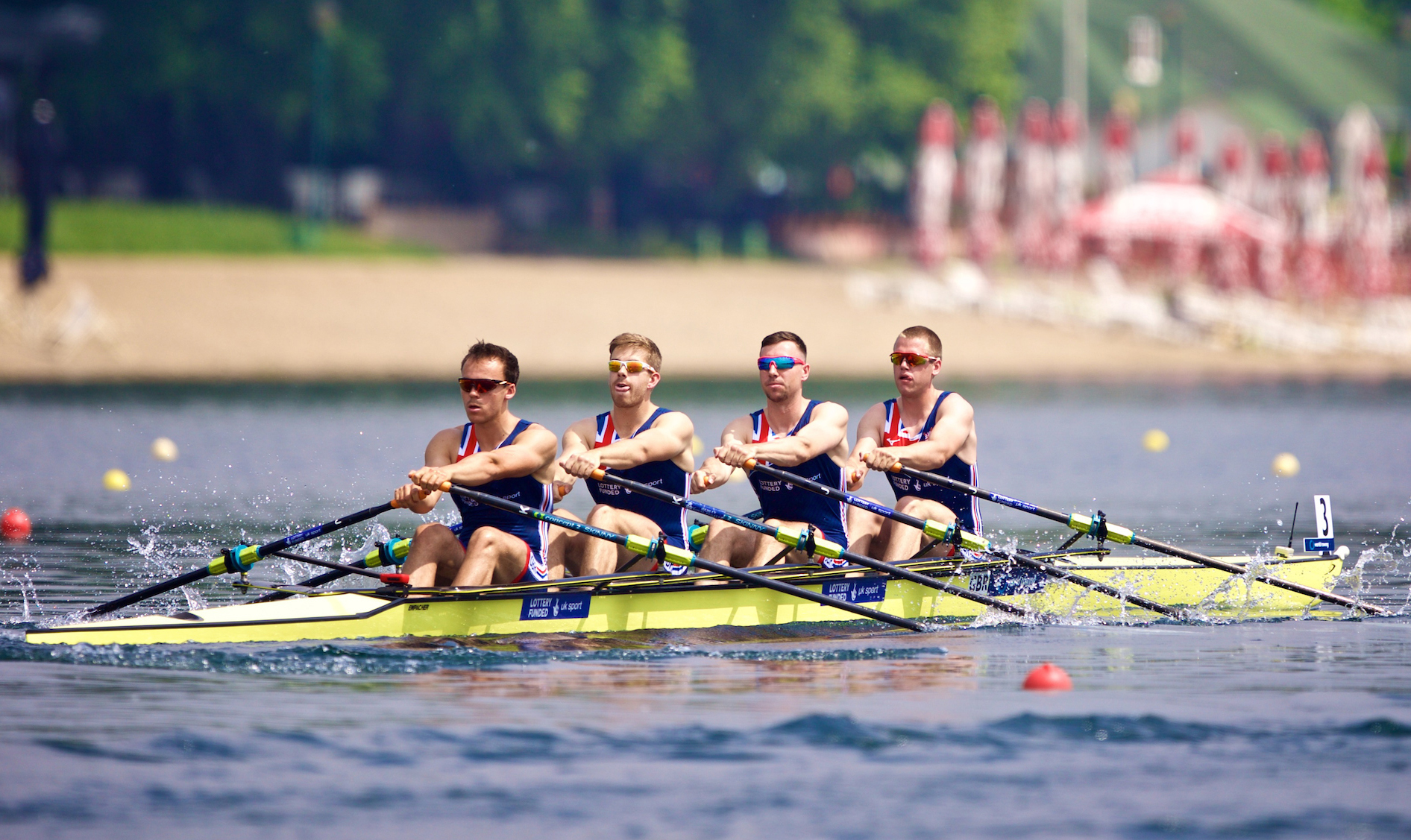 Fifty six athletes will compete for Great Britain at the 2017 World Rowing U23 Championships in Plovdiv, Bulgaria, between 19-23 July, including four reigning champions.
All four members of the history-making lightweight men's quadruple scull that won gold in Rotterdam last August return to the team, although in two separate boats.
Gavin Horsburgh, who competed at senior level at the World Cup in Poznan this year, is looking for his third consecutive World Championships title, having also won gold in the quad as a junior in 2015. This year he joins forces with fellow Edinburgh University student Matthew Curtis – another member of the victorious 2016 quad – in the lightweight double.
Ollie Varley and Hugo Coussens remain in the lightweight quad, looking to retain their titles, joined by Leander's Jonny Jackson – bronze medallist from the 2016 lightweight men's four – and James Temple of Edinburgh University.
It is all change in the silver medal-winning men's four, with two members of last year's second place men's eight – Rob Hurn and Sholto Carnegie – moving into the bow and stroke seats. They are joined by Tom Digby and Charlie Elwes in the promising boat.
The eight contains four members of the crew who rowed to silver last year, including stroke man Arthur Doyle, Matthew Benstead, David Bewicke-Copley and cox Ian Middleton.
The women's eight also won silver in Rotterdam, behind the USA, with three returning rowers this year – Charlotte Hodgkins-Byrne, Heidi Long and cox Sasha Adwani.
Chloe Brew moves from the women's eight into the four – a boat that finished fourth last year. Saskia Budgett, a member of that four, will line up in the quadruple scull alongside Anna Thornton, Kyra Edwards and Lucy Glover.
The quad reached the final of the Princes Grace Challenge Cup at Henley Royal Regatta, losing out to a strong Dutch crew who went on to win silver at the World Cup regatta in Lucerne.
And Flo Pickles moves from the openweight quad to the lightweight quad for the 2017 Championships, where she joins Susannah Duncan, Imogen Mackie and Imogen Grant.
The openweight men's quad, comprising of Harry Leask, Rowan Law, Harry Glenister and Andy Joel, impressed by finishing fourth at the World Rowing Cup in Belgrade at the start of the season.
The Leander quartet, who finished fifth in Rotterdam last year, took victory in the Prince of Wales Challenge Cup at Henley Royal Regatta – with Glenister becoming the first rower to claim all three men's quad trophies.
Nineteen-year-old Josh Armstrong, meanwhile, finished 11th at World Cup II in Poznan in the men's single – the same event that he will race in Plovdiv. Edinburgh University's Armstrong was alongside Horsburgh in the gold medal junior quad in 2015.
British Rowing Performance Director Sir David Tanner said: "We enter the 2017 World Rowing U23 Championships with high hopes, especially off the back of the fantastic performances we saw in Rotterdam last year. It's great to welcome back so many medallists, who, with another year of experience under their belts, will hope to be in contention for medals again.
"It has been excellent to welcome a number of the U23s into the senior ranks in the World Cup series this year – an experience that will hold them all in good stead ahead of the World Championships."
Both Brew and Edwards in the women's four started in the sport through British Rowing's World Class Start programme, which develops athletes with little or no rowing experience into potential Olympic athletes. Find out more about World Class Start at goo.gl/zUSXuu.
Team selection
Men's eight (M8+)
Matt Benstead (Hometown: Twickenham/Club: Molesey BC)
Alastair Douglass (Shepperton/Molesey BC)
Michael Glover (Burnham/Oxford Brookes Univ)
Matt Aldridge (Christchurch/Oxford Brookes Univ)
David Bewicke-Copley (Lutterworth/Sport Imperial BC)
Morgan Bolding (Withiel/Oxford Brookes Univ)
David Ambler (London/Tideway Scullers School)
Arthur Doyle (London/Univ of London BC)
Ian Middleton (Oxford/Cambridge Univ BC)
Coach: Brian Young (Univ of London)
Men's four (M4-)
Rob Hurn (Glasgow/Leander)
Tom Digby (Henley-on-Thames/Griffen Boat Club)
Charlie Elwes (Andover/Leander)
Sholto Carnegie (Oxford/Leander)
Coach: Pete Sheppard (GB Rowing Team)
Men's coxed four (M4+)
George Stewart (Esher/Molesey BC)
Oliver Wilkes (Matlock/Edinburgh Univ)
Joshua Kent (Berkhamsted/Univ of London BC)
Patrick Sullivan (Evesham/Univ of London BC)
Charlie Clarke (Liverpool/Oxford Brookes Univ)
Coach: Pete Sheppard (GB Rowing Team)
Men's pair (M2-)
Will Stewart (Esher/Newcastle Univ)
Freddie Davidson (London/Cambridge Univ)
Coach: Ciro Prisco (Newcastle Univ)
Men's quadruple scull (M4x)
Harry Leask (Edinburgh/Leander)
Rowan Law (Nottingham/Leander)
Harry Glenister (Princes Risborough/Leander)
Andy Joel (Windsor/Leander)
Coach: Ross Hunter (Leander)
Men's single scull (M1x)
Josh Armstrong (Glasgow/Edinburgh University)
Coach: Colin Williamson (Edinburgh Univ)
Men's double scull (M2x)
Seb Devereux (Chalfont St Giles/Leander)
Sam Meijer (London/Elizabethan BC)
Coach: Kieran Clark (Tideway Scullers School)
Women's eight (W8+)
Charlotte Hodgkins-Byrne (Hereford/Univ of London BC)
Georgia Statham (Haslemere/Univ of London BC)
Eleanor Stewart (London/Univ of London BC)
Isobel Powell (London/Imperial College BC)
Fiona Bell (Kilmacolm, Glasgow/Aberdeen Univ BC)
Thea Zabell (London/Cambridge Univ Women's BC)
Ally French (Ascot/Univ of London BC)
Heidi Long (Gerrards Cross/Marlow RC)
Sasha Adwani (Oxford/Newcastle Univ)
Coach: Phil Gray (Univ of London)
Women's four (W4-)
Lauren Irwin (Peterlee/Durham Univ)
Oonagh Cousins (Farnham/Cambridge Univ Women's BC)
Chloe Brew (Plymouth/Plymouth ARC)
Meg Saunders (London/Tideway Scullers School)
Coach: Hugo Gulliver (Univ of London)
Women's quadruple scull (W4x)
Anna Thornton (Nottingham/Nottingham RC)
Kyra Edwards (Nottingham/Nottingham RC)
Saskia Budgett (Acton/Tideway Scullers School)
Lucy Glover (Warrington/Warrington RC)
Coach: Lauren Fisher (GB Rowing Team)
Lightweight women's quadruple scull (LW4x)
Susannah Duncan (Aiguebelette, France/Exeter Univ)
Flo Pickles (Cheltenham/Oxford Univ Women's BC)
Imogen Mackie (Exeter/Oxford Brookes Univ)
Imogen Grant (Cambridge/Cambridge Univ Women's BC)
Coach: Allan French (Oxford Brookes Univ)
Lightweight men's pair (LM2-)
Dominic Jackson (Kingston-upon-Thames/Molesey BC)
Chris Tebb (High Wycombe/Oxford Brookes Univ)
Coach: Ciro Prisco (Newcastle Univ)
Lightweight men's double scull (LM2x)
Matthew Curtis (Durham/Edinburgh Univ)
Gavin Horsburgh (Lochwinnoh/Edinburgh Univ)
Coach: Colin Williamson (Edinburgh Univ)
Lightweight men's quadruple scull (LM4x)
Jonny Jackson (Henley-on-Thames/Leander)
James Temple (Kew/Edinburgh Univ)
Ollie Varley (Durham/Newcastle Univ)
Hugo Coussens (Henley-on-Thames/Durham Univ)
Coach: John Higson (Edinburgh Univ)