European Rowing Championships day three: Victoria Thornley takes gold in women's single sculls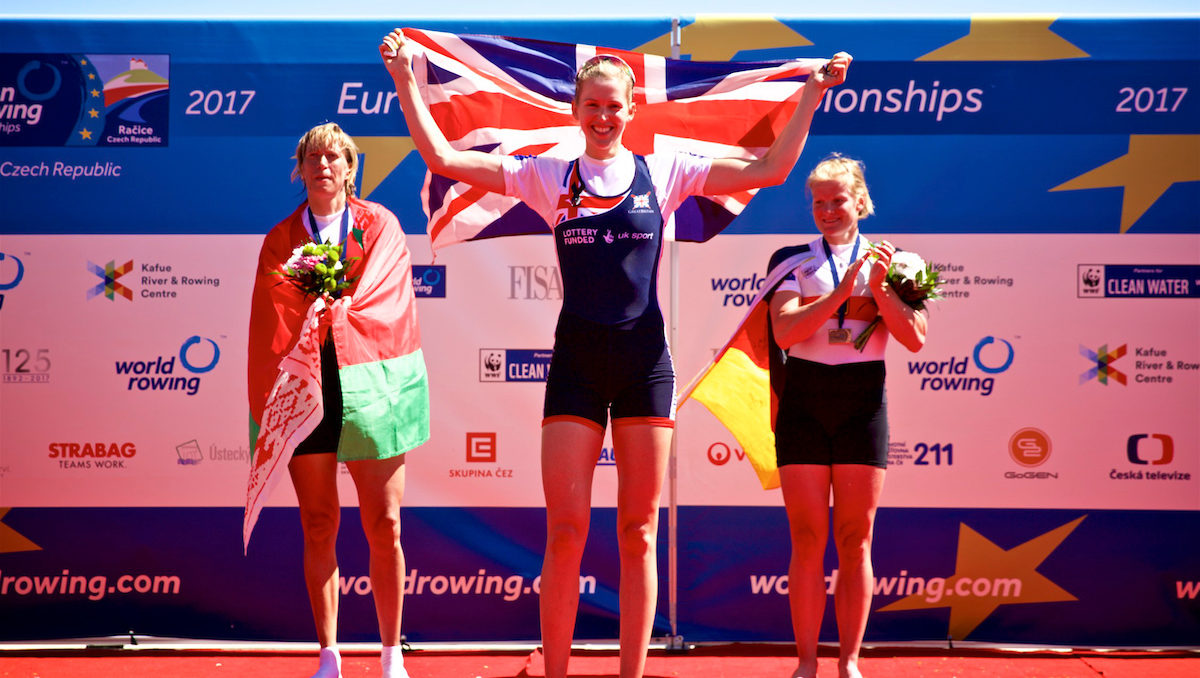 Victoria Thornley won gold in the women's single sculls at the European Rowing Championships in Racice on a day when Great Britain took home four medals in total.
Thornley came through a tight race with five-time Olympian Ekaterina Karsten, from Belarus, having moved through the field after being in third position at the halfway mark.
Racice holds fond memories for the Welsh rower, having won a World U23 title here back in 2009. Now she adds European champion to her list of achievements.
Earlier in the day, the women's quadruple sculls won GB's first medal with a fine bronze, having pushed the Netherlands to the line for second place. Holly Nixon, Mathilda Hodgkins-Byrne, Jess Leyden and Beth Bryan sat fourth at the halfway mark, but upped the pace in the second half to move past the Polish crew and challenge the Dutch for silver.
Emily Craig and Katherine Copeland also battled well for bronze in the lightweight women's double, having also been fourth at 1,000m. At one point the duo were pushed back into fifth place, but moved through to take third by over a second.
The women's pair of Holly Norton and Karen Bennett took third place in a final dominated by Romania. The top three crews rowed away from the rest of the field, but GB were unable to move past second-place Denmark in the final quarter of the race.
GB's men's four admit they have work to do to reach top form, having finished fifth in their final. They came up against an Italian crew determined to impress in their first international event of the season and proceeded to set a frenetic pace over the full 2,000m.
The men's pair also came up against an experienced Italian boat – the crew featured two bronze medallists from Rio 2016 – and Jacob Dawson and Matt Rossiter finished fifth.
The men's quad were involved in a blanket finish for bronze in their final, but were unable to capitalise on a strong start as they slipped back to fourth on the line. Italy, in bronze, GB and Norway were split by less than half a second in the battle for third place.
Peter Chambers and Will Fletcher were unable to mount a challenge for a medal in the lightweight men's double sculls final – their fourth race in three days, having come through the repechage. The British duo finished sixth in a stacked final, won by Olympic champions France, while, Joel Cassells and Sam Scrimgeour put every ounce of energy into their row and crossed the line fourth in the lightweight men's pair.
The women's eight, which featured many rowers in their first senior international regatta, finished fourth in their final, while the men's eight crossed the line in fifth position.
In the morning's B finals, the women's double sculls took the win to seal seventh place overall. Georgia Francis and Emily Carmichael looked comfortable on the water, winning by a length from Russia. Zak Lee-Green and Frazier Christie finished fifth in their double sculls B final.
Sir David Tanner, British Rowing's Performance Director, said: "With 11 out of our 13 boats in A finals we can be pleased with the breadth of our squad – we'd hoped for a few more medals today, but the four we achieved were very well done.
"The Europeans are a good early season – and early Olympiad – test, and we've a long way to go, with two more World Cups and a late September Worlds to blood our mainly new rowers and build on what we've achieved today."
Results
Men's pair Final
1. Matteo Lodo & Giuseppe Vicino (ITA) 6:22.58
2. Valentin Onfroy & Theophile Onfroy (FRA) 6:25.96
3. Milos Vasic & Nenad Bedik (SRB) 6:27.68
—
5. Jacob Dawson & Matt Rossiter (GBR) 6:30.46
Women's pair Final
1. Kristyna Fleissnerova & Lenka Antosova (CZE) 6:56.75
2. Hedvig Rasmussen & Christina Johansen (DEN) 7:04.36
3. Karen Bennett & Holly Norton (GBR) 7:06.65
Men's double sculls B Final
1. Mindaugas Griskonis & Saulius Ritter  (LTU) 6:17.39
2. Mickael Marteau & Thibaut Verhoeven (FRA) 6:20.24
3. Ioan Prundeanu & Vasile Agafitei (ROU) 6:22.07
—
5. Zak Lee-Green & Frazier Christie (GBR) 6:35.36
Men's lightweight double sculls Final
1. Pierre Houin & Jeremie Azou (FRA) 6:17.67
2. Gary O'Donovan & Paul O'Donovan (IRL) 6:20.06
3. Stefano Oppo & Pietro Ruta (ITA) 6:20.36
—
6. Peter Chambers & Will Fletcher (GBR) 6:31.11
Women's single sculls Final
1. Vicky Thornley (GBR) 7:34.23
2. Ekaterina Karsten (BLR) 7:34.92
3. Annekatrin Thiele (GER) 7:35.79
Women's double sculls B Final
1. Georgia Franics & Emily Carmichael (GBR) 7:08.57
2. Alexandra Smirnova & Mariia Potcevich (RUS) 7:11.19
3. Julie Voirin & Flavie Bahuaud (FRA) 7:13.86
Lightweight men's pair Final
1. Mark O'Donovan & Shane O'Driscoll (IRL) 6:32.34
2. Nikita Bolozin & Aleksei Kiiashko (RUS) 6:34.74
3. Giuseppe Di Mare & Alfonso Scalzone (ITA) 6:34.89
—
5. Joel Cassells & Sam Scrimgeour (GBR) 6:39.75
Lightweight women's double sculls Final
1. Weronika Deresz & Martyna Mikolajczak (POL) 6:58.55
2. Marieke Keijser & Ilse Paulis (NED) 7:02.56
3. Katherine Copeland & Emily Craig (GBR) 7:03.02
Men's four Final
1. Italy, 5:54.52
2. Romania, 5:56.07
3. Russia, 5:56.86
—
5. Great Britain, (Callum McBrierty, Mat Tarrant, Moe Sbihi & Will Satch) 5:59.97
Women's quadruple four sculls Final
1. Germany, 6:24.08
2. The Netherlands, 6:25.63
3. Great Britain, (Mathilda Hodgkins-Byrne, Beth Bryan, Holly Nixon & Jessica Leyden) 6:26.54
Men's quadruple four Final
1. Lithuania, 5:44.65
2. Poland, 5:48.02
3. Italy, 5:49.13
—
4. Great Britain, (Peter Lambert, Jack Beaumont, Jonny Walton & Tom Barras) 5:49.38
Men's eight Final
1. Germany, 5:28.03
2. Poland, 5:30.91
3. Netherlands, 5:31.05
—
5. Great Britain, (Lance Tredell, Thomas Jeffery, Sam Arnot, Cameron Buchan, Tom Ransley, Adam Neill, James Rudkin, Tom Ford & Henry Fieldman) 5:34.29
Women's eight Final
1. Romania, 6:10.35
2. Netherlands, 6:12.86
3. Russia, 6:16.05
—
4. Great Britain, (Caragh McMurtry, Rebecca Chin, Annie Withers, Sara Parfett, Rebecca Shorten, Jo Wratten, Fiona Gammond, Katherine Douglas & Erin Wysocki-Jones) 6:18.51