Single scullers make it a dozen U23 finalists for GB
Single scullers Tom Barras and Sam Mottram made it 12 GB Rowing Team crews through to the U23 World Championships finals with fantastic performances on Wednesday afternoon.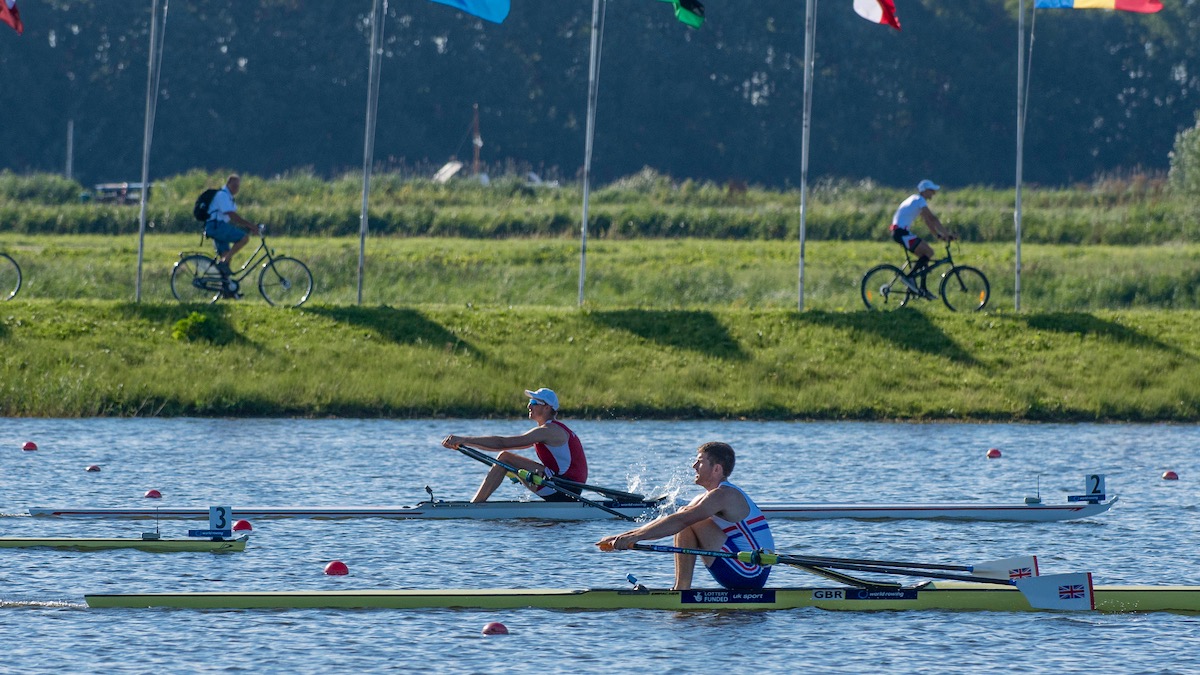 Barras, in the heavyweight category, enjoyed a cracking race against Natan Wegrzycki-Szymczyk – seventh in the senior event at the Rio 2016 Olympic Games – and pushed the Pole all the way before holding off a late charge from Germany's Tim Ole Naske to take second place.
Lightweight sculler Mottram was in the outside lane after finishing third in yesterday's quarter-finals but stayed focussed on his own race and sat in the top three throughout to book his final place.
Barras had looked impressive when winning yesterday's quarter-final and got off to a strong start again as he, Wegrzycki-Szymczyk and Naske quickly opened up a healthy lead over the field.
A big kick by Barras in the third 500m saw him edge away from the German and move level with Wegrzycki-Szymczyk before briefly taking the lead with 400m to go.
The Pole responded and was able to regain the advantage but Barras stayed hot on his tail. Naske also put in a sprint in the closing stages but Barras was able to hold on to second place by seven-hundredths of a second.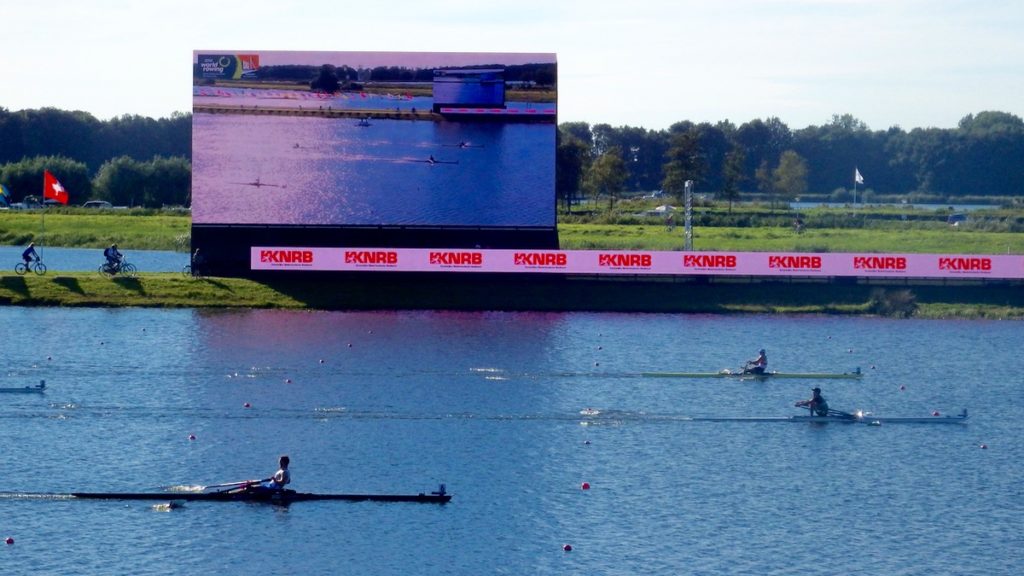 Sam Mottram on his way to third place
The top three positions in the lightweight men's single semi-final were also determined fairly early on as Germany's Jonathan Rommelmann, Alexis Lopez Garcia of Mexico and Mottram put ground between themselves and the chasing pack.
Mottram and Lopez Garcia were neck and neck with 500m to go as they chased down Rommelmann but the Mexican was finally able to push through and take the lead. Rommelmann held on for second, with Mottram safely joining them in the final.
Barras and Mottram, both coached by Clive Cooper, will race again on Friday. Thursday sees the first five U23 finals for GB crews – the women's four at 3pm BST; men's coxed four at 3.15pm BST; lightweight women's quad at 3.30pm BST; lightweight men's quad at 4.15pm BST; and men's four at 4.45pm BST.
Open All
Race Results
(Events featuring GB Rowing Team crews only. For full results – www.worldrowing.com)
U23 WORLD ROWING CHAMPIONSHIPS
OPEN
MEN
Single scull – SF2
1. Natan Wegrzycki-Szymczyk (Poland) 6:51.56
2. Tom Barras (GREAT BRITAIN) 6:52.67
3. Tim Ole Naske (Germany) 6:52.74
4. Benjamin Davison (USA) 6:54.95
5. Jozsef Matheisz (Hungary) 7:13.00
6. Pilip Pavukou (Belarus) 7:17.62
LIGHTWEIGHT
MEN
Single scull – SF2
1. Alexis Lopez Garcia (Mexico) 6:58.59
2. Jonathan Rommelmann (Germany) 6:58.93
3. Sam Mottram (GREAT BRITAIN) 7:01.36
4. Ales Jalen (Slovenia) 7:04.43
5. Jakob Zwoelfer (Austria) 7:07.20
6. Mohamed Taieb (Tunisia) 7:25.31
Crew List
U23 World Rowing Championships, Rotterdam, The Netherlands, August 21-28, 2016
(Listed bow to stroke; club, hometown, date of birth)
OPEN
WOMEN
Four
Lauren Kedar (Oxford Univ Women's BC/Reading/13.08.95)
Saska Budgett (Tideway Scullers' School/Acton/21.09.96)
Hattie Taylor (Sport Imperial BC/Sunningdale/14.02.94)
Rowan McKellar (Broxbourne RC/Glasgow/24.05.94)
Coaches: Lauren Fisher & Mathilda Horne
Eight
Charlotte Hodgkins-Byrne (Univ of London BC/Hereford/08.10.96)
Alice Bowyer (Reading RC/Hilldale/26.02.97)
Emily Ford (Newcastle Univ BC/Holmes Chapel/08.11.94)
Chloe Brew (Plymouth ARC/Plymouth/14.09.95)
Holly Hill (Isle of Ely RC/Gossington/23.01.94)
Maddy Badcott (Oxford Univ Women's BC/London/15.06.95)
Anna Thornton (Nottingham RC/Nottingham/19.07.97)
Heidi Long (Marlow RC/Chalfont St Peter/29.11.96)
Sasha Adwani (cox) (Newcastle Univ BC/Oxford/27.06.96)
Coach: Lauren Fisher & Mathilda Horne
Double scull
Mathilda Hodgkins-Byrne (Reading Univ BC/Hereford/01.10.94)
Jessica Leyden (Leander Club/Todmorden/22.02.95)
Coach: Dan Moore
Quadruple scull
Flo Pickles (Gloucester Hartpury/Cheltenham/02.11.96)
Kyra Edwards (Nottingham RC/Nottingham/12.08.97)
Georgia Francis (Imperial College BC/Newbury/18.08.94)
Lucy Burgess (Agecroft RC/Swindon/27.04.94)
Coach: Peter Lee
MEN
Pair
Oliver Hines (Imperial College BC/Kingston-upon-Thames/18.01.94)
Graham Ord (Edinburgh Univ BC/Hamilton/23.02.95)
Coach: Stuart Whitelaw
Four
James Johnston (Leander Club/Henley-on-Thames/26.08.94)
Tom George (Leander Club/Cheltenham/22.09.94)
James Rudkin (Newcastle Univ BC/Litchborough/07.07.94)
Lewis McCue (Robert Gordon Univ BC/Aberdeen/26.12.94)
Coach: Brian Young
Coxed four
Rory Gibbs (Oxford Brookes Univ BC/High Wycombe/03.04.94)
Matt Aldridge (Oxford Brookes Univ BC/Christchurch/11.03.96)
Michael Glover (Oxford Brookes Univ BC/Burnham/03.06.95)
Chris Heywood (Molesey BC/Ascot/29.05.94)
Harry Brightmore (cox) (Oxford Brookes Univ BC/Chester/01.07.94)
Coach: Colin Williamson
Eight
Calum Irvine (Edinburgh Univ BC/Aviemore/07.05.94)
Oliver Wynne-Griffith (Leander Club/Guildford/29.05.94)
Matthew Benstead (Molesey BC/Twickenham/06.05.95)
Tim Livingstone (London RC/Putney/06.12.95)
David Bewicke-Copley (Eton College BC/Lutterworth/21.09.97)
Sholto Carnegie (Leander Club/Oxford/28.02.95)
Robert Hurn (Leander Club/Glasgow/26.01.95)
Arthur Doyle (Univ of London BC/London/07.12.96)
Ian Middleton (cox) (Cambridge Univ BC/Oxford/27.06.95)
Coach: Pete Sheppard
Single scull
Tom Barras (Leander Club/Staines/07.01.94)
Coach: Clive Cooper
Quadruple scull
Harry Leask (Leander Club/Edinburgh/16.10.95)
Rowan Law (Leander Club/Nottingham/01.12.96)
Harry Glenister (Leander Club/Princes Risborough/02.07.95)
Andrew Joel (Leander Club/Windsor/08.06.95)
Coach: Ross Hunter
LIGHTWEIGHT
WOMEN
Quadruple scull
Mary Wilson (Wallingford RC/Nottingham/08.04.94)
Susannah Duncan (Exeter Univ BC/Aiguebelette, France/13.05.97)
Maddie Arlett (Edinburgh Univ BC/Selkirk/07.06.94)
Ellie Lewis (Agecroft RC/Marlow/14.04.94)
Coach: Richard Tinkler
MEN
Four
Ed Fisher (Leander Club/Nottingham/16.04.94)
Ben Reeves (Oxford Brookes Univ BC/Wilmslow/10.05.94)
Alastair Douglass (Molesey BC/Shepperton/22.06.95)
Jonathan Jackson (Leander Club/Henley-on-Thames/02.06.95)
Coach: Franz lmfeld
Single scull
Sam Mottram (Leander Club/Stoke Mandeville/14.11.94)
Coach: Clive Cooper
Quadruple scull
Hugo Coussens (Durham Univ BC/Henley-on-Thames/07.07.96)
Ollie Varley (Newcastle Univ BC/Durham/06.12.95)
Matthew Curtis (Edinburgh Univ BC/Durham/14.10.95)
Gavin Horsburgh (Edinburgh Univ BC/Lochwinnoh/26.08.97)
Coach: Colin Williamson