Seven boats qualify to A Final in thrilling day of racing
Seven further crews qualifed for A Finals meaning a total of 15 crews will be in A Finals on the third day in Varese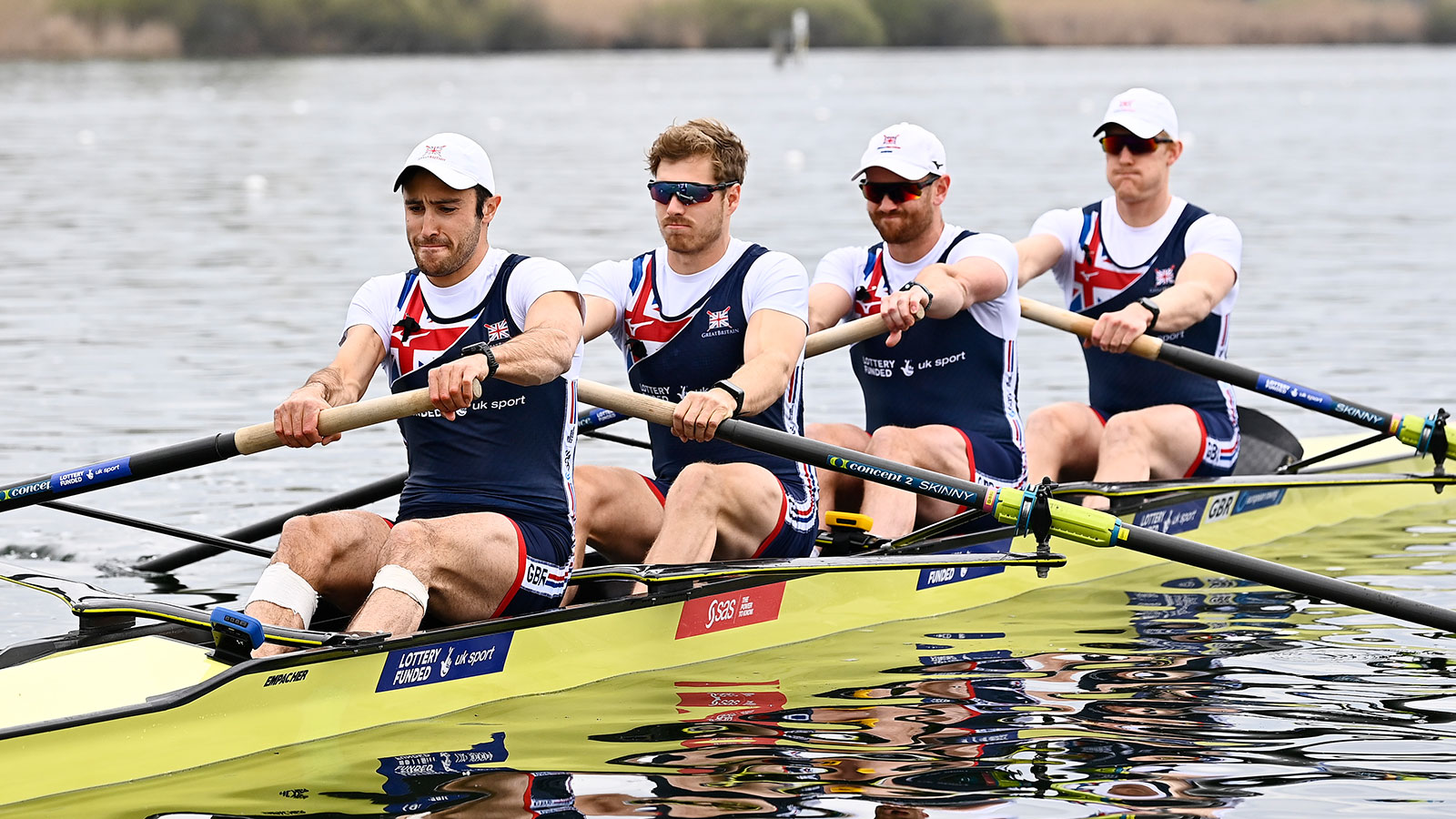 Great Britain's rowers continued their impressive return to international competition today at day two of the European Rowing Championships in Varese, Italy. Seven boats qualified for the A finals, joining the 8 boats which qualified directly to the A finals on the first day of competition. The remaining three boats will be racing in tomorrow's B finals.
Brendan Purcell, Director of Performance at British Rowing said: "It's been another thrilling day of racing and it was really good to see some of our most competitive boats from our last international competition, at the World Championships in 2019, performing so well. Tomorrow's final day is sure to be another brilliant day racing. The crews are clearly thriving to be back competing on the water after 20 months away."
Vicky Thornley, 4th in the World Championships, qualified for the A-Final in the women's single scull finishing in second place. Commenting on the race, Thornley said: "I'm a bit disappointed not to win, but have a lot of learnings after that race that I can take with me into the final. Overall it's great to be back racing – this is what we do it for. In rowing generally you have a lot of training and not so much racing. So last year, with having no racing at all, it felt like a long time coming. It's great getting out there and showing all the hard work we have put in over the last 18 months.
GB Rowing Team men's four, Oliver Cook, Matthew Rossiter, Rory Gibbs and Sholto Carnegie, who won bronze at the Worlds, got off to a flying start and were in control of their semi-final from the early stages. Carnegie, said "We feel really good considering this is our second race of the season. Both performances have been good for us, and we're pleased to win the semi final, but we do have a few things to build on that we can take into tomorrow's final. We're just trying to focus on what we can do better each race and that will give us the outcome we want.  We feel determined and ready to go again in the final tomorrow."
The lightweight women's double of Emily Craig and Imogen Grant, who also won bronze at the World Championships, led the field from start to finish to easily qualify for the A-Final. Grant had enjoyed the day's race, "It was really exciting and fun. It felt like the racing really started. Our semi final had a lot of the crews that we want to race and to beat in the final and so to be able to get the measure of them today was really great. We definitely improved on what we did yesterday and we're really pleased. I can't wait for the final tomorrow."
Graeme Thomas and John Collins, 4th at the World Championships,  also progressed through to the A-Final qualifying in second place, in the men's double sculls semi-final. Collins was looking forward to showing more in tomorrow's final, "It wasn't our best race but we got the job done and it's testament to our character, when things weren't quite going our way, we still kept our heads and did the job that we needed to. So in that respect we're proud of what we've done but we certainly have more to offer for the final."
The European Rowing Championships are live on BBC2 1-3pm Sunday 11 April, with the earlier races all available to watch live on the red button and BBC iPlayer.
Race by Race Report
In the faster of today's two men's pair semi-finals, Harry Glenister and Morgan Bolding pushed hard through the final 1000m to come through a number of crews but in the end, despite a powerful sprint finish, it wasn't quite enough to pip the Dutch pair for the final A-Final spot. Bolding and Glenister will race in tomorrow's B-Final. Glenister was taking heart from the tight finish, "We're really gutted but we gave it everything and all four boats were within a canvas and it shows that if we can improve then we can be up there in the medals. It's just unlucky today and we will learn from it."
Madeleine Arlett had a composed race to come through the field to finish in second place, qualifying for tomorrow's A-Final ahead of the Polish sculler, Weronika Deresz. Arlett was delighted with the result and looking forward to tomorrow's A-Final, "I'm just so happy to have made the final. I've got nothing to lose. There's a lot of very quick girls and I'm going into it in the sixth position so I think it's just go full guns blazing and see what happens."
Emily Craig and Imogen Grant led the field from start to finish to qualify for the A-Final. Although the chasing pack closed in during the final stages of the race, Grant and Craig kept their composure to win the race. Grant had enjoyed the day's race, "It was really exciting and fun. It felt like the racing really started. Our semi final had a lot of the crews that we wanted to race and to beat in the final and so to be able to get the measure of them today was really great. We definitely improved on what we did yesterday and we're really pleased. I can't wait for the final tomorrow."
In the lightweight men's double, Samuel Mottram and Jamie Copus faced a fast pack in their semi-final. Although a spot in the A-Final eluded them, their 5th place finish saw them beat the French double who will be rivals for Olympic qualification later this year. Reflecting on the race, Copus said: "Now we're back out racing internationally it's helping us to understand where our strengths and weaknesses are and it's definitely that first 600m where we need to focus our efforts to improve. Today we needed to get out of the blocks faster and not be on the back foot in that first 600m. We had a very good row from 750m onwards, we kept moving,  every time we asked something of ourselves we raised our game, but it just wasn't enough. It wasn't a bad row by any means, but we've definitely got things to work on still and if we can find a way to get out faster in that first 600m, the rest will be gravy."
Graeme Thomas and John Collins progressed through to the A-Final in the men's double sculls semi-final. The GB double finished just behind the French double but were comfortably ahead of the rest of the field after the Swiss double faded in the final 500m. John Collins was looking forward to showing more in tomorrow's final, "It wasn't our best race but testament to our character, when things weren't quite going our way, we still kept our heads and did the job that we needed to. So in that respect we're proud of what we've done but we certainly have more to offer for the final."
The women's four of Rowan McKellar, Harriet Taylor, Karen Bennett and Rebecca Shorten were pushed hard in their repechage. The crew led for much of the race and kept their nerve at the end to take 1st place just ahead of late surge from the Romanian crew. Karen Bennett recognised the crew was learning from every race together, "I think we knew it was gonna be pretty close, because there's a lot of good crews here. It was really tough but that's what our event is like. Each round, we're just learning more about the boat, the boat class and each other. So we keep going,  keep progressing and see what happens tomorrow."
A flying start from the GB Rowing Team men's four saw Oliver Cook, Matthew Rossiter, Rory Gibbs and Sholto Carnegie control their semi-final holding the lead from the early stages. The crew held off a push from Italy in the middle stages of the race to leave the rest of the field fighting it out for the other A-Final spots. Carnegie said the crew was looking to keep building into tomorrow's final, "We're just trying to focus on what we can do better each race and that will give us the outcome we want."
Vicky Thornley qualified for the A-Final in the women's single scull finishing in second place behind the Russian sculler, Hanna Prakhatsen. Thornley acknowledged there were improvements she wanted to put in place for tomorrow, however, was enjoying being able to race again, "It's great to be back racing – this is what we do it for. In rowing generally you have a lot of training and not so much racing. So last year, with having no racing at all, it felt like a long time coming. it's great getting out there and showing all the hard work we put in over the last 18 months."
Matthew Haywood gave a good showing in the men's single semi-final. Haywood had already raced twice at the Championships, having qualified through the repechage and remained in contention for a spot for a good proportion of the race before finally finishing in 5th place. He'll go again in tomorrow's B-Final. Haywood was pleased with the experience gained from the event, "I think this event has been really good for me to get some experience in a really, really strong field. All of this is just experience for me for five week's time when we're going to be hitting the [Olympic] qualifying event."
The men's quad built on their strong start to the regatta finishing second behind the reigning European Champions, the Netherlands. Harry Leask, Angus Groom, Thomas Barras and Jack Beaumont qualified for the A-Final holding off the Polish quad to make sure they'll be in a more favoured lane tomorrow. Angus Groom felt the race had been an improvement on yesterday's performance, "I think it hurt less than yesterday even though we were going harder. You just put yourself into a better headspace where you know you need to step up your game."
Crews and times
| Event | Crew | Round | Position | Times |
| --- | --- | --- | --- | --- |
| Men's Pair (M2-) | Harry Glenister (Leander Club / Princes Risborough), Morgan Bolding (Oxford Brookes University /Withiel) | Semi-Final | 4th▶B-Final | 6:36.15 |
| Lightweight Women's Single (LW1x) | Madeleine Arlett (Edinburgh Univ. BC / Selkirk) | Repechage | 2nd▶A-Final | 8:06.62 |
| Lightweight Women's Double (LW2x) | Emily Craig (University of London BC / Mark Cross), Imogen Grant (Cambridge Univ. Women's BC / Cambridge) | Semi-Final | 1st▶A-Final | 7:09.70 |
| Lightweight Men's Double (LM2x) | Jamie Copus (Oxford Brookes Univ BC / Oxford), Samuel Mottram (Leander Club / Stoke Mandeville) | Semi-Final | 5th▶B-Final | 6:29.87 |
| Men's Double (M2x) | John Collins (Leander Club / Twickenham), Graeme Thomas (Agecroft RC / Preston) | Semi-Final | 2nd▶A-Final | 6:11.17 |
| Women's Four (W4-) | Rowan McKellar (Leander Club / Glasgow), Harriet Taylor (Sir William Perkins's School BC / Sunningdale), Karen Bennett (Leander Club / Edinburgh), Rebecca Shorten (Imperial College BC / Belfast) | Repechage | 1st▶A-Final | 6:29.51 |
| Men's Four (M4-) | Oliver Cook (Univ. of London BC / Windsor), Matthew Rossiter (Leander Club / Newbury), Rory Gibbs (Oxford Brookes University / Marlow), Sholto Carnegie (Leander Club / Oxford) | Semi-Final | 1st▶A-Final | 5:54.03 |
| Women's Single (W1x) | Vicky Thornley (Leander Club / Wrexham) | Semi-Final | 2nd▶A-Final | 7:31.19 |
| Men's Single (M1x) | Matthew Haywood (Nottingham RC / Nottingham) | Semi-Final | 5th▶A-Final | 6:55.44 |
| Men's Quad (M4x) | Harry Leask (Leander Club / Edinburgh), Angus Groom (Leander Club / Glasgow), Thomas Barras (Leander Club / Staines), Jack Beaumont (Leander Club / Maidenhead) | Semi-Final | 2nd▶A-Final | 5:45.31 |
Event:

Men's Pair (M2-)

Crew:

Harry Glenister (Leander Club / Princes Risborough), Morgan Bolding (Oxford Brookes University /Withiel)

Round:

Semi-Final

Position:

4th▶B-Final

Times:

6:36.15
Event:

Lightweight Women's Single (LW1x)

Crew:

Madeleine Arlett (Edinburgh Univ. BC / Selkirk)

Round:

Repechage

Position:

2nd▶A-Final

Times:

8:06.62
Event:

Lightweight Women's Double (LW2x)

Crew:

Emily Craig (University of London BC / Mark Cross), Imogen Grant (Cambridge Univ. Women's BC / Cambridge)

Round:

Semi-Final

Position:

1st▶A-Final

Times:

7:09.70
Event:

Men's Double (M2x)

Crew:

John Collins (Leander Club / Twickenham), Graeme Thomas (Agecroft RC / Preston)

Round:

Semi-Final

Position:

2nd▶A-Final

Times:

6:11.17
Event:

Women's Four (W4-)

Crew:

Rowan McKellar (Leander Club / Glasgow), Harriet Taylor (Sir William Perkins's School BC / Sunningdale), Karen Bennett (Leander Club / Edinburgh), Rebecca Shorten (Imperial College BC / Belfast)

Round:

Repechage

Position:

1st▶A-Final

Times:

6:29.51
Event:

Men's Four (M4-)

Crew:

Oliver Cook (Univ. of London BC / Windsor), Matthew Rossiter (Leander Club / Newbury), Rory Gibbs (Oxford Brookes University / Marlow), Sholto Carnegie (Leander Club / Oxford)

Round:

Semi-Final

Position:

1st▶A-Final

Times:

5:54.03
Event:

Men's Single (M1x)

Crew:

Matthew Haywood (Nottingham RC / Nottingham)

Round:

Semi-Final

Position:

5th▶A-Final

Times:

6:55.44
Event:

Men's Quad (M4x)

Crew:

Harry Leask (Leander Club / Edinburgh), Angus Groom (Leander Club / Glasgow), Thomas Barras (Leander Club / Staines), Jack Beaumont (Leander Club / Maidenhead)

Round:

Semi-Final

Position:

2nd▶A-Final

Times:

5:45.31