Great Britain squad for World Cup 3 announced: Hurn and Carnegie set for senior debuts
Sholto Carnegie and Rob Hurn will make their senior debuts in the men's four, while both the men's and women's quads will also race in Lucerne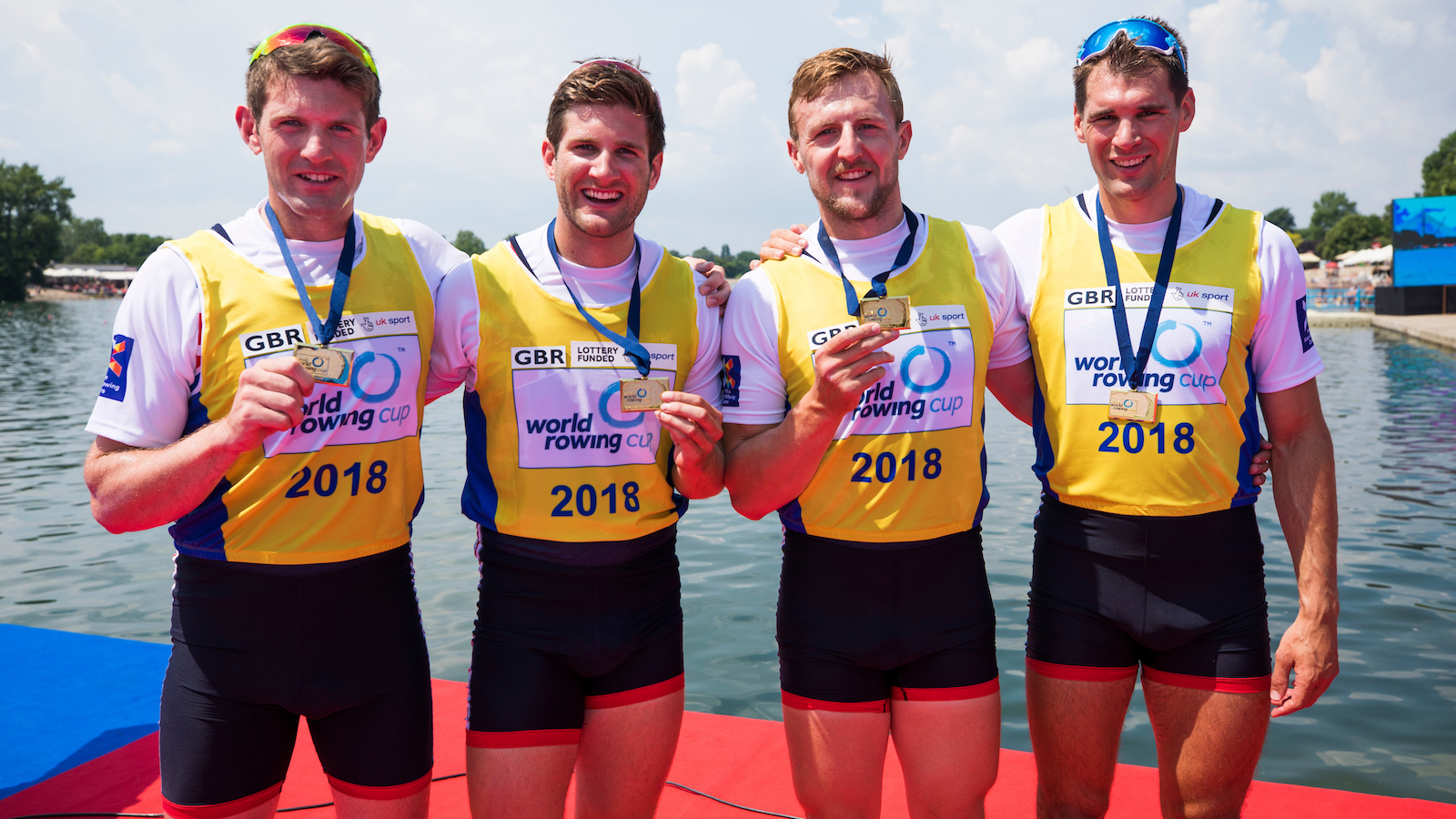 Sholto Carnegie and Rob Hurn will make their senior debuts for Great Britain at World Cup 3 in Lucerne, with both World U23 medallists selected in the men's four.
The Yale graduates rowed together to two World U23 silver medals in 2016 and 2017 in the eight and four respectively. Hurn went on to win the Boat Race with Cambridge in April 2018.
The duo will join George Rossiter and Harry Glenister in the four in Lucerne as part of a 24-person GB team named for the final World Cup regatta of the year.
Rossiter's brother, Matt, rekindles his partnership with Ollie Cook in one of two men's pairs. Morgan Hellen and Callum McBrierty, who rowed in a four in round two in Linz, will race the second pair.
Alice Baatz returns in the women's single, having finished 11th at World Cup 2.
The men's quad remains unchanged from crew that won the B final in Linz. John Collins, Jonny Walton, Graeme Thomas and Tom Barras will look to take their second win of the series, having won gold in Belgrade.
A late injury sees the two lightweight women's double sculls withdrawn and replaced by a lightweight quad. Ellie Lewis, Gemma Hall, Fran Rawlins and Maddie Arlett will be looking to emulate the crew from last year, who won silver in Lucerne.
In the men's lightweight events, Jamie Copus partners Zak Lee-Green, with Sam Mottram racing the lightweight single.
Great Britain currently sit third in the overall World Cup standings on 89 points, behind Netherlands (95) and Germany (93).
Brendan Purcell, British Rowing Director of Performance, said: "It's great to see Sholto and Rob making the step up to the senior team for this World Cup. Their selection is a testament to their hard work and also to the strength of the high performance pathways at British Rowing.
"This regatta is a great opportunity for a few crews to get some more racing under their belts ahead of the European and World Championships later in the year, as well as a chance to secure as high a standing in the World Cup table as possible."
Great Britain team for World Cup 3, Lucerne (13-15 July)
Men's
Pair
GBR1
Oliver Cook (Univ. of London BC/ Oxford)
Matthew Rossiter (Leander Club/ Newbury)
Coach: Steve Trapmore
GBR2
Callum McBrierty (Leander Club/ Edinburgh)
Morgan Hellen (Molesey BC/ Maidstone)
Coach: Steve Trapmore
Four
Harry Glenister (Leander Club/ Princes Risborough)
George Rossiter (Leander Club/ Newbury)
Rob Hurn (Cambridge Univ. BC/ Glasgow)
Sholto Carnegie (Leander Club/ Oxford)
Coaches: Steve Trapmore
Quadruple Scull
John Collins (Leander Club/ Twickenham)
Jonny Walton (Leander Club/ Leicester)
Graeme Thomas (Agecroft RC/ Preston)
Tom Barras (Leander Club/ Staines)
Coach: Paul Stannard
Lightweight Single Scull
Sam Mottram (Leander Club/ Stoke Mandeville)
Coach: Hamish Burrell
Lightweight Double Scull
Zak Lee-Green (Agecroft RC/ Cardiff)
Jamie Copus (Oxford Brookes Univ. BC/ Watlington
Coach: Hamish Burrell
Women's
Single Scull
Alice Baatz (Agecroft RC/ Winchester)
Coach: Paul Thompson
Lightweight Quadruple Scull
Ellie Lewis (Agecroft RC/ Marlow)
Gemma Hall (Wallingford RC/ Wargrave)
Fran Rawlins (Tideway Scullers School/ Uckfield)
Maddie Arlett (Edinburgh Univ. BC/ Selkirk)
Coach: Darren Whiter