Vicky Thornley and Tom Barras take impressive victories at GB Rowing Team Trials
The finals of the GB Rowing Team Senior, U23 & FISU Trials produced some explosive racing, with a number of medallists from the 2017 World Rowing Championships coming out on top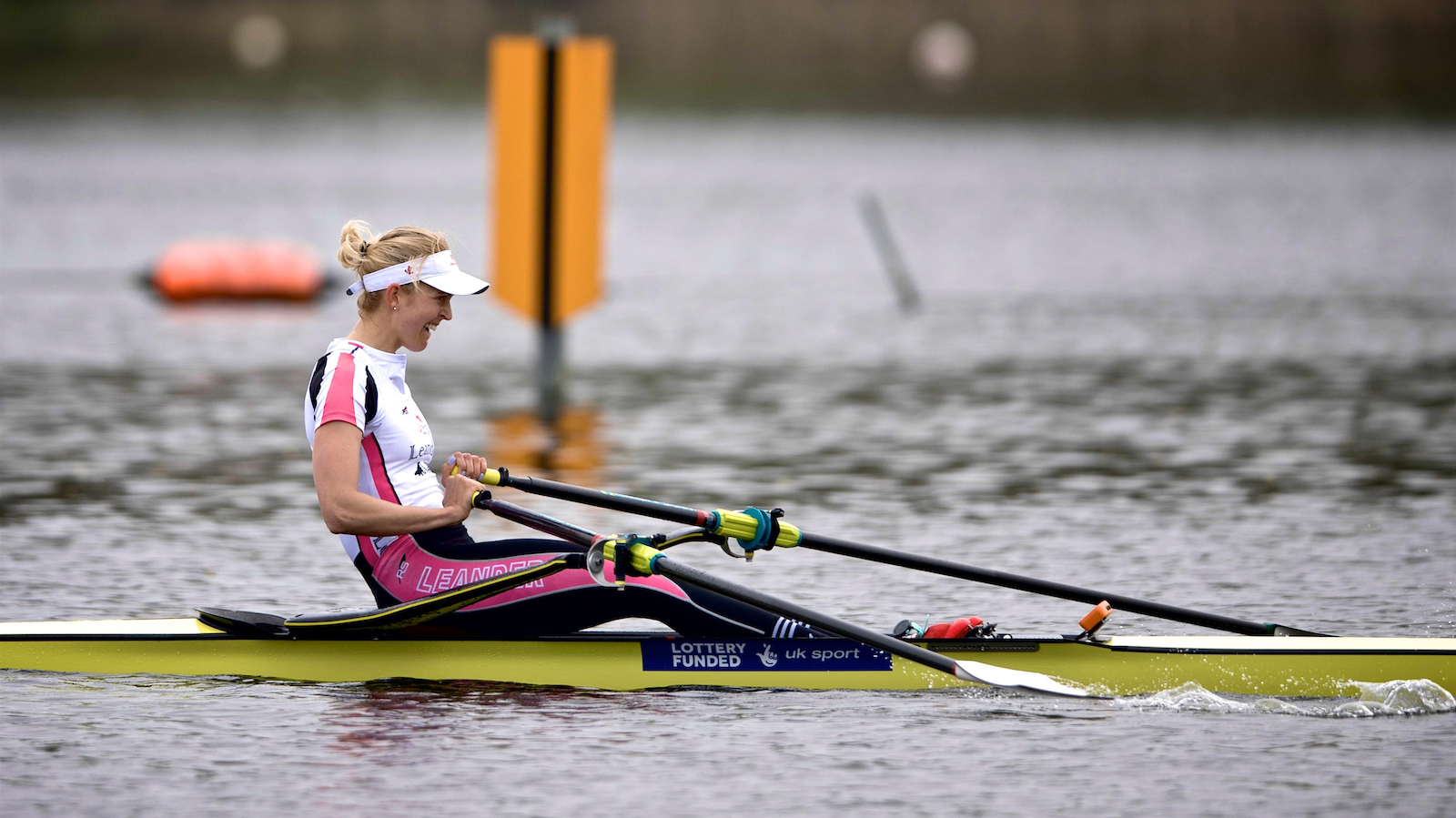 World Championship medallists Vicky Thornley and Tom Barras continued their 2017 sculling form to take wins on the final day of the GB Rowing Team Senior, U23 & FISU Trials at Caversham.
Thornley (Leander Club) stormed to victory by over ten seconds, leading the women's single scull from start to finish over the 2,000m course. GB Rowing Team development athlete of the year in 2017, Lucy Glover (Edinburgh Univ. BC), took an impressive second place, overhauling Zoe Lee (Imperial College BC) in the final 500m.
Barras (Leander), meanwhile, came out on top of a strong men's single final, with five of the six finallists having competed at the 2017 World Championships in Sarasota.
The only one who didn't, Harry Leask (Leander), got his bow ball in front on the line to take second, with just over a tenth of a second separating him from Graeme Thomas (Agecroft RC) in third and Jonny Walton (Leander) in fourth.
Emily Craig (Univ. of London BC) took a fantastic win in the lightweight women's single, pushed hard all the way by Ellie Lewis (Wallingford) and Imogen Grant (Cambridge Univ. Women's BC) in a race where just over a length separated the six rowers.
Jamie Copus (Oxford Brookes Univ. BC) needed to dig equally deep in the lightweight men's single, being pushed hard by World Championships double scull crewmate Sam Mottram (Leander). Young Scot Gavin Horsburgh (Edinburgh Univ. BC) edged Zak Lee-Green to third place by two tenths of a second.
Alan Sinclair and Mat Tarrant (Leander/Oxford Brookes) capped a memorable weekend in their men's pair final, winning by half a length over the surging Felix Drinkall and Ollie Cook (Oxford Univ. BC/Univ. of London). Drinkall and Cook worked their way through the field, having sat last through the first 500m. James Rudkin and Josh Bugajski (Newcastle Univ./Oxford Univ. BC) crossed the line in third place.
Tarrant came close to the win in 2017 with partner Stewart Innes, but for a mechanical problem to deny them in the closing strokes. Sinclair, meanwhile, missed the majority of the 2017 season after shoulder surgery.
Karen Bennett (Leander) retained her women's pair title, this year with Rebecca Shorten (Imperial). The duo finished a second ahead of Anastasia Chitty and Rebecca Girling (Leander/Molesey BC), with Katherine Douglas and Fiona Gammond (both Leander) taking third place.
A final results
M2- (full results)
1. Alan Sinclair (Leander Club) / Mat Tarrant (Oxford Brookes Univ BC), 6:32.33
2. Felix Drinkall (Oxford Univ BC) / Oliver Cook (Univ of London BC), 6:34.00
3. James Rudkin (Newcastle Univ BC) / Joshua Bugajski (Oxford Univ BC), 6:35.11
W2- (full results)
1. Karen Bennett (Leander Club) / Rebecca Shorten (Imperial Coll BC), 7:22.58
2. Anastasia Chitty (Leander Club) / Rebecca Girling (Molesey BC), 7:23.77
3. Katherine Douglas (Leander Club) / Fiona Gammond (Leander Club), 7:25.55
M1x (full results)
1. Tom Barras (Leander Club), 6:57.17
2. Harry Leask (Leander Club), 7:00.15
3. Graeme Thomas (Agecroft RC), 7:00.18
W1x (full results)
1. Vicky Thornley (Leander Club), 7:42.39
2. Lucy Glover (Edinburgh Univ BC), 7:52.56
3. Zoe Lee (Imperial Coll BC), 7:55.47
LM1x (full results)
1. Jamie Copus (Oxford Brookes Univ BC), 7:06.81
2. Sam Mottram (Leander Club), 7:08.44
3. Gavin Horsburgh (Edinburgh Univ BC), 7:10.82
LW1x (full results)
1. Emily Craig (Univ of London BC), 7:55.27
2. Ellie Lewis (Wallingford RC), 7:56.27
3. Imogen Grant (Cambridge Univ Women's BC), 7:57.37