2022 University Indoor and Adaptive Rowing Series results
The 12th University Indoor and Adaptive Rowing Series concluded on Sunday with new hosts the University of Birmingham bringing the series to a close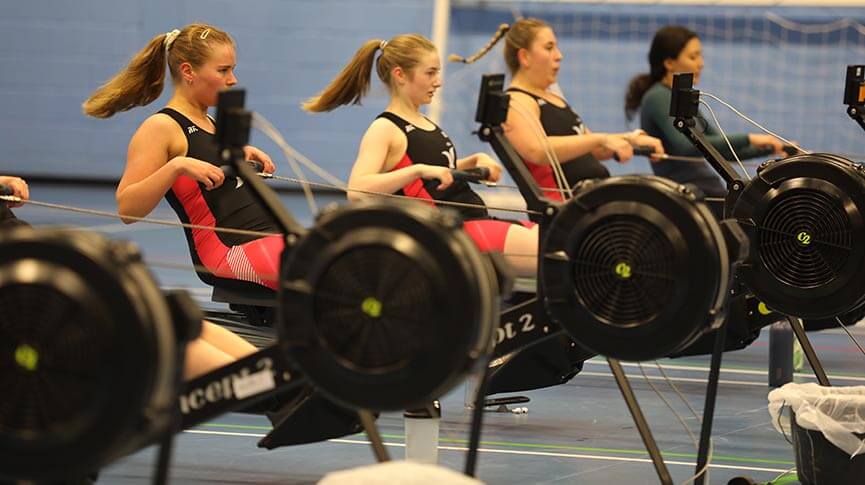 After two years of virtual competition, the Series once again saw regional competitions run by host institutions offering a range of core BUCS events. These comprised 2km races under the Championship flag along with Championship Adaptive and Beginner events for freshers new into the sport over the shorter distance of 1km.
This year, first time hosts Birmingham, Cardiff and Dundee joined Durham, Leicester, Leeds, Queen's Belfast and Surrey Universities to provide a festival of local indoor rowing competitions for over 600 students from multiple universities in each area.
With 2k tests done at the recent GB trials being eligible, most of the top spots in the Championship men's events were dominated by athletes on performance pathways. Aiden Thompson topping the table of Championship men for Surrey ahead of Ben Newton from York and Josh Matthews representing Edinburgh.
World Record holder and Start athlete Vwairé Obukohwo, the sole representative of Royal Holloway, topped the tables of the Championship women, well ahead of Lauren Henry from Leicester and Claudia Rossington of Edinburgh.
In the Lightweight events, Luke Knight of Nottingham took first place in the men's competition just ahead of Ollie Hanks (Derby) and Tom Fortnum (Surrey) with these three athletes' times separated by just 0.3 seconds. In the Women's Lightweight event Lily Young (Edinburgh) took the top spot more comfortably by an impressive seven seconds over Oliva Bates (Nottingham) and Izzy Sellers (Durham)
As they are over a more sprint distance, the Beginner events as always produce a tight set of final results. This year was no exception in the Women's category with Newcastle's Anique Kuiper just holding off Meg Bayley (Exeter) by 0.8 seconds, who in turn pipped both Lois Fileman (Loughborough) and Sophia Issberner (St Andrews) into third place by a further 0.7 seconds in the Women's event.
For the Beginner men it was Freddie Clark of Cardiff who topped the table ahead of Ben Dufty from Exeter and Toro Shodunke of Durham.
Following some suggestions made at the British Rowing University Development Day held in September, the format of the Adaptive events was changed to run over 1km this year. This contributed to a larger than normal entry, with eight competitors entering the series. Zara Mullooly from Leeds and Jorge Cores from Banger posted the quickest times. It is hoped that this change to the format will open the door to more interest in adaptive category in future years.
In addition to running this year's events, hosts were offered a free Go Row Indoor Club training workshop by British Rowing. These shared a toolkit of ideas for running indoor rowing classes to complement the on-water options that the wider sport of rowing can offer the student population. More information about the Go Row Indoor programme can be found here.