Third place for World Class Start athlete Vwairé Obukohwo at World Urban Games
The 17-year old World Class Start athlete competed at the World Urban Games in Budapest, Hungary earlier this month, taking third place overall in the women's event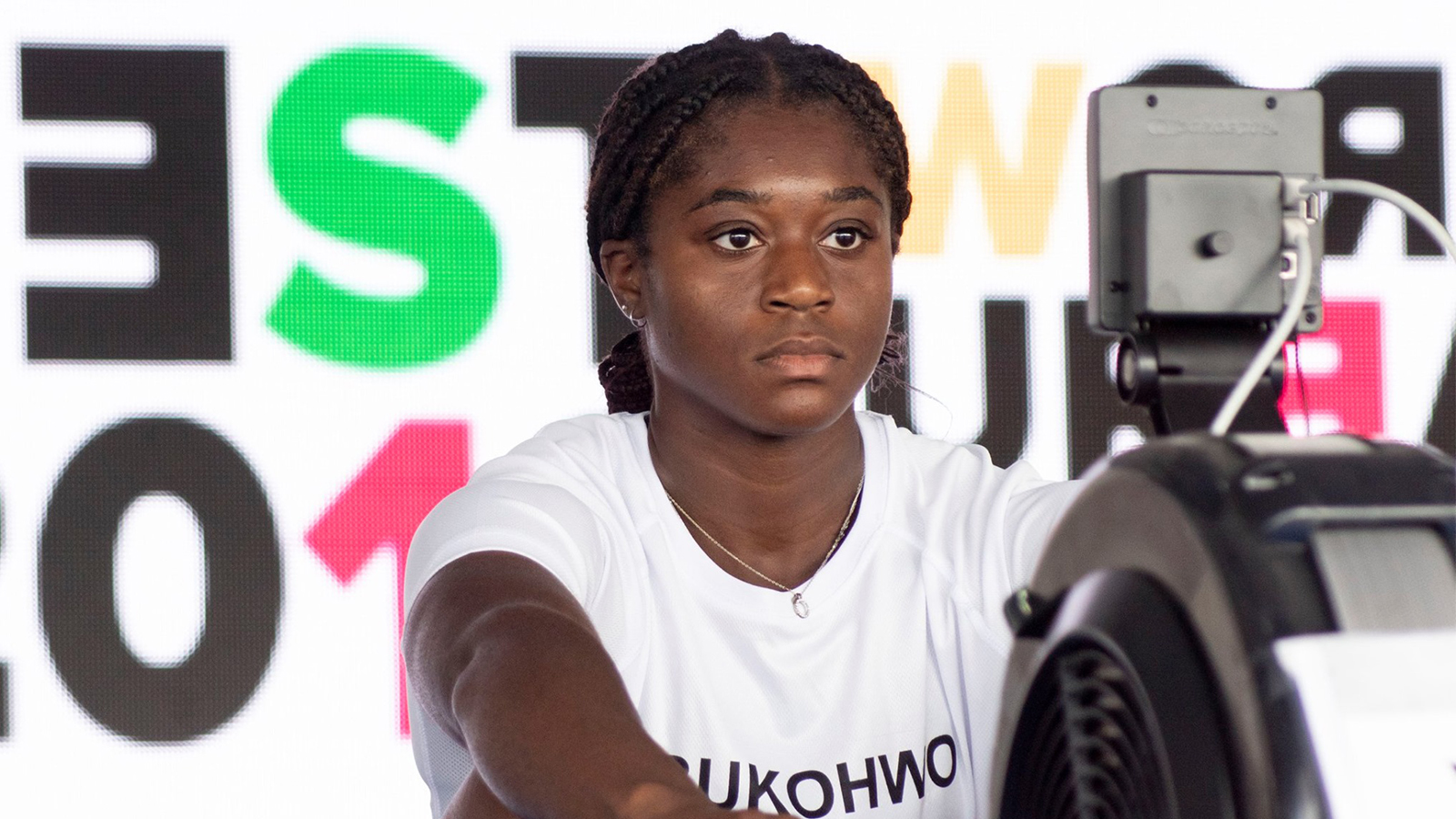 The World Urban Games is a three-day multi-sport event featuring competition and showcase sports alongside a cultural festival, which took place this year on 13-15 September in Budapest, Hungary.
Eight men and eight women had the chance to test their strength and skill in varying distances and formats of indoor rowing over the three days, with the goal of determining the best all-round indoor rower.
Having placed first on Concept2's online qualification leaderboard, 17-year old Vwairé Obukohwo won the right to represent GBR at the event. A member of the World Class Start Programme based at Twickenham Rowing Club, Vwairé took third place overall across the weekend in a field which included current women's heavyweight 2k world record holder Olena Buryak. Vwairé took the time to fill us in on her experiences at the three-day sporting festival.
How did you find your first time at the World Urban Games?
The event was an amazing experience. It was my first ever international competition so at first I felt completely out of my depth, especially being the youngest competitor. However, once I got there the vibe was so positive and the upbeat atmosphere immediately calmed most of my nerves.
How did you find the 6 events that made up the indoor rowing competition?
The challenges were so different from the standard 2k, so it really pushed me as an athlete while still being able to have a bit of fun. I enjoyed the format of one long distance and one short distance event everyday, as it made the performance a bit more challenging but you were still able to showcase an array of talents. My favourite was definitely the 10 power strokes because it's something I'm familiar with and have always found really fun – since there is no pacing needed, you can absolutely end yourself. The toughest challenge was the elimination event. It mostly tested how well you could read a race, which is a skill I have yet to fully develop as I have only been rowing for about 18 months.
What was it like competing against some of the biggest names in indoor rowing?
Prior to getting to the event I had many mixed feelings. I was extremely nervous because I knew that they were going to make the competition that much harder, but at the same time I was very excited to meet people that I look up to and aspire to be later on in my career.
What's next for you?
I'll be attending the British Rowing Indoor Championships in December which I am very excited for – because I will be with the under 23's, it's a great chance for me to compete with a new pool of people and see what I am capable of. As this is my first season as a senior, the main focus will be getting to grips with the tougher competition. I'm excited about getting faster on the water as well!
And lastly, can you fill us in on how you got into indoor rowing?
I got into indoor rowing through my Sixth Form rowing club. At my first ever rowing competition (NJIRC 2018), I found the World Class Start programme and it transformed my life. I found out so much about what I'm capable of and rapidly exceeded my expectations. Indoor rowing has made me fitter and more resilient which aids my day to day life.
If you think this could be you, and are interested in finding out more about World Class Start, check out everything you need to know here on the British Rowing Website.