10 medals at the Invictus Games for the UK athletes
UK athletes achieved an impressive 10 indoor rowing medals at the Invictus Games in Toronto, Canada. Alan Oldham, who was at the finals, reports on the event.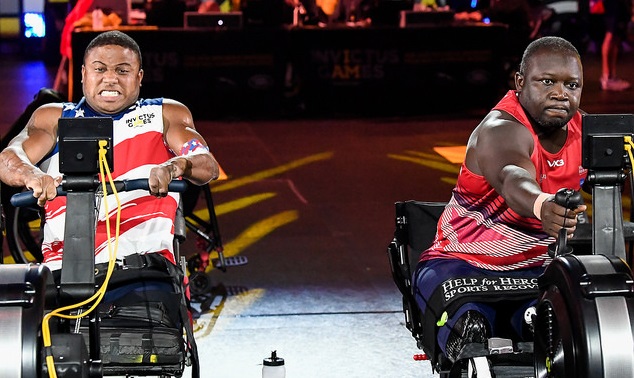 In a competition like no other, the Invictus Games indoor rowing event was a testament to the courage and competitive spirit of the members of armed services from 17 nations around the world who took part. There may not have been a physical battlefield or an enemy to defeat, but the real battle for these athletes has a more personal tone as they took on the challenge of HRH Prince Harry's Invictus Games to find new focus as comrades in arms turned team-mates to represent their country in a new capacity.
The venue in Toronto, Canada was packed for the evening contest with competitors and fans as Team UK memories late into the night and brought home 10 medals. Athletes, racing in one of six categories completed in two races each, one minute and four minutes on the rowing machine. Prince Harry attended the final events and was on hand to present some of the awards and congratulate all contestants.
There were lots of fantastic results from the UK athletes including Mark Ormrod, who took silver in both the one minute and four minute races in the IR1 category. Teammate Lamin Manneh joined him on the podium with a bronze in the four minute event and finished fourth in the one minute.
One of the most exciting contests, however, was the Men's IR4 category, where Britain's Tye Martin took the gold in the one minute event and finished silver over four minutes by a marginal 1m to Australian Curtis McGrath, whom he had bested in the earlier race. Once again here Team UK saw a double podium finish in the four minute event with Scott Meenagh taking bronze after a fourth place finish in the 1 minute race.
Invictus athletes will be taking on their next indoor rowing challenge at the British Rowing Indoor Championships (BRIC), on 8 December at Lee Valley Velopark.
You can sign up for an adaptive 500m or 2,000m event and compete with the Invictus athletes by entering BRIC here.
More medals came from Bruce Matthews and Ian Ronald, as well as a pair of fourth place finishes for Kelly Ganfield.
Team UK's rowers, like so many – if not most – of the athletes at these Invictus Games, are competing in more than one sport. With a punishing schedule of competitions throughout the week, there is not much opportunity to rest and recover between events, as British rower and hand cycle athlete Luke Delahunty pointed out about his own events, "it is all crammed into a 24 to 48 hour period".
Despite the gruelling schedule (perhaps in part because of it), the atmosphere was supportive in a way no other sports contest could be. The sense of comradeship and focus on personal rather than combative struggle wasn't lost on New Zealand rower Julie Gilligan "It's quite a different environment," she told British Rowing, "it's not dog eat dog sports. Yeah, we're competing, but people go back and pick up a competitor, you know, congratulating each other, it's a very different environment."
One unique feature of rowing at the Invictus Games is the six race categories (IR1 to IR6) that build on the three familiar Paralympic Rowing classifications (PR1 to PR3). IR2, IR4 and IR5 are equivalent to PR1 (Arms and Shoulders), PR2 (Trunk and Arms) and PR3 (Legs, Trunk and Arms), while the additional categories allow for even greater specification along the ability spectrum.
For full results, visit the Invictus Games results page here.