Treble triumph as GB top Senior World Champs medal table
The GB Rowing Team claimed a golden hat-trick on Saturday to finish top of the medal table at the Senior World Rowing Championships in Rotterdam, The Netherlands.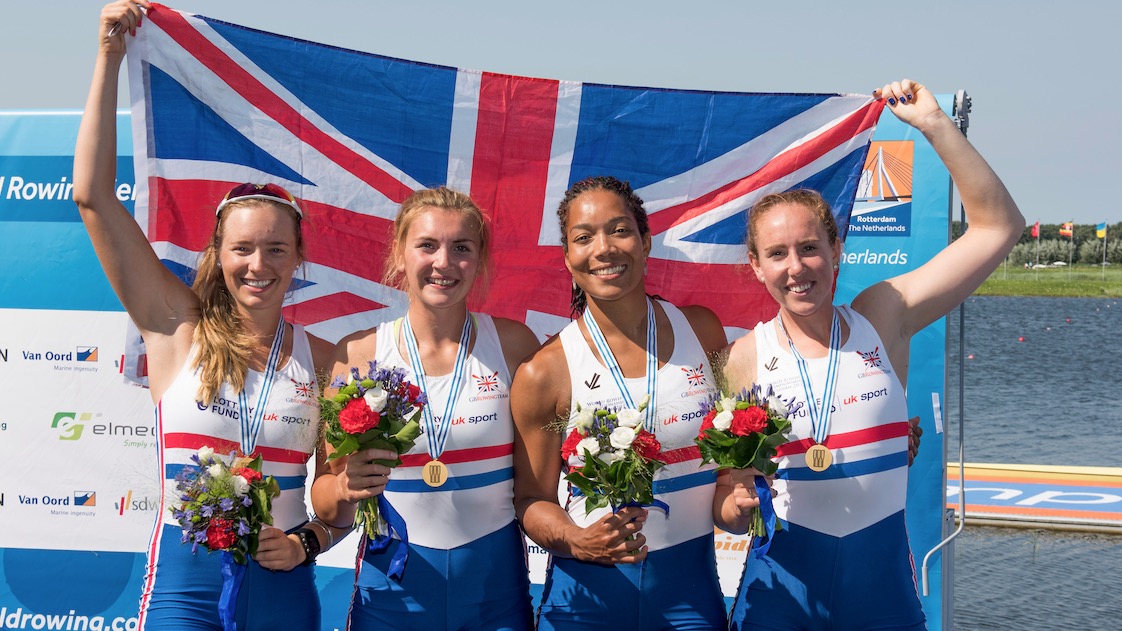 Ollie Cook, Callum McBrierty and cox Henry Fieldman successfully defended GB's title in the men coxed pair with a storming victory, while the lightweight women's quadruple scull of Brianna Stubbs, Emily Craig, Imogen Walsh and Ellie Piggott powered away from Germany to upgrade on last year's silver medal.
The women's four of Fiona Gammond, Donna Etiebet, Holly Nixon and Holly Norton also went one better than the silver won by GB in 2015 as they recorded an emphatic clear-water victory, while Joel Cassells and Sam Scrimgeour were edged into bronze-medal position during a thrilling lightweight men's pair final.
Sir David Tanner, British Rowing's Performance Director and Overall Team Leader in Rotterdam, said: "We have had a really good day for our senior boats, with three golds and a bronze medal improving on the good results from last year's World Championships.
"Our rowers have sent out a strong message for next season and beyond – well done."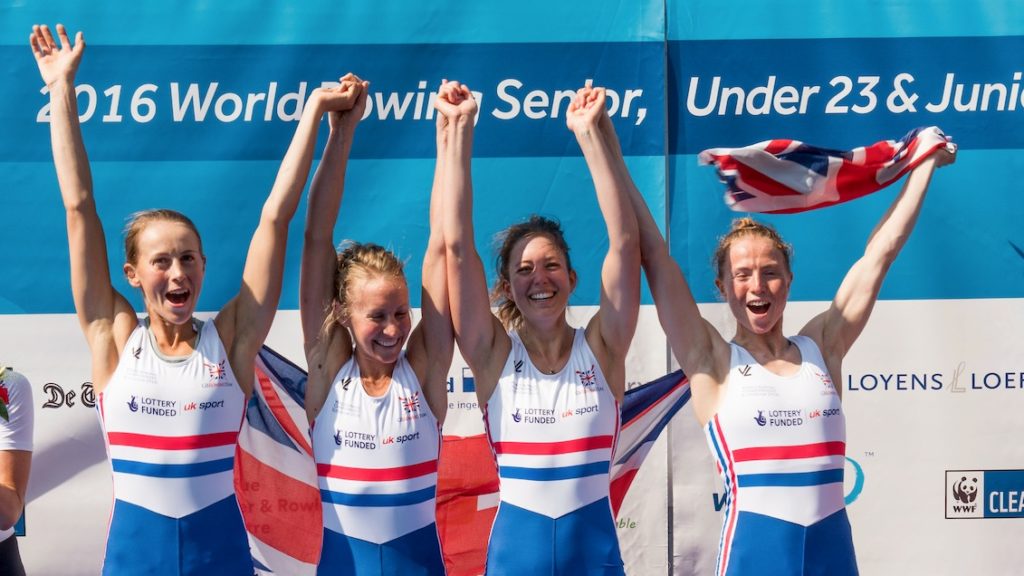 Ellie Piggott, Imogen Walsh, Emily Craig and Brianna Stubbs © Peter Spurrier/Intersport Images
McBrierty said: "If we had to define our perfect race, we almost had it down to a tee today. We were relentless with every stroke."
Walsh, who repeated her 2011 success in the lightweight quad, added: "I have so much trust and respect for these girls and I never doubted we could do it. This is a fitting end to what has been a really fun and exciting project."
Norton said: "It's great to be on the podium with these girls, representing this programme and the next generation of rowers coming through."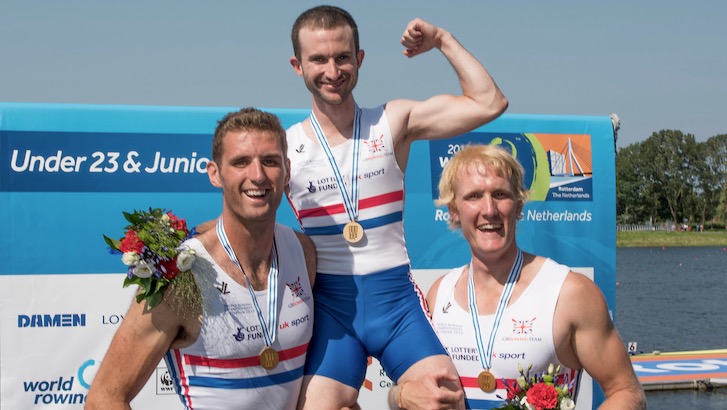 Callum McBrierty, Henry Fieldman and Ollie Cook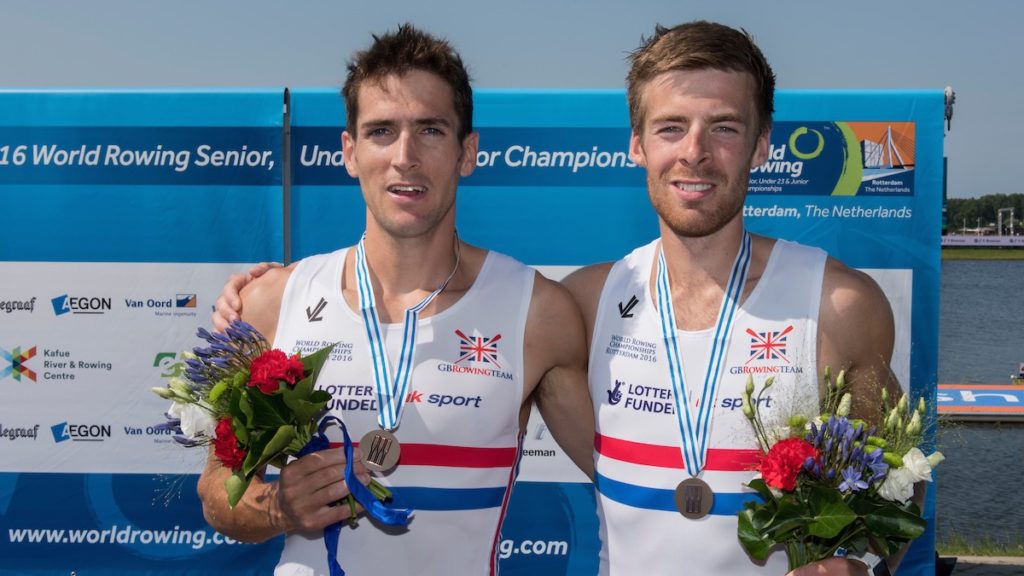 Sam Scrimgeour and Joel Cassells
The four medals continued a successful week for Britain at the combined World Championships and added to the two gold, three silver and one bronze won by the U23s in their competition.
An action-packed regatta concludes on Sunday with the finals of the Junior World Championships – click here to see how three more GB crews made progress through their semi-finals on Saturday afternoon.
Click on the expander boxes below for full race reports, reaction and results from the Senior World Championships finals
Open All
Race Report
A FINALS
The formidable strength in depth of the GB heavyweight men's sweep squad has been clear to see this summer, with the men's four and men's eight winning Olympic gold in memorable style.
Ollie Cook and Callum McBrierty are pushing hard to break into those boats and showed their undoubted potential once again by storming to victory in the men's coxed pair.
Coxed by Henry Fieldman, who won the title with Nathaniel Reilly-O'Donnell and Mat Tarrant 12 months ago, the GB crew had to rely on their blistering finish to come through the field and win their heat and semi-final.
They were determined to get off to a better start in the final and did just that to reach the 500m mark with their noses in front. Canada's Andrew Stewart-Jones, Benjamin De Wit and Kevin Chung responded well, though, and pushed through to hold a narrow advantage at halfway.
The third 500m is when Cook and McBrierty have really come into their own this week and when Fieldman told them to move they accelerated away. There was no catching them as they added the World title to the gold they won at the Poznan World Cup.
McBrierty said: "If we had to define our perfect race, we almost had it down to a tee today. The only thing we weren't expecting was for Canada to come through in the second 500m but we didn't let it phase us, we knew we were strong in the second half.
"We were relentless with every stroke. We knew it was going to hurt but we just kept pounding away."
Cook added: "We gave it everything we had and It was our best race of the week, led from the front by Henry and Callum who did a great job. It hasn't been the easiest of seasons, with being a spare for the men's team, but this is a big result and a great way to finish it."
Fieldman, who also won World silver two years ago, said: "That was great. It's my second World title and I'm undefeated since 2014 so I'm on a good run!
"Our start was the worst part of our opening races but it turned out to be one of our great strengths today. We got away well and were able to build on that throughout."
Each member of the lightweight women's quad had won silver at the 2015 World Championships – Brianna Stubbs, Emily Craig and Ellie Piggott in the quad and Imogen Walsh in the single.
All were determined to upgrade on that and, having laid down a marker with a confident win in their preliminary race, they produced another fantastic performance to take the World crown.
Defending champions Germany promised to be their main challengers once again and so it proved as they made the early running but they couldn't shake off the Brits, who were looking cool and composed in second.
Just before the halfway mark, Piggott – an U23 World Champion with Stubbs in the lightweight double in 2013 – called for a push and her crew-mates responded. They pulled ahead of the Germans and then moved away with every stroke to secure an impressive victory.
It is a second World title in the lightweight quad for 2011 champion Walsh, who said: "It was a long race but we knew if we kept our cool, stuck to our rhythm and rowed well that we would come through in the end.
"I have so much trust and respect for these girls and I never doubted we could do it. This is a fitting end to what has been a really fun and exciting project."
Piggott added: "We all had a job to do and even though it was a long race it was so much fun. You want to do justice to all the work you have done in training when you come to the World Championships and we've just done that.
"We've spoken a lot about momentum this week, about kicking and building on it when we feel it, and we felt that in the third 500m. Germany tried to do something in the last 100m but we weren't having any of it!"
Craig said: "It was a hard race but I felt like we had it in control. We put in a big push around 750m and as soon as we did I felt we had broken them.
"It's such a wonderful way to end what has been a very exciting and enjoyable project. We knew it was going to be special from the first time we got in the boat together and I feel we have proved that tenfold."
Stubbs added: "It feels like a long time since I was a World Champion with Ellie in 2013 and I cannot wait to hear the national anthem again. Germany are a really strong crew but we rowed a really mature race and I'm so proud of us."
The women's four of senior debutant Fiona Gammond, Donna Etiebet, Holly Nixon and Holly Norton had got the finals off to a flying start as they motored away in the second half of their race to claim gold in fine style.
The United States had beaten a GB four featuring Norton and Karen Bennett – a Rio 2016 Olympic silver-medallist in the eight – to gold last year and they also held a narrow advantage in the first half of today's final.
However, they had no answer to a massive kick that took the British four into the lead at 1100m. They continued to power away and were a length up by 1500m before pulling further ahead to win by clear water.
Norton said: "We just kept our focus. Everyone did their job and there was perfect harmony between the four of us out there.
"It's great to be on the podium with these girls, representing this programme and the next generation of rowers coming through. Thank you to the National Lottery, UK Sport, all the support staff behind the scenes and our coach, Jane Hall – they are all a big part of this success."
Etiebet added: "We really stuck to the race plan, gave the extra motivational calls when we needed to and it paid off.
"As one of the more experienced rowers in the team, it's been great to see what a positive environment it has been – everyone wants to get better and be their best. Everyone has brought into this from day one and this is the sum of all of us."
Gammond said: "It's my first senior experience and it has been really exciting. I've learnt a lot from rowing with people like Donna and we executed the perfect race today."
Nixon has made the switch from sculling this summer, having raced in the senior quad alongside Jess Leyden who was crowned U23 women's double World Champion with Mathilda Hodgkins-Byrne on Friday.
"Mathilda and Jess are my two best friends in the team and watching them win gold yesterday really drove me on to match them," said Nixon. "Seeing what they did gave me a lot of confidence.
"It's all a bit of a blur right now but it's amazing how the pain disappears when you get a win!"
Joel Cassells and Sam Scrimgeour were defending champions in the lightweight men's pair but had to settle for bronze on this occasion after playing their part in a pulsating final.
With 500m to go there was just nine-hundredths of a second between Britain, France and Denmark, who were enjoying an absorbing battle at the front of the field. The lead was changing hands with every stroke but France were finally able to edge clear in the closing stages to take gold, narrowly ahead of the Danes.
Cassells said: "We rowed the best we could but the conditions were challenging and it wasn't quite how we wanted to race. It's not the end to the season we wanted but we live to fight another day."
Charles Waite-Roberts, Jamie Copus, Jamie Kirkwood and Zak Lee-Green faced some tough competition in their lightweight men's quadruple scull final, with both the 2014 and 2015 World Champions – Greece and France – part of a classy field.
Germany got off to a flying start, though, and went on to lead throughout to take the title. The British quad found themselves off the pace but kept fighting and a strong third quarter saw them closing on fifth place. Denmark responded, though, meaning GB had to settle for sixth in the world overall.
B FINAL
Gemma Hall was making her senior debut this week and will have learnt a lot from racing in a well-contested lightweight women's single competition.
In a B final won comfortably by Switzerland's Patricia Merz, who narrowly missed out on Olympic qualification in the lightweight double, Hall lost ground at the start and found herself sixth after 500m.
She dug deep in the breezy conditions to close the gap on Eveline Peleman, the 2014 World Champion, but couldn't quite get past the experienced Belgian as she finished 12th overall.
Race Results
(Events featuring GB Rowing Team crews only. For full results – www.worldrowing.com)
SENIOR WORLD CHAMPIONSHIPS
A FINALS
OPEN
WOMEN
Four
1. Fiona Gammond/Donna Etiebet/Holly Nixon/Holly Norton (GREAT BRITAIN) 7:16.28
2. Molly Bruggeman/Emily Huelskamp/Corinne Schoeller/Kristine O'Brien (USA) 7:21.53
3. Melanie Hansen/Ronja Schuette/Charlotte Reinhardt/Lea-Kathleen Kuehne (Germany) 7:26.15
4. Alena Furman/Marharyta Krechka/Tatsiana Piharava/Darya Marchanka (Belarus) 7:33.61
5. Ting Zhang/Hongjing Sun/Yangyang Li/Sunyan Teng (China) 7:35.01
6. Michelle Truax/Sarah Black/Kirstin Bauder/Kerry Shaffer (Canada) 7:38.59
MEN
Coxed pair
1. Oliver Cook/Callum McBrierty/Henry Fieldman (cox) (GREAT BRITAIN) 7:29.69
2. Andrew Stewart-Jones/Benjamin De Wit/Kevin Chung (cox) (Canada) 7:32.05
3. Mario Paonessa/Vincenzo Capelli/Andrea Riva (cox) (Italy) 7:32.22
4. Roel Braas/Mitchel Steenman/Peter Wiersum (cox) (Netherlands) 7:32.98
5. Yohann Rigogne/Thomas Pestek/Louis Lombardi Jr (cox) (USA) 7:37.95
6. Javier Garcia Ordonez/Ismael Montes/Tomas Jurado Diaz (Spain) 7:54.31
LIGHTWEIGHT
WOMEN
Quadruple scull
1. Brianna Stubbs/Emily Craig/Imogen Walsh/Ellie Piggott (GREAT BRITAIN) 7:10.60
2. Judith Anlauf/Leonie Pieper/Lena Reuss/Katrin Thoma (Germany) 7:12.45
3. Xulian Xuan/Weixao Zhang/Weimiao Zhang/Xiaohua Yan (China) 7:21.04
4. Jenna Pelham/Sydney Boyes/Jill Moffatt/Kathryn Twyman (Canada) 7:23.57
5. Ashley Amos/Monica Whitehouse/Morgan McGovern/Emily Schmieg (USA) 7:26.24
MEN
Pair
1. Augustin Mouterde/Alexis Guerinot (France) 7:14.18
2. Emil Espensen/Jens Vilhelmsen (Denmark) 7:15.30
3. Joel Cassells/Sam Scrimgeour (GREAT BRITAIN) 7:16.49
4. Mark O'Donovan/Shane O'Driscoll (Ireland) 7:24.60
5. Lei Li/Zhongwei Li (China) 7:32.48
6. Andrew Weiland/Peter Gibson (USA) 7:36.91
Quadruple scull
1. Patrick Stoecker/Florian Roller/Johannes Ursprung/Cedric Kulbach (Germany) 6:23.09
2. Francois Teroin/Damien Piquefras/Maxime Demontfaucon/Morgan Maunoir (France) 6:24.72
3. Georgios Konsolas/Spyridon Giannaros/Panagiotis Magdanis/Eleftherios Konsolas (Greece) 6:26.58
4. Roman Fedorenko/Stanislav Kovalov/Serhii Siabro/Igor Khmara (Ukraine) 6:28.63
5. Steffen Jensen/Andrej Bendtsen/Jens Nielsen/Mathias Larsen (Denmark) 6:29.68
6. Charles Waite-Roberts/Jamie Copus/Jamie Kirkwood/Zak Lee-Green (GREAT BRITAIN) 6:31.71
B FINAL
LIGHTWEIGHT
WOMEN
Single scull
1. Patricia Merz (Switzerland) 8:44.92
2. Aja Runge Holmegaard (Denmark) 8:49.39
3. Georgia Nesbitt (Australia) 8:49.65
4. Leonie Pless (Austria) 8:56.94
5. Eveline Peleman (Belgium) 8:59.31
6. Gemma Hall (GREAT BRITAIN) 9:01.11
Crew List
SENIOR WORLD ROWING CHAMPIONSHIPS, ROTTERDAM
(Listed bow to stroke; club, hometown, date of birth)
OPEN
WOMEN
Four
Fiona Gammond (Leander Club/Bicester/19.10.92)
Donna Etiebet (Imperial College BC/London/29.04.86)
Holly Nixon (Leander Club/Enniskillen/07.12.93)
Holly Norton (Leander Club/Johannesburg, SA/01.01.93)
Coach: Jane Hall
MEN
Coxed pair
Oliver Cook (Univ of London BC/Windsor/05.06.90)
Callum McBrierty (Leander Club/Edinburgh/13.08.92)
Henry Fieldman (cox) (Molesey BC/Barnes/25.11.88)
LIGHTWEIGHT
WOMEN
Single scull
Gemma Hall (Wallingford RC/Wargrave/10.04.92)
Coach: Ben Reed
Quadruple scull
Brianna Stubbs (Wallingford RC/Poole/13.07.91)
Emily Craig (Univ of London BC/Mark Cross/30.11.92)
Imogen Walsh (London RC/Inverness/17.01.84)
Ellie Piggott (Wallingford RC/Bedford/16.05.91)
Coach: Ben Reed
MEN
Pair
Joel Cassells (Oxford Brookes Univ BC/Coleraine/15.06.94)
Sam Scrimgeour (Imperial College BC/Kirriemuir/28.01.88)
Quadruple scull
Charles Waite-Roberts (Leander Club/Basingstoke/06.11.92)
Jamie Copus (Oxford Brookes Univ BC/Watlington/30.01.93)
Jamie Kirkwood (Leander Club/Newcastle/30.08.89)
Zak Lee-Green (Agecroft RC/Cardiff/06.02.91)
Coach: Ross Hunter