Juniors head to Poznan for Coupe competition
The GB Rowing Team will once again send a full team to the annual Coupe de la Jeunesse junior competition, which this year takes place in Poznan, Poland, from July 29-31.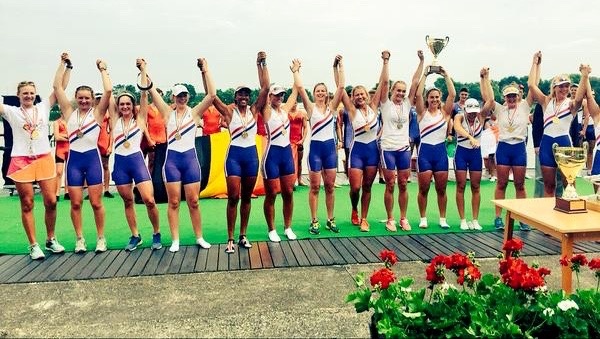 Great Britain – who will field 51 rowers in 13 boats – has won the European team competition, with an emphasis on U17s, on 12 previous occasions, the last time being in 2013.
A number of GB's current Olympians, including London 2012 silver medallist Chris Bartley, cut their teeth at the Coupe as their first international rowing experience.
Last year's edition in Szeged, Hungary, saw GB win the women's competition and finish runners-up to Italy in both the men's and overall standings after claiming an impressive 16 medals in total.
Robin Dowell, Lead Coach for the GBRT Junior Team, said: "I'm looking forward to seeing how this team performs, as for many it is an important stepping stone to an international rowing career beyond the junior level.
"There is plenty of potential within the team and that, combined with the experience of those who have been to the Coupe previously, should lead to some exciting racing."
Lydia Currie won two silvers and a bronze with the women's four and eight at the 2015 Coupe, and will once again double up in those boats in Poznan.
She will be joined in the four by fellow Headington School Oxford BC rower Isabel Rundle, Flo Donald (Lea RC) and Lauren Kay (Henley RC).
That quartet will team up with Celia Matthews and Kirstin Giddy (both Lady Eleanor Holles BC), Beth Willford-Dutton (Northwich BC), Danielle Semple (Headington School Oxford BC) and cox Autumn MacKay (Bedford Modern School BC) for the women's eight final, which will once again provide the traditional Friday evening opening to the regatta.
Giddy and Matthews will also race in the women's pair, while Semple goes in the women's double scull with Henley RC's Lottie Orr.
Hattie Orr (Shiplake Vikings RC), Lottie's older sister, is named in the women's quadruple scull along with Meg Saunders (Tideway Scullers School), Lucy Edmunds (York City RC) and Katie King-Smith (Headington School Oxford BC).
Putney High School's Emma Andrews, who was part of the eight last year, will compete in the women's single scull this time round.
Two of the 2015 men's quad will return for this year's Coupe, with The Windsor Boys' School BC's Harry Oliver named in the boat alongside club colleague Tom Smith, Ben Simon (Marlow RC) and Callum Sullivan (Globe RC).
Isle of Ely RC's Sam Champion moves into the men's double this year, joining Nottingham RC's Matt Haywood, while Oliver Costley of Claires Court School BC goes in the single.
In the sweep squad, Westminster School BC's Will Allen and Alex Williams make up the pair, while fellow rower Henry Jones is named alongside Marcus Jonas (Tideway Scullers School), Callum Urquhart (Glasgow Schools RC) and Alexander Wythe (Winchester College BC) in the four.
Winchester College BC is well represented in the men's coxed four through Luke Robinson, Dent Goodman and Tobias Schroder. They are joined by Will Carey (Shiplake College BC) and cox Rory Cruickshank (Norwich School BC).
Completing the GB squad is the men's eight of Henry Blois-Brooke (Shiplake College BC), Tom Long (Hampton School BC), Barney Fox, Paddy George (both Royal Shrewsbury School BC), Tom Wilbin (Abingdon School BC), Thomas Phelps (Latymer Upper School BC), Alfred Jacquemot (St Paul's School BC), Victor Olsen (King's College School BC) and cox Charlie Marcus (Hampton School BC).
The competition format sees all boat classes, apart from the women's eight, race on both Saturday and Sunday.
Open All
Crew List
GB Rowing Team for Coupe de la Jeunesse
Poznan, Poland, July 29-31, 2016
JUNIOR WOMEN
Pair
Kirstin Giddy (Lady Eleanor Holles BC)
Celia Matthews (Lady Eleanor Holles BC)
Coach: Paul Carter (Lea RC)
Four
Flo Donald (Lea RC)
Lauren Kay (Henley RC)
Isabel Rundle (Headington School Oxford BC)
Lydia Currie (Headington School Oxford BC)
Coach: Helen Taylor (Molesey BC)
Eight
Celia Matthews (Lady Eleanor Holles BC)
Kirstin Giddy (Lady Eleanor Holles BC)
Beth Willford-Dutton (Northwich RC)
Flo Donald (Lea RC)
Lauren Kay (Henley RC)
Isabel Rundle (Headington School Oxford BC)
Lydia Currie (Headington School Oxford BC)
Danielle Semple (Headington School Oxford BC)
Autumn MacKay (cox) (Bedford Modern School BC)
Coaches: Helen Taylor (Molesey BC) & Paul Carter (Lea RC)
Single scull
Emma Andrews (Putney High School RC)
Coach: Ashley Carter (Putney High School RC)
Double scull
Lottie Orr (Henley RC)
Danielle Semple (Headington School Oxford BC)
Coach: Bret King (Marlow RC)
Quadruple scull
Hattie Orr (Shiplake Vikings RC)
Meg Saunders (Tideway Scullers School)
Lucy Edmunds (York City RC)
Katie King-Smith (Headington School Oxford BC)
Coach: Bethan Thomas (Headington School Oxford BC)
Racing spare
Beth Willford-Dutton (Northwich RC)
Coach: Rachel Hooper
JUNIOR MEN
Pair
Will Allen (Westminster School BC)
Alex Williams (Westminster School BC)
Coach: Ashley Carter (Putney High School RC)
Four
Marcus Jonas (Tideway Scullers School)
Henry Jones (Westminster School BC)
Callum Urquhart (Glasgow Schools RC)
Alexander Wythe (Winchester College BC)
Coach: Sam Grant (Eton College BC)
Coxed four
Luke Robinson (Winchester College BC)
Will Carey (Shiplake College BC)
Dent Goodman (Winchester College BC)
Tobias Schroder (Winchester College BC)
Rory Cruickshank (cox) (Norwich School BC)
Coach: Christopher Williams (Norwich School BC)
Eight
Henry Blois-Brooke (Shiplake College BC)
Tom Long (Hampton School BC)
Barney Fox (Royal Shrewsbury School BC)
Paddy George (Royal Shrewsbury School BC)
Tom Wilbin (Abingdon School BC)
Thomas Phelps (Latymer Upper School BC)
Alfred Jacquemot (St Paul's School BC)
Victor Olsen (King's College School BC)
Charlie Marcus (cox) (Hampton School BC)
Coach: Dominik Howald (Westminster School BC)
Single scull
Oliver Costley (Claires Court School BC)
Coach: Chris Clark (Claires Court School BC)
Double scull
Sam Champion (Isle of Ely RC)
Matt Haywood (Nottingham RC)
Coach: Nicola Benavente (GBRT)
Quadruple scull
Harry Oliver (The Windsor Boys' School BC)
Ben Simon (Marlow RC)
Callum Sullivan (Globe RC)
Tom Smith (The Windsor Boys' School BC)
Coach: Lewis Sloan (The Windsor Boys' School BC)
Racing spare
Ben O'Neill (Glasgow Schools RC
Coach: Rachel Hooper (Northwich RC)
Management and team support
Team Manager: Mark Wilkinson (The Windsor Boys' School BC)
Assistant Team Manager: Chris Boothroyd (Henley RC)
Doctor: Lucy Free
Physiotherapist: Helen Esplen
Equipment Manager: Andy Thomas (Radley College BC)
Driver: Jonathan Keir (Sir William Perkins' School RC)