Para-rower Morris gets GB off to strong world cup start
Morris races to a Saturday para-rowing final spot and GB's Olympic and other crews now know who the opposition will be in tomorrow's heats.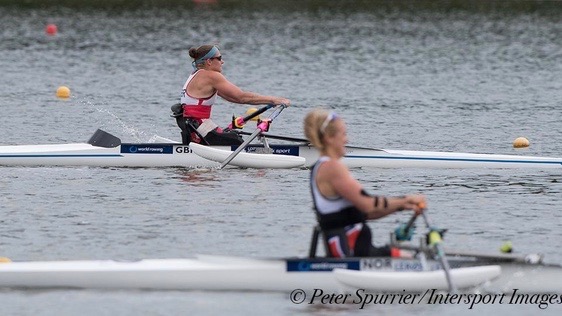 Tom Aggar and Rachel Morris were in early action at the season's concluding of three world cups in Poznan, Poland, today.
With para-rowers making their only appearance of the 2016 series here, the racing is an ideal pre-Rio test.
Morris spent much of her arms-shoulders single scull heat tracking Brigit Skarstein of Norway and came home second by two-thirds of a length but still in a qualifying slot for Saturday's finals.
Tom Aggar attacked the second half of his men's arms-shoulders single scull, aiming to chase down the Ukraine's Roman Polianskyi before coming home in second. The result means that Aggar, 2008 Paralympic Champion and World silver medallist will race a repechage tomorrow.
The World Champion GB Rowing Team mixed para-rowing coxed four of Pam Relph, Grace Clough, Dan Brown, James Fox and cox Oliver James had been due to race but withdrew at the eleventh hour because Fox has a virus.
Lauren Rowles and Laurence Whiteley, the World silver medal trunk-arms double scull, are sitting Poznan out because Rowles has A Level exams.
SCROLL DOWN FOR MORE
==========================================================
GB AND AUSTRALIAN MEN'S FOURS DRAWN IN SAME WORLD CUP HEAT
The GB Rowing Team and Australian men's fours went head to head in one of the more dramatic finals of the Lucerne World Cup last month and have been drawn in the same heat at the season's third and final edition of the 2016 series in Poznan, Poland, tomorrow.
GB took gold in Lucerne in the tightest of finishes with leaders Australia catching a momentum stalling "crab" just before the line. The GB four is back up to full strength here with Constantine Louloudis coming back from recent illness to join Alex Gregory, George Nash and Mohamed Sbihi.
Helen Glover, the world's no.1 female athlete, and Heather Stanning, who are the Olympic, World and European Champion women's pair, will be seeking to complete this world cup on a high, having sat out the final in Lucerne when Stanning was also poorly. Victory in tomorrow's heats for the duo who won TeamGB's opening gold of the whole 2012 Games, would put them straight through to Sunday's final.
With many of the Rio boats now selected, Poznan is the last opportunity to race internationally before the Olympic and Paralympic Games in Rio.  Rowing had its Team GB announcement last week and its ParalympicsGB announcement will be on 30 June.
In Lucerne one of the two men's pairs, the men's eight and quad were also affected by illness.  All are back up to full strength for Poznan.
Nathaniel Reilly O'Donnell and Mat Tarrant, world cup winners in Varese in early May, took bronze in a hair-splitting photo-finish for silver with the Dutch in the men's pair in Lucerne.
Alan Sinclair and Stewart Innes,  silver medallists at the European Championships last month, are also racing the pair in Poznan.   Both pairs will seek to prove their mettle as the Rio selections loom and, by a twist of fate, they have both been drawn in the same heat tomorrow.
The GB men's eight were without Pete Reed in Lucerne. He returns for Poznan in a crew that will race all their opposition in tomorrow's preliminary race to seed the lanes for Sunday's final.
Oliver Cook and Callum McBrierty – the latter having subbed superbly into the men's four to help them to world cup gold in Switzerland – will race in a coxed pair with Henry Fieldman, reigning World Champion in this event returning to cox the crew.
GB will race its European Champion women's eight in Poland fresh from a world cup silver in Lucerne.   There will also be a second GB women's pair from the women's sweep group of Louisa Reeve and Vicky Meyer-Laker.
Vicky Thornley and Katherine Grainger will race a women's double scull and have been drawn a a heat featuring home favourites Magdalena Fularczyk and Natalia Madaj.
Peter Lambert is back in the bow seat of the men's quadruple scull to bring that crew up to full strength once more after Jack Beaumont, who will race a single in Poznan as will Alan Campbell, stepped in so admirably to assist them to world cup silver in Lucerne.
The men's quad will have the opportunity to race the Germans who won the 2015 world cup and who are drawn alongside them in tomorrow's heats.
Jonny Walton and John Collins were pleased to qualify for the final in Lucerne and will be seeking to build on their open double scull performance there. They are pitched alongside the Norwegians Kjetil Borch and Olaf Tufte, who were finalists at the Europeans and at world cup II.
Charlotte Taylor and Kat Copeland had been set to rejoin the squad to race in Poznan in the lightweight women's double scull, having been rested for Lucerne but Taylor has picked up a back niggle and the decision was taken not to race.
Sam Scrimgeour and Joel Cassells will seek to close out the season unbeaten in the lightweight men's pair. They won gold at the European Championships as well as in Lucerne and have Turkey, Germany and Ireland in their heat tomorrow.
Through the early rounds in Lucerne, both the light men's four and double showed some good boat speed and will want to test themselves again in Poznan.  Chris Bartley, Mark Aldred, Jono Clegg and Peter Chambers have been drawn in the light four heats with China, New Zealand and Italy in what promises to be a cracker-jack starting race.  The Danes are in the opposing heat.
Richard Cambers and Will Fletcher will also face a big opening test with the French World Champions – albeit with Pierre Houin rather than Stany Delayre racing with Jeremie Azou – in the next door lane.  Chambers and Fletcher are World silver medallists but have entered the racing season later than expected after injury to Chambers.
Racing begins at 08.30 BST with the men's pair opening heat. However,  World Rowing organisers warned all team managers today of the potential for high winds and thundery downpours with lightning which could affect racing schedules.  For updated information follow @worldrowing or @gbrowingteam.
For further information about this story:  The GB Rowing Team Press Officer on 07831 755351 or [email protected]
Open All
Race Results
RESULTS
(Events featuring GB Rowers only. For full results:  www.worldrowing.com)
PARA-ROWING HEATS
Women's arms-shoulders single scull ASW1x
Heat 2
1.  Birgit Skarstein (Norway)  5:44.19
2.  Rachel Morris (GREAT BRITAIN) 5:45.88
3.  Sandra Khumalo (Republic of South Africa) 6:16.05
4. Mariia Varlamova (Russia) 6:44.70
Men's arms-shoulders single scull ASM1x
Heat 2
1.  Roman Polyanski (Ukraine 2) 4:57.92
2.  Tom Aggar (GREAT BRITAIN) 5:03.72
3.  Fabrizio Capelli (Italy) 5:18.51
4.  Zsolt Peto (Hungary) 5:52.73
5.  Enrico Schildberg (Germany) 6:12.44
6.  Leszek Niewiarowski (Poladnd 2) 6:25.93