Morris tops the Trials results
Guildford's Rachel Morris topped the lists at today's nine-boat GB Rowing Team para-rowing  trials at the national training centre.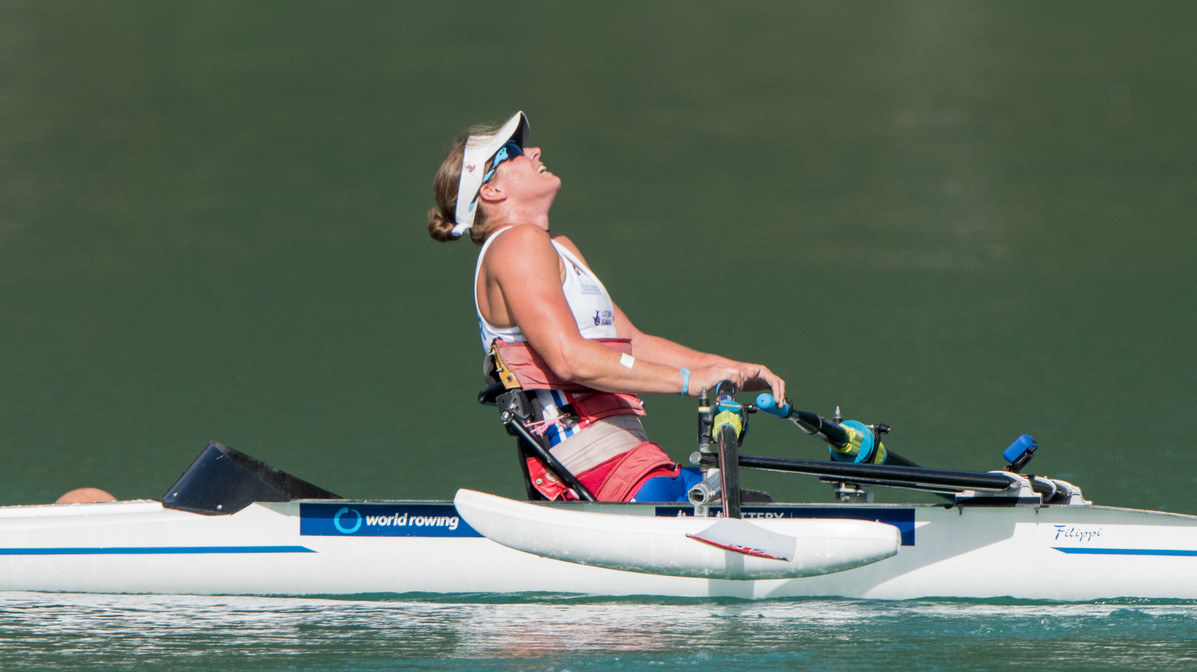 The arms-only single sculler, who won silver at the 2015 Worlds, came home in a fast time. Her performance came in the teeth of conditions that were on the cusp of rowable.
"Rachel was really exceptional today and raced superbly. She probably had the worst of the conditions, too", said the GB Rowing Team lead para-rowing coach, Tom Dyson.
Morris transferred from hand-cycling to rowing as recently as late 2013, having won Paralympic gold at Beijing 2008 in her previous sport.
Today she topped a list which saw Laurence Whiteley, of Northallerton, from the 2015 Worlds silver medal trunk-arms double scull on a calculation based on the gold medal time in Rio. HIs double scull partner, Lauren Rowles, still only 17 and a recent convert from wheelchair track racing, was fourth.
Grace Clough, from Sheffield, and Aylesbury's Pam Relph, World Champions in the mixed coxed four in France in September, teamed up in a women's pair and put in a an eye-catching performance to take third slot on the rankings.
"That was one of the strongest LTA [legs, trunks, arms category] performances we have ever seen from a women's pair", said Dyson. "They were very quick". Relph is also a reigning Paralympic Champion.
Tricky weather conditions meant that the assessment was truncated from the originally planned 2km time trial to a 1km course instead.
Six of GB's top contenders were also unable to trial because of illness earlier this week in the squad – Tom Aggar, James Fox, Dan Brown, Scott Meenagh, Jordan Beecher and Sam Murray were all ruled out on medical grounds.
TOP FOUR FINISHERS
Rachel Morris
Laurence Whiteley
Grace Glough and Pam Relph
Lauren Rowles
SCROLL DOWN FOR MORE
===================================================================
GB ROWING TEAM MEDALLISTS – 2015 WORLD CHAMPIONSHIPS PARA-ROWING EVENTS
GOLD
PARA-ROWING
MIXED
Coxed four (LTA 4+)
Grace Clough (Nottingham RC/Sheffield/21.06.91)
Daniel Brown (Upper Thames BC/Reading/29.11.82)
Pamela Relph (Leander Club/Aylesbury/14.11.89)
James Fox (Univ of London/Peterborough/02.05.92)
Oliver James (cox) (Leander Club/Henley-on-Thames/05.01.90)
Coach: Tom Dyson
SILVER
Trunk/-arms double scull (TA2x)
Laurence Whiteley (Tees RC/Northallerton/29.08.91)
Lauren Rowles (Marlow RC/Birmingham/ 24.04.98)
Coach: Nick Baker
MEN
Arms/-shoulders single scull (ASM 1x)
Tom Aggar (Marlow RC/Maidenhead/24.05.84)
Coach: Nick Baker
WOMEN
Arms/-shoulders single scull (ASW 1x)
Rachel Morris (Guildford RC/Farnham/25.04.79)
Coach: Tom Dyson
SCROLL DOWN FOR MORE
===================================================================
CONTACT DETAILS
For background information about the The GB Rowing Team contact the Press office via [email protected] or 07831 755351
For picture requests please contact:  [email protected]
GB Rowing Team website, including full rower biogs: www.gbrowingteam.org.uk
Follow us on:
Facebook: www.facebook.com/gbrowingteam
Twitter: www.twitter.com/gbrowingteam
Youtube: www.youtube.com/gbrowingteam