Nine boats into finals, six Rio quota places booked
Every GB Rowing Team boat that went to the semi-final start line today came away with a place in tomorrow or Saturday's finals and six of them won Rio Games quota places.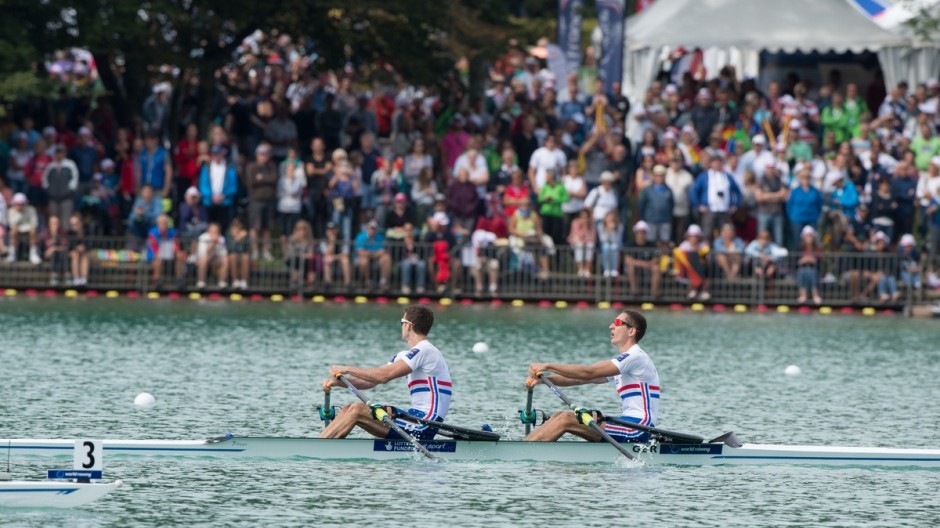 On a sparkling morning for the GB squad, Olympic Champions Helen Glover and Heather Stanning, in the women's pair, were amongst a spate of semi-final winners which included their male counterparts James Foad and Matt Langridge and the lightweight men's double scull of Will Fletcher and Richard Chambers.
Glover said: "It was a good solid race today and we got on with the job. The final is coming at the right time, we are ready for it.".
Stanning added: "I am pleased with today's race, it was the race we expected to have and it's a nice reward from the semi final to qualify the boat for Rio. The next race is the one that counts, it's the final race of the season, and we're really looking forward to it".
The men's and women's pair, the men's quad and four and the lightweight men's and women's double scull boats all booked Rio places.
Today's GB wins were backed by two second places for the men's four of Alan Sinclair, Scott Durant, Tom Ransley and Stewart Innes as well as for Olympic Champion Kat Copeland and Charlotte Taylor in the lightweight women's double scull.
Taylor said: "Job no.1 was to get the boat qualified. New Zealand and Germany are fast starters and we stayed in the mix with them. From my seat I needed to keep my eyes on the rest of the field to make sure we didn't miss out".
Graeme Thomas, Sam Townsend, Charles Cousins and Pete Lambert showed they are battling back to form by taking the third qualifying slot in their men's quadruple scull semi after a disrupted season for the 2014 World silver medallists.
Cousins said: "We had a less than ideal first 1km and then go onto a rhythm in the second half which took us back through the crews.
"There is all to play for in the final. Some big names have missed out so there is not a stand-out winner. So there is no reason why we can't up our game to be in there".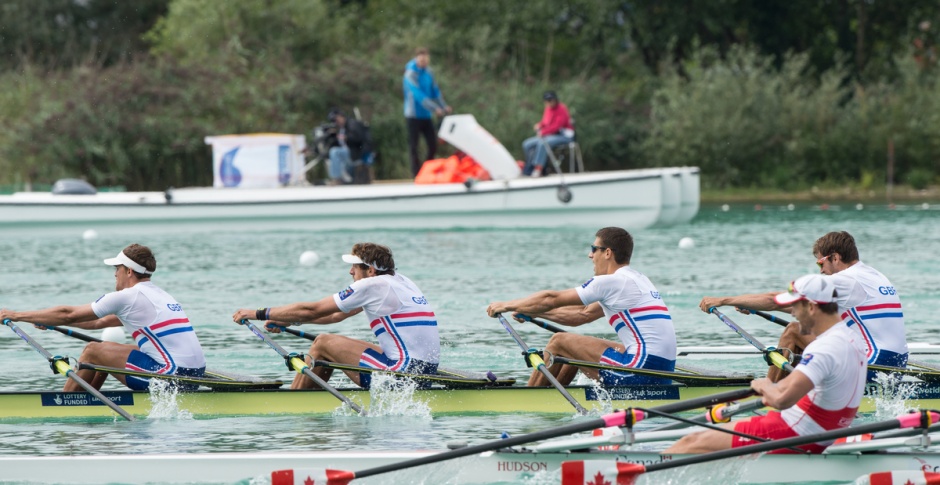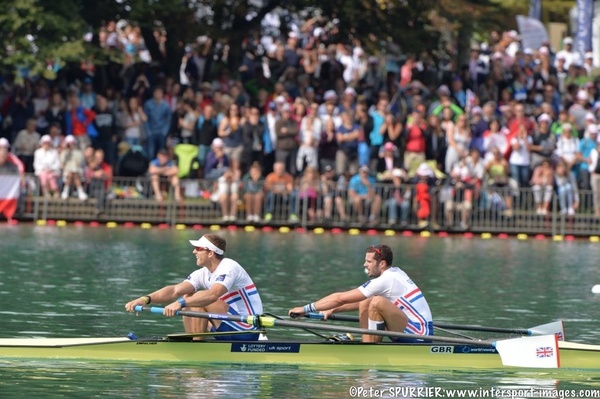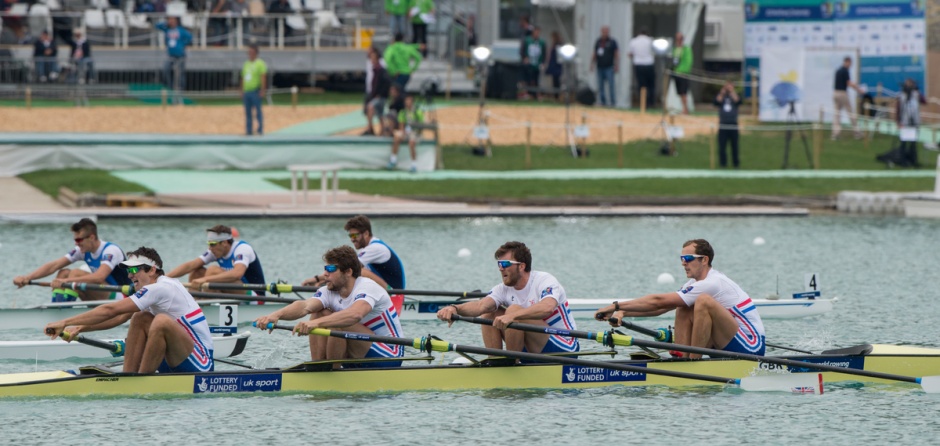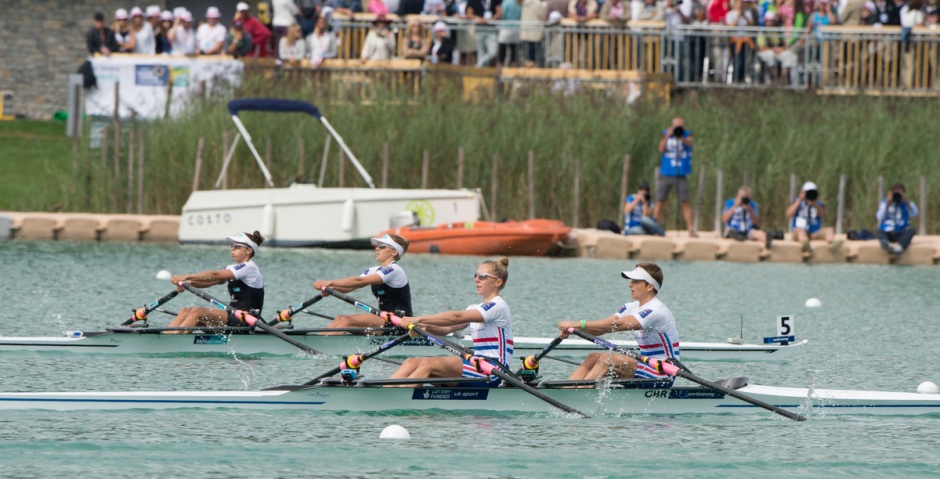 The men's quad's progress brought the number of GB Rio-qualified boats up to six from the morning's session. Their sculling team-mates John Collins and Jonny Walton also made sure of progressing to the semi-final stage with third place in the morning's quarter-finals.
Collins said: "Watching everyone doing so well before we raced was such a confidence boost. It definitely settled the nerves".
Walton said: "I think today was all about being confident in what we were doing and staying on top of it. I think we have reached a turning point where our mental as well as our physical strength helps us work well together".
Eye-catching performances in the International classes also came from Joel Cassells and Sam Scrimgeour, GB winners in the lightweight men's pair, and Jamie Kirkwood who was overtaken but came back to win the light single in an exciting finish.
European Champion Imogen Walsh made her progress safe by taking second place behind the USA.
This afternoon's racing includes finals for the para-rowing events in which GB has four boats – the two single scullers, the mixed double scull and four. Racing in those finals starts at 15.40 UK time.
SCROLL DOWN FOR MORE
=============================================================
RACE REPORTS
Helen Glover and Heather Stanning, the World, European and Olympic Champions, were drawn alongside Grace Prendergast and Kerri Gowler from New Zealand, former U23 World Champions and amongst the British pair's nearest challengers this year, in today's open women's pair semi-finals.
Glover and Stanning were neck and neck with the New Zealanders at 500m but then took an early opportunity to put some distance on the field so that at halfway they were a length up. New Zealand were second and Denmark and Poland were battling for third.
As the Kiwi and GB pairs detached themselves from the chasers, Glover and Stanning eked out another metre or two to put clearwater between them and the Antipodeans – a situation that prevailed to the line before which the Olympic Champions were able to wind down and arrive in 7:03.36 to New Zealand's 7:09.11. Denmark were third.
Felice Mueller and Eleanor Logan of the USA won the other semi-final in 7:07.64 in commanding
style from South Africa and Canada.
The men's pair of James Foad and Matt Langridge, World silver medalists in 2014 and already European Champions this season, had two good wins at heat and quarter-final stage to reach today's semi-finals. Theirs is an event which is currently dominated globally by the New Zealanders Eric Murray and Hamish Bond who won the first semi-final in 6:26.60.
In their semi the GB duo were in the mix off the start with the Dutch, Roel Braas and Mitchel Steenman, taking a marginal lead in the first 25 strokes. Australia – with Jack Hargreaves and Nicholas Wheatley – were showing well, too, as were Romania. It was going to be tight.
Around halfway Foad and Langridge moved into a slender lead with the Australians chasing and the Dutch in third. By 1500m gone the Southampton-Northwich combination had a length over the Australian World U23 silver medallists and kept it that way to win in 6:27.48 from Australia and then Holland.
Scott Durant, Alan Sinclair, Tom Ransley and Stewart Innes were positioned safely in a qualifying place, having been second or third behind the leading Italians, at halfway in the men's four semi.
With Olympic qualifying at stake for anyone who reached the final, the semi was going to be relentless. The four men from Lancaster, Inverness, Ashford and Henley on Thames respectively kept their heads and found the speed to overhaul Canada and take a qualifying place behind the winners Italy. Their efforts brought the additional reward of qualifying the boat for Rio.
GB Rowing Team men's four coach Christian Felkel said: "I am very happy with that. These things are always very tough and to go out and take second today was a testament to the guys.
"It's one of the best races they have done this season and don't discount us going into the final. Every day counts here and everyone has a chance".
With Canada and Germany making the early running, the GB men's quad of Graeme Thomas, Sam Townsend, Charles Cousins and Peter Lambert were locked into a battle for the third qualifying slot with New Zealand and Estonia early in today's semi. It was going to be tough for the GB crew who had not raced at all together this season until arrival here in France for the World Championships.
They had not been at their best – the kind of best that saw them win the World silver in 2014 and bronze the year before At the halfway point they seemed to raise their game but in the final 500m today, the New Zealand bow ball began to appear on the big screens in front of the GB boat for that vital third place.
The GB men dug in and battled stroke for stroke to overtake the Kiwis and then the Canadians and take third place behind the Germans and fast-finishing Estonians in 5:49.46.
Their semi-final was followed swiftly by a quarter-final featuring John Collins and Jonny Walton in the open men's double scull. France took an early lead and were tracked by the British and Danes – who were so close at the halfway mark that the timing mechanism could not separate them.
Norway, in fourth, were somewhat threatening at this point. Collins, from Twickenham, and Walton of Leicester, kept in the right place, kept their heads, maintained their boat speed and had what it took at the end to grab that all-important third qualifying slot for the semi-finals, behind the French winners in 6:16.34. Norway, the 2013 World Champions, came up quickly to secure second.
Earlier Will Fletcher and Richard Chambers, who have been racing as the GB Rowing Team lightweight men's double scull only since the beginning of this season, were the headline grabbers amongst the lightweights.
They took their semi by an early scruff of the neck and led at 500m – but only just from Norway. In the second quarter they looked smooth as they increased the lead to half a length. These two boats were out front with the USA and Germany the next challengers.
In the final 500m the GB boat held its form and moved out further to win in 6:15.21 from Norway in second with the Germans driving through to take the third qualifying spot from the USA on the line. The first semi-final had earlier been won by the title-favourites and home-nation stars Stany Delayer and Jeremie Azou.
Charlotte Taylor and Kat Copeland were next in action for GB in the lightweight women's double scull semi-final and were holding third through the first half in a tight field which was led by first Germany and then New Zealand, the World Champions. As the New Zealanders moved out away from the field, the GB duo strove to catch the Germans and keep the Americans at bay.
As the pressure mounted behind them, the Bedford-Tees duo responded perfectly to sprint to the line, catch the Germans and take second place in 6:59.52 to book their place in Saturday's finals. New Zealand first in 6:58.35 and Germany were third. The other semi-final was won by Canada in 6:57.02 to set up a potentially explosive final.
"We have been learning all season about ourselves and I think we are rowing the best we have done all summer here. We have confidence in what we are doing. The good thing about our event is that the results keep switching and changing. I am really excited about the final".
Joel Cassells and Sam Scrimgeour were leading the lightweight men's pair semi-final through halfway with Italy on their tails. Just past the 1km mark the GB combination picked up the pace and generated a length lead over Italy with Australia motoring up past the Czechs and into third. That was the way it stayed with GB coming home in 6:43.55, Italy in second and Australia third. The other semi was much tighter and won by France in 5:00.86.
Scrimgeour explained: "We set out to win and we did that. It puts us in a good position for tomorrow. It will be a hard fight, I think between the French and Italians and ourselves, it will make for good racing".
Jamie Kirkwood went off the start like a greyhound from a trap. His reward was to be a third of a length up a quarter of the way into the race. Behind him were Belgium and Hungary with New Zealand's Adam Ling also pressing.
As Ling emerged to take the lead, it was still a case that any one of five scullers could take one of the three qualifying places. Gabor Csepregi of Hungary also pressed Kirkwood hard and the German presented an ever-present danger. Did the Northumberland sculler have enough to hang on after his brave start? The answer was "yes". In one of the most dramatic finishes of racing to date here, Kirkwood not only hung on but came back on the leader to take the verdict at the line in 7:02.42 and move into the final tomorrow.
Imogen Walsh, the European Champion, was holding second through the early part of her lightweight single semi-final to America's Kathleen Bertko. These two boats had put a good margin over the rest of the field.
The Inverness sculler began to eat up the water between her and the leader in the third quarter of the race but Bertko rebutted the attack. Behind them Germany and Lithunania were in third and fourth but so far back that the top two scullers could settle into a relaxed rhythm to the line. The win went to the USA in 7:42.87 to 7:44.96 for GB in second. Judith Anlauf of Germany was third.
Walsh said: "I felt I rowed better than in the heat, I felt comfortable today. I'm excited for tomorrow and have something more to give for the final. We will all up the game".
SCROLL DOWN FOR MORE
=============================================================
RESULTS
OPEN
WOMEN
Pair – semi final 2
1. Helen Glover/Heather Stanning (GREAT BRITAIN) 07:06.36
2. Grace Prendergast/Kerri Gowler (New Zealand) 07:09.11
3. Hedvig Rasmussen/Anne Andersen (Denmark) 07:17.88
4. Anna Wierzbowska/Maria Wierzbowska (Poland) 7:22.14
5. Cristina Grigoras/Laure Oprea (Romania) 7:24.21
6. Alena Kryvasheyenka/Ina Nikulina (Belgium) 7:42.51
OPEN
MEN
Pair – semi-final 2
1. James Foad/Matt Langridge (GREAT BRITAIN) 6:27.48
2. Jack Hargreaves/Nicholas Wheatley (Australia) 6:30.12
3. Roel Braas/Mitchel Steenman (Netherlands) 6:30.32
4. Germain Chardin/Diorian Mortelette (France) 6:32.88
5. Cristi-Ilie Pirghie/George Palmariu (Romania) 6:43.68
6. Alexander Sigurbjonsson Benet/Paul Vela Maggi (Spain) 6:52.08
Four – semi final 1
1. Italy 5:50.92
2. Scott Durant/Alan Sinclair/Tom Ransley/Stewart Innes (GREAT BRITAIN) 5:52.52
3. Canada 5.54.03
4. Greece 5:57.88
5. Romania 5:59.66
6. Bulgaria 6:02.89
Double scull – quarter-final 4
1. Hugo Boucheron/Matthieu Androdias (France) 6:15.27
2. Jakob Nils Hoff/Kjetil Borch (Norway) 6:16.12
3. John Collins/Jonathon Walters (GREAT BRITAIN) 6:16.34
4. Frank Steffensen/Sophus Johannesen (Denmark) 6:17.41
5. Sten-Erik Anderson/Kaur Kuslap (Estonia) 6:29.92
6. Noe Guzman Del Castillo/Juan Garcia (Spain) 6:36.61
Quadruple scull – semi final 2
1. Germany 5:47.29
2. Estonia 5:49.27
3. Graeme Thomas/Sam Townsend/Charles Cousins/Peter Lambert (GREAT
BRITAIN) 5:49.46
4. New Zealand 5:49.66
5. Canada 5:49.99
6. Poland 5:50.39
LIGHTWEIGHT
WOMEN
Single scull – semi-final 2
1. Kathleen Bertko (USA) 7:42.87
2. Imogen Walsh (GREAT BRITAIN) 7:44.96
3. Judith Anlauf (Germany) 7;52.43
4. Kenia Lechuga Alanis (Mexico) 7:54.14
5. Sonata Pertrikaite (Lithuania) 7:58.06
6. Stefanie Borzacchini (Italy) 8:03.27
Double scull – semi-final 1
1. Sophie Mackenzie/Julia Edward (New Zealand) 6:58.35
2. Charlotte Taylor/Katherine Copeland (GREAT BRITAIN) 6:59.52
3. Fini Sturm/Marie-Louise Draeger (Germany) 7:00.09
4. Alena Shatagina/Anastasia Ianina (Russia) 7:00.80
5. Devery Karz/Michelle Sechser (USA) 7:02.44
6. Cecilia Lilja/Emma Fredh (Sweden) 7:02.61
MEN
Pair – semi final 1
1. Joel Cassells/Sam Scrimgouer (GREAT BRITAIN) 6:43.55
2. Petru Zaharia/Armando Dell'aquila (Italy) 6:46.22
3. Nicholas Silcox/Darryn Purcell (Australia) 6:47.58
4. Jan Hajek/Michael Humpolec (Czech Republic) 6:50.59
5. Mark O'Donovan/Shane O'Driscoll (Ireland) 6:53.82
6.Jiahao Li/Mingyang Liang (China) 6:54.15
Single scull – semi final 1
1. Jamie Kirkwood (GREAT BRITAIN) 7:02.42
2. Konstantin Steinhuebel (Germany) 7:02.44
3. Adam Ling (New Zealand) 7:02.50
4. Gabor Csepregi (Hungary) 7:03.37
5. Tim Brys (Belgium) 7:08.34
6. Jerzy Kowalski (Poland) 7:11.61
Double scull – semi final 2
1. William Fletcher/Richard Chambers (GREAT BRITAIN) 6:15.21
2. Kristoffer Brun/Are Strandli (Norway) 6:16.71
3. Moritz Moos/Jason Osbourne (Germany) 6:17.98
4. Andrew Campbell Jr/Joshua Konieczny (USA) 6:18.76
5. Paul O'Donovan/Gary O'Donovan (Ireland) 6:23.83
6. Paul Sieber/Bernhard Sieber (Austria) 6.38.30
SCROLL DOWN FOR MORE
=============================================================
CREW LISTS
(bow to stroke plus cox, name, club, hometown)
OPEN
WOMEN
Pair
Helen Glover (Minerva Bath RC/Penzance/17.06.86)
Heather Stanning (Army RC/Lossiemouth/26.01.85)
Coach: Robin Williams
Four
Rebecca Chin (Agecroft RC/Deganwy/11.12.91)/
Karen Bennett (Leander Club/Edinburgh/05.02.89)
Lucinda Gooderham (Leander Club/Garboldisham/09.06.84)
Holly Norton (Leander Club/Johannesburg, SA/01.01.93)
Coach: Jane Hall
Eight
Katie Greves (Leander Club/Oxford/02.09.82)
Louise Reeve (Leander Club/London/16.05.84)
Jessica Eddie (London RC/Durham/07.10.84)
Donna Etiebet (Sport Imperial/London/29.04.86)
Victoria Meyer-Laker (Leander Club/Premnay/18.03.88)
Olivia Carnegie-Brown (Oxford Brookes Univ BC/Oxford/28.03.91)
Rosamund Bradbury (Leander Club/Banstead/17.12.88)
Zoe Lee (Imperial College BC/Richmond/15.12.85)
Zoe de Toledo (Cox) (Leander Club/London/17.07.87)
Coach: James Harris
Double scull
Katherine Grainger (St Andrew BC/Glasgow/12.11.75)
Victoria Thornley (Leander Club/Wrexham/30.11.87)
Coach: Paul Thompson
Quadruple Scull
Frances Houghton (Univ of London Tyrian Club/Oxford/19.9.80)
Jessica Leyden (Leander Club/Todmorden/22.02.95)
KrisTina Stiller (Tees RC/Yarm/23.06.87)
Melanie Wilson (Imperial College BC/London/25.06.84)
Coach: Nick Strange
Sculling Spare
Beth Rodford (Gloucester RC/Gloucester/28.12.82)
OPEN
MEN
Pair
James Foad (Molesey BC/Southampton/20.03.87)
Matt Langridge (Leander Club/Northwich/20.05.83)
Coach: Rob Dauncey
Coxed Pair
Nathaniel Reilly O'Donnell (Univ of London BC/Durham/13.04.88)
Matthew Tarrant (Oxford Brookes Univ BC/Shepperton/11.07.90)
Henry Fieldman (cox) (Molesey BC/Barnes/25.11.88)
Coach: John West
Four
Scott Durant (Oxford Brookes Univ BC/Lancaster/12.02.88)
Alan Sinclair (Leander Club/Munlochy/16.10.85)
Tom Ransley (Leander Club/Ashford/06.09.85)
Stewart Innes (Leander Club/Henley-on-Thames/25.05.91)
Coach: Christian Felkel
Eight
Matt Gotrel (Leander Club/Chipping Campden/01.03.89)
Constantine Louloudis (OUBC/London/15.09.91)
Pete Reed (Leander Club/Nailsworth/27.07.81)
Paul Bennett (Univ of London BC/Leeds/16.12.88)
Mohamed Sbihi (Molesey BC/Surbiton/27.03.88)
Alex Gregory (Leander Club/Wormington/11.03.84)
George Nash (Molesey BC/Guildford/02.10.89)
Will Satch (Leander Club/Henley-on-Thames/09.06.89)
Phelan Hill (cox) (Leander Club/Bedford/21.07.79)
Coach: Jurgen Grobler
Sweep Spares:
Oliver Cook (Univ of London BC/Windsor/05.06.90)
Callum McBrierty (Leander Club/Edinburgh/13.08.92)
Single Scull
Alan Campbell (Tideway Scullers School/Coleraine/09.05.83)
Coach: John West
Double Scull
John Collins (Leander Club/Twickenham/24.01.89)
Jonny Walton (Leander Club/Leicester/06.10.90)
Coach: Mark Banks
Quadruple Scull
Graeme Thomas (Agecroft RC/Preston/08.11.88)
Sam Townsend (Reading Univ BC/Reading/26.11.85)
Charles Cousins (Leander Club/Willingham, Cambs, 13.12.88)
Peter Lambert (Leander Club/Maidenhead/03.12.86)
Coach: Paul Stannard
Sculling Spare:
Angus Groom (Leander Club/Glasgow/16.06.92)
LIGHTWEIGHT
WOMEN
Single scull
Imogen Walsh (London RC/Inverness/17.01.84)
Coach: Paul Reedy
Double Scull
Charlotte Taylor (Putney Town RC/Bedford/14.08.85)
Kat Copeland (Tees RC/Ingleby Barwick/01.12.90)
Coach: Paul Reedy
Quadruple Scull
Brianna Stubbs (Wallingford RC/Poole/13.07.91)
Ruth Walzcak (Molesey BC/Rochdale/15.09.88)
Emily Craig (Univ of London BC/Mark Cross/30.11.92)
Eleanor Piggott (Wallingford RC/Bedford/16.05.91)
Coach: Ben Reed
LIGHTWEIGHT
MEN
Pair
Joel Cassells (Oxford Brookes Univ BC/Coleraine/15.06.94)
Sam Scrimgeour (Imperial College BC/Kirriemuir/28.01.88)
Coach: Rob Morgan
Four
Jono Clegg (Leander Club/Maidenhead/14.07.89)
Peter Chambers (Oxford Brookes Univ BC/Coleraine/14.03.90)
Mark Aldred (London RC/Birmingham/18.04.87)
Chris Bartley (Leander Club/Chester/02.02.84)
Coach: Darren Whiter
Single Scull
Jamie Kirkwood (Leander Club/Cresswell/30.08.89)
Coach: Rob Morgan
Double Scull
Will Fletcher (Leander Club/Chester-le-Street/24.12.89)
Richard Chambers (Leander Club/Coleraine/10.06.85)
Coach: Darren Whiter
Quadruple scull
Jamie Copus (Oxford Brookes Univ/BC/Watlington/30.01.93)
Steve Parsonage (Norwich RC/Norwich/16.01.96)
Sam Mottram (Leander Club/Stoke Mandeville/14.11.94)
Zak Lee Green (Agecroft RC/Cardiff/05.02.91)
Coach: Hamish Burrell
PARA-ROWING
MIXED
Coxed four (LTA 4+)
Grace Clough (Nottingham RC/Sheffield/21.06.91)
Daniel Brown (Upper Thames BC/Reading/29.11.82)
Pamela Relph (Leander Club/Aylesbury/14.11.89)
James Fox (Univ of London/Peterborough/02.05.92)
Oliver James (cox) (Leander Club/Henley-on-Thames/05.01.90)
Coach: Tom Dyson
Trunk/-arms double scull (TA2x)
Laurence Whiteley (Tees RC/Northallerton/29.08.91)
Lauren Rowles (Marlow RC/Birmingham/ 24.04.98)
Coach: Nick Baker
MEN
Arms/-shoulders single scull (ASM 1x)
Tom Aggar (Marlow RC/Maidenhead/24.05.84)
Coach: Nick Baker
WOMEN
Arms/-shoulders single scull (ASW 1x)
Rachel Morris (Guildford RC/Farnham/25.04.79)
Coach: Tom Dyson
SCROLL DOWN FOR MORE
====================================================================
OUTLINE TIMETABLE
(all times CET, the UK is one hour behind, key to boat classes is at foot of this section. NB – all times provisional, rowing is an outdoor sport. Please follow www.worldrowing.com for up-to-date schedules).
Thursday 3 September
12.11 – 12.46
Quarter-finals of the: W2x, M2x
16.08 – 17.25
B and A FINALS of the: ASW1x, ASM1x, TAMix2x, LTAMix4+
Friday 4 September
09.41 – 10.16
B Finals of the: M2+, LM2-, LM1x, LW1x, LM4x, LW4x
10.23 – 11.40
Semi-finals of the: W2x, M2x, LM4-, M1x, W1x, M8+
11.50 – 13.36
A FINALS of the: W4-, M2+, LM2-, LM1x, LW1x, LM4x, LW4x
Saturday 5 September
12.00 – 13.00
B Finals of the: W2-, M2-, LM2x, LW2x, M4-, W4x, M4x
13.15 – 14.45
A FINALS of the: W2-, M2-, LM2x, LW2x, M4-, W4x, M4x
Sunday 6 September
12.00 – 13:00
B Finals of the: W2x, M2x, LM4-, W8+, M1x, W1x, M8+
13.15 – 14.45
A FINALS of the: W2x, M2x, LM4-, W8+, M1x, W1x, M8+
Key:
M1x, M2x, M4x – men's single, double and quadruple sculls
M2-, M4-, M8+ – men's pair, four and eight
W1x, W2x, W4x – women's single, double and quadruple sculls
W2-, W4-, W8+ – women's pair, four and eight
LM1x, LM2x, LM4x – lightweight men's single, double and quadruple sculls
LM2-, LM4-, LM8+ – lightweight men's pair, four and eight
LW1x, LW2x, LW4x – lightweight women's single, double and quadruple sculls
ASW1x, ASM1x – arms-shoulders women's and men's single scull (para-rowing)
TAMix2x – Trunk-arms mixed double scull (para-rowing)
LTAMix4+ – Legs-trunks-arms mixed coxed four