Morris wins semi 18 weeks after shoulder surgery
18 weeks after under-going shoulder surgery Rachel Morris led a GB Rowing Team charge into the World finals in France today as three more boats qualified for Rio quota places.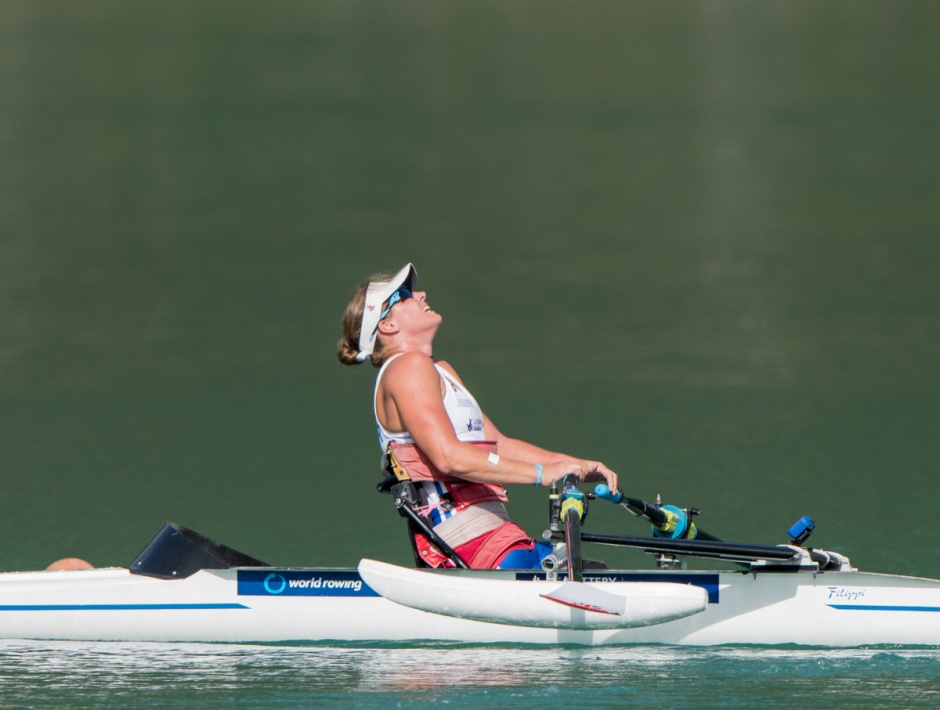 18 weeks after under-going shoulder surgery Rachel Morris led a GB Rowing Team charge into the World finals in France today as three more boats qualified for Rio quota places.
The GB Rowing Team built on the morning's Olympic and international class successful repechage and quarter-final performances to qualify the boats via two semi-finals wins, including one from Morris, and a third place.
Morris, until three years ago a para-cycling exponent, was first in action and showed a huge turn of speed and power to win her arms-shoulders singe scull semi-final in 5:25.06. At the line she had a margin of over three seconds on Norway's Birgit Skarstein in second with Italy's Eleonara De Paolis in third.
"I am really pleased with that. 18 weeks ago I had shoulder surgery so the aim here has always been to qualify the boat of the Games. I haven't let myself think at all about the final as I din't know what I could do in a race setting. It is brilliant to get into the final and for all the other boats to be there too. A full house!".
Morris was followed by Tom Aggar, an early-adopter of Paralympic rowing – Games sport since 2008 – who has multiple World titles and a Paralympic gold from those Beijing Games – already to his name in the equivalent men's category.
Aggar was drawn alongside the man who beat him in the 2014 World final, Erik Horrie of Australia. Both, though, were left in the wake of Rene Pereira of Brazil in the opening 300m before Horrie moved into the lead with Pereira second and Igor Bondar of the Ukraine in third.
With only three spots available for the final, the pressure was on Aggar to produce a good second half. Pereira paid for his early pace and was overtaken by Bondar, eventually second to Horrie. Aggar gritted his teeth, dug in and hauled himself stroke by stroke past the Brazilian to snatch the all important final qualifying place.
"Erik has been putting in some fast times all year and he's quick here. I knew it would be hard to overturn him. I'm pleased to have qualified for Rio and I'm looking forward to the final and I'm in good shape", said Aggar.
The mixed coxed four produced the finale of the day by blazing out a win in 3:22.89 from Italy in second and the Ukraine in third. Grace Clough, Dan Brown, Pamela Relph, James Fox and cox Oliver James got their noses in front within 150m and added to that lead all the way down the course to win by almost six seconds.
Cox James said: "I told them to keep rowing away and put as much distance as we could over the others in the first 500m".
Brown said: "We can take confidence from that. We were quick off the start and kept the pace up in the second half".
Clough said: "You never know what is going to happen at a World Championships. It is the qualifying regatta too. Anyone can do anything. I think today we showed that we train hard every day and we showed everyone exactly what can be done with that training".
Paralympic Champion Relph explained that, despite the World title and the wins earlier this season, the four is not complacent: "We always come into a competition thinking people will turn up and challenge us but we have experience and can fall back on it. We are looking forward to tomorrow to see what we can do".
All three boats now join Laurence Whiteley and Lauren Rowles who qualified into the mixed double scull final yesterday by way of winning their repechage.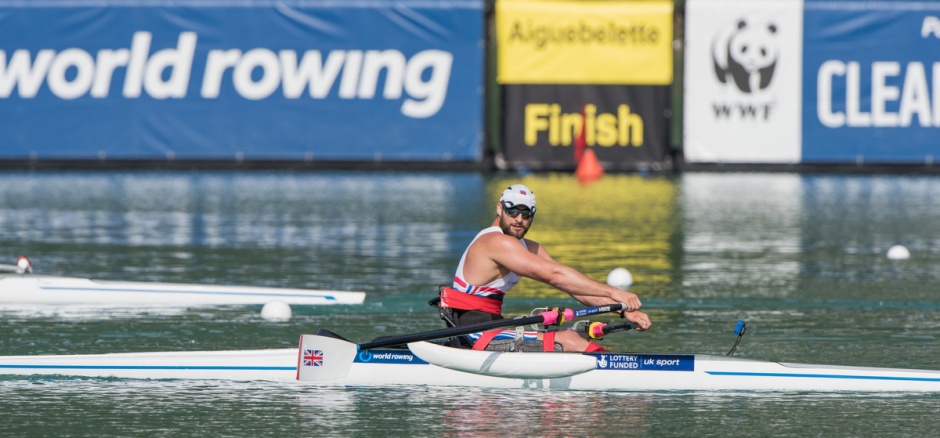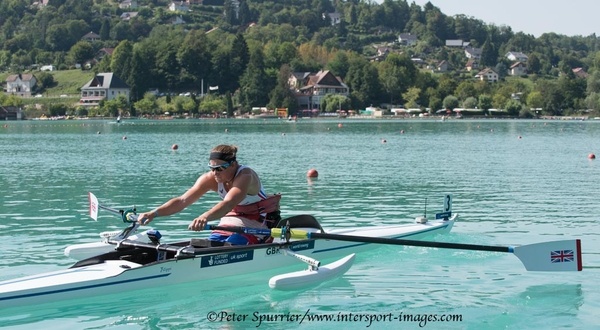 SCROLL DOWN FOR MORE
========================================================
RESULTS
PARA-ROWING
WOMEN
Single scull – semi-final 1
1. Rachel Morris (GREAT BRITAIN)
2. Birgit Skarstein (Norway) 5:28.81
3. Eleonora De Paolis (Italy) 5;48.150
4. Sandra Khumalo (South Africa) 5;58.35
5. Kim Seojong (Korea) 6:01.06
6. Kirsztina Lorincz (Hungary) 6:35.36
MEN
Single scull
Semi-final 1
1. Erik Horrie (Australia) 4;41.37
2. Igor Bondar (Ukraine) 4:48.58
3. Tom Aggar (GREAT BRITAIN) 4:51.67
4. Rene Pereira (Brazil) 4:55.08
5. Carlos Vysocki (Argentina) 5:09.77
6. Jaroslaw Kailing (Poland) 5:13.67
MIXED
Coxed four- Semi-final 1
1. Grace Clough/Dan Brown/Pamela Relph/James Fox/Oliver James (GREAT BRITAIN) 3:22.89
2. Italy 3:28.83
3. Ukraine 3:29.79
4. Brazil 3:30.81
5. France 3:31.31
6. Israel 3:51.16
SCROLL DOWN FOR MORE
=============================================================
CREW LISTS
(bow to stroke plus cox, name, club, hometown)
OPEN
WOMEN
Pair
Helen Glover (Minerva Bath RC/Penzance/17.06.86)
Heather Stanning (Army RC/Lossiemouth/26.01.85)
Coach: Robin Williams
Four
Rebecca Chin (Agecroft RC/Deganwy/11.12.91)/
Karen Bennett (Leander Club/Edinburgh/05.02.89)
Lucinda Gooderham (Leander Club/Garboldisham/09.06.84)
Holly Norton (Leander Club/Johannesburg, SA/01.01.93)
Coach: Jane Hall
Eight
Katie Greves (Leander Club/Oxford/02.09.82)
Louise Reeve (Leander Club/London/16.05.84)
Jessica Eddie (London RC/Durham/07.10.84)
Donna Etiebet (Sport Imperial/London/29.04.86)
Victoria Meyer-Laker (Leander Club/Premnay/18.03.88)
Olivia Carnegie-Brown (Oxford Brookes Univ BC/Oxford/28.03.91)
Rosamund Bradbury (Leander Club/Banstead/17.12.88)
Zoe Lee (Imperial College BC/Richmond/15.12.85)
Zoe de Toledo (Cox) (Leander Club/London/17.07.87)
Coach: James Harris
Double scull
Katherine Grainger (St Andrew BC/Glasgow/12.11.75)
Victoria Thornley (Leander Club/Wrexham/30.11.87)
Coach: Paul Thompson
Quadruple Scull
Frances Houghton (Univ of London Tyrian Club/Oxford/19.9.80)
Jessica Leyden (Leander Club/Todmorden/22.02.95)
KrisTina Stiller (Tees RC/Yarm/23.06.87)
Melanie Wilson (Imperial College BC/London/25.06.84)
Coach: Nick Strange
Sculling Spare
Beth Rodford (Gloucester RC/Gloucester/28.12.82)
OPEN
MEN
Pair
James Foad (Molesey BC/Southampton/20.03.87)
Matt Langridge (Leander Club/Northwich/20.05.83)
Coach: Rob Dauncey
Coxed Pair
Nathaniel Reilly O'Donnell (Univ of London BC/Durham/13.04.88)
Matthew Tarrant (Oxford Brookes Univ BC/Shepperton/11.07.90)
Henry Fieldman (cox) (Molesey BC/Barnes/25.11.88)
Coach: John West
Four
Scott Durant (Oxford Brookes Univ BC/Lancaster/12.02.88)
Alan Sinclair (Leander Club/Munlochy/16.10.85)
Tom Ransley (Leander Club/Ashford/06.09.85)
Stewart Innes (Leander Club/Henley-on-Thames/25.05.91)
Coach: Christian Felkel
Eight
Matt Gotrel (Leander Club/Chipping Campden/01.03.89)
Constantine Louloudis (OUBC/London/15.09.91)
Pete Reed (Leander Club/Nailsworth/27.07.81)
Paul Bennett (Univ of London BC/Leeds/16.12.88)
Mohamed Sbihi (Molesey BC/Surbiton/27.03.88)
Alex Gregory (Leander Club/Wormington/11.03.84)
George Nash (Molesey BC/Guildford/02.10.89)
Will Satch (Leander Club/Henley-on-Thames/09.06.89)
Phelan Hill (cox) (Leander Club/Bedford/21.07.79)
Coach: Jurgen Grobler
Sweep Spares:
Oliver Cook (Univ of London BC/Windsor/05.06.90)
Callum McBrierty (Leander Club/Edinburgh/13.08.92)
Single Scull
Alan Campbell (Tideway Scullers School/Coleraine/09.05.83)
Coach: John West
Double Scull
John Collins (Leander Club/Twickenham/24.01.89)
Jonny Walton (Leander Club/Leicester/06.10.90)
Coach: Mark Banks
Quadruple Scull
Graeme Thomas (Agecroft RC/Preston/08.11.88)
Sam Townsend (Reading Univ BC/Reading/26.11.85)
Charles Cousins (Leander Club/Willingham, Cambs, 13.12.88)
Peter Lambert (Leander Club/Maidenhead/03.12.86)
Coach: Paul Stannard
Sculling Spare:
Angus Groom (Leander Club/Glasgow/16.06.92)
LIGHTWEIGHT
WOMEN
Single scull
Imogen Walsh (London RC/Inverness/17.01.84)
Coach: Paul Reedy
Double Scull
Charlotte Taylor (Putney Town RC/Bedford/14.08.85)
Kat Copeland (Tees RC/Ingleby Barwick/01.12.90)
Coach: Paul Reedy
Quadruple Scull
Brianna Stubbs (Wallingford RC/Poole/13.07.91)
Ruth Walzcak (Molesey BC/Rochdale/15.09.88)
Emily Craig (Univ of London BC/Mark Cross/30.11.92)
Eleanor Piggott (Wallingford RC/Bedford/16.05.91)
Coach: Ben Reed
LIGHTWEIGHT
MEN
Pair
Joel Cassells (Oxford Brookes Univ BC/Coleraine/15.06.94)
Sam Scrimgeour (Imperial College BC/Kirriemuir/28.01.88)
Coach: Rob Morgan
Four
Jono Clegg (Leander Club/Maidenhead/14.07.89)
Peter Chambers (Oxford Brookes Univ BC/Coleraine/14.03.90)
Mark Aldred (London RC/Birmingham/18.04.87)
Chris Bartley (Leander Club/Chester/02.02.84)
Coach: Darren Whiter
Single Scull
Jamie Kirkwood (Leander Club/Cresswell/30.08.89)
Coach: Rob Morgan
Double Scull
Will Fletcher (Leander Club/Chester-le-Street/24.12.89)
Richard Chambers (Leander Club/Coleraine/10.06.85)
Coach: Darren Whiter
Quadruple scull
Jamie Copus (Oxford Brookes Univ/BC/Watlington/30.01.93)
Steve Parsonage (Norwich RC/Norwich/16.01.96)
Sam Mottram (Leander Club/Stoke Mandeville/14.11.94)
Zak Lee Green (Agecroft RC/Cardiff/05.02.91)
Coach: Hamish Burrell
PARA-ROWING
MIXED
Coxed four (LTA 4+)
Grace Clough (Nottingham RC/Sheffield/21.06.91)
Daniel Brown (Upper Thames BC/Reading/29.11.82)
Pamela Relph (Leander Club/Aylesbury/14.11.89)
James Fox (Univ of London/Peterborough/02.05.92)
Oliver James (cox) (Leander Club/Henley-on-Thames/05.01.90)
Coach: Tom Dyson
Trunk/-arms double scull (TA2x)
Laurence Whiteley (Tees RC/Northallerton/29.08.91)
Lauren Rowles (Marlow RC/Birmingham/ 24.04.98)
Coach: Nick Baker
MEN
Arms/-shoulders single scull (ASM 1x)
Tom Aggar (Marlow RC/Maidenhead/24.05.84)
Coach: Nick Baker
WOMEN
Arms/-shoulders single scull (ASW 1x)
Rachel Morris (Guildford RC/Farnham/25.04.79)
Coach: Tom Dyson
SCROLL DOWN FOR MORE
====================================================================
OUTLINE TIMETABLE
(all times CET, the UK is one hour behind, key to boat classes is at foot of this section. NB – all times provisional, rowing is an outdoor sport. Please follow www.worldrowing.com for up-to-date schedules).
Thursday 3 September
10.14 – 11.59
Semi-finals of the: LM2-, LM1x, LW1x, W2-, M2-, LM2x, LW2x, M4-, M4x
12.11 – 12.46
Quarter-finals of the: W2x, M2x
16.08 – 17.25
B and A FINALS of the: ASW1x, ASM1x, TAMix2x, LTAMix4+
Friday 4 September
09.41 – 10.16
B Finals of the: M2+, LM2-, LM1x, LW1x, LM4x, LW4x
10.23 – 11.40
Semi-finals of the: W2x, M2x, LM4-, M1x, W1x, M8+
11.50 – 13.36
A FINALS of the: W4-, M2+, LM2-, LM1x, LW1x, LM4x, LW4x
Saturday 5 September
12.00 – 13.00
B Finals of the: W2-, M2-, LM2x, LW2x, M4-, W4x, M4x
13.15 – 14.45
A FINALS of the: W2-, M2-, LM2x, LW2x, M4-, W4x, M4x
Sunday 6 September
12.00 – 13:00
B Finals of the: W2x, M2x, LM4-, W8+, M1x, W1x, M8+
13.15 – 14.45
A FINALS of the: W2x, M2x, LM4-, W8+, M1x, W1x, M8+
Key:
M1x, M2x, M4x – men's single, double and quadruple sculls
M2-, M4-, M8+ – men's pair, four and eight
W1x, W2x, W4x – women's single, double and quadruple sculls
W2-, W4-, W8+ – women's pair, four and eight
LM1x, LM2x, LM4x – lightweight men's single, double and quadruple sculls
LM2-, LM4-, LM8+ – lightweight men's pair, four and eight
LW1x, LW2x, LW4x – lightweight women's single, double and quadruple sculls
ASW1x, ASM1x – arms-shoulders women's and men's single scull (para-rowing)
TAMix2x – Trunk-arms mixed double scull (para-rowing)
LTAMix4+ – Legs-trunks-arms mixed coxed four
SCROLL DOWN FOR MORE
=============================================================
CONTACT DETAILS
For background information about the The GB Rowing Team contact the Press office via [email protected] or 07831 755351
For picture requests please contact: [email protected]
GB Rowing Team website, including full rower biogs: www.gbrowingteam.org.uk
Follow us on:
Facebook: www.facebook.com/gbrowingteam
Twitter: www.twitter.com/gbrowingteam
Youtube: www.youtube.com/gbrowingteam
========================================================