Cracking morning for GB Rowing Team at Worlds
The GB Rowing Team had a cracking morning at the World Championships with eight repechage or quarter-final wins from 10 starters.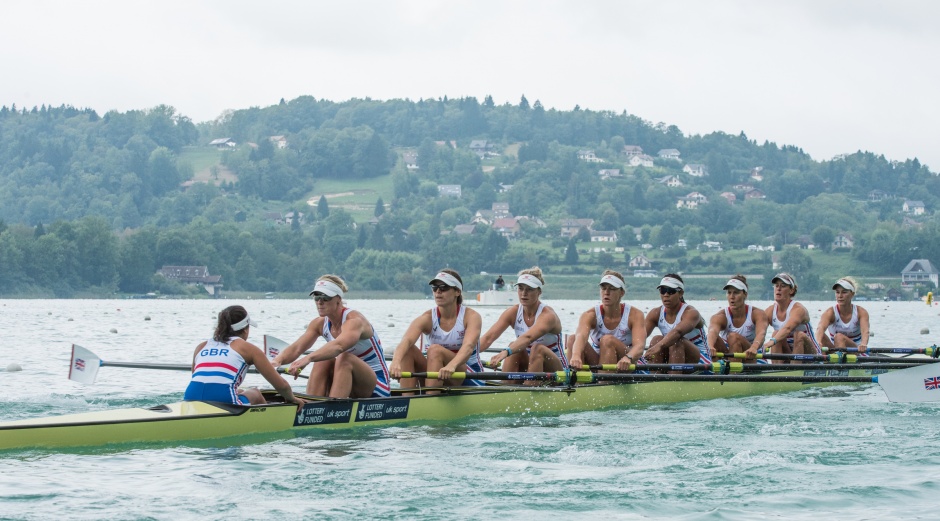 Five of the wins came from lightweight crews which means that Olympic Champion Katherine Copeland with Charlotte Taylor as well as Will Fletcher and Richard Chambers are safely through to semis alongside the light men's four of Jonno Clegg, Peter Chambers, Mark Aldred and Chris Bartley in the Olympic boat classes.
Katherine Grainger and Vicky Thornley got their World Championships campaign back on track by topping their repechage to qualify for Friday's semi-finals.
"We did exactly what we needed to do", said Thornley. "Looking at everyone's times it all going to be very tight so we need to step on in the semis".
The open men's pair of James Foad and Matt Langridge, European Champions, moved away from Italy to claim their quarter-final win.
Foad said: We're pleased with that. We went into it with a bit more fire in our bellies".
GB's women's eight gave the Russian attack a cold-shoulder in a red-hot finish to their repechage to qualify for Sunday's final.
Ro Bradbury from the crew said: "We were aware of where we were with the Russians but we were confident or our sprint to go through them".
By contrast the calmness of Alan Campbell's second placed progress into the semi-finals ran counter-intuitively to the otherwise ferocious morning of racing as Olympic places were secured or slipped out of reach for the world's best crews.
And disappointment came for the GB women's quadruple scull of Frances Houghton, Jess Leyden, Tina Stiller and Melanie Wilson who could missed out on a Rio place by just over a second, finishing third in their repechage in what was their best race of the season. With only five boats qualifying for Rio from here in this boat class, they needed to reach the final to keep their chances open.
"We have had a very good morning, no doubt about that", said Sir David Tanner, GB Rowing Team Performance Director, David Tanner. "The racing here has been absolutely brutal but it's given us the opportunity to step on as we head to the semi-finals with a chance to add to the final spots already won by our men's and women's eights in the Olympic categories".
GB's other wins of the morning session today came from the emerging lightweight men's quad and the lightweight single sculler, Jamie Kirkwood.
Racing this afternoon includes all-important semi-finals for the two para-rowing single scullers Tom Aggar and Rachel Morris as well as the para-rowing mixed coxed four of Grace Clough, Dan Brown, Pamela Relph, James Fox and cox Oliver James. A top three slot for any of these boats will mean a place for GB at the Paralympic Games in Rio next year.
SCROLL DOWN FOR MORE
=============================================================
RACE REPORTS
Frances Houghton, Jess Leyden, Tina Stiller and Melanie Wilson faced a big challenge in their repechage of the open women's quadruple scull today.
They needed to finish in the top two to qualify for the final here and keep their hopes of a Rio place for this boat alive, with only five Games slots available.
This crew did not 'fire' during the world cup season. Over the training camps they made good progress. Today they started modestly, trailing the more favoured USA and Poland with the latter leading to the 500m mark by about three-quarters of a length.
Poland increased their lead by the halfway point and GB moved up into third behind the USA. In the second half, the GB boat clawed back on the USA stroke by stroke and with 300m to go it looked as if the British crew might convert one of their best performances of the season into a qualifying slot only for the USA to find enough to hang on. Victory to Poland, second to the USA. GB in third in 6:28.46.
"That was the best race of the Olympiad for the GB Rowing Team in that boat category", said Chief Coach for Women and Lightweights, Paul Thompson. "Now the task is to win the B Final".
Katherine Grainger and Vicky Thornley moved back to where they want to be by qualifying in top spot for the semi-finals of the women's double scull from today's repechage.
After the heats the duo were clearly disappointed but aware of the strength of competition here in this event. Today they tracked the Belarusians though the first half and then moved with about 650m to go to take the lead and go on to win in 7:00.59.
The GB women's eight also needed a top two repechage place to book a place in Sunday's final. They were second to Russia in the first half of their repechage today but only by a sliver.
With cox Zoe Toledo urging on the crew of birthday girl Katie Greves plus Louisa Reeve, Jess Eddie, Donna Etiebet, Vicky Meyer-Laker, Olivia Carnegie-Brown, Rosamund Bradbury and Zoe Lee, the British overhauled the the Russians and then it was a case of holding fast. Which they did despite the intensity of pressure at the finish to win in 6:10.79.
Reeve said: "That was a step on from the heat. Personally, I think I could have been more focussed in the final sprint but now everyone will be in with a shout in the final. With only five qualifying places for Rio [from six boats] it feels like it will be very close. I am glad that we had a another chance to race and be in a close race today as that's what it will be like in the final".
James Foad and Matt Langridge, the European Champions, made a great start to their men's pair quarter-final today. Both are Olympic medallists and they know how to pace a race. Today they led the field through the first half with the Italians giving them a bit of close attention. Canada were in third.
After halfway the GB duo moved out further from Niccolo Mornati and Vincenzo Capelli and held onto their lead to win in 6:28.88 from Italy in second and Canada in third.
Foad said: "We are pleased with that. We went into it with a bit more fire in our belly today. We moved away in the third 500m and that felt good".
Alan Campbell moved up from third to second in the middle 1km of today's men's single scull quarter-final. Reigning World Champion Ondrej Synek was always the leader. But by the 1500m mark, Campbell was comfortable in second. A close battle for third went the way of Belarus.
Campbell said: "I'm very satisfied with that. Ondrej has obviously found his form again but my job now is to get in the top three of the semis and if I do that, I'll have hit the target. I need to concentrate on my now job".
The GB Rowing Team lightweight boats had earlier got Wednesday off to a cracking start with two first places in the lightweight men's single and quadruple scull followed, after the open men's pair by wins from both light doubles and the light men's four.
Will Fletcher and Richard Chambers, in the double, made sure they were part of that success. They got out to a good start in their quarter-final and although overtaken momentarily by Italy just before halfway hit back to lead in the third 500m . New Zealand were in third and were themselves challenged by Ireland.
As the crews moved towards the grandstands the the British had taken a clearwater lead and brooked no resistance to win in 6:23.35 from Italy in second. Ireland came through to beat New Zealand to third place.
"We're pleased with that", said Fletcher. "The Italians put up a good fight but we rowed through them in the middle of the race. The conditions were quite rough at the start today".
In the equivalent women's boat Charlotte Taylor and Olympic champion Kat Copeland were locked in an early-race, four-boat fight with Denmark, Australia and Sweden. Even the on-course commentators could not decide who was ahead at 500m. Denmark reached the halfway point first, closely followed by Sweden whilst Taylor and Copeland moved up into third.
In an exciting final 500m the GB duo sliced through the field stroke by stroke to emerge in front and win in 7:13.01 with Denmark second and Sweden third.
Jonno Clegg, Peter Chambers, Mark Aldred and Chris Bartley were happy with their heats performance which saw them give New Zealand a run for their money. In today's repechage they needed a top two spot to qualify for the semis.
Clegg said: "Winning is always good. We are learning with every race. It was always going to be tight today with Olympic qualifying spots at stake".
They started well, leading to the halfway before the Germans took a narrow lead. These two boats were well ahead with Canada straining to get back into contention. The GB quartet moved into a slight lead again as the race went past the boating area and they went on to win in 6:05.81. Canada surged past Germany to take the second qualifying slot in the dying metres of the race.
Jamie Kirkwood has had an unsettled year with injury. He raced in the lightweight men's four in Lucerne but is racing here in the single. In today's quarter-finals, racing in lane four, he was the early race leader with a flat-line field following him including Croatia, Tunisia, the USA and Algeria. At 500m gone he had almost two seconds over the chasers.
He developed on his length lead at halfway with Nicholas Trojan of the USA emerging as the nearest challenger but Kirkwood had enough in reserve and maintained the gap to win in 7:01.02 from the USA and Croatia respectively with the top three moving into Thursday's semi-finals
In the ensuing lightweight men's quadruple scull repechage, Jamie Copus, Steven Parsonage, Sam Mottram and Zak Lee Green paced their race well. They kept in close contention with Australia who led through the first 1400m before hitting the front and generating a storming finish to win in 5:59.02 and qualify for Friday's final. The USA came through to steal the second qualifying slot from Australia in third.
In a race for lanes which opened the programme and through which the lanes were decided for Friday's final, the women's four of Rebecca Chin, Karen Bennett, Lucinda Gooderham and Holly Norton opened the race programme under leaden skies with low clouds obscuring the mountains around.
In lane five, the GB combination were behind the Americans but ahead of the chasing pack in the early part of the race. With the USA storming ahead, the British remained in place and held off China and Germany through the 1500m mark.
SCROLL DOWN FOR MORE
=============================================================
RESULTS
OPEN
WOMEN
Eight
1. Katie Greves/Louisa Reeve/Jess Eddie/Donna Etiebet/Vicky Meyer-Laker/Olivia
Carnegie-Brown/Rosamund Bradbury/Zoe Lee/Zoe de Toledo (GREAT BRITAIN)
6:10.79
2. Russia 6:11.20
3. Romania 6:11.41
4. China 6:17.03
5. Australia 6:17.39
6. Germany 6:20.32
Double scull
1. Katherine Grainger/Vicky Thornley (GREAT BRITAIN) 7:00.59
2. Yuliya Bichyk/Ekaterina Karsten (Belarus) 7:02.18
3. Ekaterina Potapova/Maria Krasilnikova (Russia) 7:05.34
4. Viviana-Liulian Bejinariu/Iona Vrinceanu (Romania) 7:07.38
5. Laura Schiavone/Sara Magnaghi (Italy) 7:11.38
Quadruple scull – Rep 2
1. Poland 6:26.75
2. USA 6:27.28
3. Frances Houghton/Jessica Leyden/KrisTina Stiller/Melanie Wilson (GREAT BRITAIN)
6:28.46
4. France 6:38.97
MEN
Pair – quarter-final 3
1. James Foad/Matt Langridge (GREAT BRITAIN) 6:28.88
2. Niccolo Mornati/Vincenzo Capelli (Italy) 6:32.98
3. Michael Evans/Martin Barasko (Canada) 6:33.76
4. Dzmitry Furman/Dzianis Suravets (Belarus) 6:34.05
5. Diego Sanchez Sanchez/Leopoldo Tejada Rios (Mexico) 6:42.22
6. Oleg Lykov/Sergiy Chykanov (Ukraine) 6:53.08
Single scull – quarter-final 3
1. Ondrej Synek (Czech Republic) 6:55.80
2. Alan Campbell (GREAT BRITAIN) 6:57.62
3. Stanislau Shcharbachenia (Belarus) 6;59.85
4. Robert Ven (Finland) 7:00.21
5. LI Ganggang (China) 7:14.21
6. Quentin Antognelli (Monaco) &;22.94
LIGHTWEIGHT
WOMEN
Double scull – quarter-final 1
1. Charlotte Taylor/Katherine Copeland (GREAT BRITAIN) 7:13.01
2. Juliane Rasmussen/Anne Lolk Thomsen (Denmark) 7:14.15
3. Cecilia Lilja/Emma Fredh (Sweden) 7:14.46
4. Alice McNamara/Ella Flecker (Australia) 7:17.52
5. Ayami Oishi/Chiaki Tomita (Japan) 7:21.93
6. Lee Yuen Yin/Lee Ka Man (Hong Kong) 7:39.38
MEN
Single scull – quarter-final 4
1. Jamie Kirkwood (GREAT BRITAIN) 7:01.02
2. Nicholas Trojan (USA) 7:03.38
3. Luka Radonic (Croatia) 7:10.19
4. Sid Boudina (Algeria) 7:13.65
5. Roman Fedorenko (Ukraine) 7:16.29
6. Mohamed Taieb (Tunisia) 7:25.20
Double scull – quarter-final 2
1. William Fletcher/Richard Chambers (GREAT BRITAIN) 6:23.35
2. Andrea Micheletti/Pietro Ruta (Italy) 6;25.27
3. Paul & Gary O'Donovan (Ireland) 6:27.89
4. Hayden Cohen/Peter Taylor (NEW ZEALAND) 6:29.81
5. Pedro Fraga/Nuno Mendes (Portugal) 6:36.80
6. Rodolfo Collazo Tourn/Bruno Cetraro (URU) 7:00.92
Quadruple scull – Repechage
1. Jamie Copus/Steven Parsonage/Samuel Mottram/Zak Lee-Green (GREAT BRITAIN)
5;59.02
2. USA 5:59.96
3. Australia 6:00.23
4. Hungary 6:05.29
5. Russia 6:09.91
6. Hong Kong 6:17.77
RACE FOR LANES
OPEN
WOMEN
Four
1. USA 6:41.04
2. Rebecca Chin/Karen Bennett/Lucinda Gooderham/Holly Norton (GREAT BRITAIN)
6:45.41
3. China 6:49.91
4. Germany 6:51.47
5. Ireland 6:52.73
SCROLL DOWN FOR MORE
=============================================================
CREW LISTS
(bow to stroke plus cox, name, club, hometown)
OPEN
WOMEN
Pair
Helen Glover (Minerva Bath RC/Penzance/17.06.86)
Heather Stanning (Army RC/Lossiemouth/26.01.85)
Coach: Robin Williams
Four
Rebecca Chin (Agecroft RC/Deganwy/11.12.91)/
Karen Bennett (Leander Club/Edinburgh/05.02.89)
Lucinda Gooderham (Leander Club/Garboldisham/09.06.84)
Holly Norton (Leander Club/Johannesburg, SA/01.01.93)
Coach: Jane Hall
Eight
Katie Greves (Leander Club/Oxford/02.09.82)
Louise Reeve (Leander Club/London/16.05.84)
Jessica Eddie (London RC/Durham/07.10.84)
Donna Etiebet (Sport Imperial/London/29.04.86)
Victoria Meyer-Laker (Leander Club/Premnay/18.03.88)
Olivia Carnegie-Brown (Oxford Brookes Univ BC/Oxford/28.03.91)
Rosamund Bradbury (Leander Club/Banstead/17.12.88)
Zoe Lee (Imperial College BC/Richmond/15.12.85)
Zoe de Toledo (Cox) (Leander Club/London/17.07.87)
Coach: James Harris
Double scull
Katherine Grainger (St Andrew BC/Glasgow/12.11.75)
Victoria Thornley (Leander Club/Wrexham/30.11.87)
Coach: Paul Thompson
Quadruple Scull
Frances Houghton (Univ of London Tyrian Club/Oxford/19.9.80)
Jessica Leyden (Leander Club/Todmorden/22.02.95)
KrisTina Stiller (Tees RC/Yarm/23.06.87)
Melanie Wilson (Imperial College BC/London/25.06.84)
Coach: Nick Strange
Sculling Spare
Beth Rodford (Gloucester RC/Gloucester/28.12.82)
OPEN
MEN
Pair
James Foad (Molesey BC/Southampton/20.03.87)
Matt Langridge (Leander Club/Northwich/20.05.83)
Coach: Rob Dauncey
Coxed Pair
Nathaniel Reilly O'Donnell (Univ of London BC/Durham/13.04.88)
Matthew Tarrant (Oxford Brookes Univ BC/Shepperton/11.07.90)
Henry Fieldman (cox) (Molesey BC/Barnes/25.11.88)
Coach: John West
Four
Scott Durant (Oxford Brookes Univ BC/Lancaster/12.02.88)
Alan Sinclair (Leander Club/Munlochy/16.10.85)
Tom Ransley (Leander Club/Ashford/06.09.85)
Stewart Innes (Leander Club/Henley-on-Thames/25.05.91)
Coach: Christian Felkel
Eight
Matt Gotrel (Leander Club/Chipping Campden/01.03.89)
Constantine Louloudis (OUBC/London/15.09.91)
Pete Reed (Leander Club/Nailsworth/27.07.81)
Paul Bennett (Univ of London BC/Leeds/16.12.88)
Mohamed Sbihi (Molesey BC/Surbiton/27.03.88)
Alex Gregory (Leander Club/Wormington/11.03.84)
George Nash (Molesey BC/Guildford/02.10.89)
Will Satch (Leander Club/Henley-on-Thames/09.06.89)
Phelan Hill (cox) (Leander Club/Bedford/21.07.79)
Coach: Jurgen Grobler
Sweep Spares:
Oliver Cook (Univ of London BC/Windsor/05.06.90)
Callum McBrierty (Leander Club/Edinburgh/13.08.92)
Single Scull
Alan Campbell (Tideway Scullers School/Coleraine/09.05.83)
Coach: John West
Double Scull
John Collins (Leander Club/Twickenham/24.01.89)
Jonny Walton (Leander Club/Leicester/06.10.90)
Coach: Mark Banks
Quadruple Scull
Graeme Thomas (Agecroft RC/Preston/08.11.88)
Sam Townsend (Reading Univ BC/Reading/26.11.85)
Charles Cousins (Leander Club/Willingham, Cambs, 13.12.88)
Peter Lambert (Leander Club/Maidenhead/03.12.86)
Coach: Paul Stannard
Sculling Spare:
Angus Groom (Leander Club/Glasgow/16.06.92)
LIGHTWEIGHT
WOMEN
Single scull
Imogen Walsh (London RC/Inverness/17.01.84)
Coach: Paul Reedy
Double Scull
Charlotte Taylor (Putney Town RC/Bedford/14.08.85)
Kat Copeland (Tees RC/Ingleby Barwick/01.12.90)
Coach: Paul Reedy
Quadruple Scull
Brianna Stubbs (Wallingford RC/Poole/13.07.91)
Ruth Walzcak (Molesey BC/Rochdale/15.09.88)
Emily Craig (Univ of London BC/Mark Cross/30.11.92)
Eleanor Piggott (Wallingford RC/Bedford/16.05.91)
Coach: Ben Reed
LIGHTWEIGHT
MEN
Pair
Joel Cassells (Oxford Brookes Univ BC/Coleraine/15.06.94)
Sam Scrimgeour (Imperial College BC/Kirriemuir/28.01.88)
Coach: Rob Morgan
Four
Jono Clegg (Leander Club/Maidenhead/14.07.89)
Peter Chambers (Oxford Brookes Univ BC/Coleraine/14.03.90)
Mark Aldred (London RC/Birmingham/18.04.87)
Chris Bartley (Leander Club/Chester/02.02.84)
Coach: Darren Whiter
Single Scull
Jamie Kirkwood (Leander Club/Cresswell/30.08.89)
Coach: Rob Morgan
Double Scull
Will Fletcher (Leander Club/Chester-le-Street/24.12.89)
Richard Chambers (Leander Club/Coleraine/10.06.85)
Coach: Darren Whiter
Quadruple scull
Jamie Copus (Oxford Brookes Univ/BC/Watlington/30.01.93)
Steve Parsonage (Norwich RC/Norwich/16.01.96)
Sam Mottram (Leander Club/Stoke Mandeville/14.11.94)
Zak Lee Green (Agecroft RC/Cardiff/05.02.91)
Coach: Hamish Burrell
PARA-ROWING
MIXED
Coxed four (LTA 4+)
Grace Clough (Nottingham RC/Sheffield/21.06.91)
Daniel Brown (Upper Thames BC/Reading/29.11.82)
Pamela Relph (Leander Club/Aylesbury/14.11.89)
James Fox (Univ of London/Peterborough/02.05.92)
Oliver James (cox) (Leander Club/Henley-on-Thames/05.01.90)
Coach: Tom Dyson
Trunk/-arms double scull (TA2x)
Laurence Whiteley (Tees RC/Northallerton/29.08.91)
Lauren Rowles (Marlow RC/Birmingham/ 24.04.98)
Coach: Nick Baker
MEN
Arms/-shoulders single scull (ASM 1x)
Tom Aggar (Marlow RC/Maidenhead/24.05.84)
Coach: Nick Baker
WOMEN
Arms/-shoulders single scull (ASW 1x)
Rachel Morris (Guildford RC/Farnham/25.04.79)
Coach: Tom Dyson
SCROLL DOWN FOR MORE
====================================================================
OUTLINE TIMETABLE
(all times CET, the UK is one hour behind, key to boat classes is at foot of this section. NB – all times provisional, rowing is an outdoor sport. Please follow www.worldrowing.com for up-to-date schedules).
Wednesday 2 September
15.55 – 16.51
Semi-finals of the: ASW1x, ASM1x, TAMix2x, LTAMix4+
Thursday 3 September
10.14 – 11.59
Semi-finals of the: LM2-, LM1x, LW1x, W2-, M2-, LM2x, LW2x, M4-, M4x
12.11 – 12.46
Quarter-finals of the: W2x, M2x
16.08 – 17.25
B and A FINALS of the: ASW1x, ASM1x, TAMix2x, LTAMix4+
Friday 4 September
09.41 – 10.16
B Finals of the: M2+, LM2-, LM1x, LW1x, LM4x, LW4x
10.23 – 11.40
Semi-finals of the: W2x, M2x, LM4-, M1x, W1x, M8+
11.50 – 13.36
A FINALS of the: W4-, M2+, LM2-, LM1x, LW1x, LM4x, LW4x
Saturday 5 September
12.00 – 13.00
B Finals of the: W2-, M2-, LM2x, LW2x, M4-, W4x, M4x
13.15 – 14.45
A FINALS of the: W2-, M2-, LM2x, LW2x, M4-, W4x, M4x
Sunday 6 September
12.00 – 13:00
B Finals of the: W2x, M2x, LM4-, W8+, M1x, W1x, M8+
13.15 – 14.45
A FINALS of the: W2x, M2x, LM4-, W8+, M1x, W1x, M8+
Key:
M1x, M2x, M4x – men's single, double and quadruple sculls
M2-, M4-, M8+ – men's pair, four and eight
W1x, W2x, W4x – women's single, double and quadruple sculls
W2-, W4-, W8+ – women's pair, four and eight
LM1x, LM2x, LM4x – lightweight men's single, double and quadruple sculls
LM2-, LM4-, LM8+ – lightweight men's pair, four and eight
LW1x, LW2x, LW4x – lightweight women's single, double and quadruple sculls
ASW1x, ASM1x – arms-shoulders women's and men's single scull (para-rowing)
TAMix2x – Trunk-arms mixed double scull (para-rowing)
LTAMix4+ – Legs-trunks-arms mixed coxed four
SCROLL DOWN FOR MORE
=============================================================
CONTACT DETAILS
For background information about the The GB Rowing Team contact the Press office via [email protected] or 07831 755351
For picture requests please contact: [email protected]
GB Rowing Team website, including full rower biogs: www.gbrowingteam.org.uk
Follow us on:
Facebook: www.facebook.com/gbrowingteam
Twitter: www.twitter.com/gbrowingteam
Youtube: www.youtube.com/gbrowingteam
====================================================================