Finishing touches put to strong World Champs squad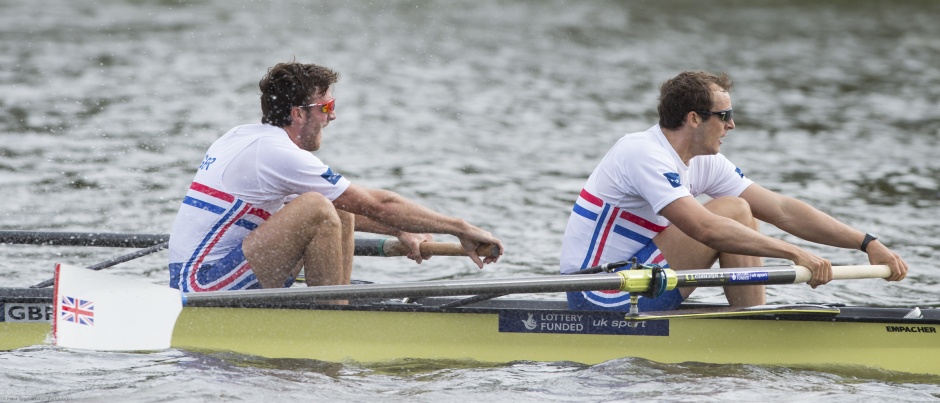 The GB Rowing Team selectors have today announced the men's four that will race at the World Championships later this month – an event this year that is also the Olympic and Paralympic qualifying regatta.
Alan Sinclair, Stewart Innes, Tom Ransley and Scott Durant have come through two weeks of testing and trialling since the bulk of the squad was announced on July 21st.
Ransley, speaking at the team's training camp in Austria said: "It's going well out here. We've put in lots of mileage and there has been fatigue but we have carried the rhythm through the sessions.
"The Worlds are what we have built towards for the whole season. There's a good team feel about it as it's where we will qualify the boats for the Olympics. So that's a team goal we are working towards, which feels good."
Ransley is a twice World Champion and Olympic bronze medallist in the eight whilst relative GB newcomer Stewart Innes was in the GB eight that won World Cup gold in Varese earlier this year. Sinclair and Durant won World silver in the coxed pair with cox Henry Fieldman just under a year ago.
Nathaniel Reilly O'Donnell was unable to take part in the testing due to illness. He joined the men's squad at their Austrian training camp late.
The reigning World Champion has been selected instead to race in the men's coxed pair with his fellow 2014 World eights gold winner Mat Tarrant and cox Henry Fieldman when the Championships take place in Aiguebelette, France, from August 30 – September 6.
Fieldman said: "It'a an honour to be selected to represent the country again and it's a very exciting boat to be part of looking at the pedigree of the two guys that I have sat behind me.
"We've got off to a strong start on camp and our primary goal is to bring home the gold and the start that we have had shows that we have that in our minds."
GB has also named a lightweight men's quad of Steve Parsonage, Jamie Copus, Sam Mottram and Zak Lee-Green.
Lee-Green and Mottram got a senior world cup run-out earlier this season in the lightweight double. Parsonage, Copus and Mottram were all part of the the GB lightweight quad that raced to a silver medal at last week's World U23 Championships.
Parsonage is in his first year as an U23 and a lightweight having won a silver medal in the junior men's quadruple scull at the 2014 World Junior Championships.
Copus took silver in the lightweight men's four at the U23 Championships last year and Lee-Green was a B finalist in his inaugural senior World Championships in Amsterdam last autumn.
GB has now announced a total of 23 boats for the Championships. Sir David Tanner and his Chief Coach for Women and Lightweights, Paul Thompson, still have the potential of a GB entry in the women's four under consideration.
CREW LIST
WOMEN
Pair
Helen Glover (Minerva Bath RC/Penzance/17.06.86)
Heather Stanning (Army RC/Lossiemouth/26.01.85)
Coach: Robin Williams
Eight
Katie Greves (Leander Club/Oxford/02.09.82)
Louise Reeve (Leander Club/London/16.05.84)
Jessica Eddie (London RC/Durham/07.10.84)
Donna Etiebet (Sport Imperial/London/29.04.86)
Victoria Meyer-Laker (Leander Club/Premnay/18.03.88)
Olivia Carnegie-Brown (Oxford Brookes Univ BC/Oxford/28.03.91)
Rosamund Bradbury (Leander Club/Banstead/17.12.88)
Zoe Lee (Imperial College BC/Richmond/15.12.85)
Zoe de Toledo (Cox) (Leander Club/London/17.07.87)
Coach: James Harris
Double scull
Katherine Grainger (St Andrew BC/Glasgow/12.11.75)
Victoria Thornley (Leander Club/Wrexham/30.11.87)
Coach: Paul Thompson
Quadruple Scull
Melanie Wilson (Imperial College BC/London/25.06.84)
Kristina Stiller (Tees RC/Yarm/23.06.87)
Frances Houghton (Univ of London Tyrian Club/Oxford/19.9.80)
Jessica Leyden (Leander Club/Todmorden/22.02.95)
Coach: Nick Strange
Sculling Spare
Beth Rodford (Gloucester RC/Gloucester/28.12.82)
OPEN
MEN
Pair
James Foad (Molesey BC/Southampton/20.03.87)
Matt Langridge (Leander Club/Northwich/20.05.83)
Coach: Rob Dauncey
Coxed Pair
Matthew Tarrant (Oxford Brookes Univ BC/Shepperton/11.07.90)
Nathaniel Reilly O'Donnell (Univ of London BC/Durham/13.04.88)
Henry Fieldman (cox) (Molesey BC/Barnes/25.11.88)
Coach: John West
Four
Alan Sinclair (Leander Club/Munlochy/16.10.85)
Stewart Innes (Leander Club/Henley-on-Thames/25.05.91)
Tom Ransley (Leander Club/Ashford/06.09.85)
Scott Durant (Oxford Brookes Univ BC/Lancaster/12.02.88)
Coach: Christian Felkel
Eight
Matt Gotrel (Leander Club/Chipping Campden/01.03.89)
Will Satch (Leander Club/Henley-on-Thames/09.06.89)
Pete Reed (Leander Club/Nailsworth/27.07.81)
Paul Bennett (Univ of London BC/Leeds/16.12.88)
Mohamed Sbihi (Molesey BC/Surbiton/27.03.88)
Alex Gregory (Leander Club/Wormington/11.03.84)
George Nash (Molesey BC/Guildford/02.10.89)
Constantine Louloudis (OUBC/London/15.09.91)
Phelan Hill (cox) (Leander Club/Bedford/21.07.79)
Coach: Jurgen Grobler
Sweep Spares:
Oliver Cook (Univ of London BC/Windsor/05.06.90)
Callum McBrierty (Leander Club/Edinburgh/13.08.92)
Single Scull
Alan Campbell (Tideway Scullers School/Coleraine/09.05.83)
Coach: John West
Double Scull
John Collins (Leander Club/Twickenham/24.01.89)
Jonny Walton (Leander Club/Leicester/06.10.90)
Coach: Mark Banks
Quadruple Scull
Graeme Thomas (Agecroft RC/Preston/08.11.88)
Sam Townsend (Reading Univ BC/Reading/26.11.85)
Charles Cousins (Leander Club/Willingham, Cambs/13.12.88)
Peter Lambert (Leander Club/Maidenhead/03.12.86)
Coach: Paul Stannard
Sculling Spare:
Angus Groom (Leander Club/Glasgow/16.06.92)
LIGHTWEIGHT
WOMEN
Single scull
Imogen Walsh (London RC/Inverness/17.01.84)
Coach: Paul Reedy
Double Scull
Charlotte Taylor (Putney Town RC/Bedford/14.08.85)
Kat Copeland (Tees RC/Ingleby Barwick/01.12.90)
Coach: Paul Reedy
Quadruple Scull
Emily Craig (Univ of London BC/Mark Cross/30.11.92)
Ruth Walzcak (Molesey BC/Rochdale/15.09.88)
Brianna Stubbs (Wallingford RC/Poole/13.07.91)
Eleanor Piggott (Wallingford RC/Bedford/16.05.91)
Coach: Ben Reed
LIGHTWEIGHT
MEN
Pair
Joel Cassells (Oxford Brookes Univ BC/Coleraine/15.06.94)
Sam Scrimgeour (Imperial College BC/Kirriemuir/28.01.88)
Coach: Rob Morgan
Four
Jono Clegg (Leander Club/Maidenhead/14.07.89)
Peter Chambers (Oxford Brookes Univ BC/Coleraine/14.03.90)
Mark Aldred (London RC/Birmingham/18.04.87)
Chris Bartley (Leander Club/Chester/02.02.84)
Coach: Rob Morgan
Single Scull
Jamie Kirkwood (Leander Club/Cresswell/30.08.89)
Coach: Darren Whiter
Double Scull
Will Fletcher (Leander Club/Chester-le-Street/24.12.89)
Richard Chambers (Leander Club/Coleraine/10.06.85)
Coach: Darren Whiter
Quadruple scull
Steve Parsonage (Norwich RC/Norwich/16.01.96)
Jamie Copus (Oxford Brookes Univ/BC/Watlington/30.01.93)
Sam Mottram (Leander Club/Stoke Mandeville/14.11.94)
Zak Lee Green (Agecroft RC/Cardiff/05.02.91)
Coach: Hamish Burrell
PARA-ROWING
MIXED
Coxed four (LTA 4+)
Grace Clough (Nottingham RC/Sheffield/21.06.91)
Daniel Brown (Upper Thames BC/Reading/29.11.82)
Pamela Relph (Leander Club/Aylesbury/14.11.89)
James Fox (Univ of London/Peterborough/02.05.92)
Oliver James (cox) (Leander Club/Henley-on-Thames/05.01.90)
Coach: Tom Dyson
Trunk/-arms double scull (TA2x)
Laurence Whiteley (Tees RC/Northallerton/29.08.91)
Lauren Rowles (Marlow RC/Birmingham/ 24.04.98)
Coach: Nick Baker
MEN
Arms/-shoulders single scull (ASM 1x)
Tom Aggar (Marlow RC/Maidenhead/24.05.84)

Coach: Nick Baker
WOMEN
Arms/-shoulders single scull (ASW 1x)
Rachel Morris (Guildford RC/Farnham/25.04.79)
Coach: Tom Dyson
SCROLL DOWN FOR MORE
=================================================================
CONTACT DETAILS
For background information about the The GB Rowing Team contact the Press office via [email protected] or 07831 755351
For picture requests please contact: [email protected]
GB Rowing Team website, including full rower biogs: www.gbrowingteam.org.uk
Follow us on:
Facebook: www.facebook.com/gbrowingteam
Twitter: www.twitter.com/gbrowingteam
Youtube: www.youtube.com/gbrowingteam