All set for a big weekend of action at GB Rowing Team Senior and U23 Trials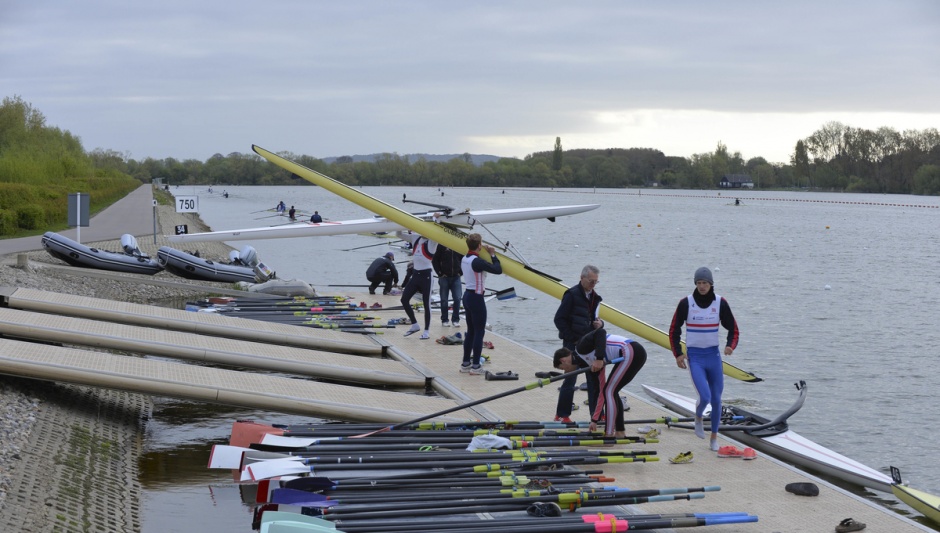 Rowers have started arriving at Caversham ahead of this weekend's GB Rowing Teams Senior and U23 Trials.
The final entry list for two big days of competition has been confirmed, with Olympic and World medalist Matt Langridge making a last-minute switch from the men's pair to the single scull.
That came after partner James Foad – who won men's pair silver with Langridge at the World Championships last year – was ruled out with a broken foot.
There will be 149 rowers in action across six categories over the next two days, including 13 current World Champions.
All will be keen to impress ahead of a season which will culminate with the World Championships in Aiguebelette, France, which doubles as an Olympic and Paralympic qualification regatta for Rio 2016.
But the Tokyo 2020 Games are the target for many of the younger rowers, who will be looking to show their potential and secure a place in the GB Rowing Team U23 squad ahead of their 2015 World Championships in Plovdiv, Bulgaria.
Sir David Tanner, GB Rowing Team Performance Director, said: "We are looking forward to two days of quality racing.
"The focus is on Rio 2016 but, for the younger rowers, it is also about getting on the radar for Tokyo 2020 which, in rowing terms, is not that far away."
The weather promises to be sunny on both days but predictions for a strong wind on Saturday afternoon means there may be a change to the racing timetable, with the semi-finals moved to Sunday morning.
A final decision will be made at 9am on Saturday ahead of the time trials, which will run as scheduled from 9.30am-12pm.
OUTLINE TIMETABLE
(NB – please check schedules carefully. This timetable may change subject to weather conditions)
Saturday 09:30 – 12:00 Time-Trials
Saturday 15:00 – 17:45 Semi-Finals
Sunday 10:00 – 13:00 Finals
2014 Winners
Women's Pair: Helen Glover/Heather Stanning;
Men's Pair: Alex Gregory/Mohamed Sbihi;
Men's Single: Charles Cousins;
Women's Single: Vicky Thornley;
Lightweight women's single: Kat Copeland;
Lightweight men's single scull: Jamie Kirkwood
FINAL ENTRY LIST
* denotes U23
OPEN
MEN
SINGLE
Alexander Bain (Newcastle Univ BC/Chester/08.11.95)*
Tom Barras (Cardiff Univ BC/Staines/07.01. 94)*
Jack Beaumont (Leander Club/Maidenhead/21.11.93)*
Andy Brown (Tees RC/Yarm/12.01.94)*
Frazier Christie (Bath Univ BC/Bath/11.01.93)*
Daniel Clift (Isle of Ely RC/Torpoint/15.06.88)
John Collins (Leander Club/Whitton/24.01.89)
Charles Cousins (Reading Univ BC/Cambridge/13.12.88)
Angus Groom (Leander Club/Glasgow/16.06.92)
Alexander Hayes (Sir W Borlase's GS BC/Cookham Dean/10.10.96)*
Stewart Innes (Leander Club/ Henley-on-Thames/20.05.91)
Peter Lambert (Leander Club/Henley-on-Thames/03.12.86)
Matthew Langridge (Leander Club/Northwich/20.05.83)
Michael Lawrence (Quintin BC/Bradford on Avon/31.08.93)*
Nick Middleton (Leander Club/Henley-on-Thames/12.08.88)
George Stewart (Molesey BC/Bristol Univ BC/Esher/14.04.95)*
Graeme Thomas (Agecroft/Preston/08.11.88)
Dominic Tope (Reading Univ BC/Grantham/11.04.94)*
Sam Townsend (Reading Univ BC/Reading/26.11.85)
Sam Twine (Reading Univ BC/Tavistock/06.01.94)*
Jonathan Walton (Leander Club/Leicester/06.10.90)
Alex Wilding (Bath Univ BC/Wimborne Minster/18.01.93)*
PAIR
Chris Boddy (Leander Club/Thornaby-on-Tees/16.11.87)/Matt Rossiter (Leander Club/Newbury/25.09.89)
Thomas Ford (Newcastle Univ BC/Holmes Chapel/03.10.92)/Timothy Clarke (Newcastle Univ BC/Henley-on-Thames/07.04.91)
Richard Clarke (Univ of London BC/Kingston-upon-Thames/06.11.93)*/Lewis McCue (Robert Gordon Univ BC/Aberdeen/26.12.94)*
Oliver Cook (Univ of London BC/Windsor/05.06.90)/Tom George (Leander Club/22.09.94)*
Scott Durant (Oxford Brookes Univ BC/Lancaster/12.02.88)/Matthew Tarrant (Oxford Brookes Univ BC/Shepperton/11.07.90)
Rory Gibbs (Oxford Brookes Univ BC/Lane End/03.04.94)*/Morgan Bolding (Oxford Brookes Univ BC/Withiel/13.05.95)*
Michael Glover (Oxford Brookes Univ BC/Burnham/03.06.95)*/Matthew Aldridge (Oxford Brookes Univ BC/Christchurch/11.03.96)*
Matthew Gotrel (Leander Club/Chipping Campden/01.03.89)/Paul Bennett (Univ of London BC/Leeds/16.12.88)
Timothy Grant (Oxford Brookes Univ BC/Sevenoaks/02.07.93)/Karl Hudspith (Oxford Brookes Univ BC/Twickenham/31.03.88)
Alex Gregory (Leander Club/Wormington/11.03.84)/Mohamed Sbihi (Molesey BC/Surbiton/27.03.88)
Oliver Hines (Imperial College BC/Kingston-upon-Thames/08.10.94)*/Tristan Vouilloz (Imperial College BC/Lewes/22.09.93)*
Sybren Hoogland (Oxford Brookes Univ BC/Norwich/03.11.93)*/Richard Hawkins (Oxford Brookes Univ BC/Chester/22.08.93)*
Richard Hume (Oxford Brookes Univ BC/Southampton/12.04.95)*/James Stanhope (Oxford Brookes Univ BC/Hampton/02.09.94)*
Andrew Joel (Leander Club/Windsor/08.06.95)*/Harry Leask (Leander Club/Edinburgh/16.10.95)*
Oliver Knight (Newcastle Univ BC/Addlestone/15.09.95)*/James Rudkin (Newcastle Univ BC/Northampton/07.07.94)
Callum McBrierty (Leander Club/Edinburgh/13.08.92)/Tom Ransley (Leander Club/Ashford/06.09.85)
Henry Millar (Edinburgh Univ BC/Fivemiletown/25.02.94)*/Rufus Scholefield (Edinburgh Univ BC/Jersey/29.10.93)*
George Nash (Molesey BC/Guildford/02.10.89)/Will Satch (Leander Club/Henley-on-Thames/09.06.89)
Felix Newman (Cambridge Univ BC/Christmas Common/26.11.93)*/Piers Kasas (Cambridge Univ BC/London/29.08.96)
Pete Reed (Leander Club/Nailsworth/27.07.81)/Constantine Louloudis (Oxford Univ BC/London/15.09.91)
William Warr (Cambridge Univ BC/Tunbridge Wells/12.03.92)/George Rossiter (Leander Club/Newbury/09.03.92)
Alan Sinclair (Leander Club/Inverness/16.10.85)/Nathan Reilly-O'Donnell (Univ of London BC/Durham/13.04.88)
Barnaby Stentiford (Leander Club/Ippleden/06.02.91)/Sam Arnot (Leander Club/Chester/09.07.91)
Henry Swarbrick (Oxford Brookes Univ BC/Richmond/05.04.94)*/William Hall (Oxford Brookes Univ BC/Winchester/08.05.94)
WOMEN
SINGLE
Bethany Bryan (Tees RC/Stockton-on-Tees/23.04.93)*
Donna Etiebet (Imperial College BC/London/29.04.86)
Rebecca Girling (Cardiff Univ BC/Fareham/03.12.89)
Katherine Grainger (St Andrew BC/Glasgow/12.11.75)
Georgina Grandfield (Agecroft/Market Drayton/04.08.90)
Mathilda Hodgkins-Byrne (Reading Univ BC/Hereford/01.10.94)*
Frances Houghton (Univ of London Tyrian Club/Oxford/19.09.80)
Jessica Leyden (Leander Club/Todmorden/22.02.95)*
Heidi Long (Marlow RC/29.11.96)*
Holly Nixon (Leander Club/Enniskillen/07.12.93)*
Sara Parfett (Imperial College BC/Rochester/08.10.91)
Beth Rodford (Gloucester RC/Gloucester/ 28.12.82)
Gabby Rodriguez (Molesey BC/Bath/23.12.89)
Kristina Stiller (Tees RC/Yarm/23.06.87)
Victoria Thornley (Leander Club/Wrexham/30.11.87)
Laura Wheeler (Nottingham RC/Burton on Trent/16.02.85)
Pippa Whittaker (Leander Club/Henley-on-Thames/17.05/91)
Melanie Wilson (Imperial College BC/London/25.06.84)
Josephine Wratten (Tees RC/Middlesbrough/23.03.92)
PAIR
Emily Ashford (Leander Club/Buckfastleigh/06.12.91)/Emily Carmichael (Leander Club/Cheltenham/29.05.92)
Katie Bartlett (Nottingham RC/Nottingham/02.02.94)*/ Rebecca Edwards (Queens Univ Ladies BC/Dungannon/20.08.93)*
Karen Bennett (Leander Club/Edinburgh/05.02.89)/Katherine Douglas (Leander Club/Edinburgh/03.08.89)
Rosamund Bradbury (Leander Club/Banstead/17.12.88)/Olivia Carnegie-Brown (Oxford Brookes Univ BC/Henley-on-Thames/28.03.91)
Jessica Eddie (London RC/Durham/07.10.84)/Louisa Reeve (Leander Club/London/16.05.84)
Emily Ford (Newcastle Univ BC/Crewe/08.11.94)*/Samantha Courty (Bath Univ BC/Alnwick/07.01.93)*
Alessandra French (Univ of London BC/Ascot/23.08.95)*/Maja Donaldson (Univ of London BC/Oxford/18.06.94)*
Helen Glover (Minerva Bath RC/Penzance/17.06.86)/Heather Stanning (Army RC/Lossiemouth/26.01.85)
Lucinda Gooderham (Leander Club/Garboldisham/09.06.84)/Rebecca Chin (Agecroft RC/Deganwy/11.12.91)
Katie Greves (Leander Club/Oxford/02.09.82)/Zoe Lee (Imperial College BC/Richmond/15.12.85)
Melissa Wilson (Cambridge Univ Women's BC/Edinburgh/10.06.93)/
Holly Hill (Cambridge Univ Women's BC/Gossington/23.01.94)*
Aimee Jonckers (Molesey BC/Maidenhead/07.07.90)/Helen Roberts (Molesey BC/Durham/21.01.90)
Annie Whithers (Oxford Brookes Univ BC/Surrey/22.02.93)*/Susie Dear (Oxford Brookes Univ BC/Hampshire/31.03.93)
LIGHTWEIGHT
MEN
SINGLE
Mark Aldred (London RC/Birmingham/18/04.87)
Chris Bartley (Leander Club/Wrexham/02.02.84)
Matthew Bedford (Univ of London BC/Maidenhead/21.01.91)
Kieran Brown (Edinburgh Univ BC/Glasgow/21.03.93)*
Joel Cassells (Oxford Brookes Univ BC/Coleraine/15.06.94)*
Peter Chambers (Oxford Brookes Univ/Coleraine/14.03.90)
Richard Chambers (Leander Club/Coleraine/10.06.85)
Jonathan Clegg (Leander Club/Maidenhead/14.07.89)
Alastair Douglass (Molesey BC/Shepperton/22.06.95)*
Andrew Dowty (Leander Club/Worcester/26.02.93)*
Edward Fisher (Leander Club/Nottingham/16.04.94)*
William Fletcher (Leander Club/Chester-le-Street/24.12.89)
Hugh Gallie (Agecroft/ Barcelos, Portugal/06.09.89)
Callum Gathercole (Molesey BC/Horsley/15.05.95)*
Christopher Goldsack (Univ of London BC/Bayford/13.09.91)
John Hale (Imperial College BC/Cambridge/28.02.88)
Myles Holbrough (Imperial College BC/Bingley/23.02.93)*
Jonathan Jackson (Leander Club/Henley-on-Thames/02.06.95)*
Wilf Kimberley (Imperial College BC/London/15.07.92)
Jamie Kirkwood (Leander Club/Newcastle/30.08.89)
Zak Lee-Green (Agecroft/Cardiff/06.02.91)
Gregor Maxwell (Edinburgh Univ BC/Humbie/31.07.93)*
George McKirdy (Imperial College BC/Derby/03.03.89)
Samuel Mottram (Leander Club/Stoke Mandeville/14.11.94)*
Benjamin Reeves (Oxford Brookes Univ BC/Wilmslow/10.05.94)*
Timothy Richards (Imperial College BC/Goring-on-Thames/17.05.92)
Sam Scrimgeour (Imperial College BC/Kirriemuir/28.01.88)
Charles Waite-Roberts (Leander Club/Basingstoke/06.11.92)
WOMEN
SINGLE
Maddie Arlett (Edinburgh Univ BC/Selkirk/07.06.94)*
Amelia Carlton (Durham Univ BC/Putney/10.07.94)*
Kat Copeland (Tees RC/Stockton-on-Tees/01.12.90)
Emily Craig (Univ of London BC/Mark Cross/30.11.92)
Lucy Cruxton (Reading Univ BC/Stoke-on-Trent/22.12.93)*
Katherine Denham (Durham Univ BC/Guildford/31.01.95*
Gemma Hall (Wallingford RC/Wargrave/10.04.92)
Emma McDonald (Glasgow Univ BC/Lochwinnoch/11.10.94)*
Flo Pickles (Gloucester Hartpury/Cheltenham/02.11.96)*
Eleanor Piggott (Wallingford RC/Bedford/16.05.91)
Brianna Stubbs (Wallingford RC/Poole/13.07.91)
Charlotte Taylor (Putney Town RC/Bedford/14.08.85)
Hannah Traylen (Exeter Univ BC/Claygate/18.02.93)*
Ruth Walczak (Molesey BC/Rochdale/15.09.88)
Imogen Walsh (London RC/Inverness/17.01.84)
Jade Wright (Univ of London BC/Bedford/08.09.93)*