Great Britain names Coupe de la Jeunesse team
The GB Rowing Team has selected 45 juniors for the Coupe de la Jeunesse, taking place at Castrelo de Mino, Spain from 5-7 August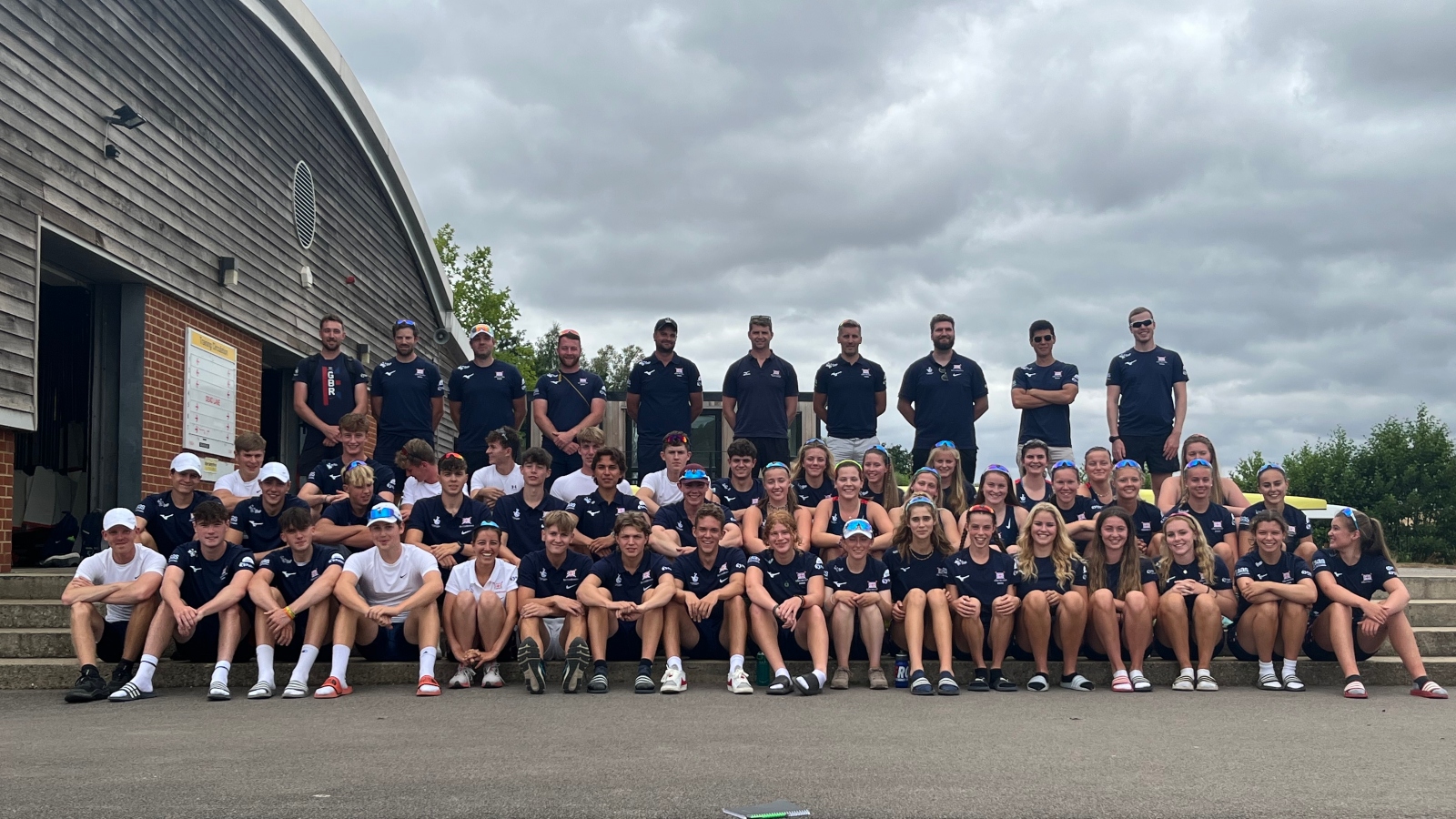 A team of 45 rowers will represent Great Britain in the Coupe de la Jeunesse, the premier European rowing event for juniors aged 18 or under.
Great Britain is fielding 14 boats across both the junior men's and junior women's competitions with crews competing in the single sculls, double sculls, quad sculls, coxless pair, coxless four and eight with four rowers (and a cox) from each eight doubling up in the coxed four each day.  This is the first time that the GB Rowing Team has sent a team to the Coupe since 2019, so it's a long-awaited chance for juniors to make their mark and signal their potential on the international stage.
In 2020 the Coupe was cancelled because of the global pandemic and then the GB Rowing Team withdrew their entry in 2021. The three-day regatta will be a welcome celebration of the sport as juniors and coaches from across Europe meet up to compete while also socialising off the water.
Neil Double, Team Manager for the GB Coupe squad, said: "Following final crew formation, all crews settled well in their training environments, and we are now looking forward to all showing their best as we return to racing at the Coupe de la Jeunesse in Castrelo de Mino."
Juniors from 16 European nations will be racing at the regatta situated in Galicia in the north-west corner of Spain.
This year's Coupe begins with the reserve races on the opening day, followed by heats and finals each day on the Saturday and Sunday with event prizes and a team competition for the annual award of the Coupe de la Jeunesse trophy. Only three nations have won the Coupe trophy since the competition began in 1985 with Great Britain winning 15 times – the last time in 2018. Current champions Italy have triumphed 13 times while France have won on eight occasions.
For some juniors, being selected for the Coupe de la Jeunesse will be the pinnacle of their rowing career, but for others it might be the first step towards future selection for the GB senior team. Several current GB rowers experienced international rowing for the first time at the Coupe including Lola Anderson, Saskia Budgett, David Bewicke-Copley, Lucy Glover, Sam Meijer and Matt Haywood.
GB U19 Team Manager John Layng said: "The Coupe is an important step on the pathway to an international rowing career beyond the U19/junior level; this year we have selected a talented team of rowers and coaches who will be able to use this opportunity to gain valuable experience for the future.
"All of the rowers have been supported and developed throughout the past season by their home clubs and coaches and much credit is due to them for getting these young men and women to this point in their rowing careers."
Coupe de la Jeunesse crews
MEN
Men's single sculls (JM1x)
James Graham (Leander Club)
Coach: Alex Richardson (Claires Court School)
David Wallace (spare) (Henley RC)
Men's double sculls (JM2x)
Harvey Orskov (York City RC)
Edward Andrews (Kingston RC)
Coach: George Nottidge (Kingston RC)
Men's quad (JM4x)
Guy Hutchins (Henley RC)
Frederick Woodall (Leander Club)
Nathaniel Gauden (Leander Club)
Luke Beever (King's School, Worcester)
Coach: Jonathan Jackson (Leander Club)
Men's pair (JM2-)
Theo Doyle (St George's College)
Alec Wild (Latymer Upper School)
Coach: Nick Barry-Parker (Latymer Upper School)
Men's four (JM4-)
Freddy Foxwell (St Andrew BC)
Isaac Hillicks-Tulip (St Edward's School)
Seric Crichley (Shiplake College)
Harrison Peck (St George's College)
Coach: Jack Stoddart (Dulwich College)
Men's eight (JM8+)
Tom Monaghan (King's College School, Wimbledon)
Henry Jones (Radley College)
Jamie Ginsberg (Eton College)
Rory McDonnell (St Edward's School)
Felix Peerless (St Paul's School)
Edward Dallas (Shiplake College)
Sam Scowen (King's College School, Wimbledon)
Freddie Middleton (Shiplake College)
Fleur Blase (cox) (King's College School, Wimbledon)
Coach: Sam Grant (RSSBC)
WOMEN
Women's single scull (JW1x)
Ella Fullman (Wycliffe College)
Coach: Greg Flower (Wycliffe College)
Lara Grant (spare) (Rob Roy BC)
Women's double scull (JW2x)
Anna Cowell (Sir William Perkins's School)
Lucy Thomson (Royal Chester RC)
Coach: Chris Boddy (Sir William Perkins's School)
Women's quad (JW4x)
Kathryn Burton (Wycliffe College)
Olivia Cheesmur (Molesey BC)
Ella Bardsley Taylor (Hartpury University & College BC)
Orla Harvey (Tideway Scullers School)
Coach: Ben Jackson (Hartpury University & College BC)
Women's pair (JW2-)
Ailish Harkin (Henley RC)
Izzie Kennedy (Surbiton High School)
Coach: Matt Mole (George Watson's College)
Women's four (JW4-)
Sophie Tyler (St Paul's Girls)
Amelia Gleed (Headington School)
Roxy Welford (St Edward's School)
Pippa Jamieson (Henley RC)
Coach: Chris Hermes (Headington School)
Women's eight (JW8+)
Sarah Happs (George Heriot's School)
Maggie McGuinness (Headington School)
Morven Thompson (Glasgow Academy)
Lily Wood (King's School, Chester)
Olivia Janss Lafond (Tideway Scullers School)
Indira Ogunbiyi (Latymer Upper School)
Alice Colclough (RSSBC)
Issy Thomassen (RSSBC)
Natalia Toms (cox) (RSSBC)
Coach: Toby Rudkin (RSSBC)
TEAM SUPPORT
Team Manager – Neil Double
Lead Coach – Rhona McCallum
Boatman / Driver – Andy Turnill
Boatman / Driver – Matt Mole
Team Doctor – Juan Rosales
Team Physio – Abby Morgan