Great Britain makes strong start at U23 World Rowing Championships
Bright start from the U23 GB Rowing Team sees three crews already through to A-Finals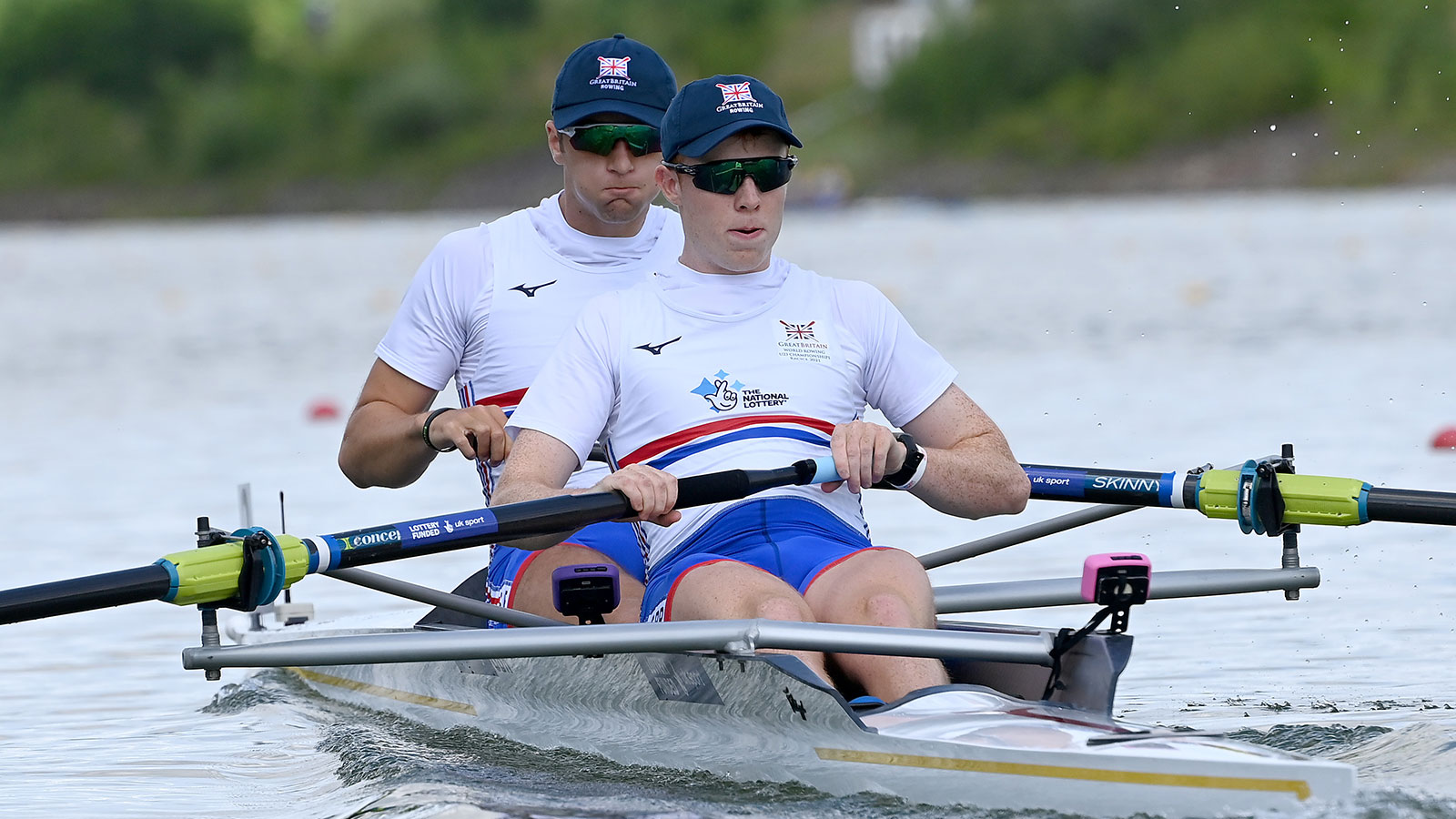 Racing commenced on Wednesday under some lovely weather conditions in Racice, Czech Republic. Speaking on the racing so far, British Rowing's Chief Coach for U23s and Juniors, Peter Sheppard said:
"I'm really pleased with how our young rowers have performed in their first races.  We've come in at the right level after two years away from international competition, with three crews already into their respective A Finals.
"This is testament to the hard work that the rowers have been doing in the last year, supported by their club coaches.  We have some exciting racing ahead of us this weekend."
You'll next be able to see the GB Rowing team race tomorrow from 10:25 BST. To keep up to date with all the racing and to follow it live, head on over to World Rowing's website or by clicking HERE.
Here's a round up of all the action so far:
DAY 1: WEDNESDAY
The men's pair of Calvin Tarczy and Douwe de Graaf kick started racing for the British team on Wednesday. The duo entered the event as a crew to watch after picking up a silver medal at World Rowing Cup III, in Sabaudia. They headed into the 1500m marker with a clear lead over Italy and Greece. Both rowers learnt to row at St Paul's School in London under Bobby Thatcher, and picked up two gold medals at the World Rowing Junior Championships in 2017 and 2018. They claimed top spot to go straight through to Friday's A/B semi-final.
Second out of the blocks was the men's four of Daniel Graham, Matthew Rowe, Henry Blois-Brooke and Iwan Hadfield. After so long without any racing, they would have been delighted to have been leading at the 1000m mark ahead of the German crew. With 750m to go the British crew kept the boat speed under control, with a lot of power coming through to cross the finish line first and with a length and quarter gap between them and the German boat. That result saw them progress to Saturday's A/B semi-final.
DAY 2: THURSDAY
Five crews took part in the second day of racing, under yet more beautiful sunny summer weather conditions in Racice. No breeze meant flat water and a clean row for the crews.
First up was the women's four of Amelia Standing, Holly Dunford, Lettice Cabot and Daisy Bellamy. A close race against the USA crew, who they stuck with all the way through to the final 750m, saw them finish second and through to the weekend's A final.
Second down the track was the women's double of Zoe Adamson and Katherine George, who secured a place in Saturday's A/B semi-final. Having led at the 500m mark, their Dutch opponents rowed through and put their bows just into the lead to pip them to top spot, but a second place finish was good enough for them to secure a spot in the semi-finals.
The men's double of Oliver Costley and James Cartwright also finished in second position, which saw them going through to Friday's repechage. Only the first placed crew advanced directly through to the A/B semi-final.
Lauren Henry in the women's single scull finished in second spot, which saw her through to Friday's repechage.
The men's eight of Noah Norman, Miles Beeson, Simon Nunayon, Tobias Schroder, Felix Drinkall, Callum Sullivan, Joshua Bowesman-Jones, Michael Dalton and Scott Cockle, rounded off racing on day two for the GB Rowing Team. Some close racing between the British and German crew, ended with the British boat coming out on top having led at the 1000m mark and having increased their lead further by the finish line. They'll return in the A final on Sunday.
DAY 3: FRIDAY
Today saw two crews compete in two repechages and one crew take part in a semi-final.
First up in the men's double repechage were Oliver Costley and James Cartwright who, in a close race with the French crew, finished second and advanced into the A/B semi-final.
Up next in the women's single scull repechage was Lauren Henry. The British sculler was rowing nearly side by side with the lead Czech sculler at the 500m and 1000m. However, Henry rowed through and opened up a big lead to finish in first and secure a place in the A/B semi-final.
The final British crew to race was the men's pair of Calvin Tarczy and Douwe De Graaf in the A/B semi-final. The pair came over the line in first and progressed to Saturday's A final.