British success at World Rowing Indoor Championships 2020
The World Rowing Indoor Championships 2020 took place last weekend in Paris and saw a staggering 39 medals collected by British athletes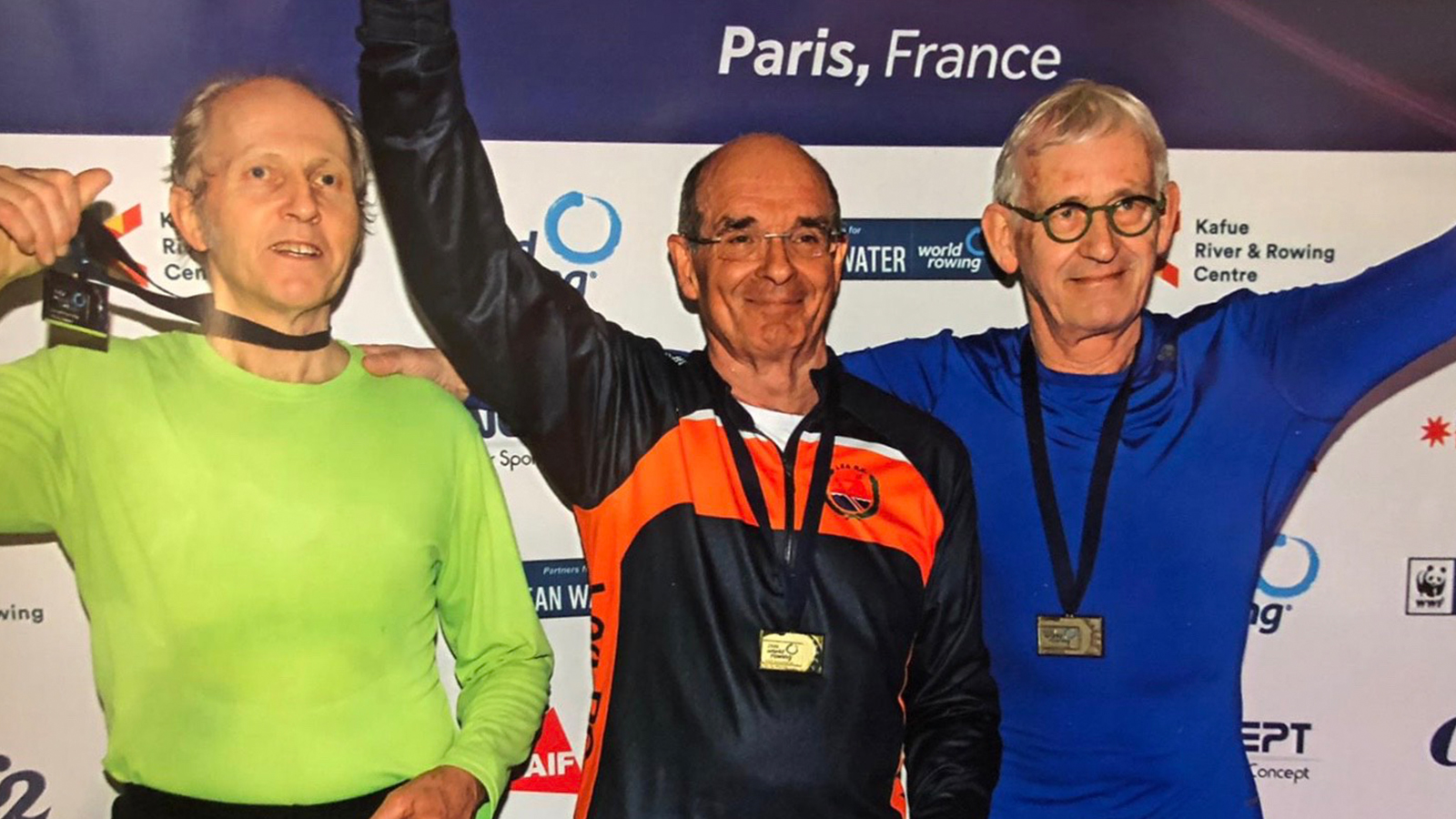 At the recent World Rowing Indoor Championships (7-8 February 2020), athletes from 51 countries battled on the rowing machine in search of personal bests, medals and World titles.
Amongst the outstanding performances across the two day competition were a number of reigning British Champions from the 2019 Mizuno British Rowing Indoor Championships, including Graham Spittle of Lea RC. After taking gold in the 70-74 Men's 2000m race on Saturday, Graham said "It's still a bit surreal – the phrase 'Who'd have thought??' keeps coming to mind. It took a while to get my head around being British Champion after December's BRIC and I didn't even know I had set a British Record until recently, and I improved on that by a couple of seconds in Paris."
Speaking about the race itself, Graham said "The race started without a hitch and from being 4th after the first few strokes, I soon found myself building a 10 metre lead. From that point, I worked to keep the lead around the same including the final sprint. Luckily I managed to stay ahead all the way!"
"I have had congratulations from friends at my current club, Lea RC, from my previous club, Weybridge RC, and from people (some of which I don't even know!) on Facebook erging groups. It's been great – my family are naturally all super excited, particularly the ones who have rowed before or are currently rowing and know what erging is about."
Also on the podium was Heidi Richards of Minerva Bath Rowing Club, who took silver in the 50-59 Women's 500m event. Having only started rowing in 2016, Heidi said "I was really happy with the result… they gave me a medal and also a baguette, so who wouldn't be?"
"I'm back on the water with the Midweek Scullers from Monday and I hope this win sends the message not to let age hold you back. I never thought I'd be doing anything like this four years ago, but I've had fantastic support and encouragement from my club mates and family. Hopefully more people will realise that rowing is a brilliant sport that's open to all age groups and abilities."
Other stand-out results over the weekend included a British 1, 2, 3 in the 55-59 Lightweight Women's 2000m, with Judith Burne taking gold ahead of Joanna Allsebrook in second and Kelly Sapsford in third. Rod Stewart (AUS), who we spoke to ahead of the WRIC, achieved his goal of becoming World Champion in the 70-74 Lightweight Men's 2000m race in a time of 7:03.4, beating second place by a staggering 14.1 seconds, while Phil Clapp took a sensational gold in the Men's 500m race having recently matched the World Record 500m time of 1:10.5.
A list of all British medallists can be found below, with full results available here.
Women's 2000m
Kate Jones –  Women's PR3 2000m (Gold)
Jilly Tovey – Lightweight Women's 2000m (Bronze)
Tracy Watkins – 40-49 Women's 2000m (Bronze)
Heidi Viles – 40-49 Lightweight Women's 2000m (Gold)
Christina Nugent – 50-54 Women's 2000m (Bronze)
Justine Reston – 50-54 Lightweight Women's 2000m (Gold)
Julia Fabrizi – 55-59 Women's 2000m (Gold)
Judith Burne – 55-59 Lightweight Women's 2000m (Gold)
Joanna Allsebrook – 55-59 Lightweight Women's 2000m (Silver)
Kelly Sapsford – 55-59 Lightweight Women's 2000m (Bronze)
Helen Mangan –  60-64 Lightweight Women's 2000m (Gold)
Marjorie Roome – 65-69 Women's 2000m (Silver)
Carol Alker – 65-69 Lightweight Women's 2000m (Bronze)
Mary Bromilow – 75-79 Lightweight Women's 2000m (Gold)
Shelagh Allen – 80-84 Women's 2000m (Silver)
Men's 2000m
Sean Gaffney – Men's PR3 2000m (Bronze)
Nathan O'Reilly – 30-39 Lightweight Men's 2000m (Bronze)
Tony Larkman – 50-54 Men's 2000m (Bronze)
Simon Amery – 50-54 Lightweight Men's 2000m (Silver)
Shaun Callaghan – 55-59 Lightweight Men's 2000m (Gold)
Nigel Glover – 60-64 Men's 2000m (Bronze)
Eric Winterbottom – 65-69 Lightweight Men's 2000m (Bronze)
Graham Spittle – 70-74 Men's 2000m (Gold)
Peter Summers – 70-74 Men's 2000m (Silver)
Roger Stainforth –  75-79 Men's 2000m (Bronze)
Women's 500m
Rhian Rudkin – Women's 500m (Bronze)
Jilly Tovey – Lightweight Women's 500m (Gold)
Laura Barrigan – Lightweight Women's 500m (Silver)
Adelle Tudor – 30-39 Women's 500m (Bronze)
Arabella Carbutt –  40-49 Women's 500m (Silver)
Heidi Richards – 50-59 Women's 500m (Silver)
Clare Rainbow – 50-59 Lightweight Women's 500m (Gold)
Marjorie Roome – 60+ Women's 500m (Silver)
Men's 500m
Sean Gaffney – PR3 Men's 500m (Silver)
Phil Clapp – Men's 500m (Gold)
David Rackstraw – 30-39 Men's 500m (Gold)
Noel Stoddart – 40-49 Lightweight Men's 500m (Bronze)
Paul Morris – 50-59 Lightweight Men's 500m (Gold)
Shaun Callaghan – 50-59 Lightweight Men's 500m (Bronze)