Success in older age groups at the Mizuno British Rowing Indoor Championships 2019
Mary Barber shares the story of a group of octogenarians who showed age was no barrier at BRIC19 this month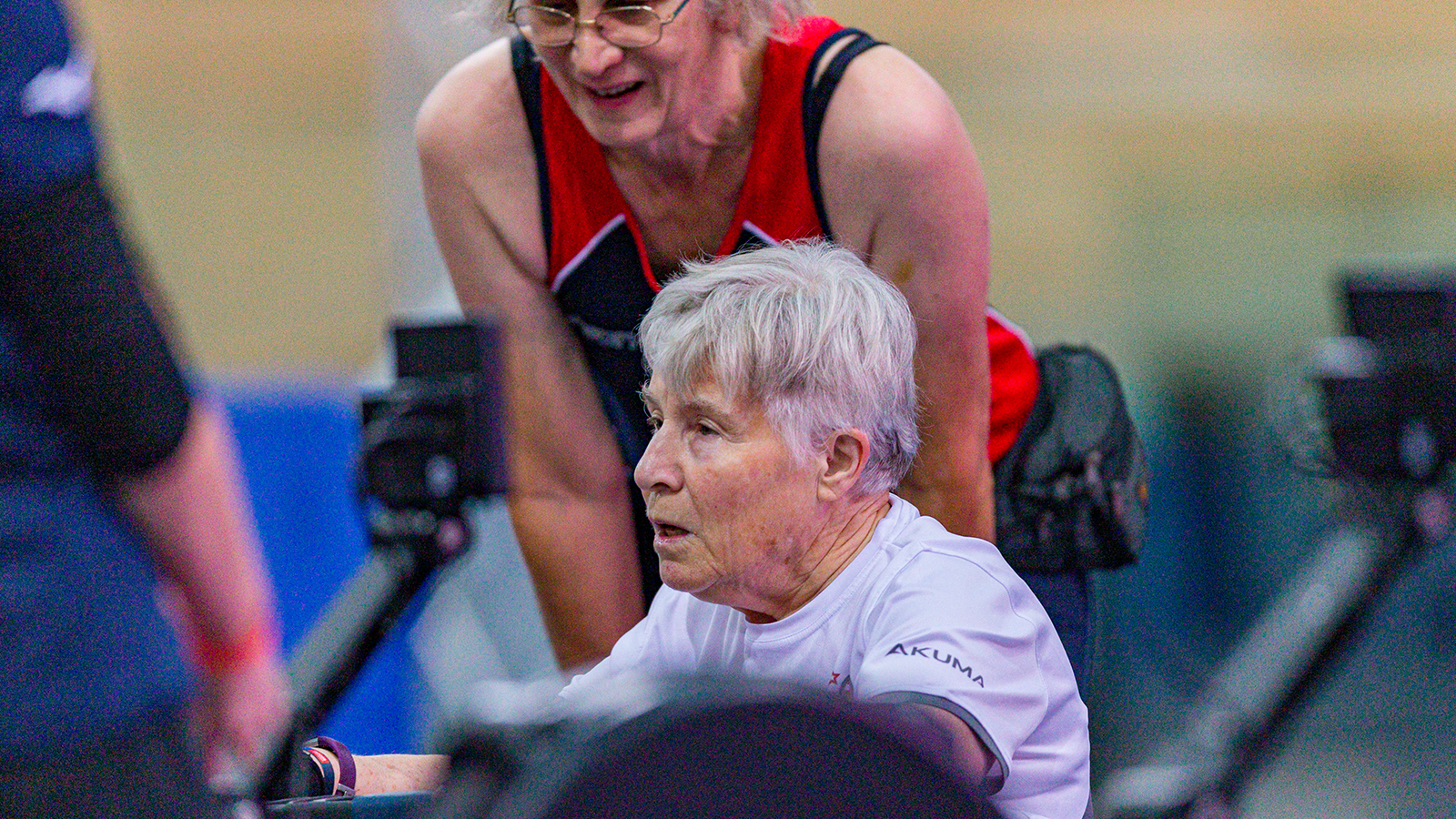 They were cheered on by a 3,000-strong crowd at the Mizuno British Rowing Indoor Championships at London 2012's Olympic velodrome. It is the largest event for the sport in the world with 2,400 entries, from 11 upwards, across 140 races.
The oldest competitor was 88-year-old Maurice Cox who showed strength and determination in the 500m race to finish in a respectable 02:25. Two 84-year-olds, Mike Hurley, from Kingsbridge, Devon, and Henry Rogers, from Twickenham, came in at 01:47 and 02:05, respectively.
"I felt a bit overawed when I first came into the arena and saw all the rowing machines and the crowd," said Mr Cox, from West Wickham in Kent. "But I am glad I did it. I have enjoyed being here."
The retired customs and excise officer was the only competitor in his 85-89-year-old age group. A situation he hopes will now change. "I would encourage everybody, young and old, to try indoor rowing. It is hard work but it exercises a lot of the body. I had no idea I would be any good at it when I first started about twenty years ago. I just want to keep going with the sport."
It was a heart attack in 1998 that prompted the widower to go to the gym. His doctors had advised him to do some exercise and he went along to nearby Calso Health and Fitness Club. The owner Gary persuaded him to try the indoor rowing machine and he has never looked back.
He now goes to the club twice a week with his son David and has since competed in six races, the last being in 2012. "I heard about this event and spoke to my son and Gary and they were 100 per cent behind me taking part," he said.
Mr Hurley and Mr Rogers also took part in the 2,000m race for 80-84-year-olds, clocking up 08.04 and 09.07, respectively. Alongside them was Harry Cole, 82, from Chelmsford, Essex, who finished in 10.17. His son-in-law and grandson also took part in races.
It was Mr Cole's first ever indoor rowing competition and he admitted he had felt nervous before the start of the race. But he added: "I am pleased with how I did, although I know I could have gone quicker." The retired Prudential insurance sales executive, who was cheered on by his proud daughter, has kept fit for most of his life. He played in 500 football games for various clubs from the age of 16 until he hung up his boots at 52. He now goes to Nuffield Gym in Chelmsford three times a week.
Another keep fit enthusiast, who set herself the challenge of racing over 2000m, was Shelagh Allen. The 81-year-old, from West Byfleet in Surrey, was the oldest woman taking part in the Championships and the only competitor in the women's 80-84 age group. The former nurse, who finished in 10.42, took up indoor rowing at 58 and has since competed in many events, including the World Indoor Rowing Championships, and has held several British records.
She said: "I used to cycle but then tried indoor rowing and loved it. I used to go five days a week but now go about three. As long as I keep going I will keep doing it. So many people say they are proud of me, which is great."
Her next major event will be the World Rowing Indoor Championships in Paris in February. In the meantime, the mother-of-two and grandmother-of-one will continue to go to the gym and power walk for an hour every morning with her husband Tom, 85.
The sprightly seniors impressed GB's top para-rowers, who were also competing at the indoor championships, as part of the selection process for the Paralympics in Tokyo next year.
Laurence Whiteley, 28, reigning PR2 double mixed scull World and Paralympic champion, said: "Some of the people here are in their 80s. If I am half as fit as they are at their age, then I am doing incredibly well."
His rowing partner Lauren Rowles, 21, who broke the PR2 women's 2k British record at the event, was also full of praise. "They, like us, are here to challenge themselves. I think it is brilliant," she said. A total of three World records, 10 British records and 60 Championship records were broken during the event on Saturday, December 7. GB para-rower Benjamin Pritchard, 27, smashed the PR1 men's 2km indoor para-rowing World record in a time of 7.23, which was 33 seconds quicker than the previous record set by Russian athlete Alexey Chuvashev.
Olympic rowing champion Eric Murray, 37, from New Zealand, who won in London 2012 and Rio 2016, also took part. He was in the open mixed 4000m race with a wild card team drawn from the 1,800 competitors. He said: "It's great to be able to come here. There are so many passionate people giving indoor rowing a go.
"The best bit is it's not all about winning: you can focus on just getting better. If you can come here and set a new personal record with thousands of people watching you, that's such a cool experience."