Fifty athletes to compete for Great Britain at the U23 World Championships
Fifty athletes will head to Sarasota-Bradenton, FL next week to represent Great Britain at the World Rowing U23 Championships (24-28 July)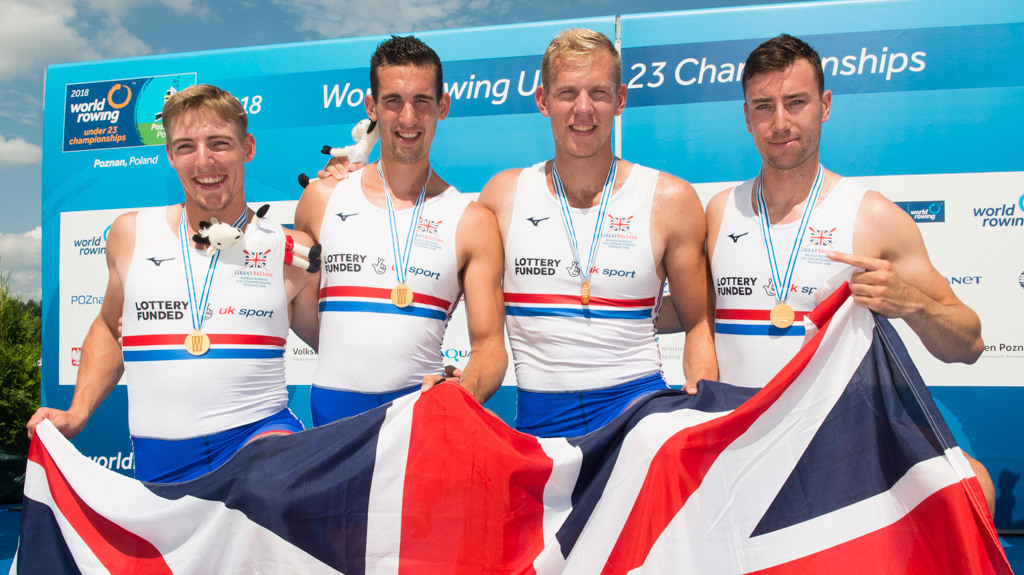 The GB Rowing Team enjoyed their best ever U23 World Championships performance in 2018, winning three golds among a total of eight medals.
The U23 World Championships are an invaluable part of the pathway to the senior GB team. Last year's medallists Heidi Long, Charlotte Hodgkins-Byrne, Kyra Edwards, Saskia Budgett and Imogen Grant were in action for Great Britain at World Cup III last weekend, with Grant winning gold in the lightweight women's single sculls.
British Rowing Director of Performance Brendan Purcell said: "It's great to see such a strong and talented team heading off to the U23 World Championships.
"Peter Sheppard as Chief Coach does a fantastic job of bringing together athletes from a variety of different training backgrounds, including from high performance clubs in the UK and from universities in the USA.
"We have some really exciting and competitive crews, with medallists returning from last year as well as new athletes coming through.  It's a great opportunity for these young athletes to represent Great Britain on the world stage and to test their abilities against the rest of the world."
Three U23 gold medallists return to the men's quad; Matthew Haywood, Josh Armstrong and Samuel Meijer became U23 World Champions in the boat class last year.  They are joined by Durham University's George Bourne for the 2019 event.
Two of last year's silver medal-winning men's four return to this year's crew; David Ambler and Charles Elwes are joined by Thomas Digby and Freddie Davidson, who claimed silver in last years' mens eight.
Exeter University Boat Club's Susannah Duncan was a bronze medallist in 2018 in the lightweight women's double.  She will be aiming to have another podium finish in the single scull this year.
2019 World Cup II silver medal-winning cox Morgan Baynham-Williams will take up a role outside the boat in Sarasota-Bradenton, coaching the men's and women's pairs of James Snowball and Rufus Biggs and Emily Lindberg and Esme Booth respectively.
More than half of the athletes selected represent clubs supported by British Rowing in the High Performance Programme in Clubs (HPPC) initiative, which covers the universities of Edinburgh, Durham, Newcastle, Oxford Brookes and London, as well as Leander Club and Molesey BC.
You can follow the GB Rowing Team in Sarasota-Bradenton on British Rowing social media channels and on www.worldrowing.com.
GB Rowing Team crews for U23 World Championships
Men's coxless pair (BM2-)
James Snowball (Oxford Brookes Univ. BC)
Rufus Biggs (Molesey BC)
Coach: Morgan Baynham-Williams (Leander Club)
Men's coxless four (BM4-)
David Ambler (Tideway Scullers School)
Thomas Digby (The Griffen BC)
Freddie Davidson (Cambridge Univ. BC)
Charles Elwes (Leander Club)
Coach: Richard Chambers (Cambridge Univ. BC)
Men's coxed four (BM4+)
Casper Woods (Imperial College BC)
Oscar Lindsay (Durham Univ. BC)
Henry Jones (Thames RC)
Cormac Molloy (Newcastle Univ. BC)
Scott Cockle (Oxford Brookes Univ. BC)
Coach: Hugo Gulliver (Univ. of London BC)
Men's eight (BM8+)
Henry Blois-Brooke (Oxford Brookes Univ. BC)
Felix Drinkall (Oxford Univ. BC)
Callum Sullivan (Cambridge Univ. BC)
Matthew Rowe (Oxford Brookes Univ. BC)
David Bewicke-Copley (Leander Club)
Leonard Jenkins (Leander Club)
William Stewart (Newcastle Univ. BC)
Harvey Kay (Leander Club)
Vlad Saigau (Colet BC)
Coach: Brian Young (Univ. of London BC)
Men's double sculls (BM2x)
Victor Kleshnev (Leander Club)
James Cartwright (Leander Club)
Coach: Ali Brown (Leander Club)
Men's quadruple sculls (BM4x)
George Bourne (Durham Univ. BC)
Matthew Haywood (Nottingham RC)
Josh Armstrong (Edinburgh Univ. BC)
Samuel Meijer (Elizabethan BC)
Coach: Kieran Clark (Tideway Scullers School)
Lightweight men's single sculls (BLM1x)
Gavin Horsburgh (Edinburgh Univ. BC)
Coach: Matt Evans (Edinburgh Univ. BC)
Women's coxless pair (BW2-)
Emily Lindberg (Univ. of London BC)
Esme Booth (Oxford Brookes Univ. BC)
Coach: Morgan Baynham-Williams (Leander Club)
Women's coxless four (BW4-)
Lydia Currie (Edinburgh Univ. BC)
Alex Rankin (Edinburgh Univ. BC)
Lauren Irwin (Durham Univ. BC)
Hope Cessford (Durham Amateur RC)
Coach: John Higson (Edinburgh Univ. BC)
Women's eight (BW8+)
Lucy Edmunds (York City RC)
Sophie Paine (Leander Club)
Margaret Saunders (Tideway Scullers School)
Alexandra Watson (Nottingham RC)
Hannah Scott (Leander Club)
Holly Dunford (Molesey BC)
Megan Slabbert (Molesey BC)
Johanna Gannon (Oxford Brookes Univ. BC)
Autumn Mackay (Molesey BC)
Coach: Lauren Fisher (GB Rowing Team)
Women's single sculls (BW1x)
Georgina Robinson Ranger (Univ. of London BC)
Coach: Nicola Benavente (World Class Start Nottingham)
Women's quadruple sculls (BW4x)
Lola Anderson (Newcastle Univ. BC)
Ella Toa (Molesey BC)
Molly Harding (Molesey BC)
Lucy Glover (Edinburgh Univ. BC)
Coach: Pete Sheppard (GB Rowing Team)
Lightweight women's single sculls (BLW1x)
Susannah Duncan (Exeter Univ. BC)
Coach: Nicola Benavente (World Class Start Nottingham)
Lightweight women's double sculls (BLW2x)
Fiona Chestnutt (Newcastle Univ. BC)
Chloe Knight (Reading Univ. BC)
Coach: Alex Leigh (Newcastle Univ. BC)