Three more medals claimed by GB on final day of Gavirate International Regatta
GB claim two golds, two silvers and two bronzes over the course of the weekend of racing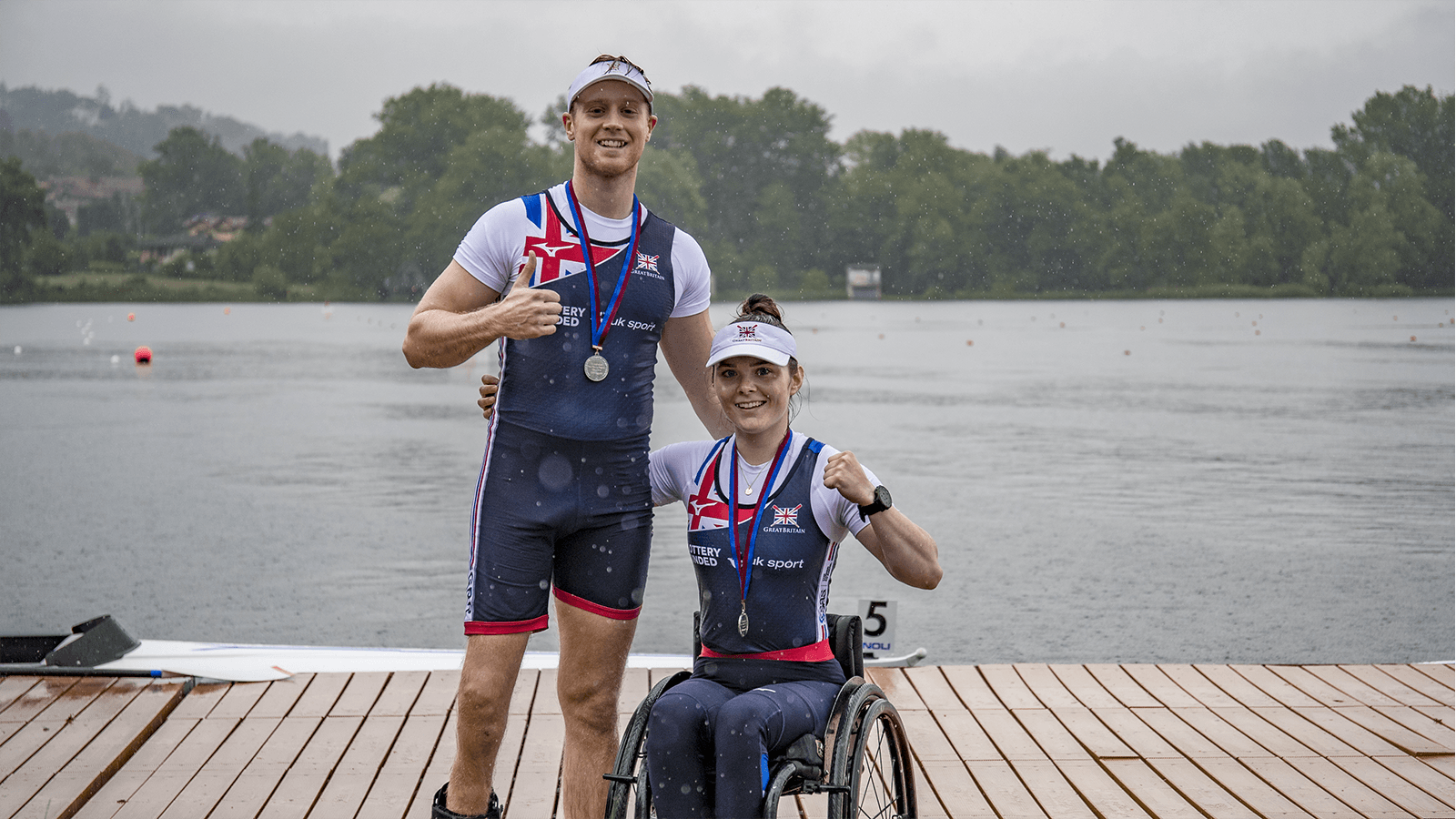 The unseasonably wet conditions for an Italian May didn't put a damper on Great Britain's celebrations at Gavirate International Regatta with another three medals claimed on the final day of racing.
In a further show of their dominance in their category, GB's PR3 mixed coxed four of Ellen Buttrick, Giedre Rakauskaite, James Fox, Ollie Stanhope and cox Erin Wysocki-Jones took their second gold of the regatta.
After taking gold on the Sunday, Stanhope said: "Gavirate has been a great start to the racing calendar and it was good to be able to put such a good marker down."
Cox of the PR3 mixed coxed four, Erin Wysocki-Jones added: "I am really excited by our performances this weekend. We have learnt a lot over the four races. I'm looking forward to moving into the training camp now and hopefully finding even more speed."
Backing up yesterday's performance on the water, Laurence Whiteley and Lauren Rowles picked up another superb silver behind the Dutch crew who added to their gold from yesterday, a great return for a partnership that, before this weekend, hadn't raced together since 2017.
Rowles, who has been out for the last two seasons due to rehab said: "Winning two silver medals after two years away from racing is incredibly promising. We came into the regatta with little race experience over 2k and have come out of it with lots of learnings. We are looking forward to building on our performances here and improving for the rest of the season."
And in the PR1 men's single sculls, Ben Pritchard did the double, taking another bronze medal behind Ukraine who took gold and Australia who took silver. Great Britain's Andy Houghton took fifth place.
After collecting his second bronze of the regatta, Pritchard said: "Today was a tough race for me. Having exceeded expectations yesterday, I wanted to prove to myself that it was not a fluke. Having a teammate in the lane next to you is always difficult but the plan was to focus on my own race and I did that. I'm really happy to finish in third again, in such a stacked field."
Tom Dyson, Chief Coach to the Paralympic squad concluded: "This weekend of racing has been a valuable learning opportunity for the team. There have been some good performances despite still being early in the qualification season and everyone now has a sense of what needs to be worked on as we head towards the World Cup next month.
"For everyone, there's a case of getting back to the hard graft so we are able to step-up when the Paralympic qualification spots are on offer at the World Championships, this August."
Saturday morning, A finals
PR3 mixed coxed four
Great Britain (Ellen Buttrick, Giedre Rakauskaite, James Fox, Ollie Stanhope & Erin Wysocki-Jones (cox) 7:02.03
Australia 7:16.01
Ukraine 7:24.00
PR2 mixed double sculls
The Netherlands 8:15.05
Great Britain (Lauren Rowles & Laurence Whiteley) 8:25.06
France 8:51.03
PR1 men's single sculls
Ukraine 9:37.08
Australia 9:56.01
Great Britain 2 (Ben Pritchard) 10:05.00
France 10:27.00
Great Britain 1 (Andy Houghton) 10:32.06