Gold for men's quadruple sculls at World Cup 3 in Lucerne
Seven of Great Britain's eight crews finished in the top 10, with the quadruple sculls taking gold and the overall World Rowing Cup boat class win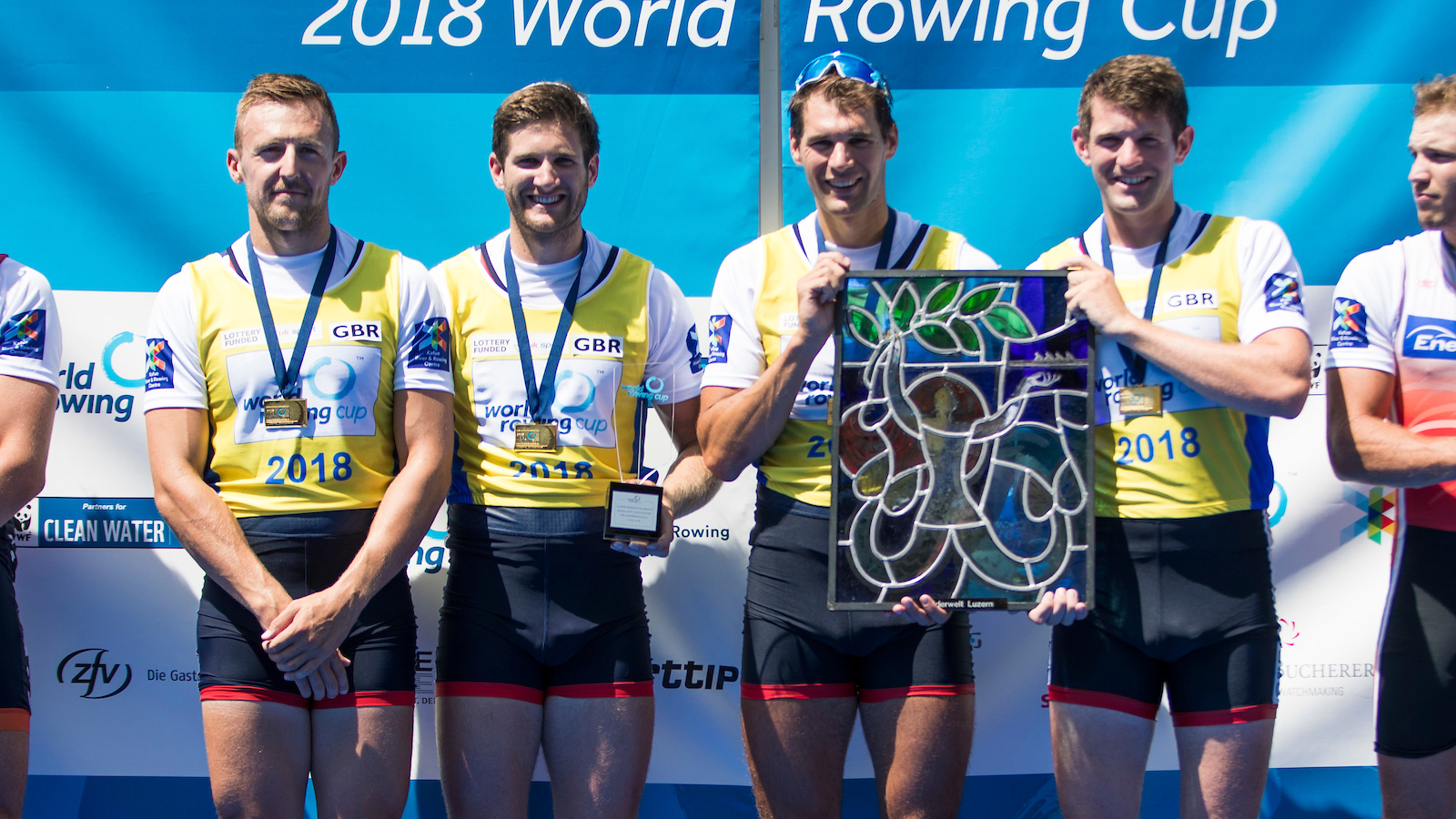 Great Britain's men's quadruple sculls stormed to victory at World Cup 3 in Lucerne.
John Collins, Jonny Walton, Graeme Thomas and Tom Barras surged back from fourth at the halfway mark and held off a late charge by second-place Netherlands to take their second gold of the series.
The win also saw GB named the overall boat class champions for the quad with a total of 17 points from the three regattas, having also won the B final in Linz.
The quad's win capped a solid weekend of performances from the small GB squad out in Switzerland.
The men's four had an excellent regatta with a fourth-place finish. Australia set a blistering pace to lead from start to finish, but Harry Glenister, George Rossiter, Rob Hurn and Sholto Carnegie in the GB crew held their own in the middle of the field, beating the World Cup-leading Germans into fourth place.
Matt Rossiter and Ollie Cook matched their result from World Cup 2, finishing fifth in the men's pair final, edging Serbia on the line by six hundredths of a second.
Both the men's pair (GBR2) and lightweight men's double sculls finished fourth in their respective B finals to claim 10th place overall.
In the pair, Callum McBrierty and Morgan Hellen pushed past early leaders Germany in the third quarter of the race, but were pipped by an excellent sprint from the Irish pair in the closing metres.
Zak Lee-Green and Jamie Copus battled hard to catch the three early leaders, but ended half a length down on third-place France.
The results see Great Britain finish third in the overall World Cup standings with 104 points.
Brendan Purcell, British Rowing Director of Performance, said: "We can be pleased with the performances of the GB athletes out here in Lucerne, with seven of our eight crews finishing in the top 10, whilst recognising the areas for gain we can still strive for over the next few months.
"It was fantastic to see the quad take the gold medal today. I know they were disappointed when they didn't execute the potential performance level they wanted to in Linz, so it's great to see them refocus over the last three weeks and deliver today.
The GB squad for the European Rowing Championships will be announced at the National Training Centre in Caversham on Thursday, 19 July. Tickets are still available to watch the GB Rowing Team compete on home water for the first time since 2013.
Men's pair B final
1. Alexander Sigurbjonsson & Pau Vela Maggi (ESP2) 6:40.42
2. Karlo Udovicic & Valent Sinkovic (CRO1) 6:41.66
3. Mark O'Donovan & Shane O'Driscoll (IRL1) 6:43.27
–
4.  Callum McBrierty & Morgan Hellen (GBR2) 6:43.70
Lightweight men's double sculls B final
1. Jonathan Rommelmann & Konstantin Steinhuebel (GER) 6:23.75
2. Jiri Simanek & Miroslav Vrastil Jr (CZE) 6:25.46
3. Pierre Houin & Thomas Baroukh (FRA1) 6:26.58
–
4.  Jamie Copus & Zak Lee-Green (GBR) 6:27.91
Men's pair A final
1. Thomas Murray & Michael Brake (NZL1) 6:32.93
2. Valentin Onfroy & Theophile Onfroy (FRA1) 6:33.58
3. Lukas Helesic & Jakub Podrazil (CZE) 6:33.64
–
5.  Matt Rossiter & Oliver Cook (GBR1) 6:42.77
Men's four A final
1. Australia 5:51.40
2. Netherlands 5:55.14
3. South Africa 5:58.52
–
4. Great Britain (Harry Glenister, George Rossiter, Rob Hurn & Sholto Carnegie) 6:00.71
Men's quad A final
1. Great Britain (Tom Barras, Jonny Walton, Graeme Thomas & John Collins) 5:44.25
2. Netherlands 5:44.99
3. Poland 5:45.33