Maidenhead RC rower takes on an indoor rowing marathon for charity
Robert Harris rowed 42,195m in aid of Cancer Research UK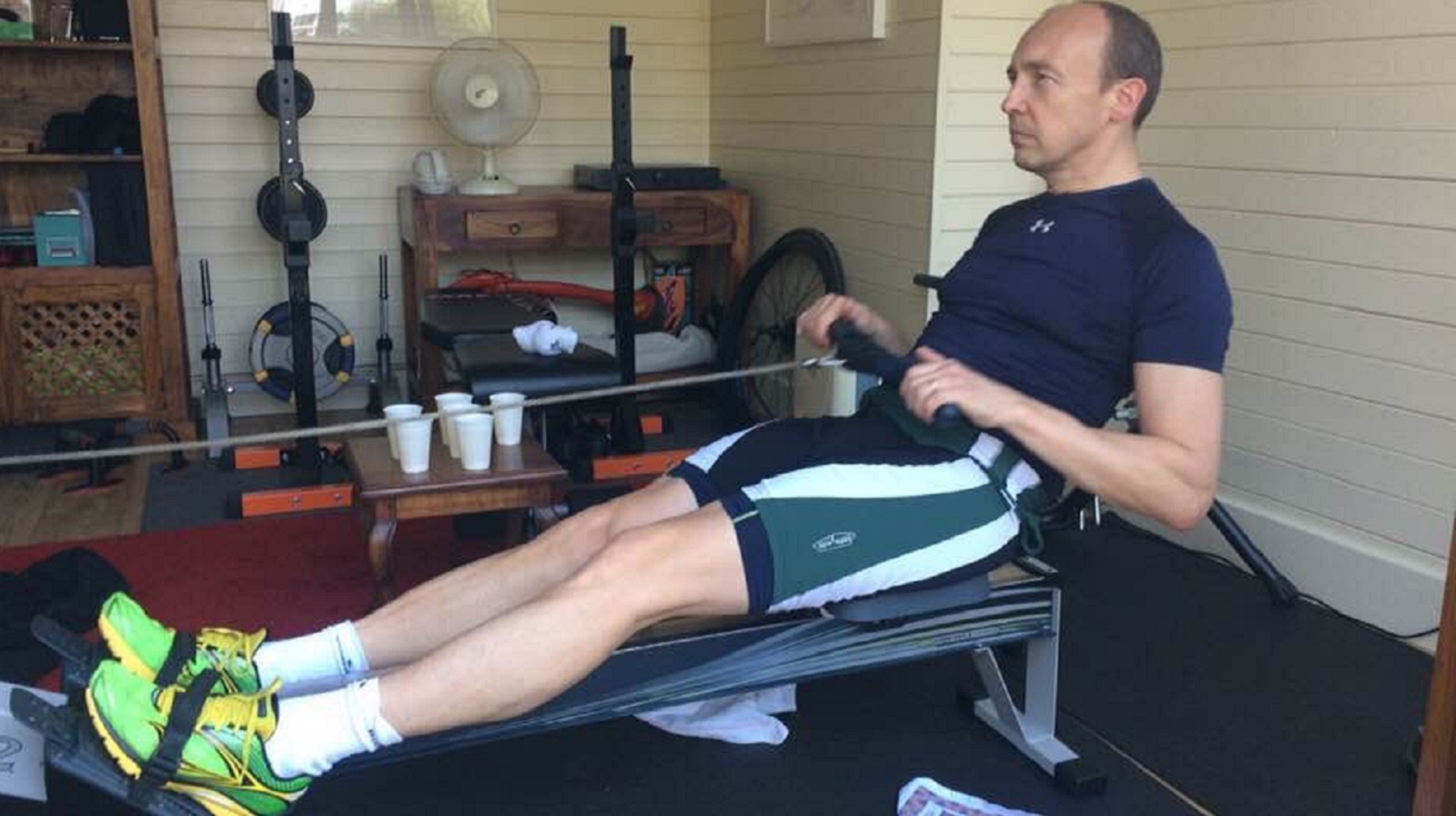 Taking inspiration from the London Marathon, Robert Harris took on an indoor rowing marathon on Sunday, 22 April in aid of Cancer Research UK.
Harris, like many others, has had his life impacted by cancer and wanted to help raise money for the charity.
In the lead up to the challenge, Harris embarked on a 12-week training programme to prepare him for the 42,195m he rowed. Harris spoke to British Rowing about his training.
Why did you want to take on an indoor rowing marathon?
"My decision to undertake the marathon row and my father's diagnosis with throat cancer coincided. Having seen the incredible treatment my father received, I felt it important to turn my 'bucket-list' challenge into something more and use it to support Cancer Research UK in their efforts."
Have you had much rowing experience?
"I caught the rowing bug following the London Olympics and I've been a member of the Maidenhead RC Masters Squad for a few years.  The Club and my regular crew have been very supportive of my efforts this weekend.  Apart from that, I've taken part in a couple of the British Rowing Indoor Championships (BRIC) in December, which helps focus the pre-Christmas training."
What training plan did you follow?
"When I made the commitment to undertake this challenge 12 weeks ago, I quickly discovered that there are very few structured marathon rowing programmes available. However, I eventually found an excellent plan on Indoor Sports Services. The workouts are long so it has been a challenge trying to time manage this with work and family life, and inevitably there has been some leeway in how strictly I've followed the plan, but it has been a very useful resource and reference point.
"I've also included an element of cross-training, particularly cycling.  This has been an important part of my training and has helped greatly with my overall fitness."
How did you prepare for the challenge?
"My training has been spent mainly on my Concept 2 at home, and since the start of the year, I've covered over 500,000m. This has included a couple half marathons, as well as one three-quarter distance.
"The majority of my training has been first thing before heading off to work, which has involved getting up at around 5.30 am. I'm definitely a 'morning person' so this has not been too much of a problem for me.
"For the last couple of weeks, I've stuck solely with the rowing machine, working through a pre-set taper programme. For the final days leading up to the challenge this has also included carb'ing-up – there's plenty of online commentary on this but most of it is pretty vague…so I've just tried to be sensible and eating as much pasta and rice as possible."
What was your goal?
"My goal was to beat 3 hours, which seemed like a fair target."
How did it go?
"I'm pleased to say that I achieved my goal. That said, I found the last 8k tough, despite the regular rehydration, and it was a case of focussing on the end and just not stopping."
What are your top tips for anyone else who wants to take on the challenge?
"Start your training in good time, don't underestimate keeping properly hydrated, and keep your sense of humour…it has also helped knowing that so many have donated to Cancer Research UK, for which I'm very grateful, plus it provided a great incentive to finish!"
If you would like to support Robert Harris you can via his Just Giving page here.
If you're inspired to take on an indoor rowing challenge check out our training plans and our events calendar.
Cancer Research UK is the official charity partner of British Rowing. We're encouraging the rowing community to join in and raise money to help support Cancer Research UK's life-saving work.
Find out how you can get involved in supporting Cancer Research UK here.