Five more GB boats progress on day two of World Rowing U23 Championships in Plovdiv
The men's openweight and lightweight double sculls win their heats to progress, with the men's pair, quadruple scull and coxed four also going through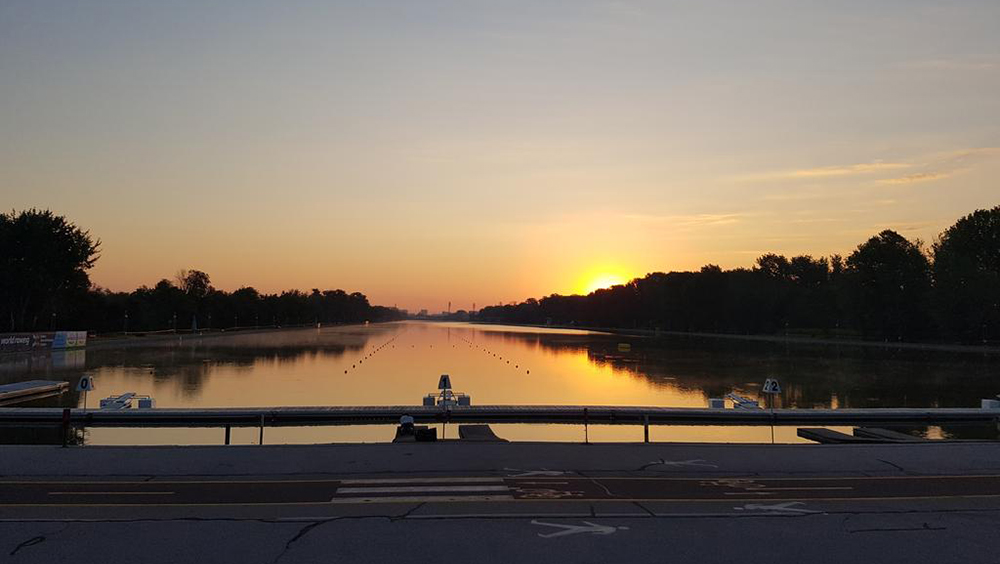 Five more British boats progressed to the latter stages of competition on day two of the World Rowing U23 Championships in Plovdiv, Bulgaria, as the GB Rowing Team continued its strong start to the regatta.
Joining the seven crews who went through on Wednesday, both the openweight and lightwight men's double sculls won their heats to progress to the semi-finals. The lightweight boat, featuring two reigning champions from the U23 lightweight quadruple scull – Matthew Curtis and Gavin Horsburgh, sat second at the 500m mark, but took control of the race by halfway and crossed the line over five seconds ahead of Chile in second.
The openweight crew, Seb Devereux and Sam Meijer, were a canvas behind New Zealand and Bulgaria at the halfway point of their race, but moved through in the second thousand metres to beat the Kiwis by over four seconds.
Andy Joel, Harry Glenister, Rowan Law and Harry Leask in the men's quad finished second behind New Zealand in their heat to progress to Saturday's semi-final. The quartet, who raced at senior level at World Cup I in Belgrade this year, gained over two lengths on Poland in third to seal their progression.
Just over a length separated the top three boats in heat one of the men's pair. William Stewart and Freddie Davidson secured their place in the semi-final by finishing behind Serbia and Austria, sitting third from start to finish.
The men's coxed four needed to finish in the top four in their repechage to progress to the A final and they moved through in style, leading from the off to win by nearly a length over Australia and Romania. GB will now battle for the medals in Saturday's final.
And both the men's and women's eights will have to go through the repechage to progress to their respective finals, having both finished third in their heats. Only the winners of each heat qualified directly to the final, with Canada comfortably winning heat two of the women's event and the Netherlands taking the win in heat one of the men's in a Championship best time.
The GB Rowing Team has so far clinched four A final and seven semi-final slots at this stage of the competition – Friday morning's racing will feature GB in the repechages of the men's and women's eights and the quarter-finals of the men's single scull, where Josh Armstrong will take his chance for a semi-final place. The afternoon programme will see three semi-finals for GB boats – the men's and women's fours and the lightweight men's quad.
Results
Women's eight (BW8+) One progresses to final
1. Canada 6:00.13
2. Germany 6:06.27
3. Great Britain (Charlotte Hodgkins-Byrne, Georgia Statham, Eleanor Stewart, Isobel Powell, Fiona Bell, Thea Zabell, Ally French, Heidi Long, Sasha Adwani (cox)) 6:12.54
Men's pair (BM2-) Three progress to semi-final
1. Serbia 6:20.14
2. Austria 6:21.83
3. Great Britain (Will Stewart, Freddie Davidson) 6:22.65
Men's double scull (BM2x) One progresses to semi-final
1. Great Britain (Seb Devereux, Sam Meijer) 6:08.65
2. New Zealand 6:12.84
3. Bulgaria 6:25.26
Lightweight men's double scull (BLM2x) One progresses to semi-final
1. Great Britain (Matthew Curtis, Gavin Horsburgh) 6:17.83
2. Chile 6:23.19
3. Spain 6:36.65
Men's quadruple scull (BM4x) Three progress to semi-final
1. New Zealand 5:42.69
2. Great Britain (Andy Joel, Harry Glenister, Rowan Law, Harry Leask) 5:47.64
3. Poland 5:52.88
Men's eight (BM8+) One progresses to final
1. Netherlands 5:23.75 (Championship best time)
2. USA 5:26.89
3. Great Britain (Matt Benstead, Alastair Douglass, Michael Glover, Matt Aldridge, David Bewicke-Copley, Morgan Bolding, David Ambler, Arthur Doyle, Ian Middleton (cox)) 5:27.45
Men's coxed four repechage (BM4+) Four progress to final
1. Great Britain (George Stewart, Oliver Wilkes, Joshua Kent, Patrick Sullivan, Charles Clarke (cox)) 6:11.12
2. Australia 6:12.47
3. Romania 6:12.71