Defending champions make winning start to Senior Worlds
Big gusts of wind were unable to prevent GB Rowing Team's defending champions making smooth progress on Monday afternoon as the Senior World Championships got under way in Rotterdam, the Netherlands.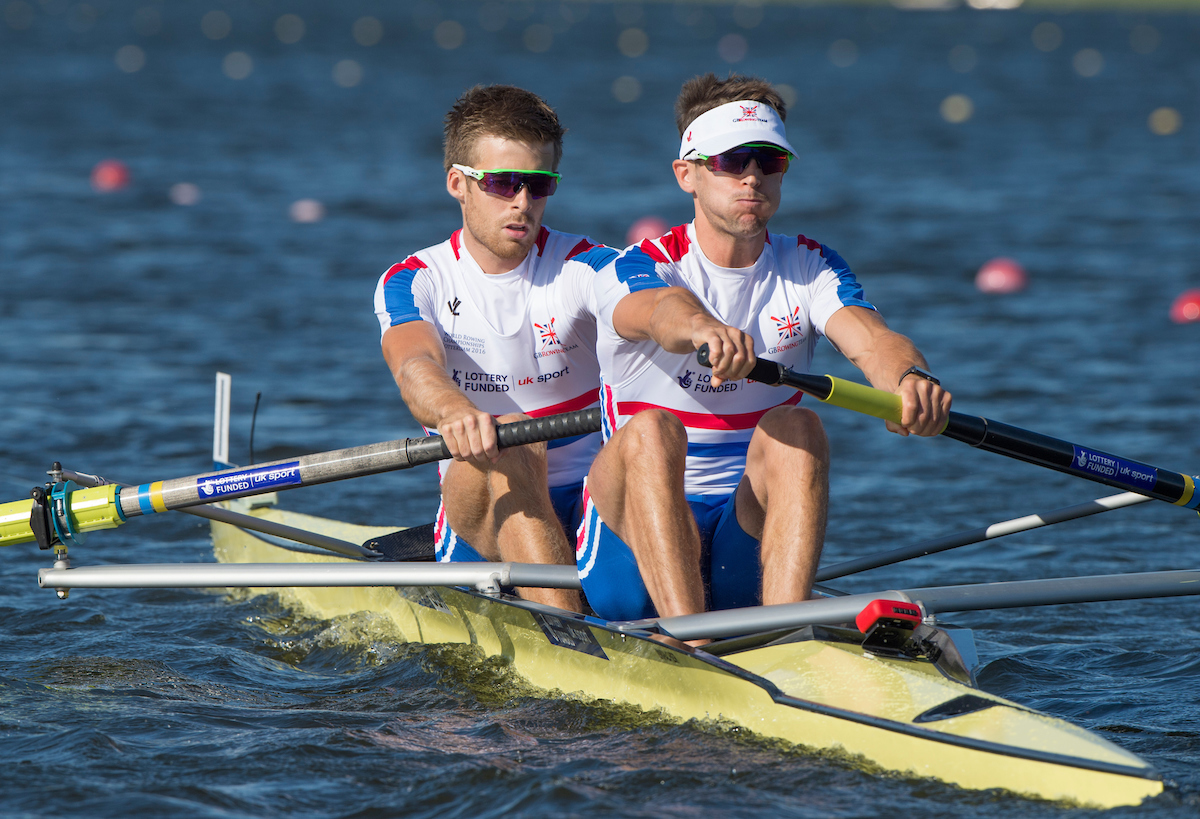 Joel Cassells and Sam Scrimgeour made light of the choppy conditions to continue their unbeaten record in the lightweight men's pair with a composed display.
The men's coxed pair of Ollie Cook, Callum McBrierty and cox Henry Fieldman – a gold-medallist in the boat last year – also looked strong as they won their heat by clear water.
They progress to Thursday's semi-finals, while the women's four of Fiona Gammond, Donna Etiebet, Holly Nixon and Holly Norton booked their place in Saturday's finals with an impressive win.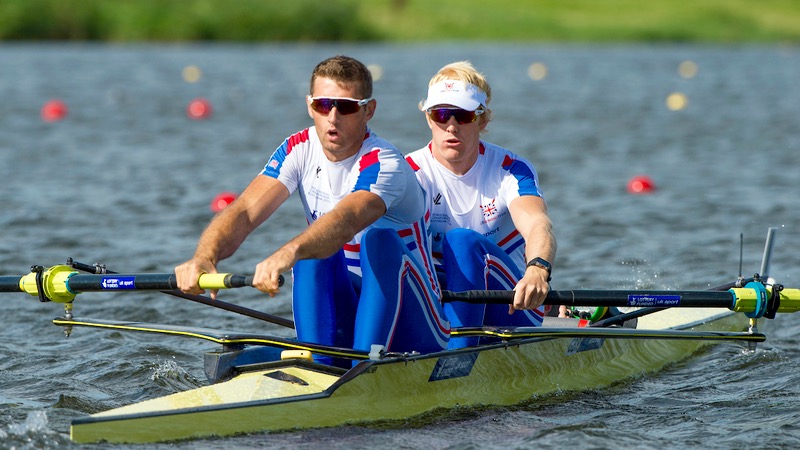 Callum McBrierty and Ollie Cook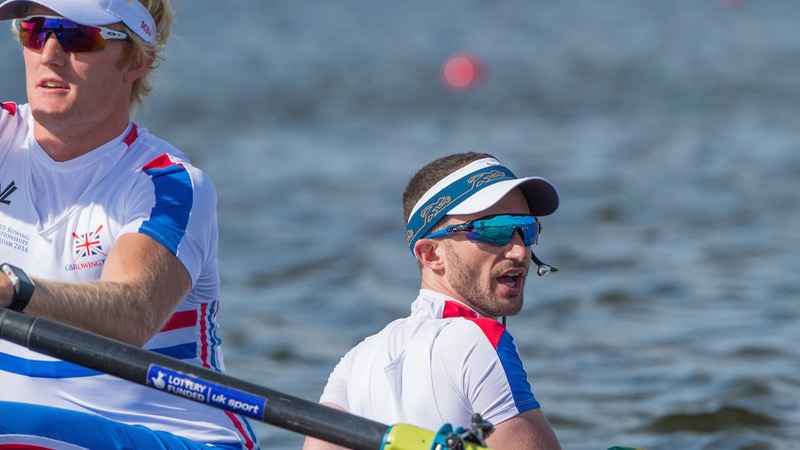 Henry Fieldman
The lightweight women's quadruple scull of Brianna Stubbs, Emily Craig, Imogen Walsh and Ellie Piggott – all World silver-medallists in 2015 – also laid down a marker by winning their preliminary race in fine style.
Gemma Hall, in the lightweight women's single, and the lightweight men's quad of Charles Waite-Roberts, Jamie Copus, Jamie Kirkwood and Zak Lee-Green will look to progress through the repechages on Tuesday morning.
The U23 World Championships continue either side of those races, with single scullers Tom Barras and Sam Mottram competing in the open and lightweight quarter-finals respectively first thing.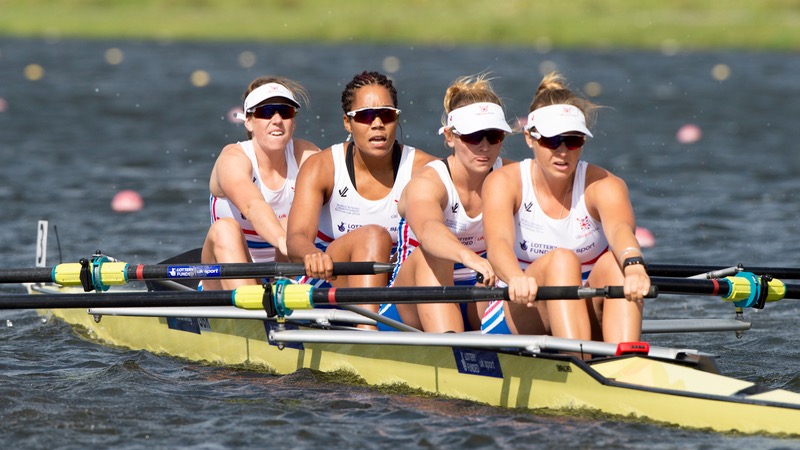 The women's four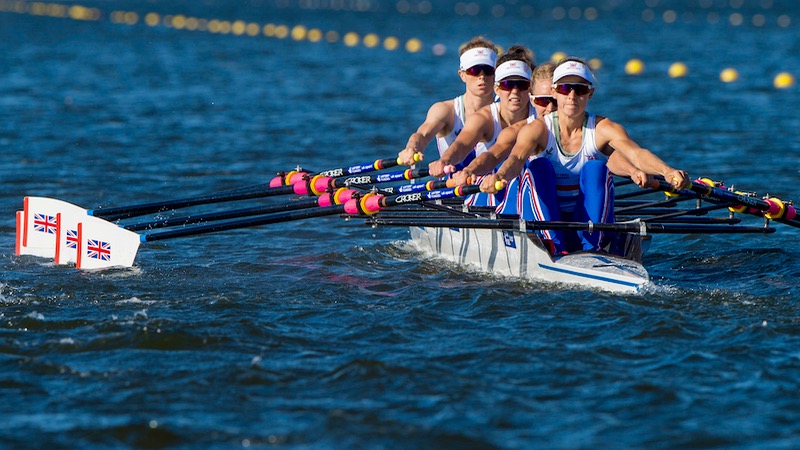 The lightweight women's quad
The afternoon session sees six GB crews racing in semi-finals – the women's double, men's quad, lightweight men's quad, men's four, lightweight men's four and men's eight.
They will be looking to join the four crews who have already progressed to the U23 finals – the lightweight women's quad, women's four, women's eight and men's coxed four.
More than 100 GB rowers are competing on the Willem-Alexander Baan rowing course this week as Rotterdam hosts the combined Senior, U23 and Junior World Rowing Championships. The juniors start their racing on Wednesday.
Click on the expander boxes below for reports, reaction and results from this afternoon's racing.
Open All
Race Report
Joel Cassells and Sam Scrimgeour first raced in the lightweight men's pair at last year's World Championships in Aiguebelette, winning gold.
They have continued that unbeaten partnership during 2016, adding the European Championships title and two World Cup golds to their collection.
Scrimgeour was the lightweight men's spare at the Rio 2016 Olympic Games, meaning he and Cassells only reformed their partnership last week, but they were soon back into the old routine as they eased into an early lead.
Ireland's Mark O'Donovan and Shane O'Driscoll were the only crew to go with the Brits and really pushed hard in the second half but Cassells and Scrimgeour comfortably held off their challenge to progress to Thursday's semi-finals as heat winners.
Cassells said: "Sam and I have had a bit of time apart but we have come back together nicely again and it was good to blow off the cobwebs.
"The wind was a bit challenging but we came through similar conditions at the Europeans in Brandenburg. The aim is to build our performances throughout the regatta."
GB are also defending champions in the men's coxed pair, with cox Henry Fieldman having won gold with Nathaniel Reilly-O'Donnell and Mat Tarrant in Aiguebelette.
Fieldman is joined this year by Ollie Cook and Callum McBrierty in a combination that won World Cup gold in Poznan on their last outing, demonstrating the strength in depth of the GB heavyweight men's sweep squad.
Their heat saw Canada and Ukraine fly out of the blocks but the GB soon settled into a rhythm and began to reel in the front two.
Ukraine were quickly overhauled and it was now just a matter of when the fast-moving Cook, McBrierty and Fieldman would pass the Canadians. They finally got their noses in front with 300m to go and went on to take the win by a length and a half.
Fieldman said: "Sometimes crews go out too hard in the coxed pair but we stuck to our plan and that saw us through.
"The conditions were tricky out there but as the race went on, we learnt how to handle them and it was a good win."
Holly Norton was in the GB women's four that won silver at last year's World Championships. This time she is joined in the boat by Donna Etiebet, Holly Nixon and Fiona Gammond, the latter a World U23 and Junior medallist making her senior GB debut.
Only one of the three crews in their heat would progress directly to the final and the GB quartet made sure it was them by establishing an early lead that they never relinquished after a strong performance.
They were three-quarters of a length up on Germany at the halfway stage and continued to eke out their advantage in the third 500m, despite the choppy conditions. Germany put in a sprint in the closing stages but GB comfortably held them off to take the win.
Etiebet said: "The conditions were challenging to say the least, especially where we were in the furthest lane, but we just tried to keep it clean and make the pushes when we had to.
"Every time Germany tried to come back, we did enough to keep them at bay."
The lightweight women's quadruple scull of Brianna Stubbs, Emily Craig, Imogen Walsh and Ellie Piggott all won silver medals at the 2015 World Championships.
They showed they will be pushing hard to upgrade to gold in Saturday's final as they won by a length from defending champions Germany in today's preliminary race.
The two crews quickly pulled away from the field and were level going through the halfway point before GB stamped their authority in the third quarter.
Gemma Hall, competing in the lightweight women's single scull, is making the step from U23 to senior level at these championships.
The wind was really whipping down the course as Hall contested her heat and she found herself off the pace at the 500m mark but began to settle into the race and enjoyed a good tussle with Russia's Anastasiia Ianina for third spot, finally getting the edge by four-hundredths of a second.
Hall will race again in the repechage on Tuesday morning, as will the lightweight men's quadruple scull of senior debutant Charles Waite-Roberts, Jamie Copus, Jamie Kirkwood and Zak Lee-Green.
There was only one direct qualification place for the final in their heat and that went to the reformed 2014 World Champions from Greece, who dominated proceedings. The British crew crossed the line in fifth.
Race Results
(Events featuring GB Rowing Team crews only. For full results – www.worldrowing.com)
HEATS
OPEN
WOMEN
Four – H2
1. Fiona Gammond/Donna Etiebet/Holly Nixon/Holly Norton (GREAT BRITAIN) 6:40.22
2. Melanie Hansen/Ronja Schuette/Charlotte Reinhardt/Lea-Kathleen Kuehne (Germany) 6:42.02
3. Kyra De Vries/Annemarie Bernhard/Willeke Vossen/Jocelyn Spruit (Netherlands) 7:00.50
MEN
Coxed pair – H3
1. Oliver Cook/Callum McBrierty/Henry Fieldman (cox) (GREAT BRITAIN) 6:59.31
2. Andrew Stewart-Jones/Benjamin De Wit/Kevin Chung (cox) (Canada) 7:02.82
3. Sergii Gryn/Artem Moroz/Oleksandr Konovaliuk (cox) (Ukraine) 7:10.73
4. Matyas Klang/Jakub Marovicka/Radek Suma (cox) (Czech Republic) 7:12.22
5. Nico Merget/Maximilian Fraenkel/Felix Lindemann (cox) (Germany) 7:14.90
LIGHTWEIGHT
WOMEN
Single scull – H3
1. Emma Fredh (Sweden) 7:43.55
2. Katherine Sauks (Canada) 7:43.92
3. Gemma Hall (GREAT BRITAIN) 7:52.33
4. Anastasiia Ianina (Russia) 7:52.37
5. Shuai Guo (China) 7:57.08
MEN
Pair – H2
1. Joel Cassells/Sam Scrimgeour (GREAT BRITAIN) 6:37.05
2. Mark O'Donovan/Shane O'Driscoll (Ireland) 6:38.84
3. Sergei Cherepkov/Aleksei Kiiashko (Russia) 6:44.40
4. Sergio Perez Moreno/Jesus Gonzalez Alvarez (Spain) 6:45.08
5. Lei Li/Zhongwei Li (China) 6:59.44
Quadruple scull – H1
1. Georgios Konsolas/Spyridon Giannaros/Panagiotis Magdanis/Eleftherios Konsolas (Greece) 5:57.46
2. Steffen Jensen/Andrej Bendtsen/Jens Nielsen/Mathias Larsen (Denmark) 5:59.35
3. Francesco Rigon/Andrea Fois/Michele Quaranta/Catello Amarante II (Italy) 6:00.97
4. Taylor Hendy/Mark Henry/Joshua King/Thomas Rendall (Canada) 6:01.98
5. Charles Waite-Roberts/Jamie Copus/Jamie Kirkwood/Zak Lee-Green (GREAT BRITAIN) 6:03.17
6. Pavel Garanin/Alexey Nekrasov/Anton Kuranov/Nazar Lifshitc (Russia) 6:07.06
PRELIMINARY RACE
LIGHTWEIGHT
WOMEN
Quadruple scull
1. Brianna Stubbs/Emily Craig/Imogen Walsh/Ellie Piggott (GREAT BRITAIN) 6:35.11
2. Judith Anlauf/Leonie Pieper/Lena Reuss/Katrin Thoma (Germany) 6:37.51
3. Xulian Xuan/Weixao Zhang/Weimiao Zhang/Xiaohua Yan (China) 6:40.33
4. Ashley Amos/Monica Whitehouse/Morgan McGovern/Emily Schmieg (USA) 6:42.59
5. Jenna Pelham/Sydney Boyes/Jill Moffatt/Kathryn Twyman (Canada) 6:43.90
Crew List
World Rowing Championships, Rotterdam, The Netherlands, August 21-28, 2016
(Listed bow to stroke; club, hometown, date of birth)
OPEN
WOMEN
Four
Fiona Gammond (Leander Club/Bicester/19.10.92)
Donna Etiebet (Imperial College BC/London/29.04.86)
Holly Nixon (Leander Club/Enniskillen/07.12.93)
Holly Norton (Leander Club/Johannesburg, SA/01.01.93)
Coach: Jane Hall
MEN
Coxed pair
Oliver Cook (Univ of London BC/Windsor/05.06.90)
Callum McBrierty (Leander Club/Edinburgh/13.08.92)
Henry Fieldman (cox) (Molesey BC/Barnes/25.11.88)
LIGHTWEIGHT
WOMEN
Quadruple scull
Brianna Stubbs (Wallingford RC/Poole/13.07.91)
Emily Craig (Univ of London BC/Mark Cross/30.11.92)
Imogen Walsh (London RC/Inverness/17.01.84)
Ellie Piggott (Wallingford RC/Bedford/16.05.91)
Coach: Ben Reed
Single scull
Gemma Hall (Wallingford RC/Wargrave/10.04.92)
MEN
Pair
Joel Cassells (Oxford Brookes Univ BC/Coleraine/15.06.94)
Sam Scrimgeour (Imperial College BC/Kirriemuir/28.01.88)
Quadruple scull
Charles Waite-Roberts (Leander Club/Basingstoke/06.11.92)
Jamie Copus (Oxford Brookes Univ BC/Watlington/30.01.93)
Jamie Kirkwood (Leander Club/Newcastle/30.08.89)
Zak Lee-Green (Agecroft RC/Cardiff/06.02.91)
Coach: Ross Hunter