World medallists among exciting GB junior team for Munich Regatta
The GB Rowing Team has named a talented 33-strong squad for the International Junior Regatta taking place in Munich, Germany, on May 7-8.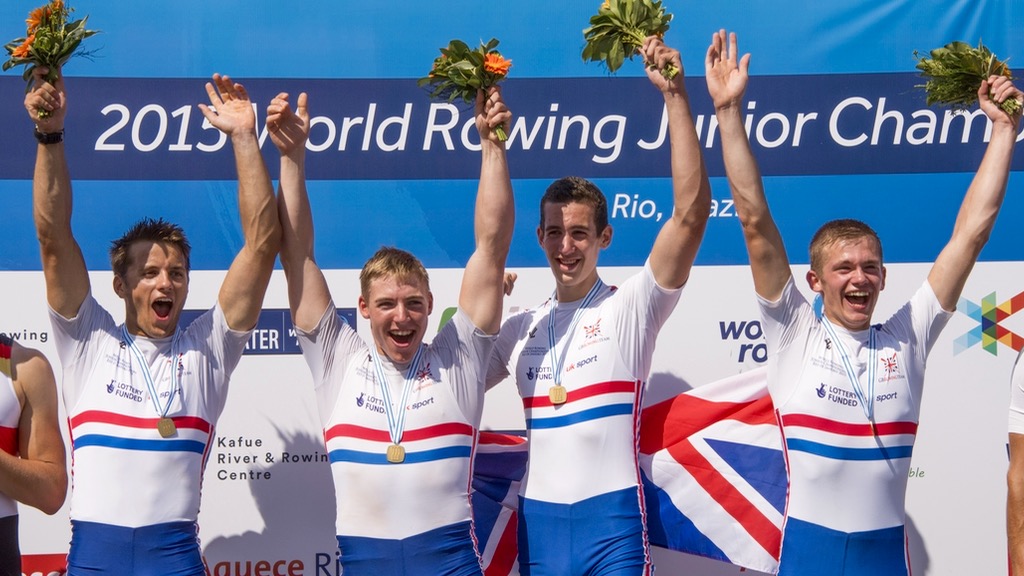 Among those competing will be nine rowers – including two medallists in Josh Armstrong and Tom Digby – who represented Britain at the 2015 World Junior Championships in Rio de Janeiro, which doubled as a test event for this summer's Olympic Games.
Glasgow Schools RC's Armstrong helped the men's quad to a historic World Junior gold last summer, while Tom Digby of Abingdon School won silver with the men's four in Rio and Westminster School's Nick Plaut raced in the eight.
Among the 14 male sweep rowers are James Plaut (Westminster School) – Nick's twin brother – and Freddie Davidson (St Paul's School), who were both in the World Junior eight that reached the A final last year.
Further World Junior experience is provided by Oswald Stocker (Westminster School) and cox Vlad Saigau (St Paul's School), who were in the men's coxed four in Rio.
In the women's squad are two members of the 2015 World Junior four, finalists in Rio, Georgina Grant (Molesey BC) and Alex Rankin (Glasgow Schools RC). They have been selected for sculling and sweep respectively in Munich.
The Munich regatta, which annually attracts nearly 2,000 young rowers from across the world, is the first major junior competition of 2016 and provides the GB team with the chance to gain more racing experience as they start building towards this summer's World Juniors in Rotterdam, the Netherlands.
The team was selected after a series of Junior Trials that featured hundreds of teenage rowers from across Britain.
Robin Dowell, Lead Coach for the GBRT Junior Team, said: "[Team manager] John Layng and I were pleased with the Trials.
"It was great to look at new and exciting combinations of athletes within the system and challenge them to step up to a world-class level of performance."
Joining world-finalist Rankin in the women's sweep team in Munich are Gloucester RC duo Frances Russell and Bryony Lawrence, plus India Somerside (Glasgow Schools RC) who is one of several team members to have competed in the annual J16 match against France last summer.
Lucy Glover (Warrington RC) and Lola Anderson (Surbiton High School BC), double gold-medallists in the women's quad at the 2015 Coupe de la Jeunesse, are in the sculling squad along with Sheyi Blackett (Reading RC), Hattie Orr (Shiplake Vikings RC) and Meg Saunders (Tideway Scullers School).
All eight rowers in the men's sculling squad have previous international experience.
Sam Champion (Isle of Ely), Harry Oliver (The Windsor Boys' School), Rory Harris (Pangbourne College) and George Lawton (Northwich RC) were all in the Coupe team last year, the latter two winning silver medals in the men's double, and James Mawby (Nottingham RC) represented GB in the annual J16 match against France in 2014.
In the men's sweep squad Dom Jackson (Hampton School), Oskar Arzt-Jones (Westminster School), Bertie Woodward-Fisher (St Paul's School), Ollie Ayres (Molesey BC) and Seb Benzecry (St Paul's School) all won medals at the Coupe in 2015, while Casper Woods (St Paul's School), Felix Drinkall (Eton College) and Benedict Aldous (Eton College) have J16 experience.
Completing the men's sweep squad are GB debutants Marcus Jonas (Tideway Scullers' School), Adam Teece (Abingdon School) and Matthew Rowe (Shrewsbury).
GB won four medals at last year's International Junior Regatta in Munich – silver for both the men's and women's quads, plus bronze for the women's double and men's eight.
Click on the 'crew list' expander box below to see the team in full.
Open All
Crew List
SQUAD LIST FOR INTERNATIONAL JUNIOR REGATTA, MUNICH
(Crews to be determined)
WOMEN
SWEEP
Bryony Lawrence (Gloucester RC)
Alex Rankin (Glasgow Schools RC)
Frances Russell (Gloucester RC)
India Somerside (Glasgow Schools RC)
SCULL
Lola Anderson (Surbiton High School BC)
Sheyi Blackett (Reading RC)
Lucy Glover (Warrington RC)
Georgina Grant (Molesey BC)
Hattie Orr (Shiplake Vikings RC)
Meg Saunders (Tideway Scullers School)
MEN
SWEEP
Bow-side
Seb Benzecry (St Paul's School)
Dom Jackson (Hampton School BC)
Marcus Jonas (Tideway Scullers School)
James Plaut (Westminster School)
Oswald Stocker (Westminster School)
Adam Teece (Abingdon School)
Casper Woods (St Paul's School)
Stroke-side
Benedict Aldous (Eton College)
Oskar Arzt-Jones (Westminster School)
Ollie Ayres (Molesey BC)
Freddie Davidson (St Paul's School)
Felix Drinkall (Eton College)
Matthew Rowe (Shrewsbury School)
Bertie Woodward-Fisher (St Paul's School)
Cox
Vlad Saigau (St Paul's School)
SCULL
Josh Armstrong (Glasgow Schools RC)
Sam Champion (Isle of Ely)
Rory Harris (Pangbourne College)
George Lawton (Northwich RC)
James Mawby (Nottingham RC)
Harry Oliver (The Windsor Boys' School)
Nick Plaut (Westminster School)
COACHES
Robin Dowell (Lead Coach GBRT Junior)
Nicola Benavente (GBRT Start, Nottingham RC)
Josh Butler (Westminster School)
Dave Currie (Shiplake College)
Ade Roberts (GBRT)
Lewis Sloan (The Windsor Boys' School)
Iain Somerside (Glasgow Schools RC)