GB rowers back in action at British Championships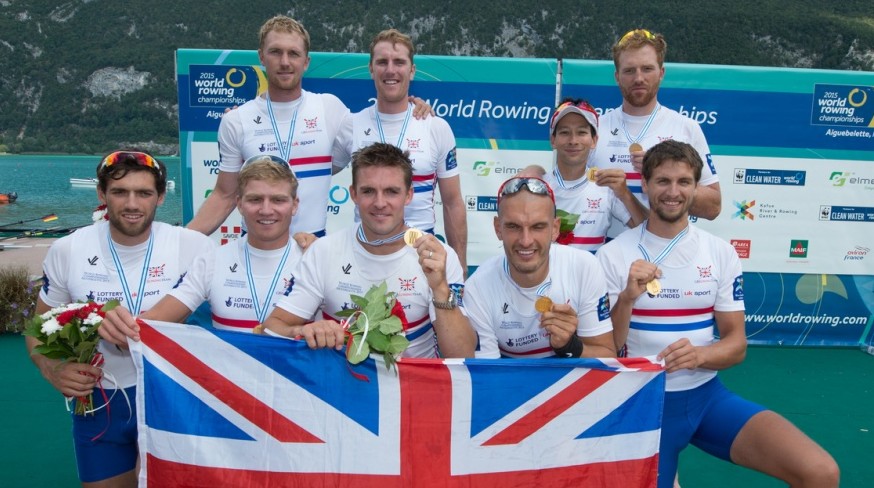 GB Rowing Team squad members will enjoy their first competitive outing of the Olympic and Paralympic season when they represent their clubs at the British Rowing Senior Championships in Nottingham this weekend.
Four Olympic champions and more than 60 of the team that competed at last month's World Championships will be in action – many of them in unfamiliar combinations or alongside promising U23 and junior rowers.
The men's eight that won World gold in Aiguebelette will be split across four boats, with seven of them racing in a very strong men's four competition on Saturday.
Will Satch, Alex Gregory and Matt Gotrel will team up with Tom Ransley, who won bronze with the men's four at the World Championships, in one Leander Club boat.
They will be in competition with club colleagues Pete Reed and Constantine Louloudis, who team up with men's four bronze-medallist Stewart Innes and men's pair silver-medallist Matt Langridge.
James Foad, Langridge's partner in the pair, will join Moe Sbihi, George Nash and World U23 rower Tom Marshall in a Molesey BC and Itchen Imperial RC composite looking to defend their title.
Contesting the women's four on Saturday will be Katherine Grainger, who is joined in a Marlow RC, Gloucester RC and Sir William Borlase's Grammar School composite by fellow Olympian Beth Rodford, World U23 quad silver-medallist Molly Harding and Ellen Roberts.
Rosamund Bradbury and Louisa Reeve, of the women's eight, are joined in a Leander Club boat by Lucinda Gooderham – World Championship silver-medallist in the women's four – and Katherine Douglas.
Para-rowing World Champions Pamela Relph and Grace Clough go in a composite four with Thames RC's Helena Green and Madeline O'Shaughnessy-Hunter.
All four members of the LTA mixed coxed four that successfully defended their World Championships title will be in action at Nottingham's Water Sport Centre, with Dan Brown representing Upper Thames RC in the LTA single scull.
And James Fox is one of three World Champions in a University of London men's eight also featuring Nathaniel Reilly-O'Donnell and Paul Bennett, who won World gold with the coxed pair and eight respectively.
"It's great that students, Paralympic and Olympic squad members are in crews together, it shows just how inclusive the championships are," said Fox.
"It is rare that we in the Paralympic squad get to race for our clubs, so it is a real opportunity to raise awareness of para-rowing as well as get some decent multi-lane racing in before the real winter training begins."
Racing in para-rowing single scull events this weekend are World silver-medallists Tom Aggar, Rachel Morris, Lauren Rowles and Laurence Whiteley.
The women's quad competition is packed with quality, with Olympic Champion Kat Copeland in a Tees RC crew with Tina Stiller and World U23 medallists Beth Bryan and Jo Wratten.
Vicky Thornley is in a Leander quad with Jess Leyden, Vicki Meyer-Laker and Polly Swann, who is back in training after missing the 2015 campaign through injury.
Ruth Walczak and Emily Craig, lightweight women's quad silver-medallists at the World Championships, will represent Molesey and University of London respectively. Brianna Stubbs and Ellie Piggott, their crew-mates in Aiguebelette, go in the lightweight women's double scull for Wallingford RC.
There are some intriguing combinations in the men's quad competition, with the GB World Championships crew split across three boats.
Charles Cousins and Peter Lambert team up with the GB men's double of Jonny Walton and John Collins in one of two Leander quads, the other featuring GB lightweight Jamie Kirkwood.