GB Rowing Team para-rowing coxed four smash world best time to take gold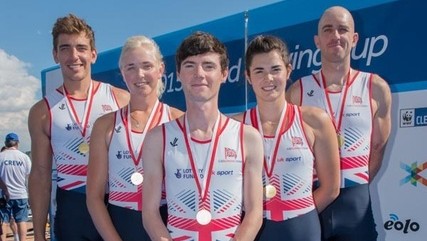 Grace Clough, Dan Brown, Pamela Relph, James Fox and cox Oliver James knocked the socks off their own world's best time to win gold at the world cup in Varese today.
The World Champion GB para-rowing mixed coxed four got a flying start and were ahead after just a few strokes. By 300m gone they were a length ahead with Italy in second.
From that moment on, they turned on the power and the pace to win in a stunning 3:13.76 – lowering the world best time that they set in Thursday's heats of 3:15.47.
"We knew we were on for a good time as we've had a good training camp and a great block of training. We wanted to challenge ourselves here in the heat and with conditions the way they were today we knew it was on to break it again today", said Relph.
"I've started my birthday celebrations a day early", said Clough. "This time last year I was so new to racing at this level and I didn't know what was happening. Today I've been able to enjoy it too".
"At 500m we were on record pace, at 750m we were behind. It was great commitment from the guys. That was a much more aggressive row", added cox Oliver James.
Dan Brown said the win and the time augured well for the World Championships: "That felt really great now we will go and get ready for Aiguebelette [venue of the 2015 Worlds] and try and make the boat go even quicker".
Earlier, in the arms-shoulders-only single scull Tom Aggar was drawn between two of his biggest rivals in today's final – Erik Horrie of Australia, the popular World Champion, and Alexey Chuvashev of Russia with whom he has traded verdicts in big events over the past few years.
Chuvashev blasted out of the start and took an early lead with Aggar and Horrie closely chasing before the Brazilian Rene Periera challenged briefly.
At the halfway mark Horrie, as expected moved into a good lead, with Chuvashev in second and Aggar two-thirds of a length behind the Russian. Aggar, World silver medallist in 2014, strived to close the gap and had the overlap with 100m to go.
As the line loomed Aggar was getting closer but did not have quite enough.. Gold to Horrie and silver to Chuvashev by just under two seconds from Aggar in bronze.
"I've got a little bit mixed feelings as I would have liked to have come ahead of the Russian after the results last year", said Aggar. "Today wasn't quite there but I'm now in a reasonable position going towards the World Championships".
Equipment failure delayed the start of the equivalent women's final featuring Rachel Morris for GB who is returning after shoulder surgery. From the outset it was clear that Moran Samuel of Israel and Birgit Skarstein of Norway would battle for the gold – a contest won ultimately by Samuel.
Behind them Morris and Claudia Santos of Brazil tested each other for the bronze with the Brazilian taking the honours.
"That's two really good medals and a fourth place for our para-rowers today and hats off to the four for lowering the World's Best Time twice in Varese", said Sir David Tanner, GB Rowing Team Performance Director.
"This is a strong marker on our mission to qualify our para-boats for the Games later this summer with the new TA double still to come into the GB mix", he added.
The GB para-rowers will next compete internationally at the World Championships in early September in France – an event which doubles as the Paralympic Games qualifying regatta.
SCROLL DOWN FOR MORE
====================================================================
RESULTS
(Events featuring GB Rowing Team crews only. For full results – www.worldrowing.com)
PARA ROWING
A FINALS
WOMEN
Arms-shoulders single scull
1. Moran Samuel (Israel) 5:15.77
2. Birgit Skarstein (Norway) 5:21.75
3. Claudia Santos (Brazil) 5:37.45
4. Rachel Morris (GREAT BRITAIN) 5:40.69
5. Eleonora De Paolis (Italy) 5:58.89
6. Liudmila Vauchok (Belarus) DNF
MEN
Arms-shoulder single scull
1. Erik Horrie (Australia) 4:41.74
2. Alexey Chuvashev (Russia) 4:47.97
3. Tom Aggar (GREAT BRITAIN) 4:49.75
4. Roman Polianskyi (Ukraine) 4:58.42
5. Rene Pereira (Brazil) 4:59.08
6. Johannes Schmidt (Germany) 5:04.73
MIXED
Leg-trunk-arms mixed coxed four
1. Grace Clough/Daniel Brown/Pamela Relph/James Fox/Oliver James (cox) (GREAT BRITAIN) 3:13.76
2. Italy 3:29.54
3. France 3:30.88
4. Brazil 3:31.09
5. Ukraine 3:33.34
6. Israel 3:44.02
SCROLL DOWN FOR MORE
===========================================================
CREW LISTS (Includes club, home town, date of birth)
GB Rowing Team for World Cup 11,
Varese, Italy 19-21 June, 2015
OPEN
WOMEN
Pair – two boats
Helen Glover (Minerva Bath RC/Penzance/17.06.86)
Heather Stanning (Army RC/Lossiemouth/26.01.85)
Coach: Robin Williams
Rebecca Chin ( (Agecroft RC/Deganwy/11.12.91))
Karen Bennett (Leander Club/Edinburgh/05.02.89)
Coach: Robin Williams
Eight
Katie Greves (Leander Club/Oxford/02.09.82)
Louise Reeve (Leander Club/London/16.05.84)
Jessica Eddie (London RC/Durham/07.10.84)
Donna Etiebet (Sport Imperial/London/29.04.86)
Victoria Meyer-Laker (Leander Club/Premnay/18.03.88)
Olivia Carnegie-Brown (Oxford Brookes Univ BC/Oxford/28.03.91)
Rosamund Bradbury (Leander Club/Banstead/17.12.88)
Zoe Lee (Imperial College BC/Richmond/15.12.85)
Zoe de Toledo (Cox) (Leander Club/London/17.07.87)
Coach: James Harris
Double Scull
Katherine Grainger (St Andrew BC/Glasgow/12.11.75)
Victoria Thornley (Leander Club/Wrexham/30.11.87)
Coach: Paul Thompson
Quadruple Scull
Jessica Leyden (Leander Club/Todmorden/22.02.95)
Beth Rodford (Gloucester RC/Gloucester/28.12.82)
Kristina Stiller (Tees RC/Yarm/23.06.87)
Melanie Wilson (Imperial College BC/London/25.06.84)
Coach: Nick Strange
Women's Spare
Karen Bennett (Leander Club/Edinburgh/05.02.89)
OPEN
MEN
Pair
Mat Tarrant (Oxford Brookes Univ BC/Shepperton/11.07.90)
Calum McBrierty (Leander Club/Edinburgh/13.08.92)
Coach: Rob Dauncey
Four
Alan Sinclair (Leander Club/Munlochy/16.10.85)
Nathaniel Reilly-O'Donnell (Univ of London BC/Durham/13.04.88)
Tom Ransley (Leander Club/Ashford/06.09.85)
Scott Durant (Oxford Brookes Univ BC/Lancaster/12.02.88)
Coach: Christian Felkel
Eight
Matt Gotrel (Leander Club/Chipping Campden/01.03.89)
Stewart Innes (Leander Club/Henley-on-Thames/20.05.91)
Pete Reed (Leander Club/Nailsworth/27.07.81)
Paul Bennett (Univ of London BC/Leeds/16.12.88)
Mohamed Sbihi (Molesey BC/Surbiton/27.03.88)
Alex Gregory (Leander Club/Wormington/11.03.84)
George Nash (Molesey BC/Guildford/02.10.89)
Will Satch (Leander Club/Henley-on-Thames/09.06.89)
Henry Fieldman (cox) (Molesey BC?Barnes/25.11.88)
Coach: Jurgen Grobler
Single Scull – two boats
Alan Campbell (Tideway Scullers School/Coleraine/09.05.83)
Jack Beaumont (Leander Club/Maidenhead/21.11.93)
Coach: John West
Double Scull
Jonny Walton (Leander Club/Leicester/06.10.90)
John Collins (Leander Club/Twickenham/24.01.89)
Coach: Mark Banks
Quadruple Scull
Angus Groom (Leander Club/Glasgow/16.06.92)
Sam Townsend (Reading Univ BC/Reading/26.11.85)
Graeme Thomas (Agecroft RC/Preston/08.11.88)
Peter Lambert (Leander Club/Maidenhead/03.12.86)
Coach: Paul Stannard
Men's Spare
Oliver Cook (Univ of London/Windsor/05.06.90)
LIGHTWEIGHT
WOMEN
Double Scull – two boats
Kat Copeland (Tees RC/Ingleby Barwick/01.12.90)
Charlotte Taylor (Putney Town RC/Bedford/14.08.85)
Coach: Paul Reedy
Eleanor Piggott (Wallingford RC/Olney/16.05.91)
Imogen Walsh (London RC/Inverness/17.01.84)
Coach: Paul Reedy
LIGHTWEIGHT
MEN
Pair
Sam Scrimgeour (Imperial College BC/Kirriemuir/28.01.88)
Jonathan Clegg (Leander Club/Maidenhead/14.07.89)
Coach: Rob Morgan
Four
Peter Chambers (Oxford Brookes Univ BC/Coleraine/14.03.90)
Joel Cassells (Oxford Brookes Univ BC/Coleraine/15.06.94)
Mark Aldred (London RC/Birmingham/18.04.87)
Chris Bartley (Leander Club/Chester/02.02.84)
Coach: Rob Morgan
Double Scull – two boats
Richard Chambers (Leander Club/Coleraine/10.06.85)
Will Fletcher (Leander Club/Chester-le-Street/24.12.89)
Coach: Darren Whiter
Zak Lee-Green (Agecroft RC/Cardiff/05.02.91)
Sam Mottram (Leander Club/Stoke Mandeville/14.11.94)*
Coach: Darren Whiter
PARA-ROWING
MIXED
Coxed four (LTA 4+)
Grace Clough (Nottingham RC/Sheffield/21.06.91)
Daniel Brown (Upper Thames BC/Reading/29.11.82)
Pamela Relph (Leander Club/Aylesbury/14.11.89)
James Fox (Univ of London/Peterborough/02.05.92)
Oliver James (cox) (Leander Club/Henley-on-Thames/05.10.90)

Coach: Tom Dyson
MEN
Arms-shoulders single scull (ASM 1x)
Tom Aggar (Marlow RC/Maidenhead/24.05.84)
Coach: Nick Baker
WOMEN
Arms-shoulders single scull (ASW 1x)
Rachel Morris (Guildford RC/Farnham/25.04.79)
Coach: Tom Dyson
SCROLL DOWN FOR MORE
=================================================
CONTACT DETAILS
For background information about the The GB Rowing Team contact the Press office via [email protected] or 07831 755351
For picture requests please contact: [email protected]
GB Rowing Team website, including full rower biogs: www.gbrowingteam.org.uk
Follow us on:
Facebook: www.facebook.com/gbrowingteam
Twitter: www.twitter.com/gbrowingteam
Youtube: www.youtube.com/gbrowingteam
=================================================
THE GB ROWING TEAM is supported by the Lottery through UK Sport and has Science in Sport as a supplier. SAS Analytics is the Official Analytics Partner of British Rowing and the GB Rowing Team