Debutants to make their bow at International Para Rowing Regatta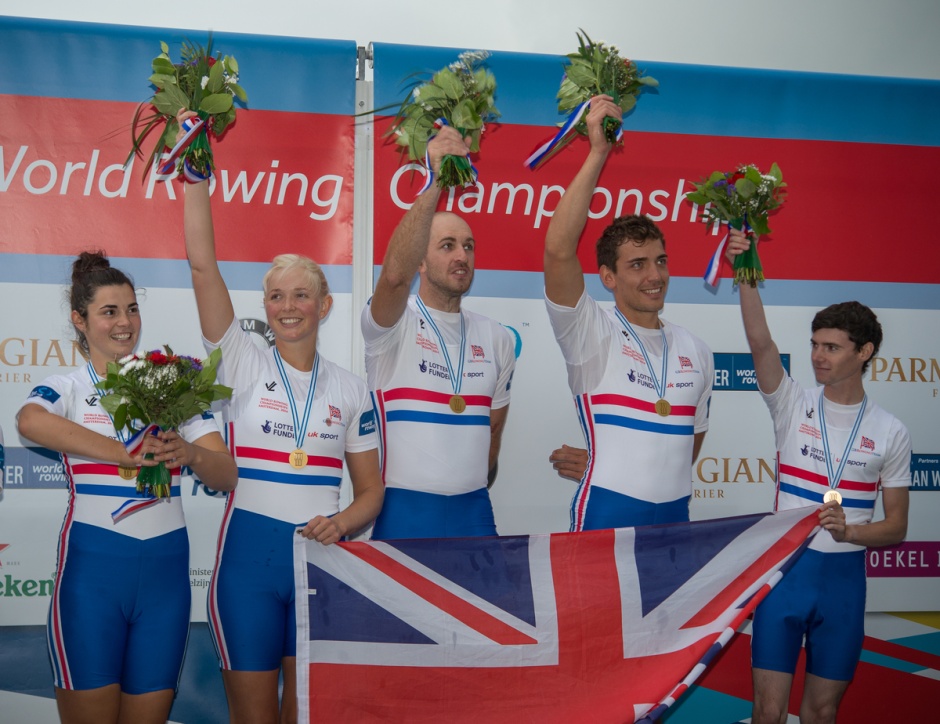 There will be two debutants and two different mixed coxed four crews for the GB Rowing Team at this weekend's 2015 International Para Rowing Regatta at Gavirate near Varese, Italy.
Dan Brown, James Fox, Grace Clough and cox Oliver James – all of whom helped Britain defend their World Championship title in Amsterdam last year – will form the basis of both crews at the regatta, taking place from May 15-17.
They will be joined by reigning Paralympic and World champion Pamela Relph on the first day and Rose Linden on the second as Tom Dyson, GB Rowing Team lead coach for para-rowing, assesses the potential for each combination after a strong winter of testing and Trials performances.
Linden will be making her first competitive appearance for the GB Rowing Team at the regatta, as will former soldier Scott Meenagh.
Army BC rower, Meenagh, got into the sport through the British Paralympic Association's Paralympic Inspiration Programme, supported by Help For Heroes, and captained the British Armed Forces rowing team in the 2014 London Invictus Games.
He will compete in the TA men's single scull on both days, along with Laurence Whiteley of Tees RC – he won gold medals on both days of the 2014 regatta.
2008 Paralympic Champion, Tom Aggar, will race in the AS men's single scull, in which he won a silver medal at the 2014 World Championships.
Meenagh is looking forward to testing himself on the international stage and says the quality in the GB Rowing Team squad is getting better all the time.
"It's really exciting – it's a big chance to put something out there and set a benchmark," he said.
"My aim last year was to get to this regatta, so I've achieved what I set out to do. Now I'm almost in a position where I have nothing to lose, so I am going into it fairly relaxed and feeling good about myself.
"I know full well I'm still developing as an athlete and have a lot of gains to make. I just need to give an honest account of myself in Italy.
"We have such a strong group of athletes who are coming together as a team in training and pushing each other, getting the best out of each other.
"Laurence is inspiring me to push harder and try to catch him, whereas the closer I get to him the harder he is having to work. It's a win-win.
"For us to do well in Italy would send a big message to the rest of the world a year before Rio."
The British team flew out on Tuesday to a preparation camp in Varese, the venue for the second World Cup – which will also feature para-rowing – from June 19-21.
The big target for the year ahead is the World Championships in Aiguebelette, France, which doubles as a qualification regatta for the 2016 Paralympic Games in Rio.
CREW LISTS (Includes club, home town, date of birth)
GB Rowing Team for 2015 International Para Rowing Regatta in Gavirate, Italy, 15-17 May
LTA 4+
Grace Clough (Nottingham RC/Sheffield/21.06.91)
Rose Linden (Durham University BC/London/27.06.92)
Pamela Relph (Leander Club/Aylesbury/14.11.89)
Daniel Brown (Upper Thames BC/Reading/29.11.82)
James Fox (Univ of London/Peterborough/02.05.92)
Oliver James (cox) (Leander Club/Henley-on-Thames/05.10.90)
Coach: Tom Dyson
ASM 1X
Tom Aggar (Marlow RC/Maidenhead/24.05.84)
Coach: Nick Baker
TAM 1X
Scott Meenagh (Army BC/Cumbernauld/16.09.89)
Laurence Whiteley (Tees RC/Northallerton/29.08.91)
Coach: Nick Baker